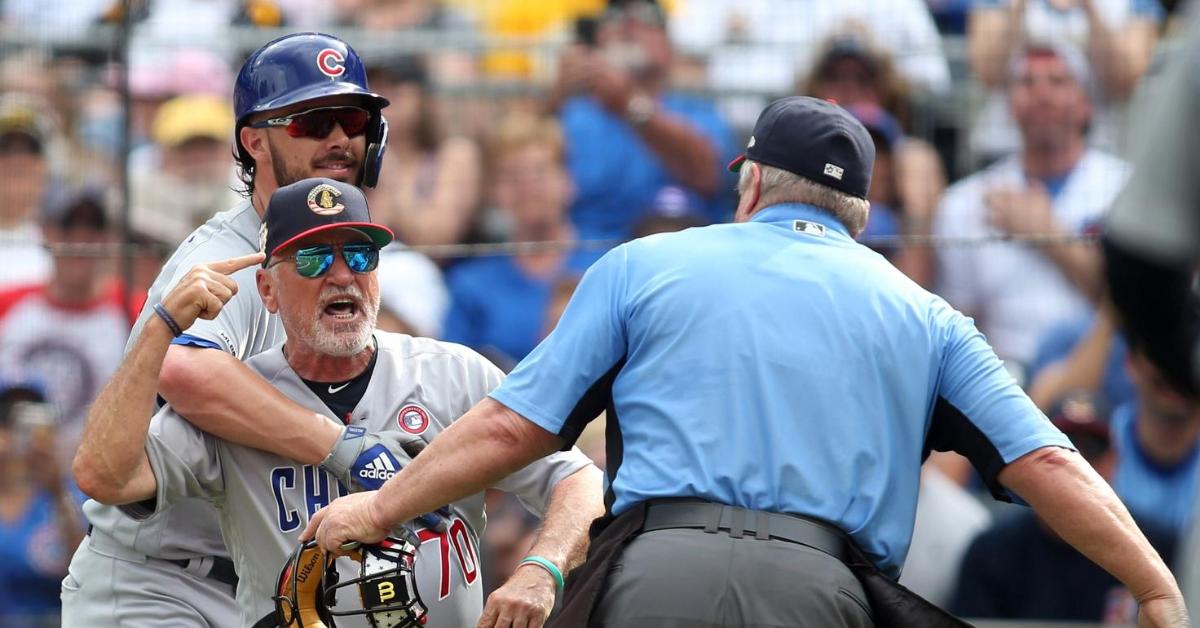 | | |
| --- | --- |
| CubsHQ Face-Off: Joe Maddon, the Cubs' season, accountability, looking ahead, more | |
---
An ESPN 1000 poll on Saturday asked where the blame should be placed: Tom Ricketts, Theo Epstein, Joe Maddon or on the players. What are your thoughts?
Ken Allison: I think the bulk of this does fall on Maddon. Granted, Tom Ricketts closed his checkbook last winter, and Theo Epstein was the one who swung a few deals, but the players appear to be playing hard, leaving only Maddon to blame. The Cubs have changed every possible piece to the puzzle (hitting coaches, pitching coaches, etc.) and nothing has worked. Theo brought in Nick Castellanos, Craig Kimbrel, and a few relievers, but they haven't made a difference, as three or four people can only do so much. Kimbrel (despite his injury) can only do so much, and if the Cubs can't get into a save situation, he's useless. Castellanos only bats one time per nine men, and he certainly can't be put in charge of generating all of the offense.
I think it has to be a managerial problem at this point- they've changed, tweaked and twisted just about everything else.

— Ken Allison (@KenAllison18) August 16, 2019
I believe that Joe Maddon is responsible for the way (most) games unfold, and it's his managerial decisions that have cost the Cubs a ton of wins. That's not to say that Theo, Tom and certainly the players don't share some of the blame, but the bulk of this is on Joe.
Cubs Fans: Who are you mad at most?#EverybodyIn

— ESPN 1000 (@ESPN1000) August 17, 2019
Anthony Pasquale: I have to disagree with you there. If Maddon had a more reliable bullpen or had Craig Kimbrel from the beginning of the season, the Cubs would have roughly half of their 24 blown games back. If Theo Epstein addresses the clear holes in this roster (leadoff, bullpen) over the offseason this team's record would look much different. If Theo made his roster decisions like he said he would, with production over potential- the roster would look much different which would give Joe easier decisions, come later in the game. (Disclaimer, I think the Cubs record would be higher if they didn't have to worry about pulling pitchers early for pinch hitters.) I don't think Joe is blameless, but I certainly think you should blame Theo for not fixing the visible holes on the roster before the season and Tom Rickets for not allowing Theo to do so.
Stop blaming Joe Maddon and shift some blame to Theo please? No left handed relief help, no shortstop depth,(he's in the minors), no offensive depth and prospects underachieving can not be blamed on Maddon. He's mixing and matching with a not so great roster given by Theo. #Cubs

— Anthony Pasquale (@Ant_Pasquale3) August 16, 2019
But to be honest, the blame should be on the players. Albert Almora Jr., Daniel Descalso, Addison Russell, Davis Bote, Carlos Gonzalez, and Taylor Davis, among others, have all been terrible role players this season. Pedro Strop, Brad Brach, (insert any pitcher but Brandon Kintzler and Steve Cishek) have been untrustworthy all year long. You can't necessarily blame Maddon when the players that Theo gives him aren't doing their jobs, although it's easy to do so. Bottom line is this; these are major league players getting major-league money and underperforming. That's who you blame.
Ken Allison: I think I have to offer a short rebuttal here. There's no way to say that the Cubs would have won half of the blown games. They may have won them all, but they may also have lost them all. There are plenty of teams out there with less than desirable rosters who've performed well, and I'd base that on managerial philosophies and decisions.
The Cubs were theoretically loaded for bear last year, and it wound up that they never even advanced past the wildcard game, after having to play a tiebreaker with Milwaukee. If three steady years of decline (including 2019) isn't enough to say that the Cubs need new management, then I don't know what is. Maybe the players aren't motivated enough, and maybe several have underperformed, but you and I have both agreed that they have the talent, leading me to suggest that Maddon has failed to show his ability to exploit that talent and win ballgames.
Realistically, how do you see the Cubs finishing this year?
Anthony Pasquale: Realistically, it's very difficult to answer this question. It's not realistic to think that this team will continue to be brutalized on the road, but it's also not realistic to think that they'll magically turn it around. I think, talent-wise, the Cubs have enough to win the NL Central, so I can see them winning the division and then most likely losing to the Braves in the NLDS. BUT this team is certainly capable of winning beyond that, realistic, though, is another conversation.
Ken Allison: I hate to have a negative outlook, but I've always said that optimism doesn't always equate to being realistic. Of the 40 remaining games for the Cubs this season, nearly half are on the road, and that is exactly what will inevitably cost them the division. I absolutely agree that this team has the talent and potential to win the division and make a deep run in October, but again, I believe they've played with complacency all year, partly due to Joe Maddon's carefree attitude, and that has now cost them a pennant. Theo Epstein said last year that they needed to play every game like it was a "Game-163," and they've failed to do that time and time again, especially when on the road.
Do you think that Maddon's future was decided in February, when he wasn't offered an extension?
Anthony Pasquale: No I don't. I do think it depends on how well the team does this year. Should the Cubs make the NLCS and battle the Dodgers tough or make or win the World Series, it'd be criminal not to reward him for yet another accomplishment in Cubbie blue.
Ken Allison: While I admire your optimism, I believe that entering the season without a contract extension (or at least an offer) was the writing on the wall for Maddon. The thing that intrigues me the most is that Maddon never asked for an extension (or at least that's how it's been reported)- which tells me that maybe he had no intention of staying in the first place.
In my estimation, nothing short of another World Series win, or at the very least, a deep run into the NLCS was going to get Maddon more time.
I can't see the Cubs making it past the NLDS at this point (if they even make it to the post-season), as they'll undoubtedly lose the home-field advantage before the regular season ends. Also if they manage to win the division, which looks doubtful at this point, there is no way that they will beat the Braves or Dodgers in their stadium, with the way Chicago's played on the road.
The ultimate question: Does Joe Maddon stay in Chicago?
Anthony Pasquale: At this point, after back-to-back devastating losses it's hard to imagine Joe Maddon at the top step in the future, but all I'm trying to say is he should be. He is unworthy of a lot of the blame he receives for players not doing their job, and the front office not doing theirs to the best of their ability. For example, people were all over Twitter asking how Joe could take Hendricks out on Friday night [vs. Pittsburgh] when he's at 77 pitches in 7 innings, but the reality of managing in the NL is that sometimes you have to do that to get the best chances at coming back. What happened as a result? They took the lead; what happened next was a lack of players getting the job done, not the fault of the skipper."
Ken Allison: Anthony, I agree that the Cubs' offense backed Maddon into a position to where Hendricks had to be pulled Friday night, but what about the other decisions he's made all year that were questionable? I don't dispute that the Cubs' bullpen has some serious issues, but it's Joe Maddon's job to determine which players play, when and for how long. I think he spends way too much time worrying about matchups, and as a result, weakens his pen even more by overuse and not having available arms, should the rhythm of the game change (for example extra innings).
When looking at this off-season, is a blowup or retool better (or more likely for the Cubs?"
Ken Allison: Tough question. I think you'll see a combination of both- more than a retool, but not quite a nuclear explosion.
I've made no bones about the fact that I believe Joe Maddon's days are numbered- which would be the first big step. I think getting a new manager in there would quite possibly help extract more of the talent that these guys have, and a different managerial philosophy might serve to motivate those who've been playing at anything less than 100%. I also think you'll see someone from the core (possibly even two) dealt away as the Cubs try to plug holes.
Kris Bryant has been a beast this year, but I've said in previous articles that the Cubs could feasibly get a lot more in trade, than what KB provides now. He's a phenomenal third baseman, he's wicked at the plate and better yet (so far as other teams are concerned), he's controllable. The Cubs are not likely wanting to deal with Scott Boras over Bryant's impending free-agent status, and his stock is about as high as it will ever be for the Cubs. Let some other team worry about the Bryce Harper-like contract that KB will demand- recent high-priced signings (Jason Heyward, Yu Darvish, and others) are what got the Cubs into the trouble they're in now. Take what you can get for Bryant, but don't settle for two worn-out relievers and a Single-A prospect.
No matter whom they may trade, the Cubs can't settle for accepting prospects, as there are too many holes to fill on the major league level. I do think that you'll see a more definitive role for players like David Bote, Ian Happ, Albert Almora Jr., and others, as they may give up some depth through this process. Depth is a beautiful thing, but if you can't get 12 guys to score four runs a game, the system is malfunctioning. I also wouldn't doubt that you may see Anthony Iapoce (hitting coach) replaced, but I'd venture to say that Tommy Hottovy stays put, due to his history with the team. Stay tuned- this is going to get interesting.
Anthony Pasquale: I agree in a sense that a retool is more likely than a rebuild at this point. I think your best bet at winning a championship is keeping the core you have of Javier Baez, Anthony Rizzo, Willson Contreras, and Kris Bryant. KB is the most attractive should you try and trade as he has the least flaws in his game, however, I don't see the Cubs winning another title without his MVP caliber talent on the field or in the lineup. I think keeping those four guys together along with Heyward gives you a good start.
Offensively I think you need to choose between a Nicholas Castellanos and Kyle Schwarber in terms of which masher- but poor defender- you'd like to keep long term and sign him. Then I would (in Schwarber's case because I would take Castellanos) trade him and perhaps and Almora or Bote for a sound defensive outfielder who can potentially hit leadoff.
Theo and Jed will first have to make a managerial decision followed by a potential extension of Baez or KB and then work on fixing this bullpen (Steve Cishek, Pedro Strop and Brandon Kintzler wil be free agents) along with plugging some holes offensively and re-signing some pieces (Ben Zobrist or maybe Cole Hamels). I think the main goal of the offseason should be a guy like Whit Merrifield to hit leadoff and play either second base or center.
It's up to Theo And Co. to make decisions based on production and not potential like they promised, and the Cubs team should look quite different. Quite honestly, this offseason is as crucial as any to either prove that this team can be a dynasty, rather than becoming Chicago's next 85 Bears: nothing more than a magical, incredible, miraculous one-hit-wonder.

Tags: Cubs Baseball
,
Albert Almora Jr
,
Daniel Descalso
,
Addison Russell
,
Taylor Davis
,
Pedro Strop
,
Brandon Kintzler
,
Steve Cishek
,
,
Jason Heyward
,
Yu Darvish
,
David Bote
,
,
,
Anthony Rizzo
,
Willson Contreras
,
Kyle Schwarber
,
Ben Zobrist
,
Cole Hamels
,
Joe Maddon
,
Theo Epstein
,
Tommy Hottovy
,
Anthony Iapoce