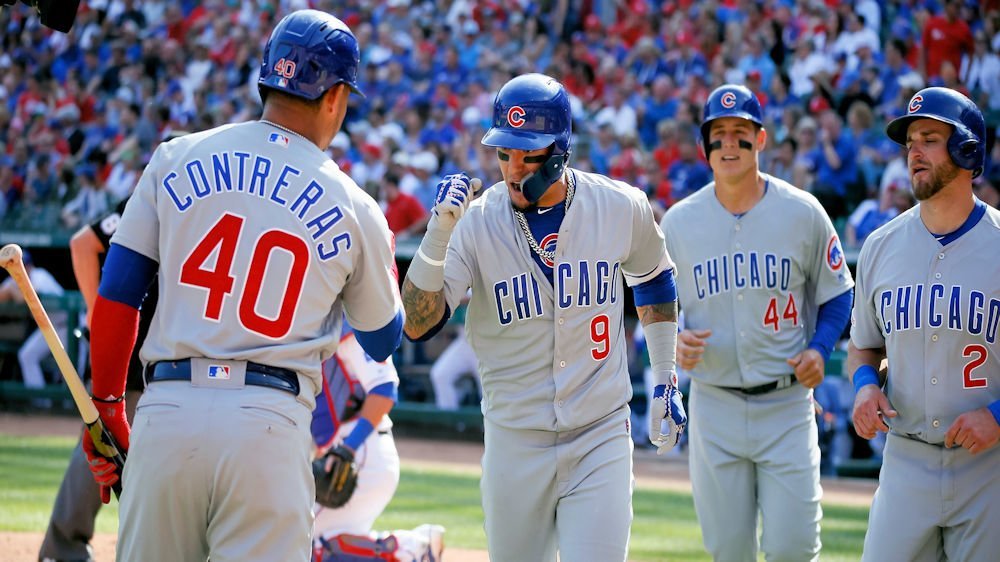 | | |
| --- | --- |
| CubsHQ Mailbag: Hitting for homers, Cubs selling off prospects, more | |
---
| | | |
| --- | --- | --- |
| Sunday, July 14, 2019, 9:02 PM | | |
Bret Newmiller writes: "I'd love to hear your thoughts on how the long ball (everyone swinging for the fences) has changed the game. I still prefer manufacturing runs and fewer strikeouts.
I've been touching on this a lot in my articles lately, as I believe that the "hero or zero" approach is hurting not only the Cubs tremendously, but also a lot of other teams, as well as the game itself.
I see three main problems contributing to this new craze, where players seem to feel that they must homer in every at-bat.
(1) The shift: When it comes to guys like Anthony Rizzo or Kyle Schwarber who seldom hit to the opposite field (unless they homer), lifting the ball is key, as they're batting against three defenders on the right side of the infield. Depending on who the third baseman and shortstop are, you'll see one or the other on the right side of second base, often playing in shallow right (Javier Baez does this regularly when the Cubs shift).
I couldn't tell you how many times I've seen a 5-3 or 6-3 groundout when the ball was hit to the right side. I've heard Len Kasper say that when he keeps score, he'll make a notation in his scoring which indicates that occurred during a shift, so he'll score it as "5-3-S." The way to avoid this, in theory, is straightforward: Hit to the opposite side, but for most, that's easier said than done- the alternative then becomes swinging for the fence. Often you'll see power-hitting left-handed batters attempt to bunt to the third base side, as they have better odds of reaching base, as there are no infielders there (I see Mike Moustakas attempt this frequently).
This home run craze is hurting a lot of teams (most notably the Cubs), as they forfeit a lot of runs by not hitting for contact while racking up an excessive amount of strikeouts. While Javy does it with reasonable accuracy, going after the low and outside pitches will almost ensure you'll go the other way, but many guys lay off of those pitches, as they'd rather wait for something they can pull.
Friday's game against the Pirates was the epitome of how to overcome tough pitching (for both teams). Archer was great, and for six innings, the Cubs had only one hit (Baez in the fourth). Kris Bryant homered for the first run, and that was absolutely the time and place to do so, as nothing else had worked all day. Once the seal was broken, the Cubs started taking advantage of hits and walks, as they were getting to Archer, who was tiring. They compiled another pair of runs that inning, then used the same strategy an inning later to win it.
Later, Pittsburgh also demonstrated when to use power. Darvish was also great (best I have ever seen him as a Cub), as he carried a perfect game into the fifth. After being replaced for the seventh, the Cubs' pen (Kyle Ryan and Steve Cishek) were able to hold the Pirates scoreless again, but they'd get to Pedro Strop in the eighth. After Strop gave up a double and then a two-out walk, Starling Marte belted a massive homer to tie it. With two gone, the Bucs had no time to screw around waiting for pitches to lob into center, nor could they afford to wait for walks.
This showing of offense by both teams embodies what I frequently say: "There's a time and a place to use power hitting."
(2) The baseballs: The players, managers, and fans swear the balls are juiced; the Commissioner (Rob Manfred) denies any such thing, but everyone agrees, that for whatever reason, the baseballs being used this year are somehow different.
Keep the faith. pic.twitter.com/XRLXKZ4H88

— Richard M. Nixon (@dick_nixon) July 9, 2019
Not that this pattern of guys wanting to smack dingers is anything new, but with the change in the baseballs, it's almost being encouraged. The young fans, the new fans, and the fans that don't really understand what "good baseball" is, all love the home run, and they can't get enough of it. While Manfred denies any directive to Rawlings (who happens to be owned by MLB), you don't see him issuing a recall, or a demand for Rawlings to fix whatever's different, nor will he. Homeruns are a staple of the game, and with an entire generation of people who can't pay attention for five minutes, MLB wants players to score fast and often. And, what's the easiest way to do that?
(3) Padding stats: We've reached an era where players no sooner sign one contract, they are already looking for the next, which is why opt-out clauses began being used. Jason Heyward signed a massive deal with the Cubs, and yet, he had a clause installed that says at the end of this year, he can forego the remaining years (and $84M) of his contract, if he chooses instead to become a free-agent. With his rough start as a Cub, and a cold free-agent market over last winter, it's highly unlikely that J-Hey will attempt free-agency this year, but he does have the option (literally).
Had Jason hit 35 homers a year in each of the last two seasons, I have little doubt he may be trying for something better, but he didn't. With guys looking for those mega-deals (think Bryce Harper), I have little doubt that they're swinging for the fences to pad their numbers. That's a shame, as their dedication should be to the team that they're on now, and not to the thought of a deal that may come about in three years.
New players fight team control for years when they finally make it to the show, and no one can blame them for wanting to go from league-minimum salaries to multi-million dollar deals. What choice do these guys have, but to put up large offensive numbers with homers and RBI, never knowing what arbitration may bring them? Many get few chances when called-up, and the best way to make an indelible mark is to hit a massive home run at a critical point in the game (I refer you to David Bote's walk-off, grand-slam against the Nationals.) Granted, a series of "3 for 5" days with a few RBI will raise the batting average and RBI stats just as well, but home runs will raise eyebrows. Not that Bote hasn't shown consistency, the ability to hit in clutch spots and an ability to be versatile in the field, but fans were clamoring for him to stay in Chicago after seeing him just a few times.
Whatever the reason, the long-ball now dominates the game of baseball, as MLB is seeing a record number of them hit this year. Why bunt with a man on first, when you can just as easily cut to the chase with a home run? I'd much rather see strategic hitting and fewer strikeouts, but Manfred is all about the pace of play.
Thomas Pycz asks: Hearing all of the rumors about who we are connected to trade-wise, does it make sense to mortgage the future this year? [To do so in] 2016 was obvious, yes, however, I'm not sure we have enough talent in the minors to deal some of our top prospects.
The Cubs are in a bit of a conundrum, a catch-22, a quagmire (whatever term you like best), but this isn't much different from any other year. They seem to continually get themselves into a bind between signing players to huge contracts (tying up money), then having one or more of them go bust.
While many complain about the offense, and their ability to hit with runners in scoring position, or the lack of a bona fide leadoff man, their bigger problem is the bullpen. The Cubs won't part with Javy, Bryant, Anthony Rizzo or Willson Contreras, and the guys who could (or in some cases, should) be trade candidates have minimal trade value. This leaves the Cubs (or any team in the same situation) little choice but to sell-off their prospects, to get what they need at the major league level.
Immediate gratification seems to be the mantra, as they keep backing themselves into a corner with some of the guys that they either sign as free agents or trade for, and the only way to satisfy the need, is to deal quality prospects in return for a veteran player, who they hope will do well. I have no doubts whatsoever about Jose Quintana and the job that he's done, but, look at what (or who) it cost the Cubs: Dylan Cease and Eloy Jimenez- two prospects who could have paying huge dividends now, had the Cubs been able to keep them.
The Cubs have a lot of talent stashed away in Des Moines, South Bend, Eugene, and Knoxville, but much of that talent is young and still needs to be cultivated. A team like the Dodgers can afford to trade away some prospects while keeping their top ones, as they are killing it in the NL West with the roster they have now. For the team that, much like the Cubs, needs an immediate boost, high-tier prospects are what's going to fetch those players who can, in theory, immediately fill the voids at the major league level.
This whole scenario reminds me of those payday-loan places that charge about a 400% APR. You are so worried about today that you're willing to sacrifice half of your paycheck next week, for a few hundred extra bucks now. This never works, and you get yourself into a bad cycle, always robbing Peter to pay Paul. This is exactly what the Cubs seem to do, year in and year out, and it's killing them.
Tom Ricketts and Theo Epstein realize just in a few short years, the vast majority of this young core will become free agents, and they won't be able to keep them all- not even close. Furthermore, the starting rotation is getting long in the tooth, and Jon Lester and Cole Hamels don't have many years left to play before they'll retire. The Cubs need guys like Adbert Alzolay and Nico Hoerner in their farm system, so hopefully they hold on to them, and not trade them away looking for a quick fix before the deadline.
Thanks for the questions. If you have a question, or if you'd like to hear my opinion on something, you can email me at ken@cubshq.com, or reach me either on Twitter (@KenAllison18), or Facebook (Ken Allison CubsHQ).

Tags: Cubs Baseball
,
Anthony Rizzo
,
Kyle Schwarber
,
,
,
Kyle Ryan
,
Steve Cishek
,
Pedro Strop
,
Jason Heyward
,
David Bote
,
Willson Contreras
,
Jose Quintana
,
,
Cole Hamels
,
Adbert Alzolay
,
Theo Epstein