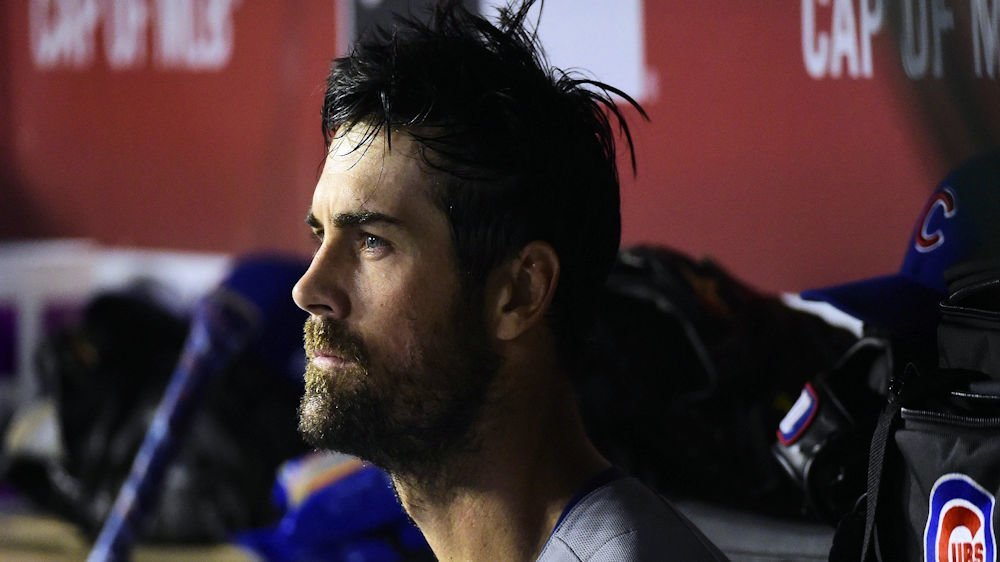 | | |
| --- | --- |
| Fly the T, Edwards' intentional HBP, Cubs injury updates, and MLB notes | |
---
Cubs' Opening Day: 7 days. March 28 @ Rangers; (Lester vs TBD). Game time: 3:05 PM Central. (WGN, MLB.TV).
Cubs' Home Opener: 18 Days. April 8 vs. Pirates: Game time: 1:20 PM Central. (ABC-7, MLB.TV)
Wednesday's Game Recap: The Dodgers (12-11) visited Sloan Park to take on the Cubs (15-11) last night, with lefties Julio Urias (1-0, 1.00 ERA) taking on Cole Hamels (2-0, 5.00 ERA). This Cubs lineup was reasonably close to what Opening Day should look like, with nothing but "headliners" taking the field to start the game.
Lasting six innings, Hamels would get tagged for four runs, but the Cubs would come from behind to settle for a 4-4 tie.

Carl Edwards, Jr.: "Yeah. I did [hit Nola intentionally]. It's just, honestly, it's like the nature of the game- spring training or not.'
Upcoming Cubs games (CDT)): Today: 3:05 PM: Giants @ Cubs. TBD vs Kyle Hendricks (1-0, 5.06 ERA). Friday (split-squad): GAME 1, 3:05 PM: Rangers @ Cubs (TBD vs Jose Quintana (1-1, 2.00 ERA). GAME 2, 8:05 PM: Cubs @ Indians (Duane Underwood Jr. 0-0, 6.00 ERA) vs Cleveland TBD).
Yu Darvish: After getting a blistered ring-finger during Tuesday's afternoon game, Darvish played catch yesterday with no issues. The plan, for now, is to keep him on his normal schedule: Bullpen on Friday, and if all goes well, an outing (either minors or Cactus League- still undecided) on Sunday. The team will determine at that point if his first start of the season needs to be pushed back. (Let's hope not.)
Cole Roederer: After smashing a home run on Tuesday, Joe Maddon said this about the blast: "We were all very happy for him. That was really ripped, man. That might've been the farthest one all spring, where it was hit, too. Loud. Real loud from the bench. Real loud."
Daniel Descalso: Still out with left-shoulder pain, Descalso was swinging a bat on Wednesday and felt fine. He plans on taking some batting practice tomorrow. The Cubs have not ruled him out for Opening Day.
Carl Edwards: For those who think CJ didn't hit Nola on purpose, think again. When asked if he was defending Kris Bryant and Willson Contreras when he threw that pitch, Edwards replied, "Yeah. I did. It's just, honestly, it's like the nature of the game- spring training or not. It's just you get to a point where you're kind of tired of those guys getting hit. I mean, those are our big guys. That's a 25-man roster. Those are guys that are going to help us win championships, help win ballgames. And, you know, all due respect, but it's the nature of the game. And it just gets to a point where you just get tired, you know? Yes, it was Willy and a couple of innings before it was KB."
Cubs Birthdays: Celebrating yesterday were ex-Cubs David Ross (42), Garry Jestädt (72), Paul Smith (87), and posthumously, Richie Ashburn (92).
Tuesday's Scoreboard: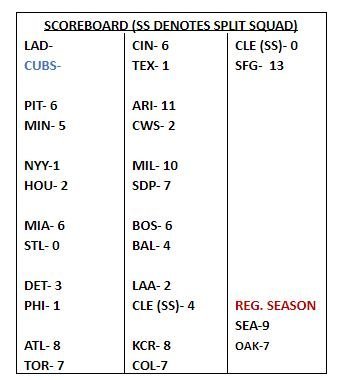 THURSDAY (EDT) 1:05 PM: BAL @ PIT, ATL @ TBR (SS), HOU @ DET, NYY @ STL (SS), TOR @ PHI, MIA @ NYM. 4:05 PM: SFG @ CUBS, KCR @CIN (SS), CLE @ TEX (SS), LAD @ MIL, TEX (SS) @ CWS, LAA @ ARI. 6:05 PM: TBR (SS) @ BOS. 6:35 PM: STL (SS) @ WSH. 9:40 PM: CIN (SS) @ SEA.
FRIDAY (EDT): 1:05 PM: PIT @TBR, STL @ NYM (SS). 4:05 PM: TEX @ CUBS (SS), ARI @ LAD, CIN @ MIL, CWS @ LAA (SS). 6:05 PM: DET @ ATL, BOS @ MIN, NYM (SS) @ HOU, BAL @ TOR. 6:35 PM: PHI @ NYY. 7:05 PM: WSH @ MIA. 9:05 PM: CUBS (SS) @ CLE, SFG (SS) @ KCR. 9:40 PM: SDP @ COL (SS), LAA (SS) @ SEA. 10:05 PM: COL (SS) @ SFG (SS).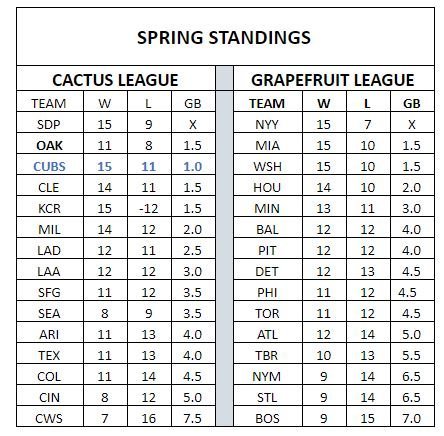 News from around MLB:
Let the games begin! As of yesterday, at 5:30 AM (EDT), the 2019 MLB season has officially started. The Mariners and Oakland tangled at the Tokyo Dome, with Seattle winning 9-7.
Opting out: Three players gained free-agency today after opting-out of their minor league deals, which is often a choice if a player fails to make the MLB roster coming out of camp. Choosing to opt-out are: 1B Lucas Duda (Twins), SS Alcides Escobar (Orioles) and IF Ryan Flaherty
On a roll: As of yesterday, the Miami Marlins have won 11-straight Grapefruit League games.
White Sox: The Sox have reached a deal with Eloy Jimenez: 6-years, $42.5M.

Upgrade Your Account
Unlock premium boards and exclusive features (e.g. ad-free) by upgrading your account today.
Upgrade Now