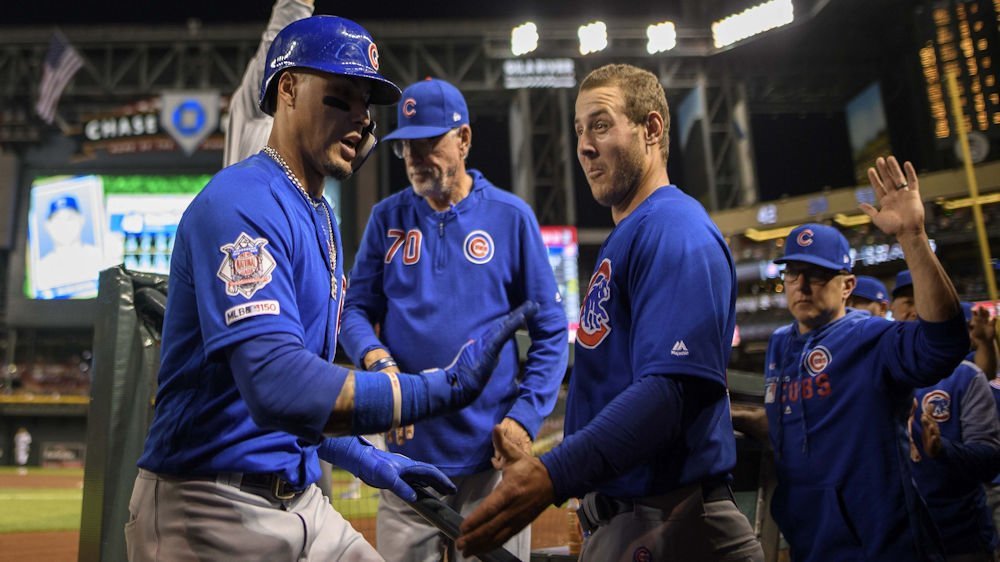 | | |
| --- | --- |
| Cubs News: Fly the W, Benches clear, Rizzo and Bote homer, Maddon's milestone, more | |
---
| | | |
| --- | --- | --- |
| Sunday, April 28, 2019, 8:28 AM | | |
Next Game: Today: 3:10 PM CDT, Sunday: LHP Jose Quintana (3-1, 3.21 ERA) vs RHP Luke Weaver (2-1, 3.33 ERA).
CUBS NEWS AND NOTES:
Saturday's Game Recap: The Cubs, who suffered an ugly loss in Phoenix on Friday night, attempted to regroup for Game-2 of their series with the Snakes. Yu Darvish, desperate for a clean performance took the mound, with Taylor Davis catching him. The D-Backs sent righty, Zack Godley, to the hill.
After a rocky start, Darvish recovered nicely, last 6.0 innings, which is his longest start since May 20, 2018. The offense is what bought Darvish his extra time on the mound, as they clobbered starter Zack Godley in the third, then beat up on reliever, Matt Koch for the next 4.1 innings.
David Bote homered (twice), and Anthony Rizzo hit a towering blast, but that was the icing on the cake, as the entire lineup, with the exceptions of Taylor Davis and Mark Zagunis (PH) hit. Among the other offensive highlights, Kyle Schwarber came alive with a pair of doubles, Rizzo went 3 for 5, and Javier Baez went 2 for 4. All told, the Cubs batted .324 as a team last night, and that includes Darvish's three at-bats (0 for 3).
Final score: Cubs-9; ARI-1.

Yu Darvish: If someone asked me how Darvish looked last night, it would take me a minute to figure out how to answer. This had to have been the most functional, quality start I have ever seen, for something that looked so ugly and bad.
In the first inning alone, Darvish went strikeout, double, walk and then hit a batter- but no runs scored. The next few innings saw a total of three more walks, with some unbelievably bad pitches, yet no managed a hit, nor did the D-backs score for the next 4.2 innings until Darvish gave up a homer to open up the sixth. When the dust settled, Darvish had gone 6.0 innings, allowing only two hits and one earned run, issuing four walks, while he struck out seven. Darvish dropped his ERA from 5.96 to 5.02 with the outing.
David Bote: There's no way around it, David Bote is unbelievable at the plate, considering he's spent less than a year in the majors. Last night, Bote hit a 3-run blast in the third to give the Cubs some extra runs, then he homered again in the 5th with a two-run blast to the left. Bote wouldn't get a third shot at a third homer though, as Matt Koch plunked him in the 7th. The benches and bullpens cleared, but cooler heads prevailed, and the game resumed without any ejections.
Bote on getting hit: "No hard feelings" pic.twitter.com/1RC1nEBWzf

— Mark Gonzales (@MDGonzales) April 28, 2019
Javier Baez: El Mago- he keeps improving and amazing people. Javy is currently ahead of the pace that Sammy Sosa set for homers in each of his 60-home run seasons (and it's highly unlikely that Javy will be the center of a congressional hearing, questioning him about steroids, when all is said and done). With his homer on Friday night, Baez is the first Cubs' player to have nine dingers in the first 24 games, since Andre Dawson did it in 1987.
Before the season started, did you think that Javy Baez would get BETTER?

Well, he's currently ahead of Sammy Sosa's pace for each of his 60-HR seasons: https://t.co/iLteb5hyAc pic.twitter.com/CkINJd6H6y

— Cubs Talk (@NBCSCubs) April 27, 2019
Joe Maddon: With the Cubs' victory last night in Arizona, Joe Maddon accumulated his 400th win as the Cubs Skipper. With a record of 400-273 (.594), Maddon now sits in fourth for the most wins by any Cubs' manager. Maddon also became the fastest manager to reach 400 wins with a team since Joe Torre did so with the Yankees (1996-1999). Congratulations, Joe.
Looking ahead: After completing the series with Arizona on Sunday, the Cubs will venture up to Seattle for a 2-game set with the Mariners. I'll have a series preview for you Cubs/Mariners probable pitchers: Tuesday, 9:10 PM CDT: Cubs TBD vs. RHP Felix Hernandez (1-2, 3.91 ERA). Wednesday, 5:40 PM CDT: Cubs TBD vs. LHP Marco Gonzalez (5-0, 2.80 ERA).
Brandon Morrow: Perpetually injured Cubs' closer, Brandon Morrow never left Mesa this spring- he's been rehabbing there. Brandon believes that he'll pitch again this year, though many (including yours truly) have their doubts. Morrow said that he received more diagnostic imaging of his elbow last week after pain forced him to be shut down "indefinitely." According to Morrow, the results showed irritation around the surgical site, from where his elbow had been worked on over the winter, and that they will wait until that "calms down" before he resumes throwing.
Yesterday's Cub Birthdays: Happy birthday to ex-Cubs Joey Gathright (38) and posthumously, Rogers Hornsby (123).
NL CENTRAL SCHEDULE (April 21 – April 27, 2019)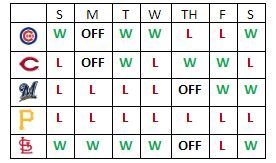 YESTERDAY'S NL CENTRAL SCOREBOARD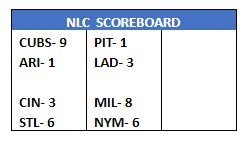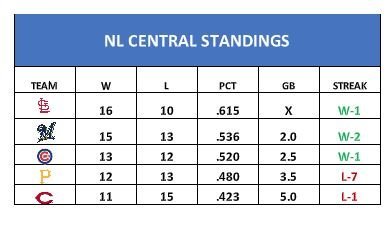 Tags: Cubs Baseball
,
Jose Quintana
,
Yu Darvish
,
Taylor Davis
,
David Bote
,
Anthony Rizzo
,
Mark Zagunis
,
Kyle Schwarber
,
,
Brandon Morrow
,
Joe Maddon