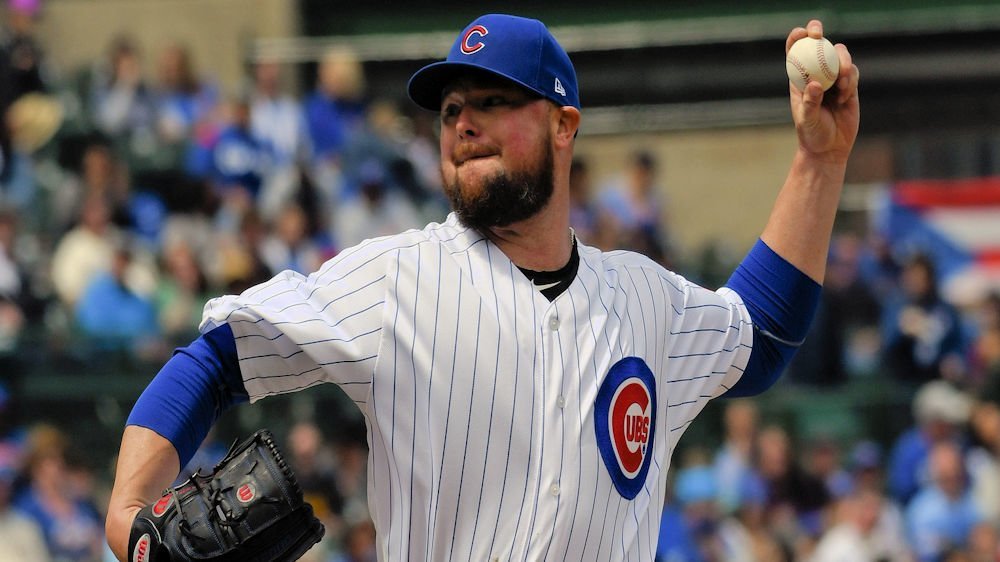 | | |
| --- | --- |
| Fly the W, Bryzzo, Bring on the Reds, standings, more | |
---
| | | |
| --- | --- | --- |
| Monday, May 13, 2019, 7:27 AM | | |
Next Game: Tuesday, 5:40 PM CDT: Cubs vs Reds. RHP Kyle Hendricks (2-4, 3.19 ERA) vs. RHP Sonny Gray (0-4, 4.15 ERA)
CUBS NEWS AND NOTES:
First and foremost, Happy (belated) Mother's Day to my mom, my wife, and to all of you who were celebrating. What better gift than to have the Cubs beat the Brewers and take the series?
Sunday's Game Recap: The Cubs, hungry to keep their series winning streak alive, hosted the Brewers for the rainy, rubber-match last night. Jon Lester and Jhoulys Chacin squared off on another great pitching duel, with Chacin lasting six innings, and Big Jon lasting 6.2.
The Cubs struck fast, coming up with an unearned run in the bottom of the first, but the Brewers answered in the fourth to tie it- this was as far as Milwaukee would get. The Cubbies pushed ahead in the fifth when Javier Baez's double scored Kris Bryant from first; then KB added some insurance with yet another home run (2-run) in the seventh. The Brewers left Chicago not only defeated but 2.0 games out of first place. Final score: Cubs-4; Brewers-1.

Bryzzo: The Cubs were missing a permanent fixture last night; first-baseman, Anthony Rizzo. Rizz was dealing with a sore back and benched for the night, with the other half off Bryzzo handling first base. In Rizzo's absence, KB not only handled the fielding, but he also stepped up at the plate for both of them. KB went 3 for 4 with a homer and two RBI, extending his on-base streak to 22 games.
Because @KrisBryant_23 is your mom's favorite player.#KBoom pic.twitter.com/JJnd1FLmlu

— Chicago Cubs (@Cubs) May 13, 2019
Kris Bryant right now:

149 wRC+ (career-best)

.400 wOBA (career-best)

16.5 BB% (career-best)

17.1 K% (career-best)

— Matt Clapp (@TheBlogfines) May 13, 2019
Cubs compensating: Even in the absence of Ben Zobrist, Pedro Strop, and Anthony Rizzo, the Cubs, are functioning so well, that the deficiencies were hardly noticed last night. David Bote stepped up and went 2 for 4, Brandon Kintzler pitched his way out of the jam created by Jon Lester, and Steve Cishek looked like he was a closer by trade. That, to me, is what's most impressive about this team. You can take two or three of the table legs away, and it still doesn't topple. How the Cubs compensated for Rizzo last night speaks volumes for the team's depth, considering that Ben Zobrist and Victor Caratini are the two main backup first baseman.
Lester/Bryant on Javy: "I feel like he's been playing well, but I don't really feel like he's been hot . I don't know if that's the right way to describe it, because obviously, his numbers speak for themselves. But I feel like he's just had a lot of big hits for us, but he hasn't really got like kind of Javy hot. If that's the case, that just makes our lineup that much deeper."
Kris Bryant replied by saying that he had no clue what Big Jon was watching and that he was "completely wrong." Bryant concluded by saying, "I think he's pretty hot."
We're here for @JLester34 and @KrisBryant_23 debating if @javy23baez is HOT or NOT ?? pic.twitter.com/9LBuVvpiUw

— Cubs Talk (@NBCSCubs) May 13, 2019
.@javy23baez hitting to the opposite field is a thing of beauty.#EverybodyIn pic.twitter.com/OypCCWx81y

— Chicago Cubs (@Cubs) May 13, 2019
Bring on the Reds: After finishing the Brewers off last night, the Cubs have now won 9 straight series. The last series that the Cubs lost was, ironically, against the Brewers at Wrigley North (April 5-7).
Cubs/Reds Probable Pitchers: ; WEDNESDAY: RHP Yu Darvish (2-3, 5.40 ERA) vs RHP Tanner Roark (3-1, 3.27 ERA); THURSDAY: LHP Jose Quintana (4-2, 3.50 ERA) vs RHP Luis Castillo (3-1, 1.97 ERA). As always, I'll have a series preview for you, before game time.
Padding the lead: With the Brewers losing and Pittsburgh taking out the Cards last night, the Cubs now extended their lead to 2.0 games over Milwaukee and 3.5 games over both the Cards and Bucs. Keep on cruising boys.
Putting up zeros: In a combined effort that ended with Tyler Chatwood's 4.0 shutout innings on Saturday night (vs. Milwaukee), the Cubs bullpen went 8.0 innings (scoreless) on one or fewer hits. This marked the first time the Cubs' bullpen achieved that feat since September 2, 2003 (vs. St. Louis) in a 4-2, 15-inning win.
Yesterday's Cub Birthdays: Happy birthday to ex-Cubs Blake Lalli (36), Mark Clark (51), and posthumously, Norm Gigon (81), Hank Borowy (103), Alex McCarthy (130), Kurt "Casey" Hägeman (132), and Harry Truby (151).
NL CENTRAL SCHEDULE (May 12 – May 18, 2019)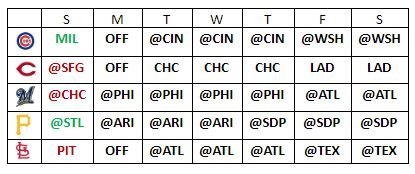 (Wins are in green, losses in red)
YESTERDAY'S NL CENTRAL SCOREBOARD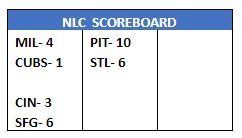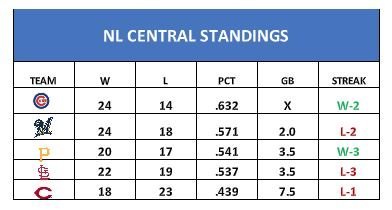 Tags: Cubs Baseball
,
Kyle Hendricks
,
,
,
,
Anthony Rizzo
,
Ben Zobrist
,
Pedro Strop
,
David Bote
,
Brandon Kintzler
,
Steve Cishek
,
Victor Caratini
,
Yu Darvish
,
Jose Quintana
,
Tyler Chatwood