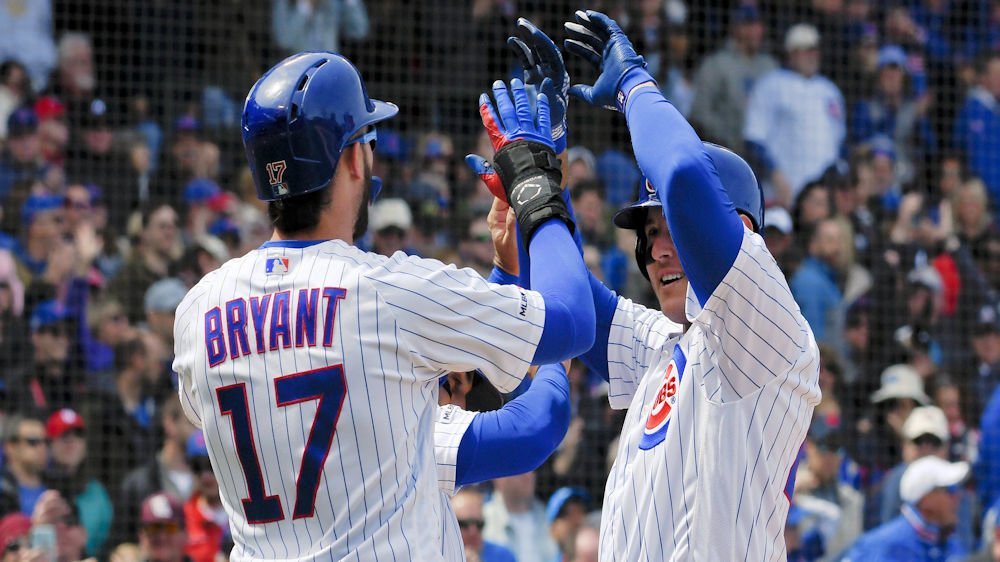 | | |
| --- | --- |
| Fly the W, Bryzzo's bats, Cubs' milestones, Defending Darvish, more | |
---
| | | |
| --- | --- | --- |
| Friday, May 10, 2019, 7:56 AM | | |
Next Game: Today, 1:20 PM CDT: Brewers vs Cubs. LHP Gio Gonzalez (0-0, 2.61 ERA) vs LHP Jose Quintana (4-1, 3.40 ERA).
CUBS NEWS AND NOTES:
Thursday's Game Recap: Yesterday afternoon marked the sixth and final time that the Cubs and Marlins would meet in 2019. Righty, Yu Darvish was hoping for a solid outing, while Marlins' righty, Trevor Richards (0-4), was just hoping to survive the Cubs' offense: Neither happened.
Darvish struck out five of the first nine men that he faced, then the wheels fell off the train. Lasting only 4.0 innings, Darvish only gave up one hit and struck out seven, but the six walks he issued ended up costing him an earned run, finishing the inning at 96 pitches. Earning the win, Mike Montgomery came on for Darvish in the fifth and went the duration.
By the end of the first, the Cubs' offense had already overcome any threat the Fish would impose, courtesy of Kris Bryant's two-run blast. The Cubs other two runs for the day resulted from Anthony Rizzo's homer in the fifth. Final score: Cubs-4; Miami-1.

Brewers/Cubs Probable Pitchers: Saturday, 1:20 PM: RHP Zach Davies (4-0, 1.56 ERA) vs LHP Cole Hamels (3-0, 3.38 ERA), Sunday- 6:05 PM: Jhoulys Chacin (3-3, 5.03 ERA) vs LHP Jon Lester (2-1, 1.41 ERA).
Defending Darvish: I made a vow to give both Yu Darvish and Tyler Chatwood a fresh look this season, and I said I wouldn't go flying off the handle after one or two bad starts by either; I think I've done well at keeping that promise. While I still root for Chatwood every time he takes the mound, I'm finding it harder and harder to defend Darvish.
I'm not giving up hope on him (yet), but after making his eighth start yesterday, he's really not showing much improvement and it's getting tougher to defend him to the naysayers. He's healthy- that's a plus, but in 32.2 innings, he's already allowed 29 hits, 27 walks and 21 earned runs, lasting an average of only 4.2 innings per outing. He's already beaned three batters and hurled three wild pitches, and combined (BB, H, HBP) he's putting one out of every 2.24 men he faces on base. I'm not sure what Joe Maddon does with him at this point, but if the Cubs' offense starts to slump with Darvish on the mound, they may be in trouble.
Welcome home, Monty: Mike Montgomery made his return from the IL yesterday, and what a game he had. Called upon to bail out Yu Darvish starting with the fifth inning, Monty went 5.0 scoreless innings, giving up three hits and two walks, while striking out three, which earned him the win.
Bryzzo's bats: Nobody doubted that Anthony Rizzo would snap out of his slump, but until a week ago, the jury was still out on Kris Bryant. KB has now slammed 4 homers in the last five games and driven in nine RBI, including a walk-off homer on Tuesday night. The duo has now combined for a slash line of .249/.381/.518, with 62 hits, 18 doubles, 2 triples, 17 homers, 50 RBI and 42 walks all coming in a combined total of 205 plate appearances (249 at bats).
Rizzo's 200th: Rizzo's dinger yesterday marked his 200th as a Cub (201st career homer), placing him solely in 9th place for most homers by a Cub. His next benchmark will be to surpass Bill Nicholson for 8th all-time in homers, which will require Rizz to hit 206 (#205 will tie Nicholson).
.@ARizzo44 becomes the 9th player in franchise history to hit 200 home runs with the #Cubs! #TeamRizzo pic.twitter.com/g3cBMdL5Sw

— Chicago Cubs (@Cubs) May 9, 2019
Hit Parade: With Rizzo's and Bryant's homers yesterday, the Cubs have now gone yard in 15 straight games, dating back to April 23rd. That's the longest homerun stretch since they went 15 games from July 21 to August 6, 2002.
Other Milestones: In addition to Rizzo's homer conquest, other milestones in reach include: Rizzo who needs to score just one run to reach 600 in his career; Brad Brach, who needs 1 strikeout to reach 500 in his career; Daniel Descalso, who needs a pair of extra-base hits to reach 200 and Javier Baez, who needs 3 RBI for a career total of 300.
Is the Bote sinking? David Bote has what it takes to be on the 25-man roster, and he's proven that time and time again, but has his recent slump (both offensive and defensive) put his major league status in jeopardy? Many seem to think so. Bote's had a rough month, chalking up six errors (4 at third, 2 at second) in 31 games, after committing only five gaffs in 73 games last year. While his slash line is still respectable (.244/.333/430) he's gone just 3 for 25 (.120) since the beginning of May. I'd like to think the Cubs will weather this storm, but with Russell, Edwards and Montgomery back and Strop returning shortly, roster spots are getting hard to come by.
Yesterday's Cub Birthdays: Happy birthday to ex-Cubs Cohen "Laddie" Renfroe (57), Sam Mejías (67), and posthumously, Billy Jürges (111), Tommy Clarke (131), Josh Reilly (151), and Gus Kröck (153).
NL CENTRAL SCHEDULE (May 5 – May 4, 2019)
(Wins are in green, losses in red)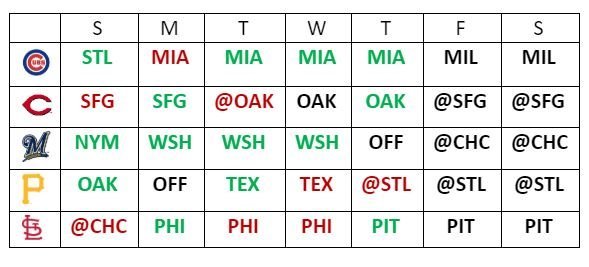 YESTERDAY'S NL CENTRAL SCOREBOARD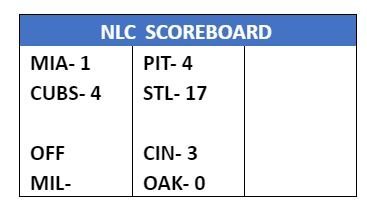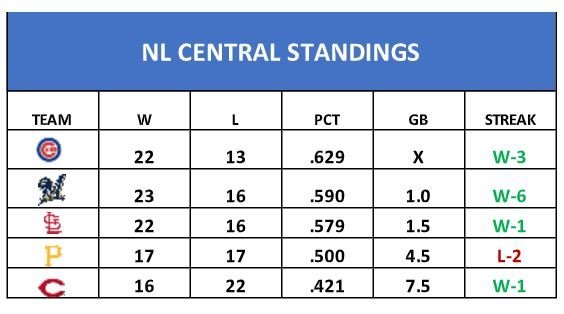 Tags: Cubs Baseball
,
Jose Quintana
,
Yu Darvish
,
Mike Montgomery
,
,
Anthony Rizzo
,
Cole Hamels
,
,
Tyler Chatwood
,
Daniel Descalso
,
,
David Bote
,
Joe Maddon