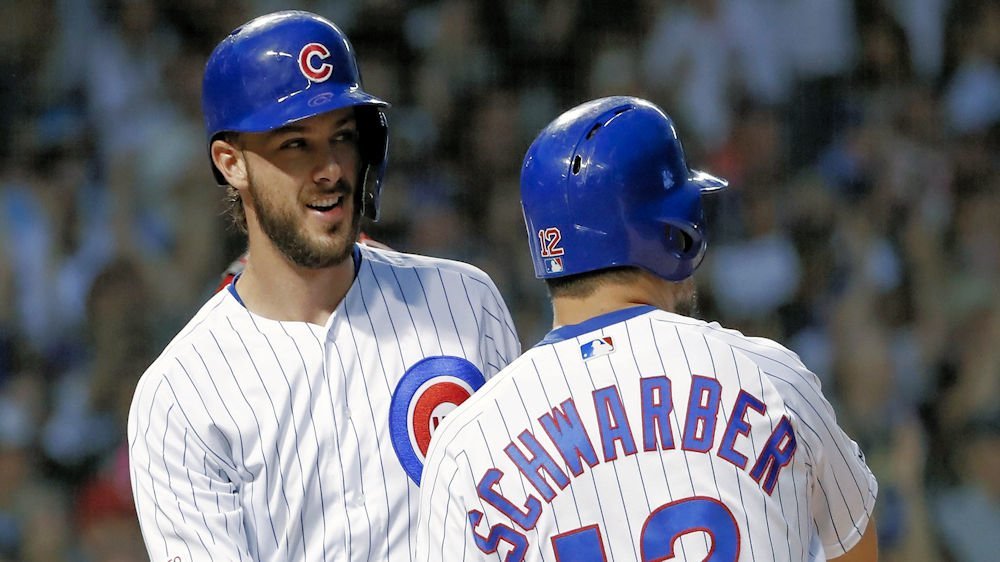 | | |
| --- | --- |
| Cubs News: Fly the slugfest W, Roster moves, Power rankings, KB on El Mago, more | |
---
| | | |
| --- | --- | --- |
| Thursday, May 23, 2019, 7:45 AM | | |
Wednesday's Game Recap: In Game three of the four-game set with Philly, Veteran Cole Hamels took the mound to square off against rookie, Cole Irvin; I've never seen Hamels look worse. Lasting just 4.0 innings, Hamels gave up nine hits, 3 ER. 2 walks and struck out 6, while hurling 99 pitches in the process (average of just under 25 per inning).
By the end of the Phillies half of the third, Philly was up 3-0, but the Cubs' offense wasn't letting Hamels' bad outing ruin the party. Anthony Rizzo tied the game on a monstrous, three-run homer that all but killed the Budweiser sign in right field. Next, it was Albert Almora's turn in the fifth, with his first career grand slam. Never one to be out-done, Javier Baez added his two-cents worth with a solo-shot in the seventh.
Tyler Chatwood pitched four phenomenal innings in relief of Hamels, but Knee-Jerk Joe pulled in him in the ninth for Steve Cishek. Chatwood did, however, get the win. Final score: Cubs-8; Phillies-4.

+
Cubs/Reds Probable Pitchers: FRIDAY (1:20 PM): RHP Anthony DeScalfani (2-2, 4.60 ERA) vs RHP Kyle Hendricks (4-4, 3.21 ERA). SATURDAY (1:20 PM) RHP Tyler Mahle (1-5, 3.51 ERA) vs RHP Yu Darvish (2-3, 5.06 ERA). SUNDAY (2:20 PM): RHP Tanner Roark (3-3, 3.51 ERA) vs LHP Jose Quintana (4-3, 3.30 ERA).
Roster move: Before last night's game, the Cubs recalled reliever, RHP Rowan Wick from Triple-A Iowa. LHP Xavier Cedeno was placed on the IL with a left wrist injury- this was the same injury that had him sidelined for all of spring training and into the regular season.
ESPN Power Rankings: Another week of ESPN's Power Rankings and the Cubs have moved up again- this time to #3. The Brewers ranked seventh, but they're the only other NL Central team to make the Top 10.
Tickle me, Almo: If there was ever a doubt as to whether Albert Almora, Jr. or Ian Happ was the better choice at the plate, consider this: Almora started the season hitting .182 (10-for-55) with no extra-base hits and a .432 OPS in his 1st 21 games. Since April 25th (last 23 games), Almora Jr. hitting .342 (27-for-79) with 11 extra base hits (7 2B, 4 HR) and a .948 OPS. I'm not sure about you, but this little factoid tickles me pink.
Hamels goes full circle: Before last night, Cole Hamels had never faced the Phillies; in fact, that's the only team in all of MLB that he hadn't faced at least once before, since making his MLB debut in 2006. As a result, Hamels now makes the 24th active pitcher in MLB to pitch for the cycle.
Bullpen's engine stalling: First the bullpen was terrible, then it was great, and now it's starting to sputter again. Before last night, the Cubs had gone 6-4 in their previous 10, with the bullpen giving up a total of 14 runs, two leads and they were directly accountable for two losses. Over the last week, the Cubs' bullpen has tossed 25 innings, given up 32 hits, 14 ER, 11 walks, four homers and have only fanned 15.
Epstein in signing Kimbrel: "There's not too many free agents out there," Epstein said. "I think trades are probably more likely than free agents, but you never know. Anyone who's still out there, you're obviously, if they can help you, you're engaged with them. It's just trying to find a way to make it work. Obviously, it's been well-documented that we weren't that active in free agency this winter. And there are a number of reasons for that, and those reasons still apply. But you don't want to look past any opportunities. It's just a matter of making it work. That said, typically June and July is the time where the trade market really comes into focus. But as you do that, you keep your mind on the talent out there that's available without having to give up prospects. Free agency, you'd love to find a way to make that work. It's not going to be easy."
KB on El Mago: Kris Bryant was asked about Javier Baez's walk-off hit on Tuesday: "I don't even know what's going on with him," Bryant said. "I don't know what's going on with him half the time anyway. 'Oh, Javy is pinch hitting? I was like 'Don't swing at the first pitch.' 'He's like 'I'm so good. I'm going to get this hit, and we're going to go home.'"
Cub Birthdays: Celebrating yesterday were ex-Cubs Jaye Chapman (32), Chad Tracy (39), Julián Tavárez (46), Jim Colborn (73), and posthumously, Frank Coggins (75), Mel Kerr (116), Harvey "Hooks" Cotter (119), and Hooks Warner (125).
NL CENTRAL SCHEDULE (May 19 – May 25, 2019)
(Wins are in green, losses in red)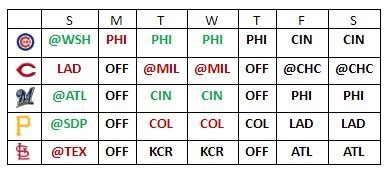 YESTERDAY'S NL CENTRAL SCOREBOARD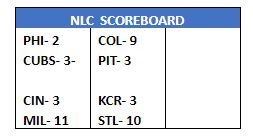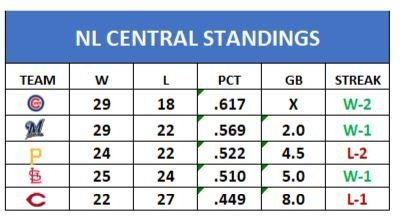 Tags: Cubs Baseball
,
,
Cole Hamels
,
Anthony Rizzo
,
,
Tyler Chatwood
,
Steve Cishek
,
Kyle Hendricks
,
Yu Darvish
,
Jose Quintana
,
Rowan Wick
,
Xavier Cedeno
,