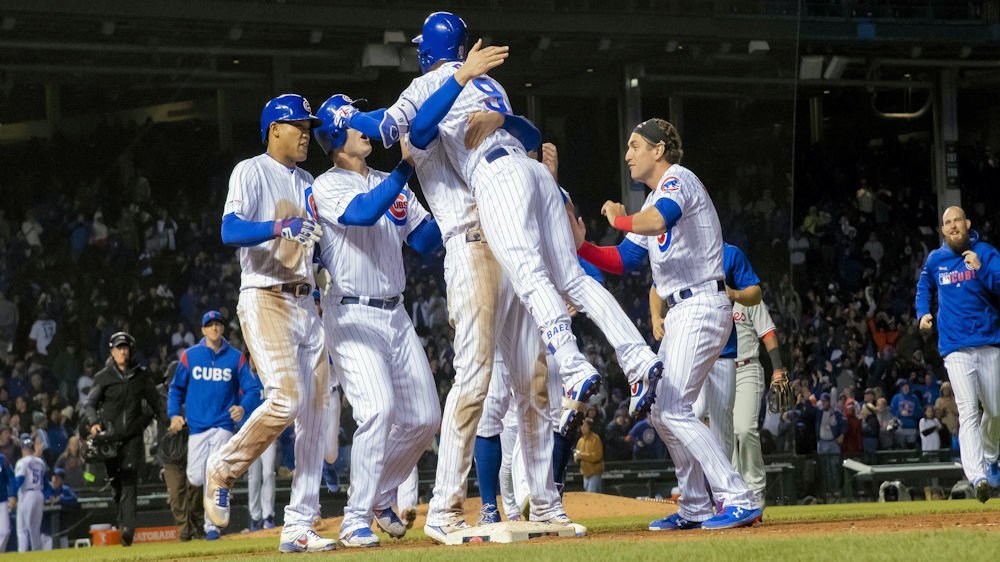 | | |
| --- | --- |
| Cubs News: Fly the walk-off W, El Mago saves the day, Booing Bryce, standings, more | |
---
| | | |
| --- | --- | --- |
| Wednesday, May 22, 2019, 9:14 AM | | |
Next Game: Today, 7:05 PM CDT: Phillies @ Cubs. LHP Cole Hamels (4-0, 3.13 ERA) vs LHP Cole Irvin (2-0, 2.77 ERA).
CUBS NEWS AND NOTES:
Tuesday's Game Recap: The Cubs lost a heartbreaker against the Phillies in ten innings on Monday night, but that didn't stop them from regrouping and trying again last night. The Cubs sent LHP Jose Quintana (4-3, 3.68 ERA) to the mound to face RHP Zach Eflin (5-4, 2.89 ERA).
Much like Monday, both starters put on quite the show, lasting 6.0 innings each, with only Eflin giving up a single run. The bullpen almost lost this one, giving up the shutout and the lead in the seventh. Carl Edwards, Jr. put a couple of men on, then Brandon Kintzler (in relief of Edwards) gave up a single which would result in the tying and go-ahead runs (runs charged to Edwards).
The Cubs started to piece together a comeback in the bottom of the ninth. Following Kris Bryant's walk, Anthony Rizzo doubled down the right field line, advancing Bryant to third. Willson Contreras flew out to the right for the Cubs' first out, then Jason Heyward was intentionally walked. With the bases juiced, Albert Almora, Jr. managed a swinging bunt, which scored Bryant from third, tying the game at 2. With the bases still loaded and the game now tied, Joe Maddon called Daniel Descalso back from the on-deck circle; Javier Baez then grabbed a bat. One pitch, one swing, one line drive, one run, one walk-off. Cubs win 3-2.

Cubs/Phillies Probable Pitchers: THURSDAY: LHP Jon Lester (3-2, 2.09 ERA) vs RHP Aaron Nola (4-0, 4.47 ERA).
Cubs/Reds Probable Pitchers: FRIDAY (1:20 PM): RHP Anthony DeScalfani (2-2, 4.60 ERA) vs RHP Kyle Hendricks (4-4, 3.21 ERA). SATURDAY (1:20 PM) RHP Tyler Mahle (1-5, 3.51 ERA) vs RHP Yu Darvish (2-3, 5.06 ERA). SUNDAY (2:20 PM): RHP Tanner Roark (3-3, 3.51 ERA) vs LHP Jose Quintana (4-3, 3.30 ERA).
Stranded in paradise: If there's one thing making some of the recent games way too close for the Cubs, it's got to be the amount of men left on base. In the first two games against Philadelphia, the teams combined to score 14 runs (7 each), but the Cubs stranded a total of 40 men in those two games, while the Phils stranded on 29.
El Mago's disappearing act: After suffering a heel contusion on Sunday, Javier Baez and Joe Maddon decided on Monday night that it would be best for him to remain on the bench last night as well. Joe Maddon said, "He keeps using the word 'sore,' and went on to say that he wanted "to make sure that's all it is." The magician also can make himself reappear, as he emerged from the Cubs' dugout in the bottom of the ninth, and firmly planted the first pitch he saw into right field for the game winner.
Booing Bryce: My, how quickly fans will turn a guy. Not three months ago, the world was clamoring for Bryce Harper to sign with the Cubs; obviously, he didn't. I saw fans on social media suggesting everything up to trading 1/3 of the position players, 3/4 of the bullpen and half the rotation to sign the mighty Bryce, but nope- he's a Philly (for life). Fast forward to May 20… Harper goes to take his first at-bat of 2019 in the Friendly Confines on Monday night, and nearly 40,000 fans booed so loudly, that they all but drowned out Len Kasper.
Fishing for Bass: The Cubs had him, then released him (despite solid performances), and didn't even bother to give him a second look. Now, former Cubs' reliever, Anthony Bass, is finally headed back to the majors.
After receiving a DFA from the Cubs last summer, Anthony signed a minor league deal with the Reds over the winter but failed to make the team out of spring training. He's now spent the last two months playing for the Reds' Triple-A, minor league affiliate in Louisville (the Bats) and has done unbelievably well. In 19 games this season, he's posted a 2.21 ERA with nine saves over 20.1 innings. Of the 80 batters that he's faced, he's given up just six walks, 13 hits, 1 HR, and has fanned 19. Not the Cubs could use a guy like that in the bullpen (heavy sarcasm), but it's too late now. Anthony finally received the call he'd been waiting for; he's going back to the majors as a reliever for Seattle. Bass was activated for last night's game vs. the Rangers. Congrats, my friend, you've earned this- now go out there and knock 'em silly.
Mariners Expected To Sign Anthony Bass https://t.co/NTsQCMaJd7 pic.twitter.com/8x5bAUL3WZ

— MLB Trade Rumors (@mlbtraderumors) May 21, 2019
Jim Hickey: Former Cubs pitching coach, Jim Hickey has found a new job; he's now the special assistant for player development with the Dodgers. Hickey says he is doing well with no health issues but failed to elaborate on the circumstances surrounding his departure from the Cubs.
Cub Birthdays: Celebrating yesterday were ex-Cubs Jacob Turner (28), Bob Molinaro (69), and posthumously, Moe Thacker (85), El Tappe (92), Dick Ward (110), and Karl Spongberg (135).
NL CENTRAL SCHEDULE (May 19 – May 25, 2019)
(Wins are in green, losses in red)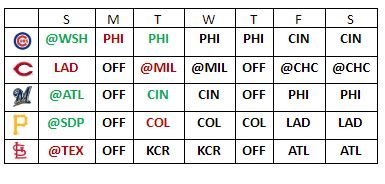 YESTERDAY'S NL CENTRAL SCOREBOARD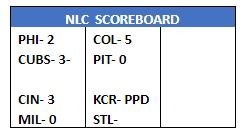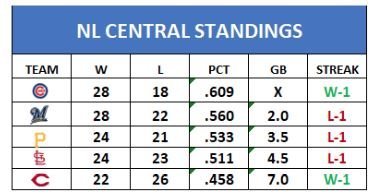 Tags: Cubs Baseball
,
,
Cole Hamels
,
Jose Quintana
,
Brandon Kintzler
,
,
Anthony Rizzo
,
Willson Contreras
,
Jason Heyward
,
Daniel Descalso
,
,
Kyle Hendricks
,
Yu Darvish
,
Joe Maddon
,
Jim Hickey