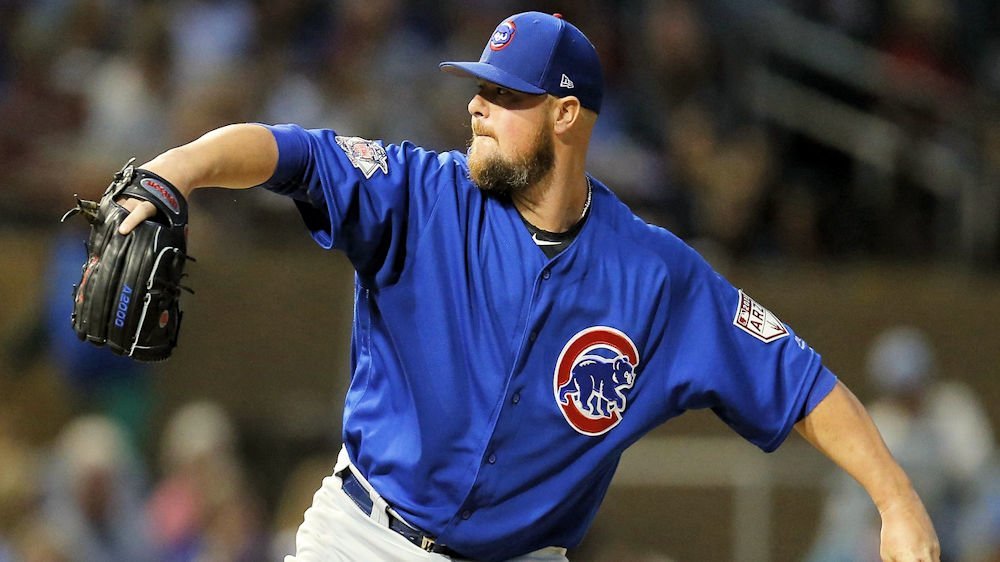 | | |
| --- | --- |
| Lester reportedly to IL, bullpen injury updates, La Stella's three dingers, MLB news | |
---
| | | |
| --- | --- | --- |
| Wednesday, April 10, 2019, 7:39 AM | | |
Next Game: Tonight, 7:05 PM. Pirates @ Cubs: RHP Jordan Lyles (0-0, 0.00 ERA) vs. Yu Darvish (0-1, 8.10 ERA).
CUBS NEWS AND NOTES:
Wednesday's Game Preview: Righty Jordan Lyles pitched well in his season debut last week against the Reds, throwing five scoreless innings He says he felt as though he could have gone deeper into the game, and that will be intention today at Wrigley. For the Cubs, right-hander, Yu Darvish will make his third start, and will look to limit the walks, and hits while increasing his innings pitched. Darvish's 8.10 ERA could be a lot worse, had he not pitched himself out of a handful of jams in his first two starts.
From the offensive side, Daniel Descalso has had the best luck against Lyles, batting .286 against him in seven at-bats. Lyles has completely shut-down the majority of the Cubs' roster, with Willson Contreras, Albert Almora, Jr., Davis Bote, Anthony Rizzo and Ben Zobrist going a collective 0 for 13 against him. Meanwhile, only three of the Bucs have ever faced Darvish (Melky Cabrera, Francisco Cervelli, and Starling Marte). While Marte is hitless in two at-bats, Cervelli and Cabrera have combined for a .486 average (12 at-bats) against Yu.
Cubs/Pirates Probable Pitchers: Thursday: RHP Joe Musgrove (1-0, 0.00 ERA) vs. Jose Quintana (0-1, 10.29 ERA).
Jon Lester: On his hamstring injury which occurred while sliding into home on Monday, Lester said, "It felt like a cramp, I didn't feel it pop or any tingling or any numbness or anything like that. More of a cramping sensation. It was just kinda felt like something was in there grabbing me a little bit. I've never really had anything wrong with my legs before. We'll find out some more tomorrow."
The Cubs will reportedly place him on the 10-day IL and Lester is currently expected to miss 1-2 starts.
Tyler Chatwood: In the wake of Lester's injury, and with Mike Montgomery already on the IL, Chatwood looks to be the starter on Sunday against the Angels. Call me crazy (and not that I wouldn't have Lester healthy and pitching), but I'm looking forward to this, as I think Chatwood could finally turn a corner. Don't look for a perfect five innings, look for a start that can last five, with minimal walks, and limited runs. Due to off-days on April 18 and 22, the Cubs only need a fifth starter twice (this Sunday and April 27) in the next 16 games.
Maddon on Carl Edwards, Jr./Ian Happ: "I may check in with those two guys," Maddon said. "I will. It's up to them to perform well. Then it's up to having a need here. So, they can both add a lot to us as they do get back in the flow up here, but in the meantime, they've just got to go play. You don't ever set timelines in situations like that."
Tom Rickets: "There's always a little bit of flex in every year's budget," Ricketts said on 670 The Score. "But typically, we don't think about that until you get toward the middle of the season. I don't know about Craig Kimbrel. That may just be a bigger ticket than what we can swing, but listen, it's about performance. We've got the resources. We've allocated those resources to the people we think are going to give us the best chance to win the division. And now we have to let them go out there and do their jobs."
Injury Update: Tony Barnette (10-day injured list, right shoulder) and lefty Xavier Cedeno (10-day injured list, left wrist) are getting closer to Minor League rehab assignments. Brandon Morrow (10-day injured list) has gone through a series of bullpen sessions with no lingering issues with his right elbow and is on target to return by later this month or early May.
Angels/Cubs: Angels OF Mike Trout was removed from the game against Milwaukee last night due to a groin strain. He is currently listed as day-day, so he may or may not be available when the Angels come to town for the weekend.
Former Cub Tommy La Stella has three homers against the Brewers in the last two games. With La Stella's help, the Brew Crew have lost two straight and the Cubs are now only four games back in the NL Central.
TOMMY LA STELLA DID IT AGAIN!

3 HRs against the Brewers, 2 tonight pic.twitter.com/CpvEicEx8J

— Aldo Soto (@AldoSoto21) April 10, 2019
Cub Birthdays: Birthday wishes (yesterday) to ex-Cubs Ryan O'Malley (39), Blaise Ilsley (55), Mike Brumley Jr. (56), José Guzmán (56), Brian Dorsett (58), and posthumously, Claude Passeau (110), Earnest "Tiny" Osborne (126), James "Hippo" Vaughn (131), and Jack Hendricks (144).
NL CENTRAL SCHEDULE (April 7 – April 13, 2019)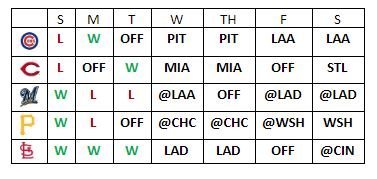 YESTERDAY'S SCOREBOARD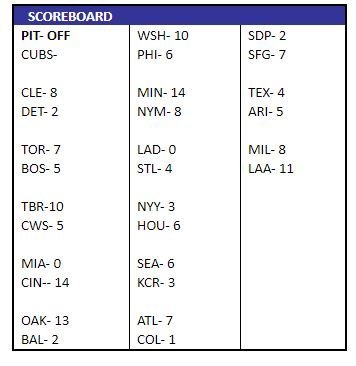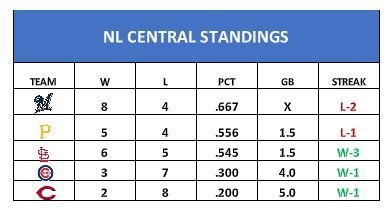 MLB News:
Suspensions: After the bench-clearing brawl in the Reds/Pirates game last week, MLB has handed down suspensions: Chris Archer: 5 games (for intentionally throwing at Dietrich; Reds' manager, David Bell: 1 game (served last night); Yasiel Puig: 2 games (started serving last night).
Indians: Cleveland has placed RHP Mike Clevinger (right upper back/Teres major muscle strain) on 10-day IL and recalled RHP Nick Wittgren from Triple-A Columbus.
Nationals: The Nats have signedfree-agent reliever, Bud Norris. They believe Norris may give them the help they need in the pen, while keeping them under the luxury-tax threshold.
Red Sox: The Sox have reinstated 2B Dustin Pedroia from the 10-day IL, and in turn, have optioned INF Tzu-Wei Lin to Triple-A Pawtucket.

Tags: Cubs Baseball
,
Yu Darvish
,
Daniel Descalso
,
Willson Contreras
,
Anthony Rizzo
,
Ben Zobrist
,
Jose Quintana
,
,
Tyler Chatwood
,
Mike Montgomery
,
,
Tony Barnette
,
Xavier Cedeno
,
Brandon Morrow
,
Tommy La Stella