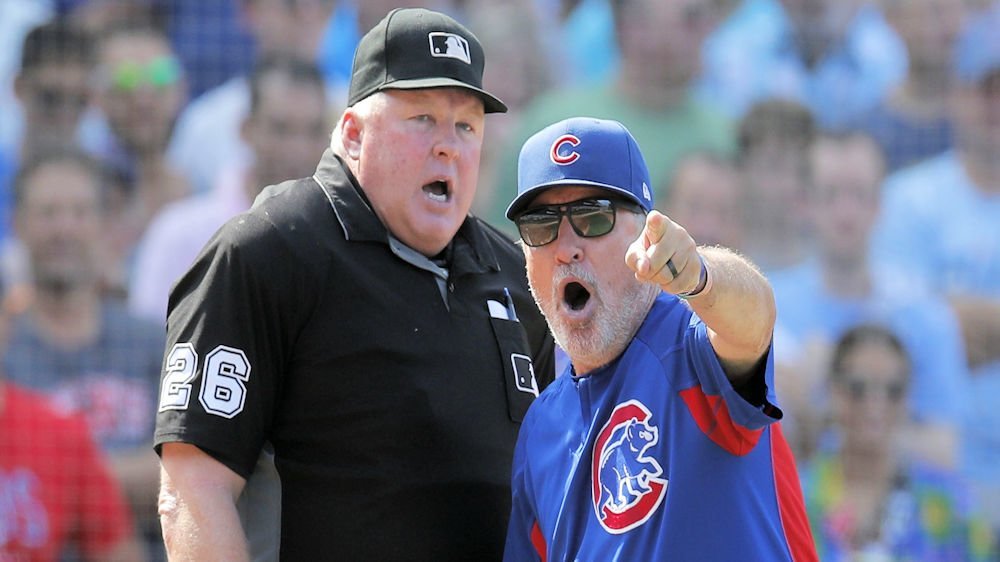 | | |
| --- | --- |
| Maddon ejected as feisty Cubs rally for dramatic victory over Nats | |
---
| | | |
| --- | --- | --- |
| Friday, August 10, 2018, 6:15 PM | | |
CHICAGO — Despite getting no-hit through 5.2 innings, the Chicago Cubs (67-48) rallied to overcome a 2-0 deficit and take game one in a three-game set at Wrigley Field versus the Washington Nationals (59-57). Winning 3-2, the Cubs benefited from several critical walks and scored the winning run on a bases-loaded walk that came in the same inning that manager Joe Maddon was ejected. Accruing just four hits, the Cubs turned six walks and a questionable pitching change by the Nationals into a victory.
In a game filled with rarities, the rarest of instances came in the form of Nationals starting pitcher Jeremy Hellickson getting pulled while working a no-hitter in the sixth inning. After issuing three straight two-out walks to load the bases, including a walk accrued by Cubs first baseman Anthony Rizzo on a 13-pitch at-bat, Hellickson was pulled for reliever Sammy Solis, who proceeded to give up a 2-0 Washington lead.
Continuing his recent trend of hitting well with runners in scoring position, Cubs right fielder Jason Heyward tallied a two-run single up the middle off Solis to break up the no-hitter and tie the game at 2-2. Then, in the seventh, recent Nationals acquisition Greg Holland struggled mightily after entering with a man on first and no outs, even after benefiting from a call that Maddon vehemently disagreed with.
tie game! pic.twitter.com/wTozdT4WeS

— Brett (@Cubbieblue97) August 10, 2018
Laying down a surprise bunt, Cubs catcher Willson Contreras motored to first base and was pelted on the back with the throw to the bag. Contreras and lead runner Kyle Schwarber then hustled to advance a base, but an umpire ruled that Contreras was out of the baseline when the throw hit him. The call was correct, but Maddon did not agree with it. As a result, Maddon's demonstrative outburst over the ruling got the veteran skipper thrown out.
The Cubs came together after their manager was sent off and scored the winning run in the seventh. They tallied a pair of one-out singles to load the bases, which set the stage for Rizzo to draw one of his three walks on the day to force home the winning run. If Hellickson had been granted more leeway to work through his struggles, the Nationals may have very well never given up their lead. Instead, they handed the Cubs their 36th come-from-behind win, which leads the majors.
cubs lead! pic.twitter.com/PsYZjgjrqM

— Brett (@Cubbieblue97) August 10, 2018
Chicago faced its fair share of drama on the defensive end, too. Kyle Hendricks started on the mound for the Cubs, and he gave up two runs on eight hits in six innings of work. Rookie Nationals sensation Juan Soto garnered a two-out single off Hendricks in the first inning to drive in Washington's only two runs of the contest.
Soto was far less fortunate in the seventh inning. Facing off against former Nationals reliever Brandon Kintzler, who was recently traded to the Cubs amidst his involvement in clubhouse drama with the Nats, Soto shot menacing glares in Kintzler's direction after every pitch of the at-bat, which resulted in a walk. Soto then pressed his luck by taking an insultingly large lead off first base, as if to taunt Kintzler. Instead, it merely fired up Contreras, who used his cannon of a throwing arm to pick off Soto at first base. Rizzo applied the tag on Soto between his legs just in the nick of time to attain the out.
*Glares* pic.twitter.com/rgJI4lCkou

— Chicago Cubs (@Cubs) August 10, 2018
In the ninth, the Nationals were given new life when Cubs reliever Pedro Strop botched a routine play at first base while he was covering the bag. After dropping a toss from Rizzo on what would have been the game-ending out, Strop remained composed and finished Washington off in the next at-bat with a winning strikeout for his ninth save. Cubs reliever Steve Cishek tallied the win to move to 3-1, and Solis dropped to 1-2 with the loss.
cubs win! pic.twitter.com/9FiBiqvKyR

— Brett (@Cubbieblue97) August 10, 2018