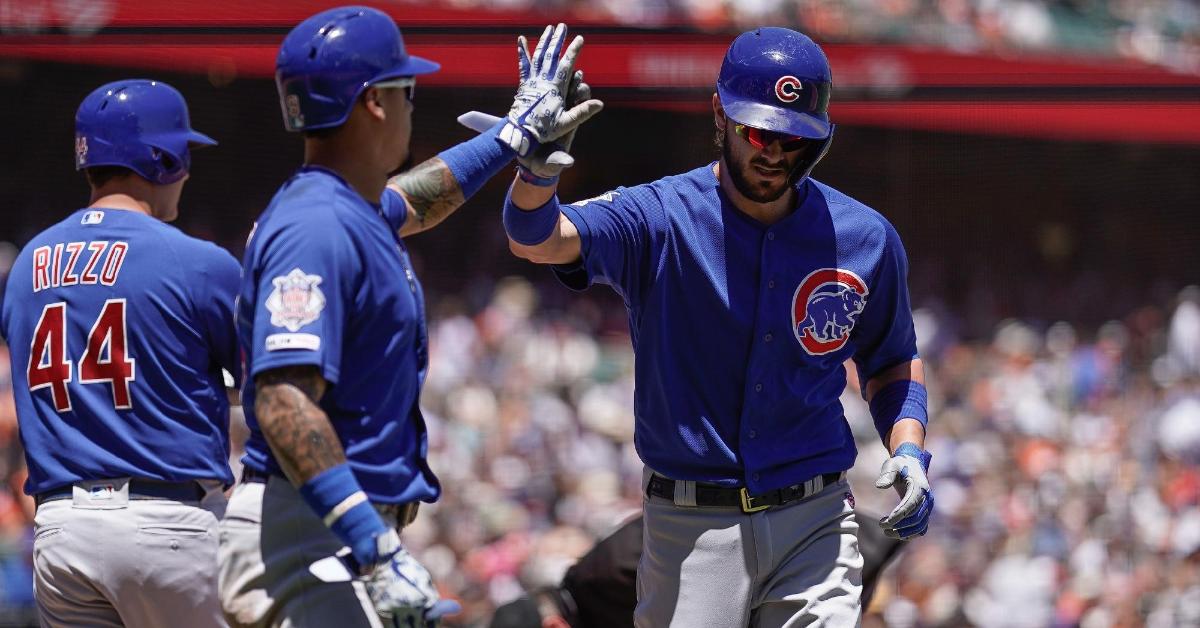 | | |
| --- | --- |
| Maybe Next Year- Part 3: Resecting the Cubs Roster | |
---
| | | |
| --- | --- | --- |
| Wednesday, October 2, 2019, 7:54 AM | | |
As the Cubs continue to move forward in their attempt to recapture another World Series title, some serious changes have to be made. Some expected, some unexpected, but all with at least a little taste of bittersweet.
ESPN 1000's David Kaplan has repeated time and time, that Cubs were at the point where they could be facing having to endure a major overhaul. I do believe that you'll see some radical changes, but maybe not quite to the extent that the Kapman envisions.
Bullpen management, lineup decisions that are head scratching, and the struggles of the offense are some of the reasons the Cubs are in real danger of missing the playoffs. Sad they are at this point but we have to fact facts that they may be ready to undergo a major overhaul.

— David Kaplan (@thekapman) September 9, 2019
I'm confident that this winter is going to see a tear-down and rebuild but done so in a way that it changes a lot of the scene, without changing all of the scenery. That being said, I believe that a lot of changes will be coming to not only both the bullpen and starting rotation but that pieces of Chicago's once "untouchable" core will be partially and permanently, dismantled.
The Cubs have an abundance of players who'll be earning free agency this winter, and the vast majority of them won't be re-signed, but they'll also be losing some players who aren't free agents yet. The good news is that some very dead weight falls off the books this year, and that's going to give Chicago some purchasing power when the hot stove begins blazing. The Cubs are also likely to lose a couple of guys who've really contributed, but unfortunately, age takes its toll, and life often comes equipped with obstacles.
Without further ado, here's a list of those who I believe have played their last games in Chicago.
Note: The number in parenthesis below, represents the player's 2019 salary, not all of which may have been paid by the Cubs, in cases where a player joined the team mid-season.
RHP Tony Barnette ($750k): Despite having a team option for 2020, the Cubs can't part ways with (almost) 36-year old Barnette fast enough- although they haven't been paying him anyway for the last few months. Barnette had a conniption on July first, after being passed up for a promotion to the majors and stormed out of Des Moines. Now on the restricted list, he hasn't been seen or heard from since.
RHP Brandon Morrow ($12M): The Cubs have a team option on Morrow, but I don't see any way that Theo is going to ride that train again. For the $21M that Morrow has already earned, the Cubs have gotten all of 35 appearances (22 saves) from the aging and injury/accident prone closer. Morrow does have a $3M buyout.
LHP Xavier Cedeno ($900k): After injuring himself before the start of spring training, Cedeno spent the first six weeks of the season on the IL, before making his Cubs debut on May 11th. After just five relief appearances, Cedeno hit the IL again on May 21st and hasn't returned. Throughout his nine-year career in the majors, Cedeno has only pitched a total of 177.2 innings (average of 19.74 innings per season).
LHP Derek Holland ($7M): Holland had served as a starter for the Giants this year, turning in some amazing performances (including a complete-game shutout on May 3rd vs. the Cards), but he fell flat after he went to the pen. He's known as a right-handed specialist, something any team can use, but he's failed to show much at all in Chicago. Maddon's used him very sparingly, and when the phone has rung for him, Holland really hasn't performed. Maybe he didn't adjust to life in the Friendly Confines as fast as Nicholas Castellanos or some of the others did, but for $7M, the Cubs can't afford to take another chance.
C/1B Jonathan Lucroy ($3.35M): After Martin Maldonado bombed in limited appearances with Chicago, Jonathan Lucroy arrived just in time to serve as a backup to Victor Caratini, after Willson Contreras went down with his hamstring issue. Lucroy has provided some leadership while contributing on the field, but I can't see the Cubs carrying a third catcher all year, and I don't see Willson Contreras or Victor Caratini leaving. Taylor Davis cleared waivers, and thus far, remains in Iowa.
RHP Pedro Strop ($6.25M): Stroppy surely wants to remain in Chicago, and the Cubs would probably like to keep him, but I can't see the Cubs re-signing him- not after the way that he performed this year. Once a lights-out pitcher, Strop just never found his groove this year, costing the Cubs game after game.
SS/2B Addison Russell ($3.4M): The Cubs made a strong statement on September 17th, when they placed Russell on the concussion IL, just a day or two before he would have been reactivated from his injury; by doing so, the Cubs avoided having to pay him a $100k roster bonus. Between the Cubs ducking Russell's bonus, Russell's own issues both on and off the field, David Bote's ability to play both shortstop and second, and now with the emergence of Nico Hoerner, the Cubs have positioned themselves to depart with the once coveted shortstop. A non-tender is possible, but I see the Cubs dealing him to someone (as a "bonus" trade piece), for whatever they can get.
2B Daniel Descalso ($2.5M) Descalso's become a somewhat controversial figure on the Cubs' roster- at least as far as the fans and Tom's checkbook are concerned. Descalso's contract was structured in such a way, that he only earned $1.5M in 2019, but he's due $2.5M in 2020, and the team has a million-dollar option in '21. He has no trade value, but I think the Cubs eat the money that Descalso's owed for 2020, just to open a roster spot.
LHP Cole Hamels ($20M): Hollywood just completed his 14th season in the majors, and I believe he's had enough. He hasn't been the same since he injured his oblique in July and has looked even worse since taking a shelling in Philly, back in August. Cole is also a proud new father and is likely wanting to hang up his cleats, as he'll be turning 36 in just a couple of months. Even if Hamels were to consider playing a little longer, I'm not sure the Cubs would be willing to dole out $20M-plus for another year, and certainly not the $35M+ for the two years that Hamels may want.
UT Ben Zobrist ($14M): Make no mistake, the Cubs would sign Zo for another two years in a heartbeat, but I don't think Ben wants to do it anymore. His divorce took a toll on him, and he stated recently, that the time was coming that he'll want to spend more time with his kids. His comeback this season was great, not so much for the baseball aspect, but rather from the standpoint of closure for Ben, his teammates and the fans. Godspeed, Ben- we'll miss you.
Brace yourselves.
3B Kris Bryant ($12.9M): For the Cubs, the biggest and most controversial topic in this hot-stove season will undoubtedly be the future of Kris Bryant. There's already been confirmed reports that the Cubs are willing to listen to offers for KB, and I think the time has come that the Cubs will let him go. His stock is on the rise, he's controllable for another two years, and frankly, I don't think he's ever going to re-sign with Chicago.
Bryant was initially listed as a "wild card" in my notes, but I think the drastic turn for the worst in the final two weeks of the season may cause Theo to have to cut much deeper than originally planned.
Anthony Rendon's next contract could set the foundation for Kris Bryant & Matt Chapman in the near future.@Ken_Rosenthal talks about this topic & more. pic.twitter.com/ZHaC6RpYOp

— FOX Sports: MLB (@MLBONFOX) September 19, 2019
Sure, Theo can get whatever productivity that he can get out of Bryant for another two years, then let him walk as a free agent, but he'd be a hell of a lot smarter to get something in return- and that something would most likely be more than what Bryant can give the team from now until the end of 2021. It's going to take a lot to obtain KB in a trade, but I think there's a likely chance he leaves.
After having his service time toyed with by Chicago, KB has become almost a spokesman for the players' grievances with MLB and team ownership, and he's bound to make waves during the next CBA talks. I think Bryant is a team player, but that doesn't mean that he's not utterly pissed at Theo Epstein and Tom Ricketts, and he's got a legitimate axe to grind.
"I think they're both hugely important, and it'd be hard to see them out of a Cubs uniform, but we're at a transition point, and we have to do whatever is best for the Cubs," Epstein said. "I hope it includes both of those guys." – Theo Epstein on trading KB or Javy.
The Cubs have already said that they wanted to extend Javy, and (although the rumor was never confirmed) KB allegedly already turned down a large extension offer. As time passes, I see more and more subtle comments being made that lead me to believe that KB's chances of being dealt are increasing.
The Cubs have other options at third, and although KB's defense outshines the current alternatives, there's no telling who the team could land during the off-season. While there aren't a ton of third baggers in the free-agent pool this year, there are a couple of quality names available, and there's always more on the trading block.
Albert Almora Jr. ($615k): There's been talk for several months that any one of three Cubs' outfielders could be dealt: Albert Almora Jr., Ian Happ or Kyle Schwarber. Each has plusses and minuses in their favor, ranging from Schwarber's power to Happ's switch-hitting, to Almora's skill in the outfield and his ability- when not slumping- in the batter's box. Unfortunately, I think Albert is the one who goes. Schwarbs has started a massive offensive run, and with increased playing time, Happ Is improving exponentially at the plate. Almora needs to find the team that can use him daily, and then he too will probably flourish.
Steve Cishek ($6.5M): Cishek's had better years than 2019, and he's now eligible for free agency. The Cubs could certainly pitch him a deal to stay, and at age 33, Shrek's likely to accept. If the Cubs abandon the pitchers listed above, they'll be comparatively short for experienced arms in the bullpen and losing Cishek would only amplify the shortage.
David Phelps ($2.5M): Phelps hasn't been entirely terrible for the Cubs this year in limited appearances, but for $2.5M, I'd like to think that Theo could do better. Toronto ate a considerable portion of that salary, as Phelps was traded the day before the deadline, and although he's been able to limit the runs somewhat, he's been knocked around quite a bit. Phelps turns 34 next month, and while the Cubs might take a chance (if he's willing to sign cheap), the likelihood is that they'll pass.
If I'm correct, these departures will save the Cubs approximately $87,166,000.00, or the equivalent of 39.6% of the 2019 payroll , not including the $6.8M that the Cubs paid for crossing the luxury tax threshold (figures based on 2019 salaries and/or known salaries or team options for 2020, but do not include allowances for arbitration-eligible players). That's an awful lot of money for a rebuild project.
The Wild Card
Jon Lester: Rumors earlier this year said that Jon might consider an early retirement. He's struggled immensely on the mound this season and seemed to be growing increasingly frustrated with Maddon, his teammates, and most of all, the umpiring, but I can't see him foregoing the next two years of his salary, equaling $45M. I think Jon rides it out for at least one more year, and that a Maddon-less clubhouse helps to improve his attitude and game.
I suppose Theo could push the button and go completely nuclear, but I don't think he'll go that far, as even without the plethora of names above, this team still has a lot of talent and depth.
Now that the biggest part of the teardown is complete (there'll undoubtedly be some minor leaguers dealt, re-signed or released), tune in tomorrow as I start painting a picture of what the pitching landscape may look like for the Cubs in 2020.

Tags: Cubs Baseball
,
,
Tony Barnette
,
Brandon Morrow
,
Xavier Cedeno
,
Victor Caratini
,
Willson Contreras
,
Taylor Davis
,
Pedro Strop
,
Addison Russell
,
David Bote
,
Daniel Descalso
,
Cole Hamels
,
Ben Zobrist
,
Albert Almora Jr
,
,
Kyle Schwarber
,
Steve Cishek
,
,
Theo Epstein