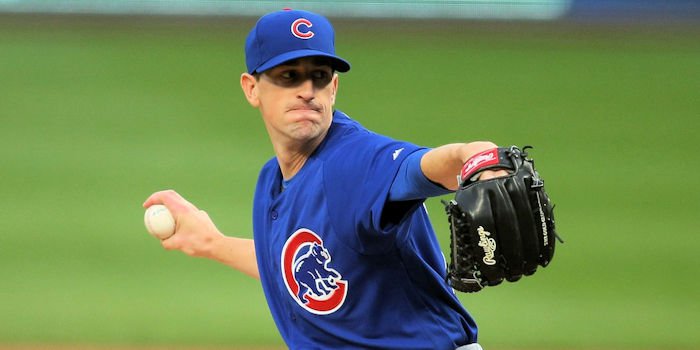 | | |
| --- | --- |
| Quintana, Chatwood solid, Hendricks "temper," Angels accuse Harper of tampering, and notes | |
---
| | | |
| --- | --- | --- |
| Thursday, March 7, 2019, 8:06 AM | | |
Upcoming games: Rockies at Cubs (Senzatela vs. Lester) on March 7, 3:05 PM ET; Cubs at Mariners (Gonzalez vs. TBD) on March 8, 8:40 PM ET.
NOTE: As per a recent change, the Cubs-Mariners game on Friday will be televised on MLB.TV and Seattle RSNW.
Cubs' Opening Day: 21 days. March 28 @ Rangers; Game time: 3:05 PM Central. (WGN, MLB.TV).
Cubs' Home Opener: 32 Days. April 8 vs. Pirates: Game time 1:20 PM Central. (ABC-7, MLB.TV)
Wednesday's Game Recap:

Jose Quintana/Tyler Chatwood: Q started it, and Chatty finished it when the pair combined for six innings of scoreless, four-hit, three strikeout ball. Quintana fanned two and walked one in the opening three frames, followed by Chatwood who would hurl the last three. Although Chatwood would give up a total of three singles, he walked no one, and struck out one, getting himself out of jams in the 8th and 9th after inducing a pair of double-plays.
In eight innings, so far, this spring, Chatwood has only issued one walk, while striking out five, lowering his ERA to an attractive 2.25. Quintana, still boasting a 0.00 ERA after completing a total of five innings in two outings, has now struck out three, walked no one, while allowing only one hit (single).
Kyle Hendricks: When asked about Jon Lester being named as the Opening Day starter, Hendricks quipped, "You know me. I ran right into Joe's office and started throwing stuff."
Kris Bryant: Speaking about his shoulder injury last season, KB says, "I don't feel anything at all. Everything feels like it's completely healed. I kind of expected it to be a progression in the offense when I picked up a bat, but I didn't feel it at all."
Kyle Schwarber: Speaking about the proposed electronic strike zone, Schwarber says, "I like the art and the human error still behind the plate."
Joe Maddon: Exuding confidence in an article from The Athletic (subscription required), Maddon says, "You don't win 95 with a horseshit bullpen."
Brad Brach: After an ill-timed bout of mononucleosis (just before spring training started), the Cubs restructured Brad Brach's contract. Brach admits that he wasn't thrilled about the contract being rewritten, but says he wants to get by it and be in the Cubs' bullpen on Opening Day. Brach made his first appearance against the Royals on Wednesday, pitching a scoreless sixth inning, allowing one hit and striking out one.
Yu Darvish: The Cubs say that Darvish will not start on Friday against the Mariners, and instead will be throwing a sim game at Sloan Park.
Jed Hoyer: According to Hoyer, the Cubs are continuing to have contract extension talks with their "young, core players."
Cubs' fans: When asked to describe Cubs fans in general, a handful of Cubs players had high praise for the fanbase. "Knowledgeable" (Schwarber), "Intense" (Hamels), "The best" (Hendricks, Zobrist, Baez).
The Hawk: It was 32 years ago yesterday, that Andre Dawson signed with Chicago. Dawson played six seasons with the Cubs (1986-1992), earning himself a slash line of .285/.327/.507- his best line out of any team he'd played with (Expos, Cubs, Red Sox, Marlins).
Andre "Hawk" Dawson signed with the #Cubs 32 years ago today#EverybodyIn pic.twitter.com/SXhjE3twwU

— CubsHQ (@ChicagoCubsHQ) March 6, 2019
Wednesday's Scoreboard: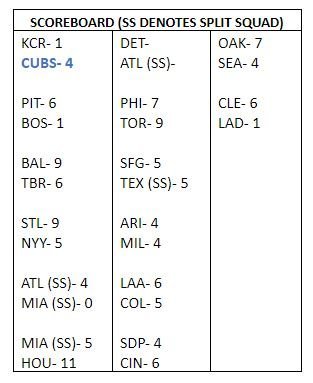 Thursday's games (EST): 1:05 PM: MIN @ BOS, NYM @ WSH, BAL @ PIT, TOR @ TBR, NYY @ PHI (SS), HOU @ MIA, PHI (SS) @ DET, 3:05 PM: COL @ CUBS, LAA
(SS) @ KCR, MIL @ CWS. 3:10 PM: TEX @ SDP, CLE @ ARI, LAD @ LAA (SS). 8:05 PM: SEA @ CIN. 9:05 PM: OAK @ SFG.
Friday's games (EST): 1:05 PM: TBR @ MIN, TOR (SS) @ PIT (SS), BOS @ BAL, WSH @ STL (SS), PIT (SS) @ TOR (SS), MIA @ NYM. 2:05 PM: ARI @ MIL. 3:05 PM: CIN @ KCR (SS), SDP @ OAK, CWS @ LAA, TEX @ COL. 6:05 PM: PHI @ ATL, STL (SS) @ HOU. 6:35 PM: DET @ NYY. 8:05 PM: SFG @ CLE. 8:40 PM: CUBS @ SEA. 9:05 PM: KCR (SS) @ LAD.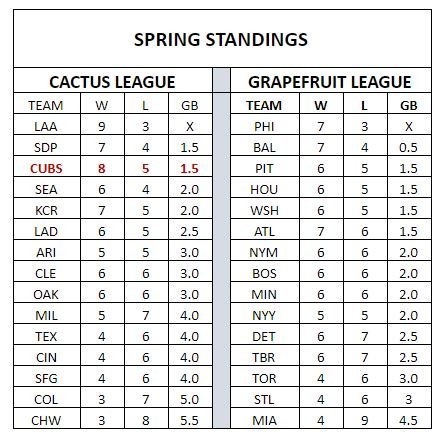 Other news from around MLB:
Injury updates: The injuries and illnesses just keep coming this spring: Diamondbacks: Silvino Bracho- partial UCL tear, Tommy John pending; Yankees: Luis Severino's -rotator cuff inflammation, CF Aaron Hicks- back pain; Twins: 3B Miguel Sano will miss the start of the season due to a cut on his foot; Padres: Travis Jankowski- broken wrist. Royals: Salvador Perez- Tommy John surgery; Cards Franciso Pena- oblique injury. Nationals: OF Howie Kendrick- hamstring issue. Pirates: Elias Diaz- virus. Mariners: CF Mallex Smith- strained flexor in the right forearm.
Bryce Harper: "If you don't think I'm gonna call Mike Trout and tell him to come to Philly in 2020, you're crazy." The Angels, not pleased by Harper's statement, have contacted MLB about the incident, claiming the recruitment constitutes a violation of tampering rules. Harper could be fined for using Trout's name.
Expanded rosters: MLB and the players union are nearing an agreement that would allow rosters to expand to 26 men in 2020. The maximum pitcher allowance will be 13 (which is what most teams carry now), allowing teams to keep an extra bat on the bench. September would see rosters expand to just 28 players, rather than 40, in order to limit the drastic changes to the game in the final month of the season.
Giants: Outfielder, Cameron Maybin, was arrested for driving under the influence of alcohol last Friday in Scottsdale, AZ. Maybin's blood alcohol content was .127, a little more than 1.5 times higher than the .08 legal limit. The team says it's monitoring the situation. Maybin is in camp as a non-roster invitee.
Rangers: KC has extended the contract of reliever, Jose Leclerc; $14.75M over four years. Rangers have options for $6M (in 2023) and $6.25M (2024).
White Sox: The cuts have started in the Sox Camp. Chicago has sent 2B Nick Madrigal, OF Blake Rutherford, OF Luis Gonzalez, and pitchers Bernardo Flores and Jordan Guerrero to minor league camp.
Yankees: Rumors say the Yankees have "discussed" Gio Gonzalez and may ask Scott Boras about his current asking price. The Brewers are also reportedly showing interest.