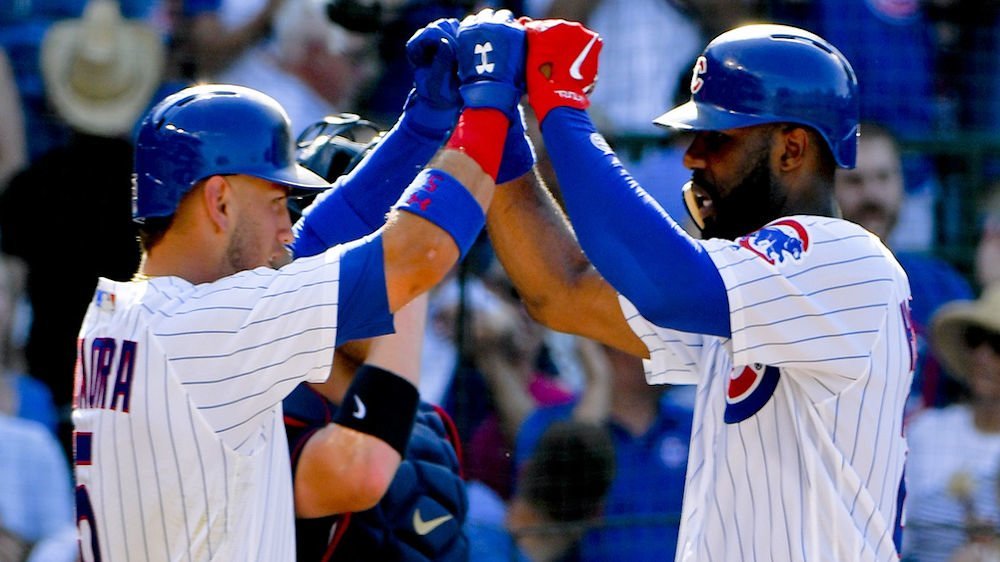 | | |
| --- | --- |
| The Hot Corner: Cubs taking BP, Maddon on Russell, Cubs injury, Epstein on racist emails | |
---
Cubs' news and notes
Cubs' Opening Day: 44 days. (March 28 vs. Rangers)
Pitchers/Catchers Report: Today.
First Spring Training game: 11 Days. (Saturday, February 23, Brewers vs. Cubs at Sloan Park)
Although position players aren't due to report to Mesa until later this week, it would appear as though a majority are already there and beginning workouts and batting practice sessions. For a season that ended much too soon and a winter that was way too long, baseball is finally back.
Jason Heyward showing up to #Cubs camp#EverybodyIn pic.twitter.com/fYTVQqnxmm

— CubsHQ (@ChicagoCubsHQ) February 12, 2019
Kyle Schwarber: Schwarber took a lot of batting practice today in Mesa and was reportedly hitting with consistency to the opposite field. Wilson Contreras also took batting practice:
And here's a round of Willson Contreras BP... pic.twitter.com/ez1hnpRuJl

— Jordan Bastian (@MLBastian) February 12, 2019
Addison Russell: Although on the restricted list until the start of May, Russell was allowed attend spring training and work out.
Addison Russell fielding grounders: pic.twitter.com/JKEHZuC9I7

— Mark Gonzales (@MDGonzales) February 12, 2019
According to Joe Maddon, Russell "Is trying very hard to make this right." Maddon went on to say, "I'll get in front of the team. Addison will also. A lot of ifs are attached to this process.
Adbert Alzolay: According to Jed Hoyer, Cubs' pitching prospect, Adbert Alzolay, slipped during a bullpen session last week and felt a twinge in his side. Hoyer says Alzolay will be about two behind, out of "an abundance of caution."
Joe Maddon: "Regardless of whatever the birth certificate might or might not say, I'm really jacked up about this season. A big part of our success this year is going to be the fact that we own each moment," Maddon said. "And if you take the word 'now' and turn it around, it becomes 'won.'"
Theo Epstein: About signing additional bullpen help, Theo says they are still in touch with agents and may sign one more reliever yet.
With regard to Addison Russell, Epstein stated, "As an organization, we've taken this plague of domestic violence to heart. We hold Addison Russell to an extremely high standard, and we expect him to abide by that." Epstein also added, "We're probably in the bottom of the second inning. We still have a long way to go. Addison is well aware he's been given a conditional second chance by this organization."
About the racially inappropriate emails surrounding Joe Ricketts, Epstein says, "The views expressed in those emails have no place in our organization, in the sport of baseball or in society overall" Epstein went on to add, "Diversity is important everywhere. Not just because it's the right thing to do. Also, because it helps you win."
Latest news and rumors from around the league
Bryce Harper: As the harper/Machado saga enters day 107, there is new word from the Harper camp: Harper will not sign, nor is he even considering, short term offers/deals.
A's: Oakland has signed free-agent starter, Brett Anderson. Anderson did well for the A's in 2018, but the team excepted to lose him in free-agency. Due to the situation revolving around the lack of signings, the A's were able to bring him back.
Giants: SF has claimed RHP Jose Lopez off waivers from the Reds and has designated Josh Osich for assignment.
Mariners: Seattle has failed to find a suitable trade deal for Edwin Encarnacion and the team expects him to report to spring training this week.
Mets: As NY tries to negotiate an extension with Jacob deGrom; the teams will try to reach terms during spring training camp. deGrom has made it clear that will be no negotiations once the regular season begins.