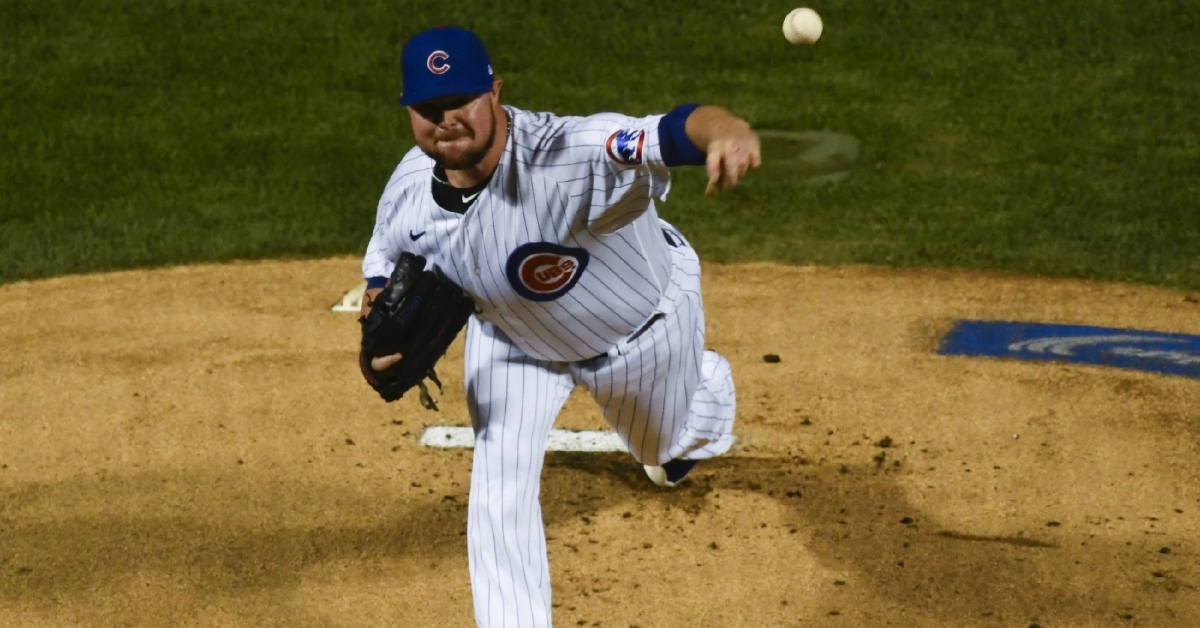 | | |
| --- | --- |
| Cubs News: We might have seen Jon Lester's final Wrigley Field start | |
---
| | | |
| --- | --- | --- |
| Thursday, September 17, 2020, 10:10 AM | | |
With so much going on in the world of the Chicago Cubs' financial picture, changes will be inevitable at the end of this season. Sad, as David Ross and his team are doing so well, but with so many players ready for free agency, or preparing for their final year before free agency, Tom Ricketts and Theo Epstein have some decisions - and presumably changes - to make. Not that they wouldn't like to hang on to most of the team, but in this world of inflated free-agency pricetags, it just isn't going to be possible to do so.
We can debate all day about what the Cubs are going to do (or not do) with players and when, but some things seem to speak for themselves.
On December 15, 2014, LHP Jon Lester signed a six-year/$155M deal with the Cubs, including a team option for 2021. If Lester were to suit-up for the Cubs next year, it would cost the team $25M; should the Cubs choose not to hang onto Lester, the buyout is worth $10M. Because Chicago has to spend $10M either way, the question becomes whether or not the Cubs' front office feels Lester is worth the additional $15M for 2021.
"We don't know what the future holds," Lester said to the media on Wednesday night. "A lot of emotions going into tonight. Trying to make tonight go well. Maybe the effort was a little too much."
With his velocity down and his age on the rise, it would appear as though Lester is preparing for his departure from Wrigleyville. If the Cubs fail to pick up Lester's option, last night will have marked Jon's last start at Wrigley Field. Despite a rough last couple of seasons, the realization and possible finality of it all seems sad.
"A lot of things on my mind," Lester said. "This year hasn't been easy for a lot of reasons. I'm not sitting here saying 'woe is me' because there's a lot of people worse off than me. A lot of emotions coming into this. Don't really know what to say, how to take it. A lot of uncertainties going forward."
Lester wish it could have been a little different in his final home start of the season at Wrigley Field.
"That's the most frustrating part," he said. "Going back to 2014, I really didn't get to walk off the field like I wanted to at Fenway. Having an empty stadium is not how I envisioned possibly my last start here. I didn't think six years would go this fast."
"I didn't think six years would go this fast." An emotional night for Jon Lester in what might have been his final start at Wrigley. He said it was especially hard with no fans in the stands. pic.twitter.com/2bAkjB9osw

— Krista Ruch (@KristaCBS2) September 17, 2020
It was no secret that Lester wouldn't be the Cubs #1 starter this season, especially with the ever-consistent Kyle Hendricks and an exponentially improved Yu Darvish, who has now found himself firmly entrenched in the NL Cy Young Award race. Near the beginning of Spring Training version 1.0, Lester addressed the press, acknowledging the likelihood that he'd be slipping back in the order. While I recognized the possibility that he could fall as far back as the No. 4 starter, I was surprised to see David Ross actually do so, placing Chatty behind Hendricks and Darvish, respectively.
Tonight could've been Jon Lester's last game pitching at Wrigley Field as a member of the Cubs. Lester's career stats pitching at Wrigley Field:

• 40-24
• 3.68 ERA
• 535 innings pitched
• 513 strikeouts
• 3 post season game wins
• 1 World Series game win pic.twitter.com/96ZYb8L7Cx

— Cubs Live (@Cubs_Live) September 17, 2020
Ross made the right call. Kyle Hendricks opened the season with a complete-game shutout against Milwaukee (at Wrigley Field) to start the season. Hendricks would use 103 pitches, allowing just three hits, issuing no walks, and fanning a total of nine batters. Throughout the 2020 season, The Professor (in 10 starts) has now pitched to a record of 5-4, with an ERA of 3.29. His WHIP stands at a respectable 1.051, and Kyle is averaging just over 6.5 innings per start. Even more impressive, Hendricks has fanned 51 of the 259 batters he's faced (19.7% strikeout rate) while only walking six men all season (2.3%).
Heyward on Lester amid veteran LHP's emotional night at Wrigley: "This dude's been a rock here. ... Gotta show him some love, gotta show him some respect and we hope we can do a lot more for him here in the near future."

— Tony Andracki (@TonyAndracki23) September 17, 2020
Then there's Yu Darvish. When I was told that if anyone could straighten out Darvish and Tyler Chatwood, it would be Tommy Hottovy, I had some serious doubts, but low and behold, here we are, Darvish in the thick of the Cy Young race. To say that Yu has been incredible this year would be a gross understatement.
In 10 starts this season, Darvish has now posted an ERA of just 2.00, while pitching to 7-2. His WHIP is under 1.000 (currently 0.937), and his strikeout rate? That stands at 32.4%, or about one out of every three men that he faces. His walks (total of six all season) are down (4.9%), and he's only plunked two batters. Darvish is also averaging just over 6.5 innings per start, but unlike Hendricks, he's only given up four dingers all yer; for as good as Hendricks is, the opposition has tagged him for a total of eight long balls.
A free agent at the end of this season, Tyler Chatwood, came out of the gate firing his year, but the injury bug has bitten. Chatwood has posted a 2-2 record but has seen his ERA rise to an almost inconceivable 5.30 in five starts. Chatty was placed on the IL on September 1 due to an elbow issue, and according to Cubs' Skipper David Ross, Chatwood has suffered a setback. With playoff rosters coming out soon, the question is whether or not Chatwood could be a viable option for October ball. Unless he's willing to re-sign cheap, the Cubs' likelihood of keeping him look slim, which is a shame for as much as he's improved over the last two years.
Jose Quintana is a free agent after this season, and he, too, is on the IL with what has been diagnosed at Lat inflammation. Much like Joe Maddon, Q was exactly what the Cubs needed when they needed it. Like Maddon, Q has served his purpose, and with downward trends in his stats and increasing injuries, seeing him in a Cubs' uniform next season is highly unlikely.
Alec Mills; need I say more? I figured Mills would take a back seat to Chatty this year, serving as the Cubs swingman - that is, until Quintana almost severed his thumb while washing dishes, before Summer Camp. Mills stepped up in a big way, and that was before he pitched his no-hitter against the Brew Crew the other night. Welcome to the history books, Alec, you're only the 16th Cubs to throw a no-hitter, and that spans 117 years worth of the team's existence. For the record, Jake Arietta was the last Cubs to pitch a no-no, which occurred on April 21, 2016.
Back to the focal point: Jon Lester. Whether or not Lester already knows something about his future that the press and public aren't officially aware of yet is anybody's guess. Still, it sure sounds like he's not planning on playing in Chicago next season.
If nothing changes, Big Jon should get two more starts this year: 9/22 vs. the Pirates (@PNC Park), then his final appearance as a Cub (barring postseason starts) would be on 9/27 (the last day of the regular season) vs. the White Sox at Guaranteed Rate Field.
Whatever the outcome, you've served the team well, Jon and fans are proud to have had you as a Cub for so many years. Godspeed.
Blown away by all the love y'all. Make no mistake Chicago is home, the Cubs are family, and there's no uniform I'd rather wear next year for my 200th win. But for now let's ring in 2020 like it's 2016! #NVRQT

— Jon Lester (@JLester34) September 17, 2020
Jon Lester forever. pic.twitter.com/1EOxsmWtS0

— Chicago Cubs (@Cubs) September 17, 2020

Tags: Cubs Baseball
,
David Ross
,
Jon Lester
,
Kyle Hendricks
,
Yu Darvish
,
Tyler Chatwood
,
Jose Quintana
,
Alec Mills
,
Joe Maddon
,
Theo Epstein
,
Tommy Hottovy