| | |
| --- | --- |
| ESPN picks Rizzo as the must-watch player on Cubs | |
---
| | |
| --- | --- |
| Friday, April 7, 2017 3:14 PM | |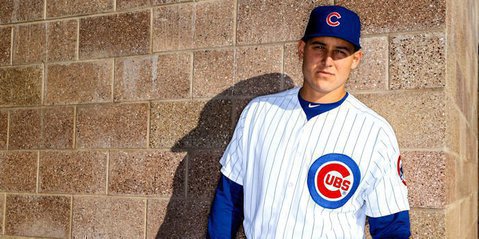 ESPN released their list of the must-watched players on each major league team and first baseman Anthony Rizzo was chosen for the Chicago Cubs.
"You know, I love watching Addison Russell play shortstop," ESPN.com said. "Javier Baez does things -- like his no-look tag during the World Baseball Classic -- that are half-crazy, half-extraordinary. Kris Bryant is enjoyable simply because he's so good and his eyes are as blue as the Sargasso Sea. Kyle Schwarber plays with his lunch bucket in his back pocket. Jake Arrieta has no-hit potential every time out. But none of them ever made an "Anchorman" reference in the middle of Game 7 of the World Series."
In 2016, Rizzo batted .292 with 32 homers and 109 RBIs. For his MLB career, he has batted .267 with 134 homers, 425 RBIs, and .362 on-base percentage.
He was drafted by the Boston Red Sox in the six round (204th overall) of the 2007 MLB Draft.