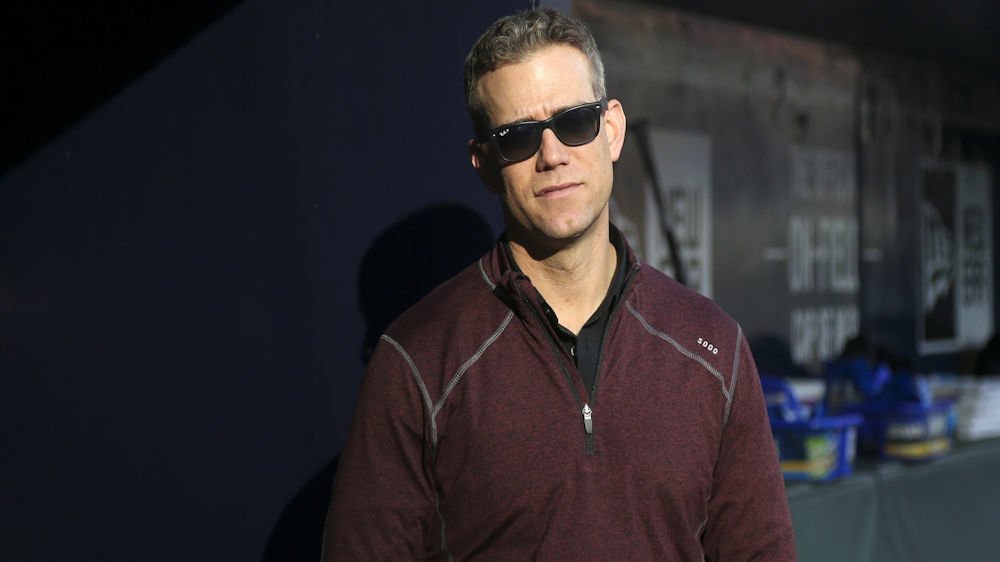 | | |
| --- | --- |
| Commentary: The offseason clock is ticking for Cubs | |
---
| | | |
| --- | --- | --- |
| Friday, December 13, 2019, 11:29 AM | | |
Now that the Winter Meetings are over, it's officially OK to say that Theo Epstein settled for pretty much nothing. While Joe Maddon was rewarded with Anthony Rendon and the Nats with Stephen Strasburg, and while the Yanks landed Gerrit Cole, Theo managed to score a pitching prospect from the Padres in the Rule 5 Draft RHP (Trevor Megill). And that's OK – for now.
I saw a remark on Twitter, complementing Cubs' Nation on their overall calm demeanor during the meetings, while just about every other team out there seemed to be having a party, celebrating their treasure(s) de jour. I suppose I'm a little surprised at the number of fans who remained calm. I just don't know if they're that way because they listened when Theo said the Cubs would be more about trades than free-agent signings this winter, or whether this was the product of a fanbase who's lost all faith in Theo Epstein, Tom Ricketts and the Cubs' ability to contend any time soon.
If you're smart, you'll believe the former and not the latter.
Presenting my favorite curve, my favorite slider, and the my favorite fastball that Cubs Rule 5 pick Trevor Megill threw in 2019. Note: they aren't all like this! Fastball is usually 91-93, not the 97 here. Curve is usually a strike pitch, not a chase pitch. Still these are fun. pic.twitter.com/zh7QeNnhRf

— Cubs Prospects - Bryan Smith (@cubprospects) December 13, 2019
Just yesterday, Theo was asked about the possibility that the Cubs would do nothing significant at the meetings, to which he replied: "Status quo is not a bad option, but we're obviously out there looking to make changes and change the dynamic and improve and grow."
Pundits expected that Kris Bryant or Willson Contreras could move during Theo's fun in the sun in San Diego. Still, it stood more likely – at least as far as Bryant was concerned, that both Rendon and Donaldson would need to be signed first, if for no other reason than to raise KB's trade value. While Rendon got a new home in California, Josh Donaldson remains to be signed. Nolan Arenado was also reportedly offered during the week, but the chances of him and his colossal contract moving before KB are about nil.
Status quo? Once Josh Donaldson chooses where to sign, the Cubs will be right back in the middle of the action again: https://t.co/Msqr4BxILP

— Patrick Mooney (@PJ_Mooney) December 13, 2019
Theo was never there to sign Anthony Rendon, Stephen Strasburg, or even a guy like Blake Treinen; he was there to rub shoulders, attend meetings, and plant seeds for the deals which will come in the next few weeks.
He was able to pick up another suitor for KB (the Nationals); the Padres reportedly now have high interest on Willson Contreras, and there was time spent putting out the fire (or at least getting the flames under control) that suddenly surrounded Anthony Rizzo's future in Chicago.
Jed Hoyer recaps the Winter Meetings in San Diego. pic.twitter.com/3QQjEvhSOz

— Cubs Talk (@NBCSCubs) December 12, 2019
I was waiting for the best time to approach this but now's as good a time as any: Yu Darvish was also drawing trade interest. When Theo made comments about what a deal Yu Darvish's contract was starting to look like in the wake of the Strasburg and Cole signings, it seemed like he was vindicating himself for what many believe may have been one of his worst contract signings ever. It never occurred to me that it was sales rhetoric.
Yu Darvish: Trade candidate? https://t.co/zLdPn7ZOE3 #Cubs pic.twitter.com/DSkiKlgf2h

— MLB Trade Rumors (@mlbtraderumors) December 13, 2019
I'll be the first to say, if Darvish gets dealt, the cubs are going to be in some serious, serious trouble. With another four years remaining on his deal, Yu Darvish could very well be the front face of the Cubs rotation in 2020 and beyond. Jon Lester and Jose Quintana become free agents after this season, and although Kyle Hendricks is locked down for just about life, he's not the guy that you trot out on Opening Day. There have been some talks about Dallas Keuchel, but if Theo didn't sign him in San Diego, those rumors are probably dead in the water, as well.
Darvish is still owed roughly $81M, so moving him would take a huge chunk off of the books, but you know what they say about a bird in the hand. If Yu comes anywhere close to raking the way he did during the second half last year, Theo would be an absolute fool to move him. There's just one problem: I guess you don't know what he'll do on the mound in 2020 and beyond.
I don't envy Epstein. If he moves Darvish and doesn't get the mother-load in return, the Cubs are in serious trouble. If he keeps Darvish and Yu doesn't perform, he'll hear all about how he should've offloaded him when he had the chance. Right now, I say you don't even take that chance – he looked like a bust, he came around last year, now ride the hell out of that wave, Theo.
Complicating any deal would be Darvish's 12-team, no-trade clause. Smart move on Yu's behalf, he won't get stuck somewhere he doesn't want to be, and that really whittles down the places that he could be dealt.
Yu Darvish

Seasons played for Joe: 2018-2019

Games played for Joe: 39

Fun fact: From July 12, 2019 until the end of the season, @faridyu had a 2.76 ERA, 118 strikeouts over 81.2 innings and held opposing hitters to a .199 average and .228 OBP

Daily Maddon Cub 35 of 138 pic.twitter.com/FZiRM8doky

— Daily Maddon Cub (@DailyRandomCub) December 13, 2019
So, with Darvish, that now makes four high-level Cubs who've been brought up in trade rumors over the last couple of weeks. People can argue about Rizzo being on the trading block all day after the fiasco on Wednesday, but bear in mind, they had mentioned his name a couple of weeks ago. When Theo addressed the issue yesterday, he never said Rizz wasn't on the trading table – only that he was under team control, that the two sides were far apart on an extension and as of "right now," he'd be with Chicago for the next two years.
I was also mildly surprised that I didn't see any reports of Theo meeting with the camps belonging to Pedro Strop, Steve Cishek, and others who recently departed for free agency. Not even Brandon Morrow's name was mentioned, despite rumors building about a possible minor league deal with the Cubs, nor was Addison Russell visited, clearly an indication that the team may be ultimately severing their relationship.
So here we are, Friday, and Theo will probably take the day to rewind, debrief and reset before walking into his office on Monday, hopefully, ready to get busy. Pitchers and catchers report in just over seven weeks, and the first Spring Training game is set for February 22, 2020 (vs. Athletics).
The clock is ticking.

Tags: Cubs Baseball
,
,
Willson Contreras
,
Anthony Rizzo
,
Yu Darvish
,
,
Jose Quintana
,
Kyle Hendricks
,
Pedro Strop
,
Steve Cishek
,
Brandon Morrow
,
Addison Russell
,
Joe Maddon
,
Theo Epstein