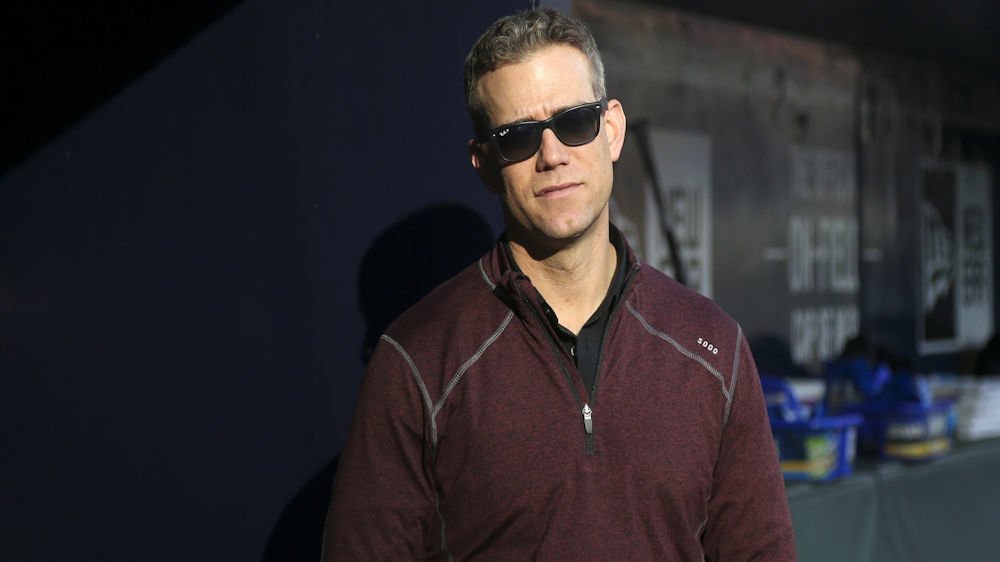 | | |
| --- | --- |
| Commentary: Theo Epstein needs to be MVP of the offseason | |
---
Regardless of how the season was to end, anything short of a long postseason run would be viewed as a massive disappointment. With how good this so-called Core was supposed to be, something has happened since August of 2018, and it has not been good. Whether a new manager, new faces or just shaking some things up in house is on the horizon, there is no way that Theo Epstein can go into 2020 giving fans this kind of product any longer.
Since the Cubs won the World Series, the front office has expected big things from this group of players with expectations Cubs fans have never been accustomed to. Yes, we have been a competitive organization every year since 2016, but Theo and company have failed to maintain the same talent level that we as fans enjoyed during that historic 2016 run. Whatever the reason for that remains to be seen, but it is clear that Tom Ricketts needs to open his checkbook this offseason and let Theo do his thing to bring us back to where we want to be.
Ever since the conclusion of last season, Joe Maddon, for some reason, has been on the hot seat, and that was evident given no new extension before this season. Despite all the confidence in the world that he would remain in charge beyond this year the Cubs lack of consistency in all phases of the game and sudden inability to win on the road has really but his job security in jeopardy as it may signal an unfulfilling end to his run as manager.
Unless you bleed Cubbie blue 24/7, it is difficult to see the Cubs doing much in the postseason especially given their year-long inconsistencies in all three phases of the game. Take this into the equation. From Aug 13 through September 9th which covered a 24-game stretch, the Cubs fully demonstrated their seesaw season as they would lose four games, win five, lose three, win four, lose two, win three and then once again lose three. That is playing .500 baseball which is what they did basically since the middle of May when they reached the 11-games above .500 mark for the first time. That cannot happen with the payroll the Cubs possess and the talent they have on board.
When a team has so many inconsistent stretches as the Cubs have had, most people want to point fingers at the manager in terms of not getting that done. Although that is fair to do because after all, it is the manager's job to get the most out of his players, at some point, the players need to take responsibility and accountability for their struggles.
How can this same group of players be so good at home, yet lack the mental fortitude to play the same kind of ball on the road consistently? You must look at the players for that or even dig deeper and look at the front office who maybe gave away too much sometimes to get what we all wanted. However, we need to face the facts and realize that our window has closed much faster than we all had hoped and that this type of inconsistent product cannot continue into 2020.
This past offseason was a mess from the beginning as both Theo and the Ricketts ownership group continuously drilled in our heads that the Cubs had no money to spend. That may have been true to a degree, but when you have one of the three highest payrolls in the game, you always have something to spend. 2020 should be, and better be a different type of offseason feel as plenty of money will come off the books allowing the Ricketts to pony up the dough for Theo to get to work and restore this big-league roster.
Some of the things that need to be done for us to get back to the 2015-2017 level would build a good bullpen. Let's face it, this year one of our biggest downfalls much of the season was the lack of quality bullpen arms especially late-inning guys. The Cubs were near the top in terms of games lost when leading in the eighth inning which is never good for a team with World Series expectations. Sure, we have some legit arms tied up for multiple years with Craig Kimbrel being one of them, but he can't do it himself.
The bullpen was a priority this season, and they didn't do much to fix it except for resigning Brandon Kintzler who has turned out to be huge this year. Brad Brach was an absolute disaster as was Pedro Strop this season. Even the ordinarily reliable Steve Cishek has gone through major hiccups in 2019. However, the Cubs may have found a few diamonds in the rough as Rowan Wick, Brad Wieck, Tyler Chatwood and Kyle Ryan have all shown they could be future pieces to the bullpen if more work is done around them.
Another mission the Cubs should be on is to find a consistent leadoff hitter. I get the argument that a leadoff hitter is not as important as everyone makes it sound because they only lead off once a game. That may be true but look at when Dexter Fowler was here. You could pencil him in at the No. 1 spot every day, and for the most part, the offense seemed to flow more frequently when the Cubs had that consistent leadoff player.
The Cubs have tried many options in that spot this season with Jason Heyward sticking the longest but no matter what combination they tried, the success only lasted for brief periods as they still rank near the bottom in leadoff OBP. That doesn't bode well when your offense is inconsistent as it is. The Cubs need to lock down this spot one way or another whether you go out and sign someone or trade for them. Whit Merrifield, I still feel is the best option for the Cubs as he has three years of contract left and is still just 30 years old.
Perhaps a non-issue last season has suddenly become an issue as the Cubs need to find an ace for their staff. Last season, starting pitching was not the issue for the Cubs as the hitting faltered down the stretch. Entering this season, the Cubs employed one of the oldest rotations in all of baseball, and that is starting to backfire in the worst way. Since about June, it seems as father time has caught up to both Hamels and Lester as neither of them are ace material anymore. Both Kyle Hendricks and Yu Darvish have shown ace flashes, and Jose Quintana has quietly put together his best season, but the Cubs have lacked a real ace since Jake Arrieta.
Not only do they need an ace, but they need a relatively young one that they can lock up without worries for a minimum of four seasons. I would like to think Darvish can be that guy, but with his health issues, I am not sure you can trust him as an ace at this stage of his career. The Cubs will have about 70 million in payroll to play with this season so they should without a doubt go after Gerrit Cole.
Since being traded to the Astros in 2018, Cole has been one of the top three pitchers in baseball. This year especially he proved his worth as he was by far the best pitcher in the American League. At 30 years of age, Cole does have some mileage on him already but if you can make a four-year deal with a fifth-year option work you need to do and do it fast before your core group of players hit the Free Agency period.
Another signing that I see as a must is finding a way to bring Nick Castellanos back to Chicago. Ever since they traded for him, Castellanos has been on a tear as he has surpassed his expectations and showed what he could do away from Comerica Park. Expect him to test the market given he is a Boras client, but I see a four-year 80-million-dollar deal as something that could sway him to stay as he has been a considerable part of the Cubs offense since July 31.
These solutions seem clear cut and essential for a team that has a big payroll, but will the Cubs use that payroll again. As Theo has pointed out during the season, the Cubs have spent money to improve the team which is true, but lately, the money has not been wisely spent. You don't see organizations like the New York Yankees, Los Angeles Dodgers or Boston Red Sox shying away from expensive players, do you? For a team to maintain sustained success, it requires you to maintain continued spending.
Fans don't care how ownership has structured its money. They've filled Wrigley Field game after game and year after year, holding up their end of the bargain. The Ricketts family needs to continue to hold up their end of it and continue to put a successful winning product on the field without trading anymore of our farm system to do it. Teams with success have a big payroll for a reason. They are not afraid to spend money to win. The Cubs need to get back in that mindset if they want to maintain their sustained success.
Last and certainly not least the biggest question of the entire offseason will hinge on what happens to Joe Maddon and this staff. As much criticism as Maddon gets with some of the decisions he makes, I don't think the problem with this team falls on him but at this point does it matter. Epstein comes from the same impatient tradition that cost Red Sox president Dave Dombrowski his job Sunday — less than a year after the team won the World Series. We've seen it in how the Cubs have cut loose hitting and pitching coaches the last several years under Epstein.
Maddon is regarded as one of the best managers in all of baseball, and the proof is in the cards. That again might not be the issue here. Instead, there seems to be some ongoing internal issues with Maddon and some of the coaching staff as the front office has more say on a day to day decisions that were once solely made by the skipper. Maddon is making five million dollars this season and is in the final year of his current deal will it be his last or will the Cubs let him manage a few more years to right the ship of the past two seasons with a better-constructed team?
If we can safely expect the Cubs to have another early postseason exit, how will Theo go about the team's failings for the second year in a row during September? If he wants to put all the blame on the manager, then he has a natural scapegoat to move on and bring in someone like a Joe Girardi if that is the path, he chooses to go.
Following the September collapse last year, Epstein called for 2019 to be a season of reckoning where the Cubs preached a renewed sense of urgency. Well throughout the season we have yet to see that urgency as this team doesn't seem to have that fire that Maddon and everyone were hoping for this season. However, if Epstein is willing to take responsibility for how this team has been constructed them, the likely hood Maddon returns is that much better.
Moving on from Maddon for his constant gimmick's goofiness over the last five years would be understandable as that can wear on you. Letting him go for his performance with an underwhelming roster this season would not be easily explained as the Cubs have still won nearly 500 games in his five seasons as manager with Chicago. That is a feat not many franchises can say they have accomplished with anyone in charge.
The more I think about the season, the more I realize how the Cubs fan base has changed as the past five years have spoiled Cubs fans. When you go from lovable losers to continue making the playoffs that are the byproduct of winning games and there is no reason to be ashamed of that. You get a taste of winning something, and you certainly want more.
The Cubs went from a team hoping to win during the season to a side expecting to win during the season. The problem is the Cubs haven't been delivering much consistent winning since 2017, but it is still better than the years we witnessed long before Theo and company arrived in Chicago. Whatever happens, Epstein needs to be the most valuable player of the offseason and the Cubs' comeback player of the year next season. Anything less will be a failure in the minds of fans, and we may see continued mediocrity from a team expecting so much more.

Upgrade Your Account
Unlock premium boards and exclusive features (e.g. ad-free) by upgrading your account today.
Upgrade Now

Tags: Cubs Baseball
,
Brandon Kintzler
,
Pedro Strop
,
Steve Cishek
,
Rowan Wick
,
Tyler Chatwood
,
Kyle Ryan
,
Dexter Fowler
,
Jason Heyward
,
Kyle Hendricks
,
Yu Darvish
,
Jose Quintana
,
Jake Arrieta
,
Joe Maddon
,
Theo Epstein