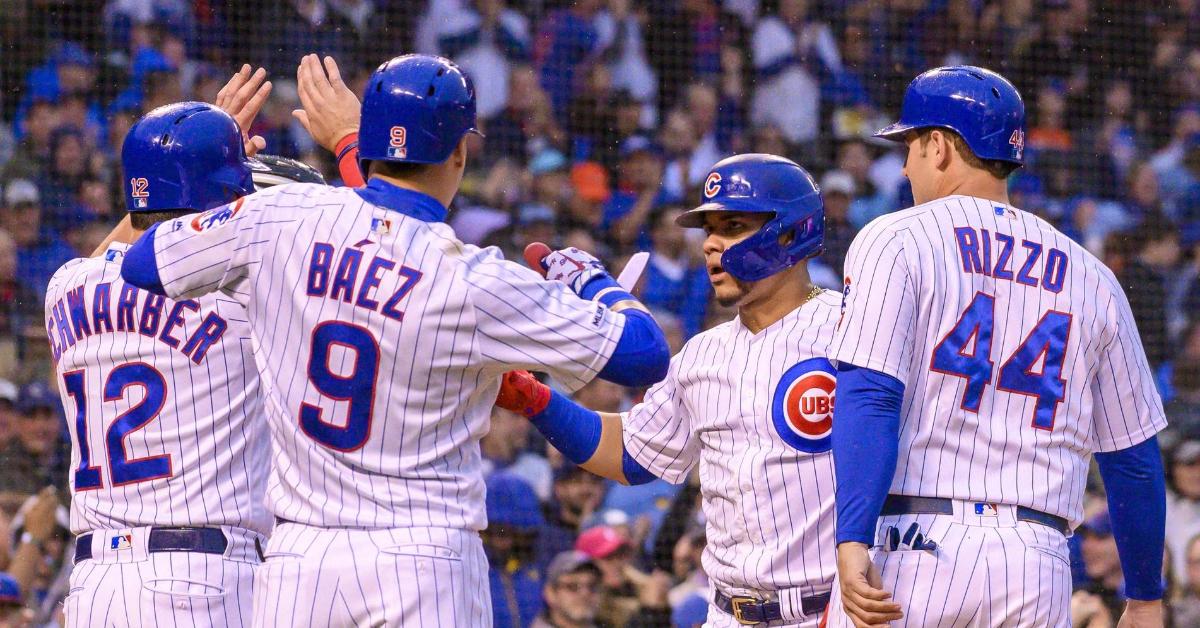 | | |
| --- | --- |
| Commentary: New MLB rules and how they'll affect the Cubs | |
---
If Willson Contreras is at least partially responsible for the number of mound visits being limited to six per game (and a lot of journalists think he is), then Joe Maddon has to own some of the blame for the new three batter minimum. Like many of you, I wasn't at all enthused by the new rule when it was proposed a year ago, but it will become law this upcoming season unless the MLBPA can do something to stop it.
From my point of view, I was far more concerned about the safety of the players, as opposed to the pace of play that baseball commissioner Rob Manfred seems obsessed over. To quell phantom injuries as a means for managers to bypass the minimum number of hitters, Manfred has instituted a policy that states that any pitcher pulled out of the game before facing the minimum. The player must do an IL stint – which will now be 15 days, instead of the ten that it used to be. This is great news if a guy is legitimately injured, but it's going to be a tough little pill to swallow if a manager wants to try to skirt the system. The ones who are going to suffer are the players who have an injury worthy of a couple of days rest, but not deserving of an IL stint.
This rule is also going to be doing away with "specialists" like (allegedly) Derek Holland, who never really did show me much, no matter which side a batter was swinging from. Never mind Holland though, he was overpaid, he underperformed, and I'd be surprised if he doesn't retire this year, which brings me to my next topic – longevity.
As pitchers age, they certainly can't crank out 100 pitches a game. Still, for the reliever who can hurl seven or eight quality pitches in a tough spot, he may be able to play another three to five years, especially if a manager uses him wisely and sparingly, but this may no longer be the case, due to the new rule. I think you may see a lot of seasoned vets who ultimately get pushed out of the game, as there's no longer a roster spot for a guy who can only get a man or two out. I'm guessing this is no big deal in Manfred's eyes, as those old fogies are only slowing things down (rolling my eyes).
So, is there any upside to this new, magical rule of Manfred's, which is designed to squeeze a nine-inning game into a two-hour TV time slot? Maybe, but just like anything else, it also comes with its own set of caveats.
The most significant upside I see is that teams should be able to carry an extra bench man (or two) now, as opposed to needing an eight-man bullpen. Still, they're also going to need to mix the lefty-righty makeup of the pen a lot more carefully, as going forward, they won't have a ton of extra arms available. The 25-man roster will be going to 26 men this year, so even with an eight-man pen, teams will get one extra bench player, but how many will dare to try for the extra bat, as opposed to an extra arm? Probably not many, although with younger, quality arms, they could.
The landscape will look a little different, but let's assume for just a minute that the Cubs re-sign Nicholas Castellanos, trade Kris Bryant, and dispose of Addison Russell somehow, as I predict they will. Also figuring in only who the Cubs have remaining on the roster as of today, you'd have a roster (before any other signings or trades) that would look like this.
Outfield: (1) Jason Heyward, (2) Nicholas Castellanos, (3) Kyle Schwarber, (4) Albert Almora Jr, (5) Ian Happ; with Nico Hoerner and Victor Caratini as alternates.
Infield: (1) Anthony Rizzo, (2) Javier Baez, (3) Nico Hoerner, (4) David Bote; with Tony Kemp, Ian Happ, Robel Garcia – who's till on the current 25-man roster.
Catchers: (1) Willson Contreras and (2) Victor Caratini.
Starting Rotation: (1) Yu Darvish, (2) Jon Lester, (3) Kyle Hendricks, (4) Jose Quintana and (5) either Tyler Chatwood or Alec Mills.
Bullpen: (1) RHP/Closer Craig Kimbrel, (2) RHP Rowan Wick, (3) RHP Dillon Maples, (4) RHP Duane Underwood Jr., (5) RHP Tyler Chatwood or RHP Alec Mills; depending on who gets the starter's slot, (6) LHP Brad Wieck, (7) LHP Kyle Ryan, LHP Danny Hultzen (although I'm not sure Hultzen will remain).
Folks, that's a 26-man roster which can win games, and I know first-hand that Brandon Kintzler would like to return. Side note – I spoke to someone very close to Kintzler, and I was told several teams are showing interest, though I wasn't made privy to who at this time. Unlike many free agents, Kintzler wants a one year deal, and his reasoning behind that may surprise you: Brandon feels that by only getting a year at a time, he has to work harder, as nothing is guaranteed for him beyond that year. In case you hadn't noticed, Kintzler had the best ERA in the Cubs' pen last year, of those with 57 innings (or more) pitched in 2019.
With the three-batter minimum, starters will almost have to go deeper, as it's highly unlikely that you'll be seeing the same relievers day in and day out. To get five innings plus out of a starter will be a must, which becomes a concern with Jon Lester and Jose Quintana at times, but this is about the only way that David Ross will be able to manage his pen effectively. If a starter goes six, Ross will be able to utilize three to four relievers per game, while allowing sufficient rest between appearances.
Watching how managers – especially guys like Joe Maddon – maneuver their way through the new rules will be interesting, as this will bring an entirely new strategy to the game – something that a new manager like David Ross may find to be an advantage.

Tags: Cubs Baseball
,
Willson Contreras
,
,
Addison Russell
,
Jason Heyward
,
Kyle Schwarber
,
Albert Almora Jr
,
,
Victor Caratini
,
Anthony Rizzo
,
,
David Bote
,
Robel Garcia
,
Yu Darvish
,
,
Kyle Hendricks
,
Jose Quintana
,
Tyler Chatwood
,
,
Rowan Wick
,
Dillon Maples
,
Duane Underwood
,
Kyle Ryan
,
Brandon Kintzler
,
David Ross
,
Joe Maddon