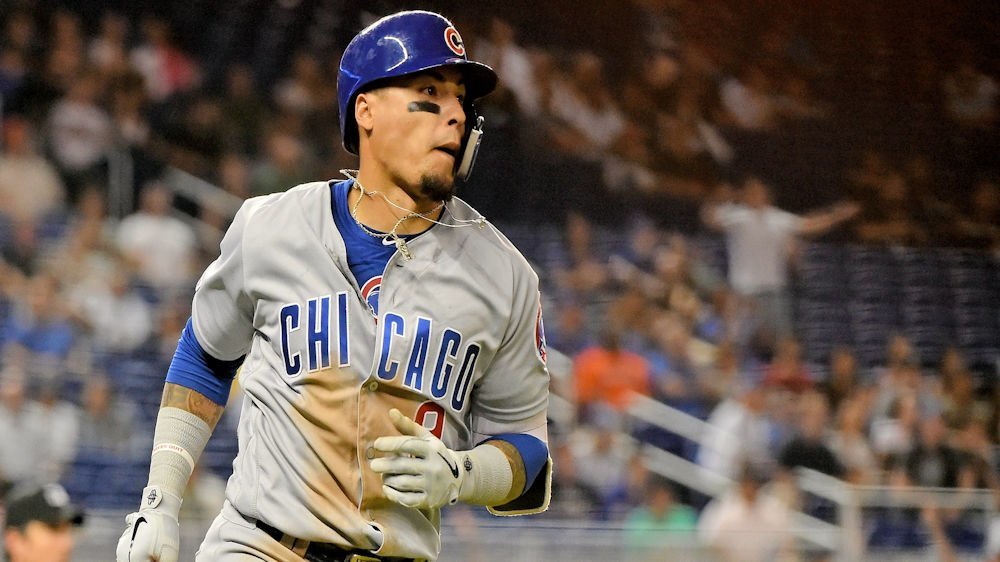 | | |
| --- | --- |
| Cubs fall to LA, Baez's clutch ability, Heyward projection, Strop's car, more | |
---
| | | |
| --- | --- | --- |
| Friday, April 26, 2019, 7:34 AM | | |
Next Game: Tonight: 8:40 PM, Cubs vs Diamondbacks. RHP Kyle Hendricks (1-3, 3.54 ERA) vs LHP Robbie Ray (0-1, 3.95 ERA).
CUBS NEWS AND NOTES:
Thursday's Game Recap: Big-Jon Lester made his return from the IL yesterday, hoping to help the Cubs to complete the sweep, but this one wasn't meant to be. The Cubs threatened in the first, second and fifth, but failed to push a run across until (believe it or not) Albert Almora, Jr. cranked a solo home run with two out in the bottom of the ninth. Lester's line: 5.0 IP, four hits, 1 earned run, 0 walks, and five punch-outs. Final score: Los Angeles 2; Chicago-1.
Time to move on from the loss: Cubs flew to Arizona last night and will take on the D-Backs for a weekend set. I'll have a series preview for you later today.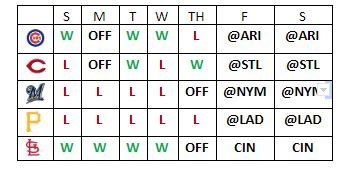 Happy Anniversary: Before I do anything else with today's column, I want to take a second to wish my awesome wife, Marianne, a Happy 4th Wedding Anniversary. You're the best- Love you.
Cubs/D-Backs Probable Pitchers: Saturday: RHP Yu Darvish (1-3, 5.96 ERA) vs RHP Zack Godley (1-1, 6.67 ERA). Sunday: LHP Jose Quintana (3-1, 3.21 ERA) vs RHP Luke Weaver (2-1, 3.33 ERA).
Jon Lester: Of note- Jon Lester is the only pitcher in MLB that has had 30 or more starts in 11 seasons.
Javier Baez: Most would agree that both David Bote and Daniel Descalso are a great hitter in a clutch situation, but just an FYI: Baez currently leads all NL hitters with a total of 15 two-out RBI.
April 25, 2019
Jason Heyward: For the last three seasons Heyward struggled immensely at the plate, with about 99% of his contributions to the team coming in the form of his Gold Glove defense. This year is an entirely different story, as far as his offense is concerned. In his first three years with Chicago, J-Hey totaled 26 HR and 165 RBI- not what you'd expect from a man of his size, or from a contract which was equally as big. This year, however, Jason has already hit five homers and driven in 14 runs, putting him on pace for 37 dingers and 103 RBI.
Now playing shortstop: It was always Maddon's plan to slip Addison Russell back into the shortstop position, with Javier Baez being moved back to second, when (if) Russell returned from his suspension, but maybe things aren't that simple. According to Joe Maddon, (after Wednesday night's win), that's "…still a discussion we need to have. We have to wait and see how well Addison does. I don't want to jump-the-gun-type of thing without discussing in detail with the players themselves."
Cole Hamels on Javy: After Wednesday's win over the Dodgers, Hamels was asked about Javy. "He makes it look easy… I've been very fortunate to play with some very good shortstops that have won some MVPs and put up some pretty good careers. He's right in line with those guys." Jason Heyward added, "You can't read about Javy. You've got to watch him."
Pedro Strop: Gone in 60 Seconds: No… I'm not talking about how fast strop can erase a batter in the ninth (although that happened too), rather I'm talking about Strop's vehicle. Just before Wednesday night's game, Strop's car was stolen. Pedro was still dealing with Chicago's finest in the fourth inning, when he told the police, "I might have to pitch." While the game was still going on, the thief (or thieves) were then involved in a chase with the missing car, causing Pedro to deal with the police for a while after the game ended. Even with the theft weighing on Stroppy's mind, he was still focused enough to get the save last night.
Rick Monday: Many of you are too young to remember Rick Monday, a former outfielder who played a total of 19 seasons (1972-1976 with the Cubs). On April 25, 1976 (43 years ago, yesterday), Monday did something during a Cubs/Dodgers game in LA that would turn out to be the biggest thing that people would remember him for.
A former Marine, Monday had the utmost respect for the flag, so when some maniac hopped the wall in the outfield, flag in hand, intending to set it on fire, Monday leaped into action. He snatched Old Glory out of the guy's hand, then ran it to the Dodgers' dugout, handing it over to pitcher Doug Rau. William Thomas, who was irresponsible enough to drag his 11-year-old son onto the field with him during his prank, was arrested and subsequently fined. On August 25, 2008, Monday was presented with an American flag flown over Valley Forge National Historical Park in honor of his 1976 bicentennial flag rescue.
On this date: in 1976, protesters tried to burn an American flag at Dodger Stadium. Rick Monday wasn't going to let that happen. pic.twitter.com/nn0xt13hRD

— Only in America (@Crazzyintheusa) April 26, 2019
Yesterday's Cub Birthdays: Happy birthday to ex-Cubs Jacque Jones (44), Erik Pappás (53), Dave Owen (61), and posthumously, Roy Parmelee (112), Robert "Red" Thomas (121), Fred Haney (123), Arthur "Marty" Shay (123), and Pete Standridge (127).
NL CENTRAL SCHEDULE (April 21 – April 27, 2019)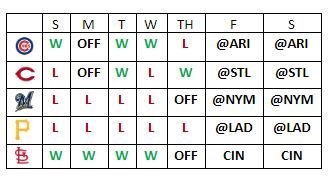 YESTERDAY'S NL CENTRAL SCOREBOARD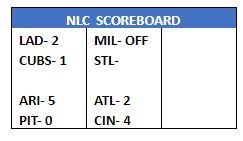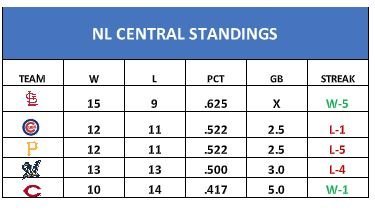 Tags: Cubs Baseball
,
Kyle Hendricks
,
,
Yu Darvish
,
Jose Quintana
,
,
David Bote
,
Daniel Descalso
,
Jason Heyward
,
Addison Russell
,
Cole Hamels
,
Pedro Strop
,
Joe Maddon