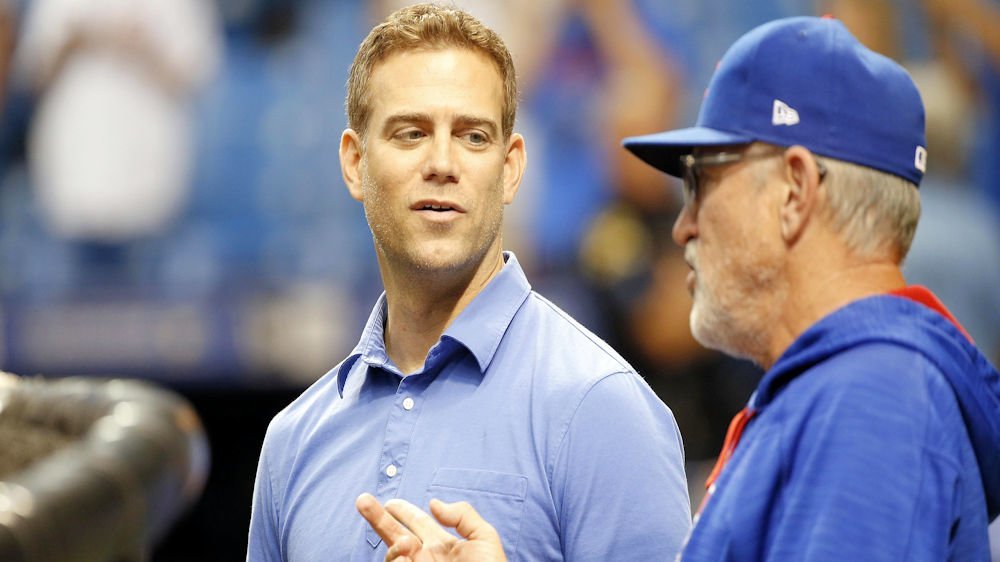 | | |
| --- | --- |
| Cubs News and Notes: Epstein's thoughts, Ben Zobrist may return, Arrieta's anger, more | |
---
| | | |
| --- | --- | --- |
| Monday, July 8, 2019, 8:34 AM | | |
Next Game: Friday, 1:20 PM CDT: Pirates at Cubs. RHP Yu Darvish (2-4, 5.01 ERA) vs RHP Chris Archer (3-6, 5.49 ERA).
Sunday's Game Recap:
Up 1-0 in the current series and 2-1 on the season, the Cubs looked for their first sweep in what feels like three months, as they took on the White Sox for Game-2 of the 2019 Crosstown Classic.
Kyle Hendricks and Ivan Nova would set the stage. For three and a half innings, it was a pitcher's battle, but I'll say it now: Something still isn't right with Hendricks. Kyle makes his living off of painting the corners of the zone, but despite a half-dozen strikeouts, he was missing consistently, averaging over 20 pitches per inning.
The Cubs had some opportunities early, but stranded men on base (as per the norm), which would come back to haunt them. Eloy Jimenez opened up the scoring in the fourth with a two-run smash to straight-away center, putting the Sox up 2-zip.
Hendricks would be lifted after the fourth- replaced by Randy Rosario, as Joe Maddon started his nonsensical bullpen strategies again. Rosario- who's now looked fantastic in two appearances since returning from Iowa, would retire the two men he faced (both right-handed batters by the way) on a total of THREE pitches, then he would be removed for (ahem, ahem) Brad Brach. Mr. Brach would promptly give up a homer on the eighth pitch to the first man that he faced (a right-hander, so Brach theoretically should have had the advantage), leaving the Cubs trailing 3-0, going into the 6th.
Brandon Kintzler would hold things down in the sixth, and the Cubs would finally get on the board in the seventh, courtesy of a blast from none other than the new guy in the dugout- Robel Garcia. At that point in the game, Garcia had already accumulated two homers (one from each side) in 11 Major League at-bats. Cubs trail 3-1.
That would end the scoring for the day. Another disheartening loss, not because it was the Sox, but rather because the Cubs failed to generate runs. As is the recurrent theme, the Cubs went 0 for 8 with runners in scoring position, batted .219 (7 for 32) as a team and stranded a half-dozen men on base.
At this point, I say bring on the All-Star break, bring on whatever changes they're going to make, and let's hope this team can get its act together for the second-half.

CUBS NEWS AND NOTES:
Cubs/Pirates Probable Pitchers We've hit the much needed, All-Star break, with the AS Game to be played, Tuesday, July 9, 2019, at 6:30 PM Central.
The Cubs will resume action on Friday, at 1:20 PM, as they host the Pirates at Wrigley.
Pitchers expected: Friday: RHP Yu Darvish (2-4, 5.01 ERA) vs. RHP Chris Archer (3-6, 5.49 ERA). Saturday, 1:20 PM: LHP Jon Lester (8-6, 3.72 ERA) vs. RHP Jordan Lyles (5-5, 4.36 ERA). Sunday, 1:20 PM: LHP Jose Quintana (6-7, 4.19 ERA) vs. RHP Trevor Williams (3-2, 4.54 ERA).
One of my favorite pictures from the 2018 @AllStarGame... They're back together again representing Puerto Rico ????! @Lindor12BC @javy23baez @JOLaMaKina – alongside Javy's brother, Gadiel pic.twitter.com/qGd3TZxjrJ

— Marly Rivera (@MarlyRiveraESPN) July 7, 2019
Maddon on Garcia: Referring to the Cubs latest acquisition, Joe Maddon says that Robel Garcia "… could provide a lot for us. No question. As he settles in, you might see a lot of what he did at Triple-A."
One word- Ugly: With the Cubs' win on Saturday, that was the first time since their five-game, road win streak (April 27 – May 14), that they'd won back-to-back road games. As great as that may sound, the Cubs, entering play on Sunday, they are 6-15 over their previous 21 road games.
Theo takes accountability: "Ultimately everything in baseball operations is my responsibility. If we're not getting the results we should be getting, it begins and ends with me. It's my job. This is a group of players that we've selected, and I selected, Joe, the coaching staff. I get the say on what happens in baseball operations. So, if we're underperforming, that's absolutely on me."
That message, while indeed admirable, never says that his accountability won't result in changes to the personnel below him. Individual players remain nervous, and Joe Maddon is undoubtedly biting his nails and biding his time, waiting to see what decisions will be handed down from upstairs.
Maddon: "I think our best baseball for 2019 is absolutely ahead of us." pic.twitter.com/q5jttqlR99

— Mark Gonzales (@MDGonzales) July 7, 2019
Ben returning? A couple of months back, I said I'd gladly be wrong about my suspicion that Ben Zobrist would end up retiring, following the unfortunate disintegration of his marriage. It looks like I may have been wrong. According to Kelly Crull (during yesterday's mid-game report), Theo Epstein sincerely feels that Zo may be back in a Cubs' uniform, sometime during the second half, though Kelly stopped far short of saying that it would be when the Cubs resume play at the end of this week.
If Ben returns, the Cubs will undoubtedly get a positive spark, but Zo, much like Craig Kimbrel, cannot single-handedly solve the issues that continue to plague this team. Kimbrel's presence has solved the closer issue, and it seems to have Pedro Strop more relaxed, now that he's in the setup role, but in no way did his signing correct the ailing bullpen, much as Ben's presence will not correct the offense.
One must also remember that Zo has seen no action since May 6th, and it's highly unlikely (under the circumstances) that he won't have some rust at the plate. I hope he comes back. I hope he can hit .300. I don't see him as the sole solution to the problem.
Kris Bryant: "Every game's going to be a fight," Bryant said of what the Cubs expect when taking on division opponents. "We would love to go out there and win every game, but we know it's not going to be like that this year." Bryant continued, "We're not trying to turn it around because of the trade deadline, we're trying to turn it around because we want to win." Visit CubsHQ.com for the full article by Cole Little, or simply click here.
Fire Theo? According to Gordon Wittenmyer, "Whoever fires Joe Maddon as the solution, needs to look in the mirror and fire that guy next." Um, ok. If you'd like to read Wittenmyer's piece, click here. The article does contain some quotes from players, as to how they feel about the situation at hand.
Outrageous behavior: Hard to believe that fans (Cubs and Sox both) could be this animalistic over a freakin' baseball game. I despise the Sox (and a few of their fans), but not enough to throw punches at somebody. By the way- stuff like this is precisely why the Cubs/Sox now play mostly day games against each other. (The following were from Saturday's game)
CHAOS ON THE SOUTH SIDE (Via ig/sirmarkymarc) pic.twitter.com/oKYr1SplNX

— Barstool Chicago (@barstoolchicago) July 7, 2019
Cubs vs NL Central:
HATRED in the stands tonight (Via @k_wil16) pic.twitter.com/hNJ1EjSXfW

— Barstool Chicago (@barstoolchicago) July 7, 2019
Now we have concourse fights! Absolute anarchy (Via ig/mitch_zieler) pic.twitter.com/GNLNKar6gL

— Barstool Chicago (@barstoolchicago) July 7, 2019
Who remembers? "The enemy" or not, this was a classic (and classy) move by former Reds' pitcher, Tom Browning, back in 1993. Nothing wrong with a guy wanting to hang out with fans on the rooftop outside of Wrigley, on a lovely, sunny afternoon; is there?
26 years ago today: Tom Browning leaves the #Reds' dugout at Wrigley Field in uniform, walks across the street and sits with a group of Cubs fans on the roof of an apartment building behind the right field bleachers. Manager Davey Johnson fines him $500 for the stunt. pic.twitter.com/7LzexOo5kF

— Cincinnati Reds (@Reds) July 7, 2019
The ball is juiced: During the entire 2014 season, only 57 players hit 20 or more home runs. Fast-forward to 2019: 37 players already have 20 or more homers before the All-Star break, and another 15 players have either 18 or 19. Maybe this explains why so many good pitchers have such terrible ERAs. Joe Maddon's opinion? "You could just have stamped Titleist on the side of these things."
Tribute to a teammate: As the Angels, the fans, and MLB continue to mourn the loss of Angels' pitcher, Tyler Skaggs, Andrew Heaney paid tribute to his friend with a beautifully slow, 12-6 curveball to open the game on Saturday night. The speed of the pitch was all of about 40 mph, and the Astros' George Springer could have blasted it out of the park and into the next county, but sometimes, things are much better left alone.
Andrew Heaney pays tribute to Tyler Skaggs with his first pitch tonight. ?? pic.twitter.com/k90v2dKapM

— MLB (@MLB) July 6, 2019
Surgery possible for Big Jake: Former Cubs pitcher, Jake Arrieta, is suffering from a bone spur in his elbow which will likely (at some point) require surgery. Certainly not what Jake or the Phillies need, as they continue to chase the Braves and Nationals.
On Saturday, Jake plunked Mets' Todd Frazier. An argument ensued, Frazier was ejected, and the tempers continued to flare after the game, with Arrieta threatening Frazier.
"Frazier's not happy about it he can come see me. I'll put a dent in his skull."

Jake Arietta is a liiiiiiiittle mad about Todd Frazier being mad pic.twitter.com/OEjy1zo8ZG

— SNY (@SNYtv) July 7, 2019
Baseball Quotes: "If people aren't laughing at your dreams then they're too small." -Bryce Harper
Cub Birthdays: Celebrating yesterday, were ex-Cubs (posthumously) Billy Herman (110), George Moriarty (135), and Willard Mains (151).
NL CENTRAL SCHEDULE (June 23 – June 29, 2019)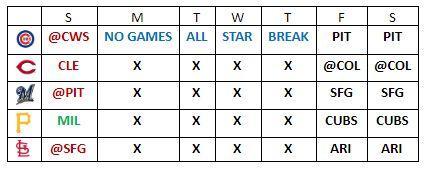 NL CENTRAL SCOREBOARD/STANDINGS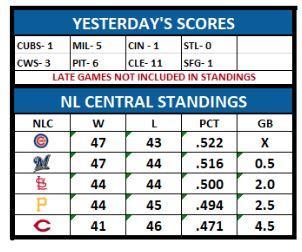 Tags: Cubs Baseball
,
Yu Darvish
,
Kyle Hendricks
,
Randy Rosario
,
Brandon Kintzler
,
Robel Garcia
,
,
Jose Quintana
,
Ben Zobrist
,
Pedro Strop
,
,
Jake Arrieta
,
Joe Maddon
,
Theo Epstein