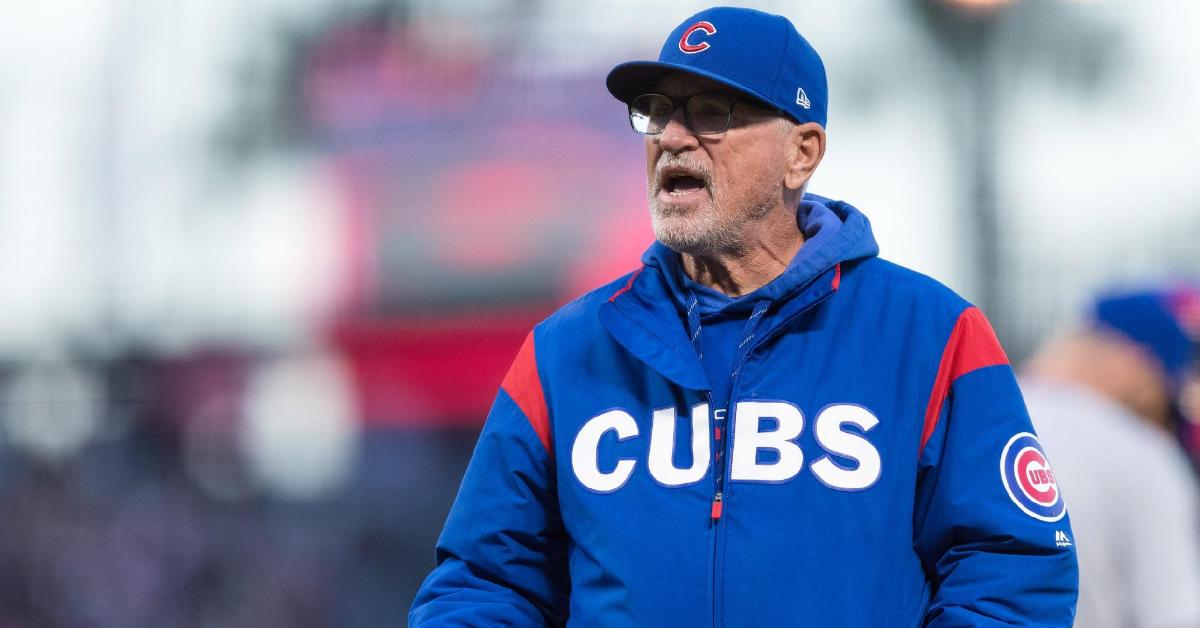 | | |
| --- | --- |
| Cubs News and Notes: Only 62 to go, Hamels and Contreras update, trade rumors, more | |
---
| | | |
| --- | --- | --- |
| Tuesday, July 23, 2019, 8:06 AM | | |
Next Game: Today8:45 PM (ABC-7) RHP Yu Darvish (3-4, 4.46 ERA) vs LHP Madison Bumgarner (5-7, 3.65).
Monday's Game Recap:
The Cubs need to win in San Francisco. Period. This is perhaps their most important series of the year, for multiple reasons. For a more detailed explanation, check out my Series Preview.
Coming off a solid homestand which saw the Cubs go 7-2, Chicago ventured to San Francisco to face the Giants. Joe Maddon seems to trust Alec Mills, giving him a second start, while passing Tyler Chatwood over again. For the Giants, it was Shaun Anderson taking the hill, hoping to help keep the Giants winning and intact. Mills was excellent again, though Joe Maddon panicked, yanking him in the fifth; in retrospect, he should have just let him go.
The Cubs would grab a 1-0 lead in the second on Robel Garcia's smash to right, which ultimately left the park at 112.8 MPH, cleared the wall, traveled 454 feet, and then landed in the bay. I'll just say this now- if Theo trades this guy, I'm going to throw an absolute fit.
Headed for the Frisco Bay. pic.twitter.com/tEgMy33gmc

— Chicago Cubs (@Cubs) July 23, 2019
The Cubs would strike again in the third, this time on a Schwar-bomb to right. While Kyle Schwarber's ball stayed in the park, it was almost as majestic off the bat.
.@kschwarb12 is not a swimmer and that's OK. #EverybodyIn pic.twitter.com/fzAP4j40dK

— Chicago Cubs (@Cubs) July 23, 2019
Anthony Rizzo would take one for the team (right in the foot) in the fourth, then subsequently end up scoring on Albert Almora Jr.'s single to right, putting the Cubs up 3-0.
In the bottom of the fourth, the Giants would finally get their first run off of Mills, making the score 3-1 Cubs. They'd add another (off Mills) in the fifth, ending Mills night, and making this a bullpen game for the remainder. At least Brad Brach, Kyle Ryan, and Steve Cishek did their part, getting the Cubs through the seventh.
Bryzzo would team up for another run in the eighth, with Kris Bryant walking, then scoring on Rizzo's double, making it 4-2 Cubs in the eighth.
Maddon went to the well once too often and called on Pedro Strop. It took that man exactly 21 pitches to unravel everything the Cubs had fought for all night, giving up the two-run lead, then a tie, then ultimately the game, in one fell swoop.
Final score Cubs-4; Giants-5.
Cubs News, Notes and Commentary:
Cubs/Giants Probable Pitchers: Wednesday: 2:45 PM (NBC Sports Chicago) LHP Jon Lester (9-6, 3.87ERA) vs RHP Tyler Beede (3-3, 4.70).
What the hell, Pedro? I'll say it- you can't trust Pedro Strop in crucial spots any more than you can Carl Edwards, Jr., Brad Brach or Mike Montgomery (before his trade). Meanwhile, Maddon has bastardized Tyler Chatwood- a guy who's proven to be more effective than 75% of the bullpen.
There comes the point when you, as fans, have to take off your blinders and see that what was good for the Cubs in 2016, isn't necessarily good for the Cubs now. Try thinking with your heads and not your hearts, and you'll realize that as great as 2016 was, that ship might have long since sailed. Monty was a hero, but he couldn't perform this year. Edwards used to be dependable, but now he isn't. And Strop's performances? Those are mostly awful.
Only 62 to go: Last night marked the Cubs' 100th game this season, sadly leaving only 62 more- this all goes by too fast. Looking back over Joe Maddon's reign through the first 100 games of each season with the Cubs: 2015: 53-47; 2016: 60-40; 2017 (53-47); 2018: 58-42; and now for 2019: 54-46.
Was PECOTA right? PECOTA, which stands for Player Empirical Comparison and Optimization Test Algorithm, is BP's proprietary system that projects player and team performance. Before the start of the season, PECOTA predicted the Cubs would win just 89 games this season, a far cry from they had been winning in recent years past.
While I thought the projection was off by a little, it wasn't entirely out of line, as I figured the Cubs to win somewhere between 92 and 95 games this year. Now that they're 100 games deep, PECOTA's projection seems to be off- as they may have guessed low. On their current pace, the Cubs are set to finish 87-75.
Hamels rehab start: Cole Hamels, who's been out with an oblique strain, is set to pitch a rehab start in Iowa later today. His pitch count will be limited to about 40 tosses.
Maddon on Hamels: pic.twitter.com/OtEDUNkdFb

— Mark Gonzales (@MDGonzales) July 23, 2019
Another plus: Willson Contreras is reportedly doing well enough to catch for Jon Lester on Wednesday afternoon.
Contreras performing drills pic.twitter.com/1BLsoSchRl

— Mark Gonzales (@MDGonzales) July 22, 2019
Edwards demoted: If you didn't see Sunday's game, Carl Edwards Jr. made his first appearance since returning from the IL- and it was disastrous. The Cubs have now optioned him back to Iowa, and Rowan Wick is expected to be called up.
Cubs To Option Carl Edwards Jr. https://t.co/Twcmm13sxS pic.twitter.com/djSRlXKQ2r

— MLB Trade Rumors (@mlbtraderumors) July 22, 2019
Trade deadline: The Cubs seem to be focusing more and more on dealing with the Tigers (Nick Castellanos, Shane Greene), but there are still some names being floated from other teams as well. Madison Bumgarner, Tony Watson and Will Smith from the Giants, Jarrod Dyson from the Diamondbacks, and former Brewer, Eric Sogard, are among those names.
With the trade deadline inching closer, the Cubs needs are coming into focus and so are some of their targets. https://t.co/DMHkT182Ha

— Sahadev Sharma (@sahadevsharma) July 22, 2019
Looking ahead: The Cubs may very well have dodged a bullet in the upcoming series with Milwaukee. The Brewers are now saying that their ace starter- Brandon Woodruff, will be out for the next six weeks, with an oblique strain. Far beyond the Cubs/Brewers series later this week, a month-and-a-half with no Woodruff means the Brew Crew may be left crying in their beer.
Long way to go: As we grind on toward the finish line, the Cubs are making progress. Still, a long way to go, but there is an end in sight.
Game 100 @Cubs magic numbers:

MIL: 61
STL: 62
PIT: 57
CIN: 56#EverybodyIn

— CUBS MAGIC NUMBER (@CubsNumber) July 22, 2019
Baseball Quotes: "Any time you have an opportunity to make a difference in this world, and you don't, then you are wasting your time on Earth. -Roberto Clemente
You can't second guess yourself in baseball. -Mariano Rivera pic.twitter.com/HYtmIPk5QE

— Baseball Quotes (@BaseballQuotes1) July 22, 2019
Cubs Birthdays: Celebrating yesterday, were ex-Cubs Cliff Johnson (71) and posthumously, Scott Sanderson (63).
THIS WEEK'S NL CENTRAL SCEHEDULE:
(Wins are in green, losses in red)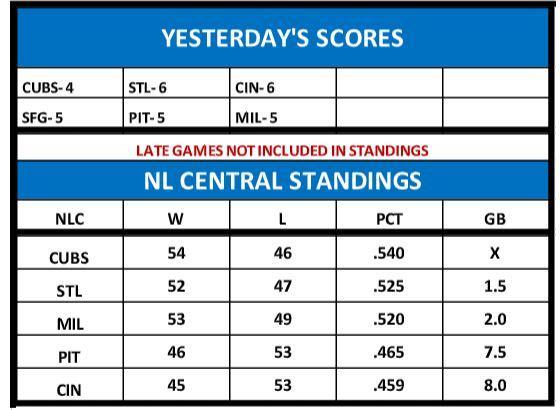 Tags: Cubs Baseball
,
Yu Darvish
,
,
Tyler Chatwood
,
Robel Garcia
,
Kyle Schwarber
,
Anthony Rizzo
,
Albert Almora Jr
,
Kyle Ryan
,
Steve Cishek
,
,
Pedro Strop
,
,
Mike Montgomery
,
Cole Hamels
,
Willson Contreras
,
Rowan Wick
,
Joe Maddon