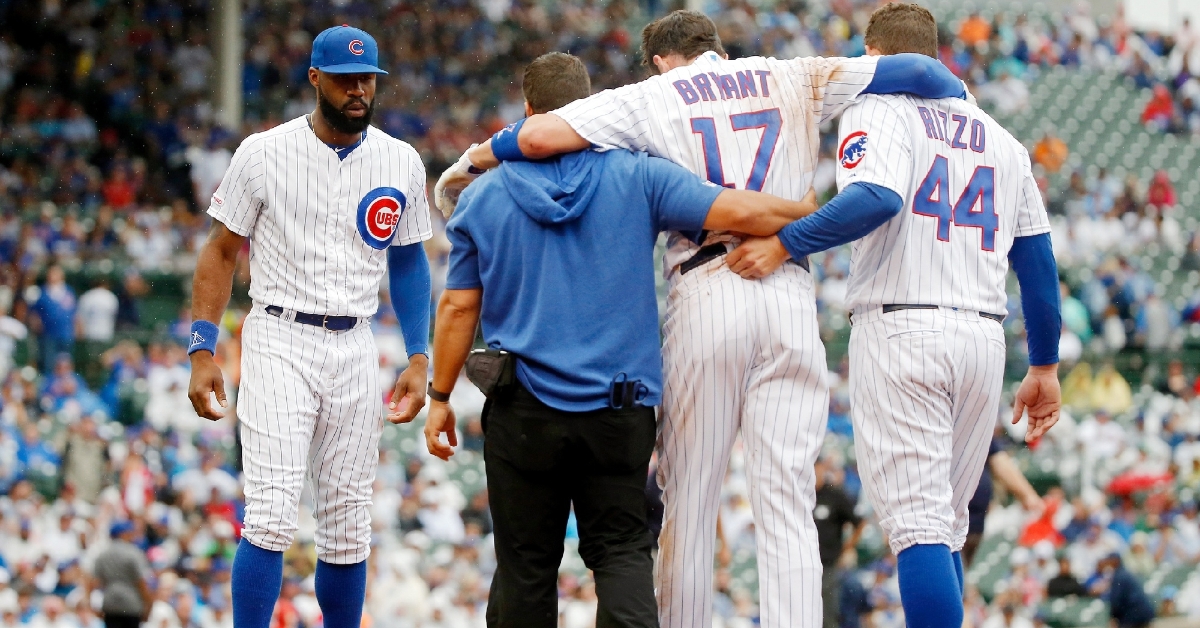 | | |
| --- | --- |
| Cubs News and Notes: Cubs swept and eliminated, Goodbyes for many, Hoerner makes the cut | |
---
Next Game: The Cubs are off today and will spend the day praying for a miracle before resuming play in Pittsburgh tomorrow night. Tuesday: RHP Kyle Hendricks (11-9, 3.26 ERA) vs RHP Mitch Keller (1-5, 7.74 ERA). Game information: 6:05 PM CDT; Televised on NBC Sports Chicago.
Sunday's Game Recap:
I don't know what more to say about the Cubs and this series, other than that it's been a complete disappointment. Seven games yet to play, so buckle your seatbelts, as we may be experiencing some turbulence.
Yesterday, Yu Darvish took the mound, hoping to salvage one game for Chicago in this series, which would also mean avoiding elimination from being able to win the division. For the Cards, it was righty, Miles Mikolas. Here we go.
The Cubs mounted an attack in the first, beginning when Nicholas Castellanos reached with a one-out single, then Kris Bryant got plunked. Kyle Schwarber hit what should have been an easy fly ball to left center, but a miscommunication between Bader and Osuna left the ball to drop harmlessly to the ground.
Yadi Molina would miss catching a pitch to Ben Zobrist, as it hit the top of his mitt and took off, scoring Castellanos. Cubs lead 1-0 after one.
Darvish would rake six strikeouts in the first three innings; however, DeJong would grab the first Cardinals hit of the day, on a ball that ended up in
Waveland Avenue. Game tied 1-1.
More injury disaster for the Cubs in the third, as Kris Bryant rolled an ankle as he crossed first base. Bryant was helped from the field and replaced at third by Ian Happ. Bryant is scheduled to have an MRI today.
Kris Bryant exited today's game with a sprained right ankle.

Initial X-rays did not reveal a fracture. pic.twitter.com/VpXCCbF8jp

— Chicago Cubs (@Cubs) September 22, 2019
Castellanos would put the Cubs up 2-1 in the sixth when he blasted this gem. Every one of these home runs and doubles is probably raising Boras' free-agent price tag on Nick, but for now, we'll take the hits.
Nicholas Castellanos sets a career high with his 27th home run of the season!#EverybodyIn pic.twitter.com/xcZagsbWyE

— Chicago Cubs (@Cubs) September 22, 2019
Darvish would plow his way through the seventh, ending the inning with a great defensive play, as he initiated a 1-6-3 double play… and oh, all of those Ks.
Yu Darvish is the 1st pitcher in recorded Cubs history to have at least 11 strikeouts in three straight games.

— Jordan Bastian (@MLBastian) September 22, 2019
Darvish breezed through the eighth, with the only question about his day being whether or not Maddon was going to let him try for the complete game. In my opinion; why not? The pen hasn't been consistent, and after an abominable homestand, why not end the home season on a high note?
Darvish would end up grabbing a bat to lead off the eighth. Yu would fail to reach base, but Rizzo would single, then be lifted for Javier Baez who pinch-ran. Castellanos hit a hard line-drive, but it would be caught on the fly- two away. Ian Happ would single, sending Javy to third, finally chasing Mikolas from the game. Kyle Schwarber would line out to end the inning. Cubs go to the ninth behind Yu Darvish, leading 2-1.
Jose Martinez would triple for the Cards to start the ninth, putting Darvish, the team and Maddon in a very precarious spot, but credit to Joe for sticking by him. A sac-fly by Dexter Fowler would tie it, but still, Maddon stuck with Yu. Another double would put the Cards up 3-2, and that would be the end for Darvish. Cubs trail 3-2 in the ninth, but despite losing the lead, Yu walks off to a standing ovation. Pedro Strop took the mound and fanned two to get out of the inning. Cubs desperately need a run in the ninth.
With two out, Jason Heyward would reach (single) in the ninth, leaving it, once again, on the shoulders of Nico Hoerner. The pressure that's been put on this kid in the last week is amazing, and although he hasn't gotten that big hit to win one, he's consistently made good contact.
Joe Maddon called this weekend's series "almost unbelievable."

— Tim Stebbins (@tim_stebbins) September 22, 2019
That's it for this season at home. See you next year, Wrigley. Cards win this one, and in doing so, eliminate the Cubs from the possibility of winning the division.
Final: Cardinals 3, Cubs 2. pic.twitter.com/tRAGo9GJOi

— Chicago Cubs (@Cubs) September 22, 2019
CUBS NEWS AND NOTES
Cubs/Pirates Probable Pitchers: Wednesday: LHP Jon Lester (13-10, 4.51 ERA) vs RHP Joe Musgrove (10-12, 4.52 ERA). Game information: 6:05 PM CDT; Televised on WGN. Thursday: Cubs TBD vs RHP Steven Brault (4-5, 4.98 ERA). Game information: 6:05 PM CDT; Televised on NBC Sports Chicago.
And for the final series of the year:
Cubs/Cards Probable Pitchers: Friday: LHP Jose Quintana (13-8, 4.55 ERA) vs RHP Dakota Hudson (16-7, 3.45 ERA). Game information: 7:15 PM CDT; Televised on WGN. Saturday: RHP Yu Darvish (6-7, ERA) vs RHP Miles Mikolas (9-14, ERA). Game information: 6:15 PM CDT; Televised on FOX. Sunday: Pitchers TBD. Game information: 2:15 PM CDT; Televised on ABC-7.
NL Wild Card Race: The Nationals fell to the Marlins (5-3) yesterday, while the Brewers beat the Pirates 4-3, completing their sweep over Pittsburgh. This leaves Milwaukee and Washington in a dead heat for the first two wild card spots, with the Cubs lagging 4.0 games back.
For those still holding out hope, the Cubs can secure a wild card spot, but it will require them winning five of the last seven, while either the Nats or Brewers lose at least five games. Um…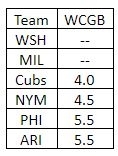 Ouch: The Cubs have now lost 6 consecutive home games for 1st time since a 7-game home skid from Aug. 1-14, 2013. Chicago has now lost eight games this season when leading entering the 9th. The Cubs have also now lost five consecutive 1-run games for the 1st time since a 6-game stretch 7/21-30/1915
Darvish furious: Furious with himself after losing the lead in the ninth, Darvish said he had no words to express his frustration, simply point the media toward his locker.
Yu Darvish said he had no words to describe his frustration. Pointed to his locker, which had mud caked across his silver nameplate. The result of an anger-fueled postgame throw of his muddy spikes.

— Jordan Bastian (@MLBastian) September 22, 2019
Maddon on six-straight losses: Joe Maddon says this run of six losses has been "wash and repeat." (You forgot the rinse cycle, Joe…)
Maddon: "This is really wash and repeat" pic.twitter.com/l0vDsc4rpg

— Mark Gonzales (@MDGonzales) September 22, 2019
Latest Fangraphs: According to Fangraphs, the Cubs' chances of making the playoffs are brutally ugly. Now at just 9%, it looks like Chicago, barring a miracle, will be hanging up the cleats after they finish with the Cards next Sunday. This has been a horrific year, to say the least.
NL playoff chances, per Fangraphs:
Cardinals 99.6%
Nationals 98.6%
Brewers 90%
Cubs 9%
Mets 2%
Phillies 0.3%
D-Backs 0.1%

— Buster Olney (@Buster_ESPN) September 22, 2019
Zo on Maddon: When asked about Maddon's legacy in Chicago, Zo says, "No comment, because I'd like to see that continue."
Ben also spoke about his physical shape, saying that he physically "could" play in 2020.
Zobrist believes this month proved he can still produce in 2020 if he decides to return: pic.twitter.com/rG9nZYe3bb

— Mark Gonzales (@MDGonzales) September 22, 2019
Wrigley says goodbye to friends: Saturday marked WGN's last telecast from Wrigley Field, after 72 years. Yesterday, NBC Sports Chicago televised their last Cubs game from 1060 W. Addison, as games will all become part of the Cubs' Marquee Network next year. Also saying goodbye, was Gary Pressy, the Wrigley Field organist since 1987.
Also thank you to all the fans, the media, and all my friends in the Cubs organization who have shown me nothing but respect and given so many well-wishes this past week and a half. I will never forget you! -GP

— Gary Pressy (@GaryPressy) September 22, 2019
Also hanging it up, is Bruce Miles, from the Daily Herald. I chat with Bruce on social media every once in a while, and he's a great journalist, who's very dedicated to his work. Best of luck, Bruce.
One of the hardest working, most professional and kind individuals I've ever had the pleasure of crossing paths with...@BruceMiles2112 you will be missed dearly! Cheers to the next chapter my friend?? pic.twitter.com/fBwojRwlBY

— Kelly Crull (@Kelly_Crull) September 22, 2019
This may also have been Ben Zobrist's final home game at Wrigley.
Zo on playing at Wrigley: "It's the big leagues of the big leagues. That's the way the fans make you feel. ... It's hard to beat the experience of being a Chicago Cubs player, especially when you walk out on that field."
Maddon's last home game? Yesterday was also probably Joe Maddon's final game at Wrigley Field as the Cubs' manager. When asked if he was taking it all in, the Cubs' skipper replied, "Honestly, I do that every day. I don't anticipate that. I haven't thought that this whole time through. I always expect a good result."
Hoerner will continue to play: Joe Maddon says that even if Javy returns for the final week, that he's not going to bench Nico Hoerner. "Can't walk away from what Nico is doing," Maddon said, adding that shifting Hoerner to either second base or the outfield would be possibilities. Personally, with Bryant now hurt, I'd shift Javy to third, leave Hoerner at short, and play either Zo or Bote at second.
Ben Zobrist: "No matter what the end results end up being the character of this team is not determined by the final results. It's determined by how you go about the process. We do believe in the process here."
Kimbrel on Saturday's loss: "I was pumped out there, I was excited, felt like I had good stuff. And then right there off the bat with two home runs. Frustrating."
I don't blame Kimbrel at all for that loss. Yes, he did serve up back-to-back gopher-balls, but the guy has had limited time in a less than optimal situation this year. The Cubs signed him late, fast-tracked his "spring training," then launched him into the bullpen. Further complicating Kimbrel's issues is the fact that the Cubs either blew out their competition, or they were blown out, leaving Kimbrel to pitch about once a week. As a friend put it, "You cannot expect a guy to come in during the middle of the season at 45% [readiness] and throw 110%."
Baseball Quotes: "I want to be remembered as a ballplayer who gave all I had to give." -Roberto Clemente
Sparky Anderson taught me this a long time ago: 'There's three ways you can treat a person. You can pat 'em on the butt, you can kick 'em in the butt, or you can leave 'em alone.'
-Pete Rose pic.twitter.com/NBlM5c4Bmk

— Baseball Quotes (@BaseballQuotes1) September 20, 2019
Cubs Birthdays: Celebrating yesterday, were ex-Cubs Mark Guthrie (54), Lou Johnson (87), Ken Aspromonte (88), and posthumously, Harry Bright (90), Harry Walker (103), and William "Doc" Marshall (144).
Cub or not, I cannot forget birthday wishes for this guy. Happy birthday, Tommy Lasorda.
The legendary Tommy Lasorda turns 92 today.

He is one of a kind. ?? pic.twitter.com/2Cca51wQe4

— MLB (@MLB) September 22, 2019
THIS WEEK'S NL CENTRAL SCHEDULE:
(Wins in green, losses in red)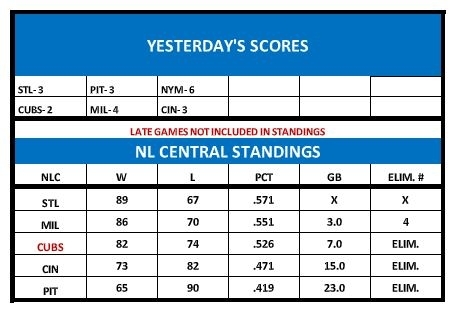 Tags: Cubs Baseball
,
Kyle Hendricks
,
Yu Darvish
,
,
Kyle Schwarber
,
Ben Zobrist
,
,
,
Dexter Fowler
,
Pedro Strop
,
Jason Heyward
,
,
Jose Quintana
,
Joe Maddon