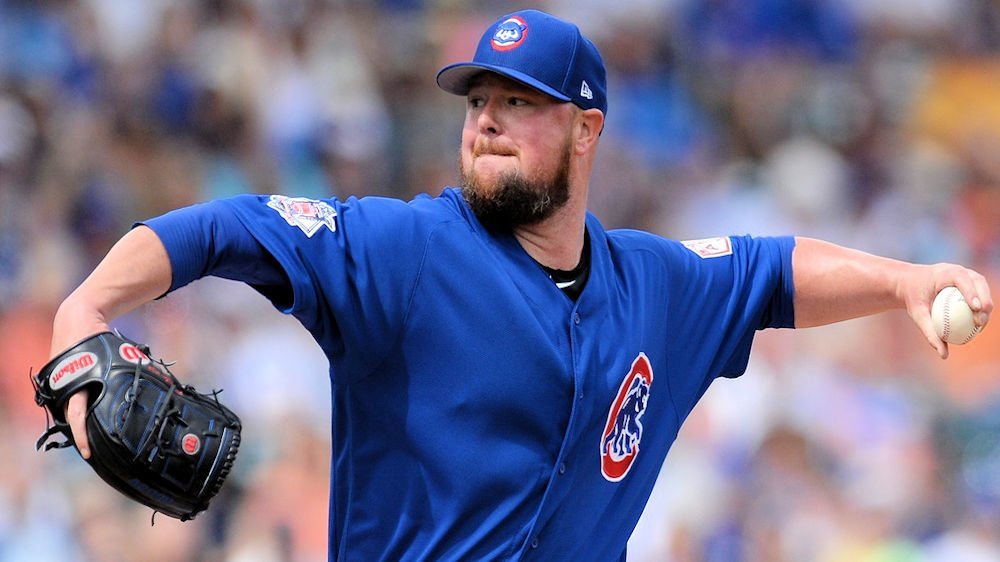 | | |
| --- | --- |
| Maybe Next Year- Part-5: Reshaping the Cubs' Pitching Staff | |
---
This probably won't come as any great surprise, but the Cubs are in trouble when it comes to pitching. Experienced arms a must, but to become experienced, one must also age. With the wear and tear that pitchers place on their bodies, physical breakdowns are bound to happen, but the likelihood of such occurrences is going to increase exponentially with older players. You saw it happen this year after Jon Lester strained a hamstring while sliding, then again when Cole Hamels suffered his oblique strain. Then there was Brandon Morrow's elbow; Pedro Strop's hamstring; Yu Darvish's forearm, and the list goes on and on.
Injuries will always be a part of baseball, but I think the Cubs may finally start hedging their bets by relying more on younger arms. Theo Epstein has some relatively youthful arms who've shown the potential to turn in quality innings, but just how much he relies on them next year remains to be seen.
The Starting Rotation
The Cubs' number 1-4 starters will have the same names, though their pitching order may look a little different, Cole Hamels' spot will be up for grabs when spring training rolls around. While the free-agent pool and the trading block will offer a plethora of choices for Theo as he works on replacing Hamels, the Cubs also have at least a few candidates already on the roster for that fifth starter's spot.
LHP Jon Lester ($20M in 2020) Big Jon has been the anchor to this rotation since 2015, but it wouldn't surprise me to see him drop from the #1 spot, based on how he may perform in spring training next year. Currently, in the final two years of a six-year, $155M deal, Lester struggled immensely at times in 2019, but he'll be in Cubbie blue in 2020.
RHP Yu Darvish ($22M in 2020) Darvish has the opportunity to opt out of his contract this year, should he decide to test free agency, but I don't see it happening. Darvish overcame a rough first half to 2019, to become one of the most solid arms in the majors. By adding pitches and tweaking his delivery, Yu has come up with a product that has served both him and Chicago well. Proving his worth and gaining acceptance from the fans were two things Darvish was concerned about when the 2019 season began, but I think it's fair to say that he's accomplished both tasks.
RHP Kyle Hendricks ($12M in 2020) Hendricks begins his new, five-year/$55M deal with Chicago in 2020, and neither side could be happier about the contract. Although Kyle failed to add any no-trade or opt-out clauses, his home has been with the Cubs since he debuted in 2014. His current deal keeps him employed until age 35, and with Hendricks relying on finesse rather than speed, his arm should undoubtedly last that long.
LHP Jose Quintana ($10.5M in 2020) Q hits free agency this winter, unless the Cubs exercise his $10.5M team option for 2020. Unless the Cubs manage to score big in the free-agent or trade markets quickly, they can ill-afford to let Q walk, as with Hamels gone, they'd have no southpaws in the rotation other than Lester. Quintana had his ups and downs in 2019, but for $10.5M, I can't see the Cubs letting him go.
Now for that coveted #5 spot. The Cubs have a few in-house options to consider.
1. RHP Tyler Chatwood ($13M in 2020) Chatwood found his groove in 2019 and turned a lot of heads in the process. His command is better, his breaking pitches are insane, and WHIP be damned, Chatwood knows how to get himself out of jams. After failing to last as a starter in 2018, he saw very little playing time after being moved to the bullpen. Maddon failed to use him as much as he should have this year (total 76.2 IP), and the Cubs undoubtedly suffered as a result. The Cubs went 4-1 in Chatwood's five starts this year, and returning him to the rotation would serve this team well, considering his ability to hit and bunt.
2. RHP Alec Mills ($555k in 2019) When the Cubs tried to use Mills as a spot-starter in 2018, I was far from impressed, but he's looked good this year. Still under team control for the next five years, I think the Cubs will at least provide Mills the opportunity to compete for a rotation spot in spring training next year, but if he fails to make it, you should expect to see him get at least some time in Chicago's bullpen, with an opportunity for spot-starts.
3. RHP Kendall Graveman ($3M in 2020) Knowing that he'd be out for all of 2019 while rehabbing from Tommy John Surgery, the Cubs signed Graveman to a one-year/$575k deal in December, which also included a $3M team option for 2020. Graveman's five-year career has suffered interruptions and setbacks, but throughout his limited playing time, he's always served as a starter. Not a great ERA (4.38 career ERA), but that's somewhat falsely inflated due to his 2018 stats with Oakland, which was when he incurred his injury. If the Cubs dump him, it costs nothing further, but if they exercise that option, you may see Graveman in the rotation.
The Bullpen
The Wieck-Wick combo: This duo proved to be effective, and they cost the Cubs just a combined total of $1.1M this year. Both remain under team control, and both will be re-signed. RHP Rowan Wick's versatility allows him to chew up innings, while also having the ability to serve as an option to Craig Kimbrel. LHP Brad Wieck is quickly becoming the right-handed specialist that Derek Holland was thought to be, and when you compare Wieck's salary to that of Holland's, it almost becomes a no-brainer. Figure on the Wick Brothers (or is that Wieck Brothers?) being in the mix.
RHP Brandon Kintzler ($5M): Despite how many fans seem to feel, I believe Kintzler stays. Why shouldn't he? Kintzler's ERA and WHIP led the team (qualified players only) for most of the season, and he's been relatively unstoppable all year. Kintzler wants to stay, but I know from an inside source that the Cubs have not yet talked about re-signing him.
LHP Kyle Ryan ($555k): Ryan's under team control until 2024, but while he played for the minimum this year, he often outshined and outperformed some of the veterans on the team. Ryan's biggest issue is putting runners on base, but he does keep the ball in the park while averaging just about one strikeout per inning.
RHP Alec Mills ($555k): If Mills fails to gain a starting spot, the only two things that should stand in his way from joining the bullpen would be Steve Cishek's fate and who the Cubs could acquire along the way. Talent isn't an issue, but finding an open roster spot could prove to be an obstacle for Mills.
The Closer
Craig Kimbrel Kimbrel's on a lot of people's "you-know-what" list after disintegrating in a handful of games this year, but Craig's getting the short end of the stick from those chastising him. No, 2019 didn't pan out for Dirty Craig and the Cubs, but they took a guy who was less than 50% ready to play, thrust him into action, then demanded 110% out of him; this wasn't going to work out well. With the Cubs not keeping themselves in a position to need a closer very often, Kimbrel infrequently pitched, further causing his ineffectiveness. Kimbrel will be the Cubs' closer in 2020 (100% guaranteed). With a regular routine this winter and next spring, he'll be back to form and doing what he does best: saving games. Even counting his 6.50+ ERA this season, Kimbrel's ERA for ten seasons is still only slightly above 2.00. Trust me. He's a keeper.
Stop back tomorrow, as I'll cover what I see the Cubs' roster looking like in 2020.

Tags: Cubs Baseball
,
,
Cole Hamels
,
Brandon Morrow
,
Pedro Strop
,
Yu Darvish
,
Kyle Hendricks
,
Jose Quintana
,
Tyler Chatwood
,
,
Kendall Graveman
,
Rowan Wick
,
Brandon Kintzler
,
Kyle Ryan
,
Steve Cishek
,
Theo Epstein