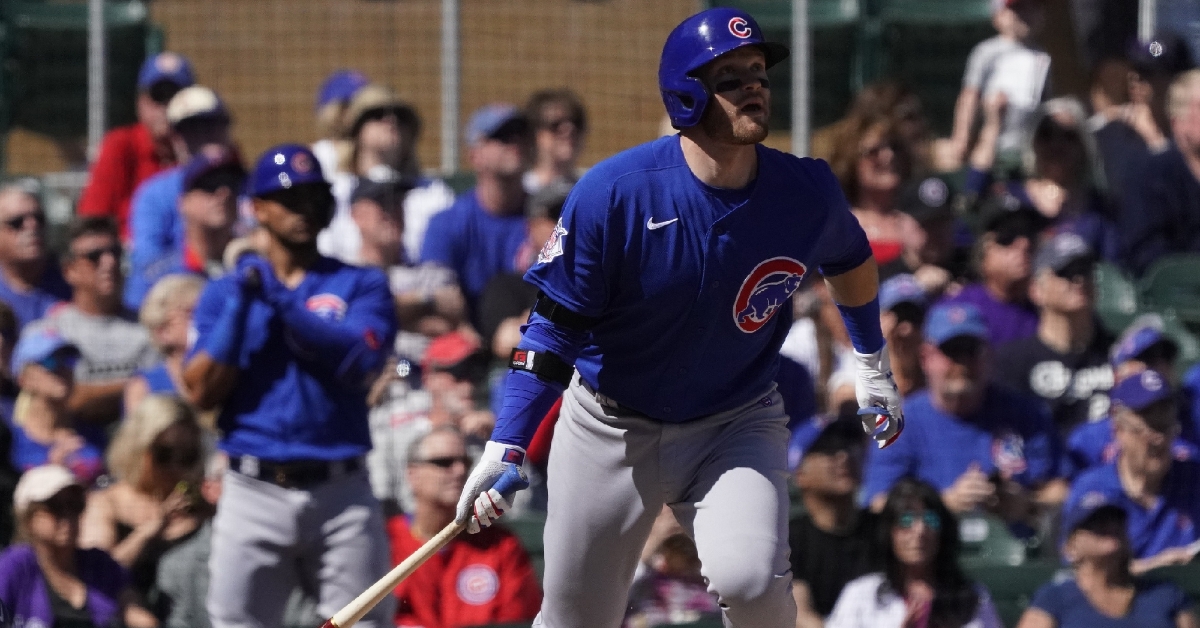 | | |
| --- | --- |
| Midseason Superlatives for Cubs | |
---
| | | |
| --- | --- | --- |
| Thursday, August 27, 2020, 5:39 PM | | |
The Cubs are officially 30 games into the sixty game season, meaning the Cubs are half-way through this hard to navigate, odd season.
Though not all teams are at 30 games, and some have played more — we at CubsHQ decided to do this article because the Cubs are at the midseason threshold.
The Cubs sit at 18-12 and in first place in the NL Central as they have a two-game lead over the Cardinals who have played ten fewer games due to a coronavirus outbreak in their clubhouse.
So as is the case with the middle and end of every season, let's take a look at some of the superlatives for the Chicago Cubs.
MVP
Before the season it seemed like a no brainer to pencil in Anthony Rizzo, Javier Baez or Kris Bryant into this slot — but they are far from the MVP of the Cubs so far this season. For me, the choice came down to a pitcher and a batter, and since the pitcher has a Cy Young to win, I chose the batter. Ian Happ has been the MVP for the Cubs this year. Happ leads the Cubs with a .287 batting average, six home runs, a .422 on-base percentage, 27 hits, 21 walks, a .564 slugging percentage, a .986 OPS and a 0.9 WAR this year.
The Cubs have gotten underwhelming production from their traditional big boppers, and Happ has made up for it, either batting primarily sixth, ninth, or first in the absence of Kris Bryant. After spending the majority of last season in the minor leagues, Happ shows that he is here to stay.
Should Ian Happ remain in the leadoff spot once Kris Bryant returns from injury? pic.twitter.com/I6majbe1Ou

— Marquee Sports Network (@WatchMarquee) August 20, 2020
Top Pitcher
This is one of the most straightforward questions to answer for the Cubs. Yu Darvish has been an incredible pitcher for David Ross' squad this year. Through six starts, Darvish leads the Cubs in wins, ERA, and strikeouts. He ranks in the top five in the national league in all of those categories as well. Darvish is 5-1 with a 1.70 ERA with 44 strikeouts and just six walks in 37 innings.
Darvish was expected to be a large contributor and a bit of a weighing factor on the Cubs' success this year. Darvish has continued his strong finish to the 2019 season with a first-half start that should keep him in the hunt for the 2020 Cy Young award.
Here was Yu Darvish's answer when asked what it would mean to be in the NL Cy Young discussion:

"I don't want to think about that. I don't care. Just focusing -- next pitch."

— Jordan Bastian (@MLBastian) August 23, 2020
Most Improved
While most of the Cubs have yet to get going, the obvious answer for this superlative is Ian Happ. Happ needed development and improvement so much so that the Cubs decided to give him nearly a full season to work on his holes in the minors — and he put together a strong 58 games to end last season and has kept that going and then some this year.
Best Addition
The most significant addition could go multiple ways, but I think the clear answer is Jeremy Jeffress. With Craig Kimbrel'sKimbrel's inconsistencies and the Cubs' need for help in the backend of the bullpen, Jeffress has been a stabilizing force. In 12.1 innings, Jeffress has allowed just two runs on five hits. He has stuck out seven and has an ERA of 1.46 with a 0.8 WAR. Not to mention, the former Brewer has three saves to pair with some swag that resembles that of Pedro Strop.
Biggest Surprise
The biggest surprise could go one of two ways. In a negative sense, the obvious biggest surprise is that Kris Bryant, Anthony Rizzo, Willson Contreras, Javier Baez, and Kyle Schwarber all have batting averages below .230.
Or you can look positively, and it has been surprising that David Bote has been a run-producing machine for the Cubs. The utility man who has found himself in the lineup often with Bryant on the shelf has four homers and 17 RBIs this year, he only had 41 in all of last year.
Biggest X-Factor
So far, the biggest X-factor has been the bullpen as a whole. The Cubs began this season knowing the bullpen was a hole in the roster, and David Ross has had to mix and match the pen on a game-by-game basis — especially without Craig Kimbrel pitching to his potential. Kimbrel has looked better as of late but has been carefully placed into leverage situations. It's been the trio of Rowan Wick, Jeremy Jeffress, and Ryan Tepera who have carried the pen's heavy inning. The success has not been there every time, but more often than not. Tepera has 18 Ks in just 11.2 innings, Wick has four saves, and Jeffress has a 0.81 WHIP. Continued success from these three players and hopefully more out of the Cubs'Cubs' bullpen would be huge this year.
Top Rookie
Rookie of the year could go multiple directions, but lookout for a big second-half from Nico Hoerner. He has an average of .250 with a .352 on-base percentage and has played all three infield positions beside first base this year. Hoerner has constantly barreled balls and set the table for the rest of the lineup. Hoerner has 15 hits and eight walks and has come around to score 11 times, and has a team-leading two stolen bases to his name. Hoerner has split some of the time at second base with Jason Kipnis, who is also off to a solid start — but Hoerner'sHoerner's production as a rookie can not go unnoticed.
Nico Hoerner wins this battle of 2018 1st-round picks. The 24th overall pick drives home a run against Mize, who went No. 1 overall. pic.twitter.com/00Qn1p3JIc

— MLB Pipeline (@MLBPipeline) August 24, 2020
Manager evaluation
David Ross has been great thus far. Let the 18-12 record speak for itself, but the way he has handled injuries, struggles, a terrible bullpen, social justice protests, and managing during a pandemic and the media, you would not believe this is only his first year. Ross has excelled at motivating and unifying the Cubs during these uncertain times — and it is evident the Cubs LOVE playing for Ross. As the season progresses, keep an eye on the chemistry Ross has been able to form and strengthen in just his first year.
That will do it for out midseason superlatives, and we'll check back in about 30 games to review and update our superlatives for 2020.

Tags: Cubs Baseball
,
Anthony Rizzo
,
Kris Bryant
,
Ian Happ
,
Yu Darvish
,
David Ross
,
Jeremy Jeffress
,
Craig Kimbrel
,
Pedro Strop
,
Willson Contreras
,
Kyle Schwarber
,
David Bote
,
Rowan Wick
,
Ryan Tepera
,