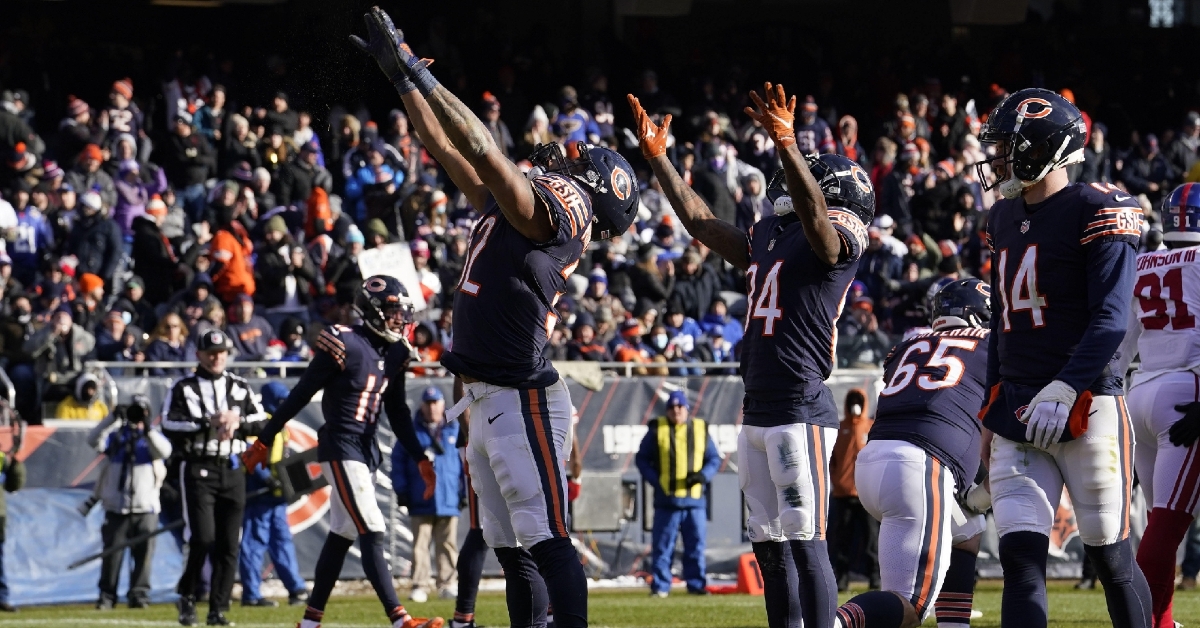 | | |
| --- | --- |
| Bears vs. Vikings Prediction | |
---
The weekend has finally arrived as the first Week 18 in NFL history is set to begin Saturday with the Bears taking the field Sunday. With the playoffs no longer a possibility, Chicago will come into Sunday's contest riding a two-game winning streak and looking to finish out the season strong as a win would land them in second place in the NFC North.
Standing before them is a Minnesota Vikings team that has had a very disappointing season and was eliminated from playoff contention last week following a beat down by the Green Bay Packers. Kirk Cousins didn't play in that game as he was in the COVID protocols, and now it looks like he is on the verge of signing an extension to remain with Minnesota for a few more years.
For the Bears, Justin Fields was announced the starter only to see himself land in the COVID protocols, so it is between Andy Dalton and Nick Foles. My guess would be Dalton gets the nod, but why not give Foles one more start to audition for a new gig next season. This rivalry game still has a lot on the line despite neither team being in playoff position.
Matt Nagy is most likely coaching his last game, Mike Zimmer could be gone, and both teams are playing for pride as they look to turn things over to the offseason.
Here are some things to look for in Week 18:
Can Mooney reach 1000 yards
When the season started, had I told you the Bears had a receiver with an opportunity to reach 1000 yards, Allen Robinson would be your guess. After having two-consecutive 1000 yard seasons, Robinson has had his worst season as a pro this season as injuries and inconsistencies never helped get him in a groove.
His lack of production forced other players to step up, and Darnell Mooney was one of those players. Drafted in the fifth round of the 2020 NFL draft, Mooney was the team's No. 2 receiver this season and has now emerged as the most trusted option this season. His speed, route-running ability, and fearless nature have made him a favorite target for Fields, as those two should have great chemistry for years to come.
Closing in on 900 yards right now, Mooney has a chance to post a 1000 yard season, giving the Bears three straight years with that feat. That is not common in Chicago, as Alshon Jeffery and Brandon Marshall were the last two WRs to post three consecutive 1000 yard seasons with the Bears. Robinson fell short, but Mooney has a chance with a big game to continue the streak for Bears WRs.
Who coaches next year?
Not only has Nagy been on the hot seat all season, but the Vikings lack of consistency this season has led to Zimmer seeing his job security come into question. While the Vikings haven't tipped their hand as to what their plans are, the Bears have informed Nagy that he will not be returning next season.
Should the Bears knock the Vikings off on Sunday, Zimmer could find himself in hot water as things haven't gone well the last few years. At this point, I would be surprised to see neither one of these guys retained, and there is a chance that both or at least one would be out of football next year.
Given the age of Zimmer, if he walked away from the game and retired, no one would be shocked. He has put three decades of his heart into this league and has done very well. On the other hand, Nagy is only 45 years old and will have opportunities to coach again. His days as a head coach may be over, but he will have a chance to prove himself in some capacity sooner rather than later.
Going out with a bang
It is no secret that there could be a lot of turnover with the Bears next season, especially on defense. One of the names that may not be returning is Akiem Hicks, who acknowledged that in a press conference last night. Hicks has been a centerpiece to the Bears defense for a long time and is approaching a free agent season after this year.
The often injured Hicks hasn't played an entire season in a long-time, but when he is on the field, he is a problem that teams hate to deal with. Minnesota is one of those teams that doesn't like Hicks as he often has his best games against the Purple People Eaters. Why not put an exclamation point on what could be the end of your Bears career by having a big day Sunday.
Hicks knows the magnitude of this week and will be very emotional on the field. He will show that emotion through his play, and hopefully, he can do enough to at least return for one or two more seasons and go out on his own terms.
Update: Hicks was announced out with an injury.
Prediction: BEAR DOWN
For whatever reason, the Bears match up well with the Vikings and often give them plenty of fits. The defensive front is a big reason for that, as they often make the mediocre offensive line look terrible, which doesn't bode well for a pocket passer in Cousins. The more pressure they get on him, the harder it is for Dalvin Cook to get going as the Bears have held to just 3.4 yards per carry in his career, the lowest of any team.
For the first time since early in the season, Chicago is playing with a little bit of confidence as they have come off of two-straight wins. Wins have been hard to come by for both teams this season, but the Vikings can at least say they have played in 14 one-score games and have had the lead in 14 of the 16 games this season.
It is amazing to see that team sitting at 7-9 because they have proven they can beat anyone in this league, but have also lost to the Detroit Lions, which is where the inconsistency comes in. Minnesota is a challenging venue to play at, but Nagy and his group have had success there in the past, and I think it continues with the Bears pulling out a 24-20 win to end the season on a high note.

Upgrade Your Account
Unlock premium boards and exclusive features (e.g. ad-free) by upgrading your account today.
Upgrade Now