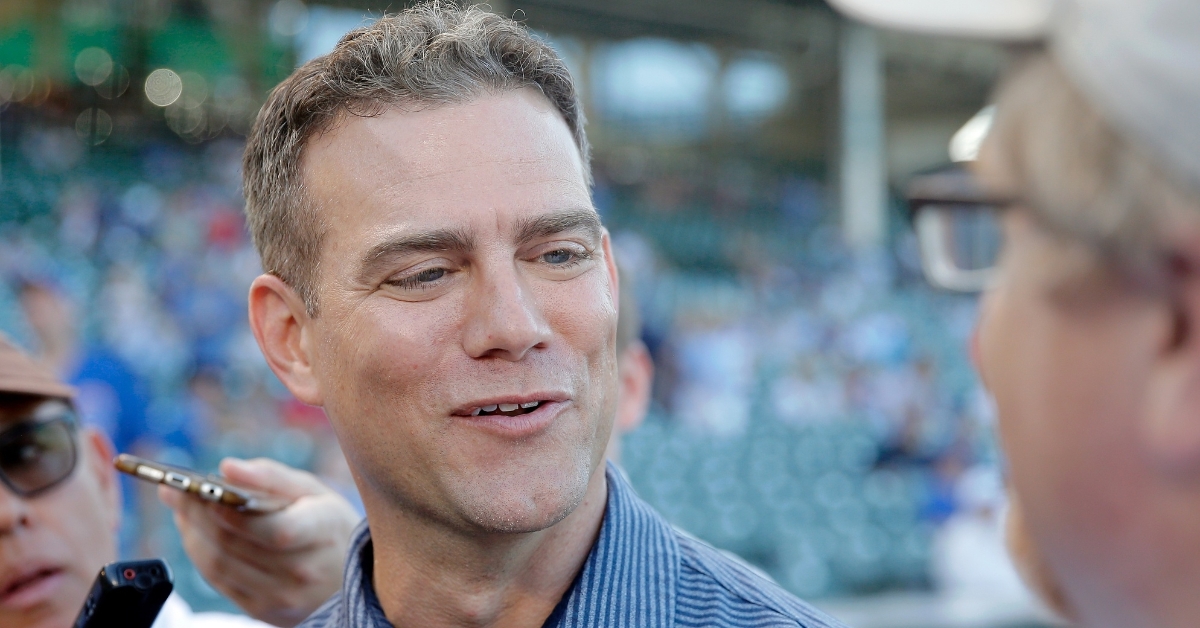 | | |
| --- | --- |
| Cubs Hot Stove: Decisions, decisions, decisions | |
---
| | | |
| --- | --- | --- |
| Sunday, November 8, 2020, 9:10 AM | | |
It's hard to believe that the Cubs built a World Series-winning roster, then faded so quickly. This is a team that should have been comparable to the Dodgers- a dynasty - atop their division year after year - but somehow, things have been all downhill since they took home the big trophy in 2016.
Barring unforeseeable changes, 2021 will be Theo Epstein's last year in Chicago. Right now, Theo's number-one priority is to attempt to set the Cubs up for his successor - whomever that may be. A lot of which will depend on how much Tom Ricketts is willing to spend this winter.
I've seen social media comments suggesting that Epstein could sabotage the team, knowing that there'd be no repercussions, but that's just nonsense. Even if he were to try to do that, there are checks and balances in place, the biggest being Tom Ricketts having to rubber-stamp any proposed deals. Furthermore, Epstein is a professional, and he's not about to undermine his career at age 47 (in December).
There was initially some question about whether the Cubs would buy out Epstein's remaining year and set him free, but much like they did with Joe Maddon, it looks like he'll be there to ride out his contract.
Epstein still has the option to leave, and according to Cubs beat writer Gordon Wittenmyer, times are certainly changing fiscally around baseball.
"The Cubs' offseason remains in more limbo than usual at this point in the offseason, with team president Theo Epstein still said to be mulling whether to step down from the final, $10 million year of his contract during a time of deep cuts across all departments in the organization — including more than 100 layoffs in business and baseball operations at a time of steep pandemic-related financial losses."
New New York Mets owner Steve Cohen spent his first day on the job cleaning house.
Included in that move, Cohen fired team president Brodie Van Wagenen and the bulk of Van Wagenen's inner circle. While Epstein may have been the perfect fit for the Mets who haven't won a World Series since 1986, Cohen announced six weeks before being approved as the owner that he'd be re-hiring former Mets' GM Sandy Alderson. I would have thought Cohen would have been frothing at the mouth to sign Epstein as the Mets' President of Baseball Ops, but apparently not. For Epstein, latching onto the Mets would have meant an easy transition into his next multi-year contract.
Under new #Mets owner Steve Cohen, Sandy Alderson finally owns the power he never had before — and he used it on Friday by whacking the front office, Corleone-style. https://t.co/WdZzBiOJLu

— David Lennon (@DPLennon) November 7, 2020
If we assume that Epstein is sticking around for the 2021 season (assuming there is one), will his hands be tied again this winter, just like they were last year? Tom Ricketts wants to get under the luxury tax, and right now, he has about $33M to work with (as per Spotrac). That figure includes arbitration estimates but obviously doesn't account for salary coming off the books due to trades. The two names everyone keeps hearing about as trade baits are Kris Bryant and Kyle Schwarber. Combined, the duo is expected to earn $27.6M in arbitration, which would mean that the Cubs would have a little over $60.6M worth of breathing room if the pair is indeed dealt.
The Braves and Cubs talked about Bryant's deal last year, allegedly offering up LHP Max Fried, 3B Austin Riley, and Willson Contreras' younger brother, William. For whatever reason, the deal never materialized. After IL stints by Tyler Chatwood and Jose Quintana, the Cubs certainly could have used Fried, who pitched to a 7-0 record, an ERA of 2.25, and a WHIP 1.089 in 11 starts this past season (56 innings pitched).
Riley and Contreras could still be on the table, but even if not, the Braves have a fairly robust farm system (ranked 8th) - something the Cubs depleted long ago in exchange for their World Series title. The Cubs farm system is now ranked 23rd, so it would appear that big-name trades are going to have to be the answer, especially if Tom Ricketts' clamps down on the checkbook again.
Plenty of teams out there can use a third baseman, but KB's 2020 season left little to be desired, and his 0.3 WAR indicates that Bryant alone isn't going to be enough to draw big-ticket trade returns. The Cubs have other options for third base, including David Bote and Ildemaro Vargas, but with Jon Lester, Tyler Chatwood, and Jose Quintana gone, starting pitchers are going to be what Theo Epstein has to seek. There is a chance that Lester could re-sign with the Cubs on a cheaper, restructured deal, but he'll undoubtedly test the waters of free agency before he settles for (much) less in Chicago.
Sixty-million buck can go a long way, but even still, it's doubtful that the Cubs would attempt to snatch up Trevor Bauer or other expensive top-tier starters. The big question is whether or not the Cubs will retool or whether Ricketts decides to blow it all up and go into a full-scale rebuild. I think the telltale sign of a rebuild would be if they decide to trade Yu Darvish. Darvish was on fire last year, but if they go into rebuild mode and don't intend on trying to contend, his contract cost outweighs the benefits. Per Darvish's contract, he has a limited no-trade cost with the ability to block trades to over ? of the league.
This winter is going to be interesting for the Cubs on multiple levels. Ideally, for fans, they'd continue to solidify the core and carry on, but that hasn't proven very accurate. As my dad used to say, "It makes no sense to be out there watering weeds."

Tags: Cubs Baseball
,
Kris Bryant
,
Kyle Schwarber
,
Willson Contreras
,
Tyler Chatwood
,
Jose Quintana
,
David Bote
,
Jon Lester
,
Yu Darvish
,
Joe Maddon
,
Theo Epstein