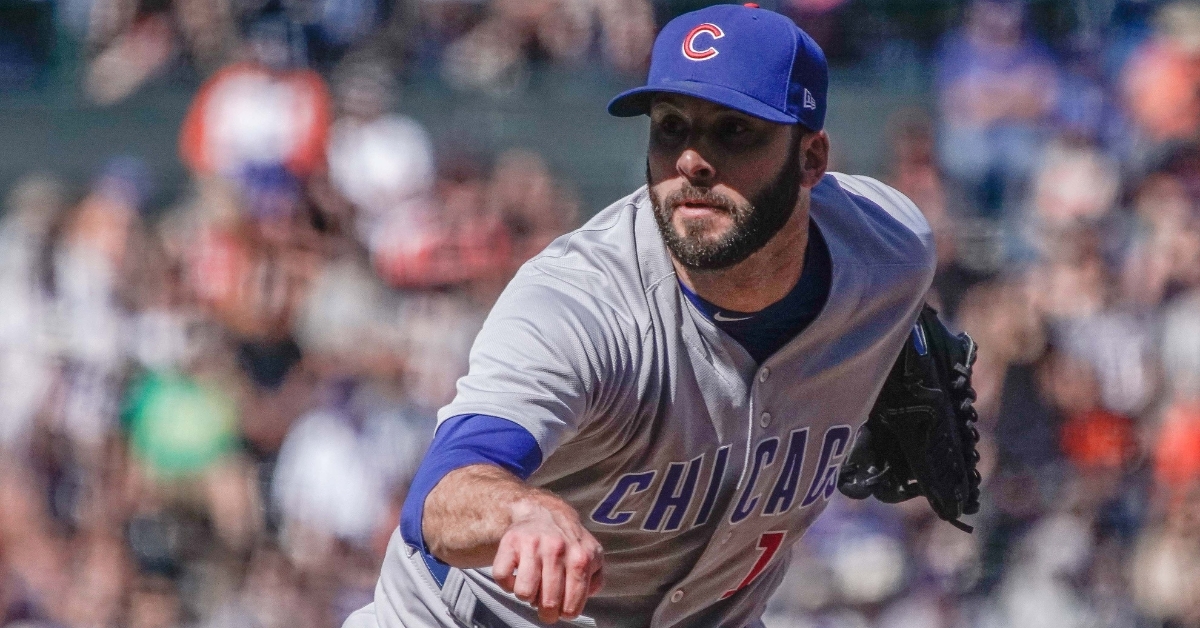 | | |
| --- | --- |
| Cubs Odds and Ends: Morrow's return in 2020, Yu's turn to shine, Cubs' bullpen depth | |
---
| | | |
| --- | --- | --- |
| Saturday, December 14, 2019, 9:15 AM | | |
Morrow's return
So, the first big-name the Cubs decided to re-sign was Brandon Morrow. In my daily column, I referred to this as a "risky move," a statement that garnered mixed responses on social media. Even my editor thought I had flipped my gourd for calling Theo's decision risky, but I still stand by that descriptor, this morning.
Make no mistake, the deal is relatively cheap (low risk), but in my estimation, the risk doesn't so much revolve around the money. The risk falls on the fact that the Cubs have paid Morrow well, just to watch him continue to suffer setbacks. It's throwing good money after bad; it's a matter of wanting to water weeds. Theo can't continue to throw money at Morrow and expect a different outcome. Period.
Source: Cubs, Morrow agree to minor-league deal https://t.co/Wu628dhzTL

— Jesse Rogers (@ESPNChiCubs) December 13, 2019
Morrow is has had nine IL stints of his Major League career, the last five of which have netted him $18,838,292.00 in injury pay (per Spotrac). During those five incidents, Morrow has missed 502 days of work.
Before coming to Chicago, Morrow collected on a pair of shoulder injuries from the Padres, totaling $2,1444,777.00 worth of pay throughout 157 missed days.
Since joining the Cubs, Morrow went down due to a back injury on June 20, 2018 and stayed out for a total of eight days, earning himself $387,096.00; this was his infamous "pants" injury. Upon working his way back to work from that little incident, Morrow hit the IL again on July 19, 2018 (biceps), remaining out for the remainder of the season (75 days) while collecting another $3,629,025.00. In 2019, it was his throwing elbow, an injury which netted himself another $12,677,394.00, during that 262-day vacation. All told, the Cubs have now shelled out $16,693,515 in injury pay to Morrow, for what amounts to 345 missed days of work. Morrow collected on a $3M buyout when last season ended, bringing his total injury salary to just under $20M.
Brandon Morrow has had 9 trips to the DL/IL. Latest one was the first time he missed a full season.

9!

Would be a good comeback story if he can get there.

— Jesse Rogers (@ESPNChiCubs) December 13, 2019
Despite a brilliant 1.47 ERA for Chicago, the Cubs have now paid Morrow a total salary of $24M for 35 appearances (22 saves), equivalent to $685.7k per appearance, or $1,090,909.09 per save.
His base salary is a million bucks if he makes the major league roster. Let's also not forget that between Jharel Cotton, Daniel Winkler, and now Morrow, the Cubs have now shelled out nearly $3M for a trio of injury-prone arms. And you still don't see this as being risky possibly taking a spot on the 40-man roster?
There is an upside, but there's a mighty big "if" involved here. IF Morrow can finally get healthy and pitch at the Major League level again, the Cubs would have a steal of a deal on, what was at one time, a quality arm. I won't even go down that road until I see him on the mound at the Major League level again.
Morrow's return might also be a signal that the Cubs are falling short in their effort to bring Brandon Kintzler back. I know that Kintzler's agent has had dialogue with Theo Epstein, but I also have first-hand knowledge that other teams have shown interest. I expect to learn more about Brandon's future this week, as my source was waiting until actual offers become available, before allowing me to name names.
I have confidence in Theo, but Morrow is going to have to show me something before I can ever view this move as anything but the risk that it is.
2020: Yu's year to shine
After a brief trade rumors scare during the week, Yu Darvish has made one thing clear to the Cubs, their fans, and the rest of MLB: He isn't going anywhere.
Darvish could have chosen to opt-out of his remaining four-year/$81M deal when 2019 ended, but instead, he decided (OK, his wife decided) that he'd be staying with the Cubs. That was fantastic news, considering both his rocky start in Chicago and the trouble that he and the fans had adjusting to one another. Original reports of trade rumors this week were followed by the announcement that Darvish could block trades to 12 different teams, but that was before news of Yu's full, no-trade clause for 2020 surfaced.
Yu going nowhere https://t.co/VmZOJsu61v #Cubs pic.twitter.com/LTSasiCP1e

— MLB Trade Rumors (@mlbtraderumors) December 14, 2019
Darvish vowed to turn things around in 2019, both on the mound and in the public eye, determined to show that he was worth every penny that the Cubs gave him; I'd say he was successful in that mission. I have a ton of admiration for that man, especially now that he elected to drop the use of an interpreter, citing that it took away a level of transparency between him and the media/fans.
Once out of his shell, Darvish began showing his hysterically funny sense of humor, taking to social media to lambaste anyone who got in his way. Sometimes playfully (as with his teammates), sometimes not (as in the case of "fried chicken guy)," Darvish seems to let it all fly these days, further endearing himself to a fanbase that just a year ago, wanted nothing to do with him.
Darvish could have quit (retired) after his insanely horrific injury-plagued 2018 season, but he stuck it out. Last season didn't start much better for him, but at least he was on the mound, healthy and working. By the time the second half came around last year, Darvish was on fire, earning himself the honor of being among the most elite in MLB.
With Jon Lester aging and nearing the end of his contract – this is his walk year – Darvish has a golden opportunity to emerge from Spring training as the Cubs number-one starter for 2020. Quite frankly, I'd be surprised to see anyone else break camp with that title, so long as Yu can continue to deal with that sort of authority. Even with a slow start this spring, Darvish has little competition for the top spot in the rotation, especially with Cole Hamels now donning a Braves' uniform.
It's your turn to shine, Mr. Darvish. Have at it.
The Cubs' bullpen
Theo Epstein just said the other day, that maintaining the status quo wasn't necessarily a bad thing, and it really isn't in the case of the Cubs bullpen. Not that the bullpen didn't underperform last year – they did – but the majority of the underperformers have walked.
It was sad to see Pedro Strop's implosion on the mound, but did anyone ever expect much out of guys like Derek Holland, David Phelps, Tony Barnette, Carl Edwards Jr., or others? Steve Cishek became less dependable than he should have been, and Mike Montgomery… wow.
Beyond possibly losing Brandon Kintzler, who was by far and away the best arm in last year's relief pool, the Cubs still have a hold of some high quality, inexpensive arms in Rowan Wick, Brad Wieck, Kyle Ryan, Dillon Maples, and others. Craig Kimbrel can only improve with a regular winter and spring workout schedule, and Alec Mills and Tyler Chatwood were solid in their roles.
If the season started today, the leftover Cub relievers from 2019 still carry some talent and consistency, and I don't think the pen is that bad, as it stands right now. Sure, there's room for a quality arm or two, but if these guys all come back this spring knowing that the bullpen slots are theirs to lose, I think you'll see the majority of them shine on.
From what we've seen this week, the pitching market is insanely high priced this winter, with even injured and rehabbing relievers (Morrow excluded) signing for top dollar. The Cubs may very well stick with who they've kept over the offseason, and that's not necessarily a bad thing. If Theo's smart, he'll look to shore up a weak and inconsistent offense and let the youth in the pen hold down the fort.
Money is tight, and the budget is limited; it's time to make the most out of what they already have.

Tags: Cubs Baseball
,
Brandon Morrow
,
Brandon Kintzler
,
Yu Darvish
,
,
Cole Hamels
,
Pedro Strop
,
Tony Barnette
,
Steve Cishek
,
Mike Montgomery
,
Rowan Wick
,
Kyle Ryan
,
Dillon Maples
,
Craig Kimbrel
,
,
Tyler Chatwood
,
Theo Epstein