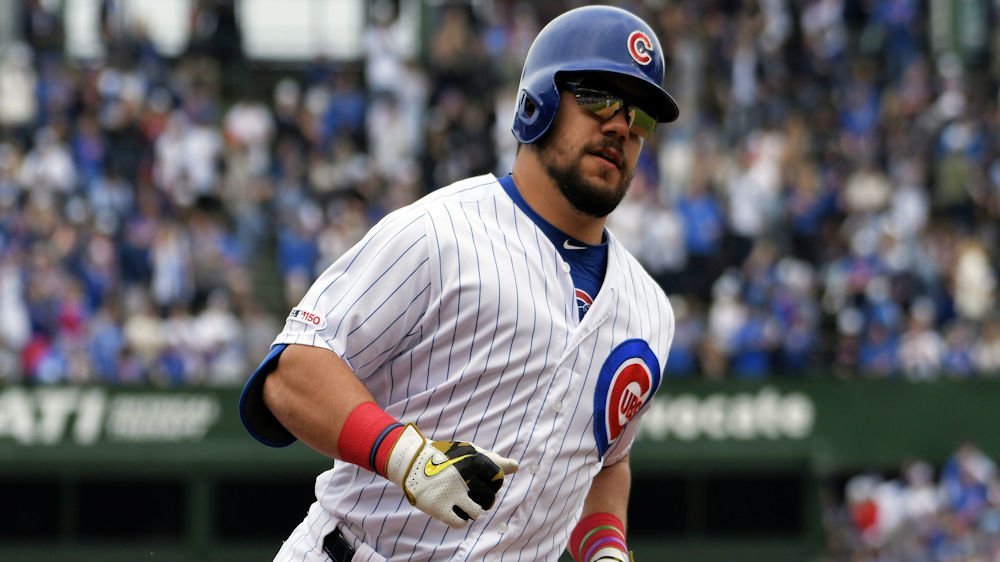 | | |
| --- | --- |
| Bullpen dooms Cubs, Schwarber bombs, Lester on bad outings, standings, more | |
---
| | | |
| --- | --- | --- |
| Saturday, May 25, 2019, 7:26 AM | | |
Next Game: Today, 1:20 PM CDT: Reds @ Cubs. RHP Tyler Mahle (1-5, 3.51 ERA) vs RHP Yu Darvish (2-3, 5.06 ERA).
CUBS NEWS AND NOTES:
Friday's Game Recap: In game one of their three-game set against the Reds, the Cubs sent righty, Kyle Hendricks to the mound to face Cincinnati righty, Anthony DeSclafani. Another great start for the Cubs turned ugly, as Brad Brach and Steve Cishek teamed up to give this one away.
The Cubs struck early, ON Kyle Schwarber's home run, then, before DeSclafani and the Reds knew what hit them (literally), Kris Bryant and Anthony Rizzo went back to back and took him deep in the third. The Cubs would chase DeSclafani out of the game after just 3.2 innings, which is not generally an easy task.
Cincinnati would start pecking away at Hendricks in the fourth, scoring one run, but then they tagged him for two more in the sixth, ending the Professor's day. After Brad Brach gave up a run in his 1.2 innings of work, Mike Montgomery finished the eighth clean in relief of Brach. The Cubs would add a go-ahead run in their half of the eighth before Steve Cishek took the mound for a save situation in the ninth. Not only did Cishek allow the tying run, but he also allowed the go-ahead run (without recording an out), putting the Cubs down 6-5, which is the way that it would end. Righty James Norwood would finish the day on the mound for Chicago.

Cubs/Reds Probable Pitchers: SUNDAY (2:20 PM): RHP Tanner Roark (3-3, 3.51 ERA) vs LHP Jose Quintana (4-3, 3.30 ERA).
SCHWAR-BOMB: This is what the Statcast of your basic, Kyle Schwarber, leadoff bomb looks like:
You ever seen a leadoff home run hit this far?#EverybodyIn pic.twitter.com/aIf6rzUEIP

— Chicago Cubs (@Cubs) May 24, 2019
Statcast projected Schwarber's shot at 449 feet. pic.twitter.com/HpHlmUGItC

— Jordan Bastian (@MLBastian) May 24, 2019
Cubs/Astros Probable Pitchers: MONDAY: RHP Gerrit Cole (4-5, 4.11 ERA) vs LHP Cole Hamels (4-0, 3.38 ERA). TUESDAY: RHP Corbin Martin (1-1, ERA) vs LHP Jon Lester (3-3, 2.68 ERA). WEDNESDAY: LHP Wade Miley (4-2, 3.51 ERA) vs RHP Kyle Hendricks (4-4, 3.34 ERA).
Maddon on the bullpen: When asked about the bullpen's latest loss, Joe Maddon, in typical laid-back form, had the following to say: "It happens, man. Just a tough day. It's called baseball." Just one problem, Joe… It happens way too often these days.
Schwarber rocking the leadoff spot: It's been just eight games since Joe Maddon decided to start using Kyle Schwarber at the leadoff spot in the Cubs' batting order, and it would appear that this decision should have been made a long, long time ago. Since taking over the job, Schwarbs has gone 9 for 30 (.300) with a double, a triple, three homers, 7 RBI, seven walks and ten strikeouts. This works out to a slugging percentage of .667.
Lester on bad outings: After getting rocked for a second straight outing, Jon Lester says, "I've got to figure it out." Credit to Jon for not placing the blame elsewhere. Lester went on to say, "Something's off. I mean, that's kind of stating the obvious, but something just doesn't feel right. Obviously, the last two starts, the results kind of speak for themselves, but I've got to figure this out." When Maddon was asked about Lester, he responded, "I just think the shape of his pitches is off a little bit right now. He's not nailing that backdoor cutter."
Roster Moves: Before the start of yesterday's game, the Cubs optioned RHP Rowan Wick to Triple-A Iowa and recalled RHP Dillon Maples.
Interesting: As of yesterday, here's a list of Cubs players with an OPS+ over 150 (minimum of 11 games played): Anthony Rizzo, Kris Bryant, Javier Baez, Willson Contreras and (who else?) Tyler Chatwood.
This much, I know: If the Cubs are struggling this hard, trying to beat the likes of Cincinnati and Washington, they may be in some serious trouble come Monday, when the Astros show up at Wrigley Field. If there's any saving grace, it's that Verlander isn't pitching this series. Watch for my series preview before Monday's game.
Cub Birthdays: Happy posthumous birthday to ex-cubs Al Shealy (119), Jack Pfiester (141), and George Flynn (148).
NL CENTRAL SCHEDULE (May 19 – May 25, 2019)
(Wins are in green, losses in red)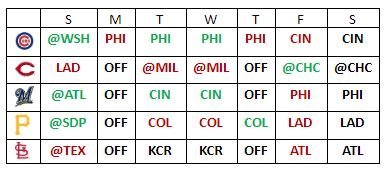 YESTERDAY'S NL CENTRAL SCOREBOARD/STANDINGS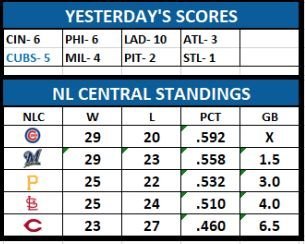 Tags: Cubs Baseball
,
Kyle Schwarber
,
Yu Darvish
,
Kyle Hendricks
,
Steve Cishek
,
,
Anthony Rizzo
,
Mike Montgomery
,
James Norwood
,
Jose Quintana
,
Cole Hamels
,
,
Rowan Wick
,
Dillon Maples
,
,
Willson Contreras
,
Tyler Chatwood
,
Joe Maddon