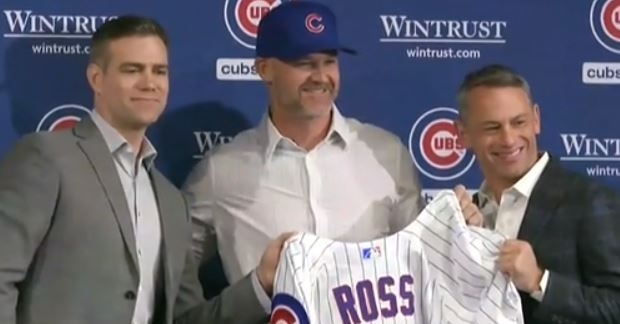 | | |
| --- | --- |
| Commentary: A much younger look for Cubs in 2020 | |
---
| | | |
| --- | --- | --- |
| Friday, November 8, 2019, 12:48 PM | | |
For the last five weeks, I've been trying to drive home the point that the Cubs – much like nearly every other team in baseball – are trending toward a younger look. So far as the Cubs are concerned, former hitting coach Chili Davis may have inadvertently opened a can of worms with his comments about not being able to communicate with millennials effectively. Those comments must have somewhat resonated with Joe Maddon, as Maddon spent part of last winter reading a "For Dummies" book on dealing with millennials; apparently, it didn't work.
I've heard of generation gaps, but this whole MLB/millennial thing is mindboggling. Stereotyped as a generation that's all about self-entitlement, accommodation, flexibility and the need to be rewarded for everything, MLB – and I'd assume other professional sports, at least to some degree – have had to morph themselves into utilizing new approaches, just to make the "kids" playing the games function at their talent levels.
Without breaking down what 29 other teams have done (or maybe doing), let's look at the Cubs and how they've started compensating, to communicate better, and "accommodate" a younger generation.
The biggest move was replacing manager Joe Maddon (age 65) with David Ross (age 42). Maddon had a proven track record, having spent the better part of the last 23 years as a manager, with an additional two years of coaching before his (interim) managerial debut in 1996. Although drafted in 1995, David Ross is only three years removed as an MLB catcher, with precisely no service time managing – or even coaching.
Although the downward trend in coaching age began last winter, replacing the skipper with a young and inexperienced former player is a bold move. I think part of Maddon's overall problem was that he wanted to be a "dad" more than a manager, and a friend, more than a boss. Ironically, it's David Ross who finds himself fighting off that misconception, as he prepares to manage a team with more than a handful of guys that he played with just three years ago.
Last year, Jim Hickey (age 58) was out, and Tommy Hottovy (age 38) was in. Hickey's professional baseball experience dates back to 1983, when the White Sox drafted him, while his coaching experience goes as far back as 1996 when the Astros hired him as a pitching coach for Double-A Jackson. Tommy Hottovy's professional playing career began in 2004, with Hottovy retiring (as a minor league Cub) in 2014. Hottovy immediately became part of the Cubs front office, followed by his first coaching assignment (as the Cubs' pitching coach) just last year. Twenty-years of age difference is a ton, and while that didn't seem to benefit the Cubs much in 2019, other factors may have impeded Hottovy's success and age advantage.
The same could be said for Anthony Iapoce (age 46), who replaced Chili Davis (age 59) at the start of last year. While the Cubs bats remained relatively silent in many crucial situations, Iapoce, 13-years Davis' junior, utilized a completely different approach. While Davis began playing (in the Giants' system) back in 1981, his coaching career didn't start until 2007, when he coached the Australian National Baseball Team. From there. Davis joined the Dodgers in 2010 as a hitting coach for their instructional league. And Iapoce? Anthony was drafted by the Brewers in 1994, lasting throughout minor league systems until 2005. Following his last hurrah in cleats, Iapoce joined the Rangers as a hitting coach in 2016 to begin his coaching career.
Just the other day, 61-year-old bullpen coach Lester Strode was replaced by former Phillies' pitching coach, Chris Young, who's only 38. While Strode began his coaching career in 2007 with the Cubs, Young has just two years of experience under his own belt.
Yesterday it was a very young – 39-year-old – Chris Denorfia (quality assurance coach) who was shown the door. Still, Denorfia's firing was more suggestive of wanting a different mindset and approach in the player development roles, than it was about age. With the mass exodus of Tim Buss and a handful of other support staff (who are all now in Anaheim with Joe Maddon), Theo has opted to revamp the entire behind the scenes cast of supporting characters.
While 48-year-old Mark Loretta may (or may not) stick around as Ross' bench coach, you can almost assume that any replacement will check-in below the half-century-old mark, as the Cubs continue to build toward a more youthful coaching staff and roster. Oh, but wait; David Ross and Theo Epstein have both said that they want an experienced bench coach who can help guide Ross through his inaugural season, and they've also uttered the words "former managerial experience," which may very well leave Loretta on the outside looking in. Jim Riggleman's name has been tossed around, and hell, he's even older than Maddon (Riggleman turns 67 tomorrow).
The Cubs still need to find a replacement for the recently departed Brian Butterfield (age 61), though assistant pitching and catching coach Mike Borzello (age 49) and first base coach Will Venable (age 37) will be staying on board with Ross in 2020.
While the Cubs have silently built David Ross, a coaching staff (save for the openings at the bench coach and third base coach spots), it's yet to be seen how they approach players who've departed this year. Cole Hamels will be 36 next month, and thus far, it would appear that the two frontrunners for his slot would be Tyler Chatwood (age 30 in December) along with Alec Mills, who'll turn 30 later this month.
Spots to be filled in the bullpen include 34-year-old Pedro Strop, 33-year-old Steve Cishek, 33-year-old Derek Holland (whom I swear resembles a generic Adam Sandler) and 35-year old Brandon Morrow. Not exactly the fountain of youth there, but I'd like to think the Cubs will rely more on guys like Brad Wieck (age 28) and Rowan Wick (age 26) while managing to keep a very in-shape Brandon Kintzler on the squad at his ripe old age of 35.
Last but not least, the Cubs look as though they'll be replacing a very (baseball) old, Ben Zobrist, who'll turn 39 two months into the 2020 season. The Cubs have youth in both David Bote (age 26) and Ian Happ (age 25), but neither carry that veteran presence that the Cubs seem to perpetually long for.
Youth isn't always a precursor for success, as this year's World Series participants were among the oldest in MLB. Still, the trend seems to continue to be that of a younger team, with youthful and, in some cases, inexperienced managers and coaches. Right or wrong, Theo has now plotted the course for 2020, so all we can do now is watch and wait.

Tags: Cubs Baseball
,
David Ross
,
Cole Hamels
,
Tyler Chatwood
,
,
Pedro Strop
,
Steve Cishek
,
Brandon Morrow
,
Rowan Wick
,
Brandon Kintzler
,
Ben Zobrist
,
David Bote
,
,
Joe Maddon
,
Lester Strode
,
Mike Borzello
,
Theo Epstein
,
Chili Davis
,
Jim Hickey
,
Tommy Hottovy
,
Anthony Iapoce
,
Will Venable
,
Brian Butterfield
,
Mark Loretta
,
Chris Denorfia