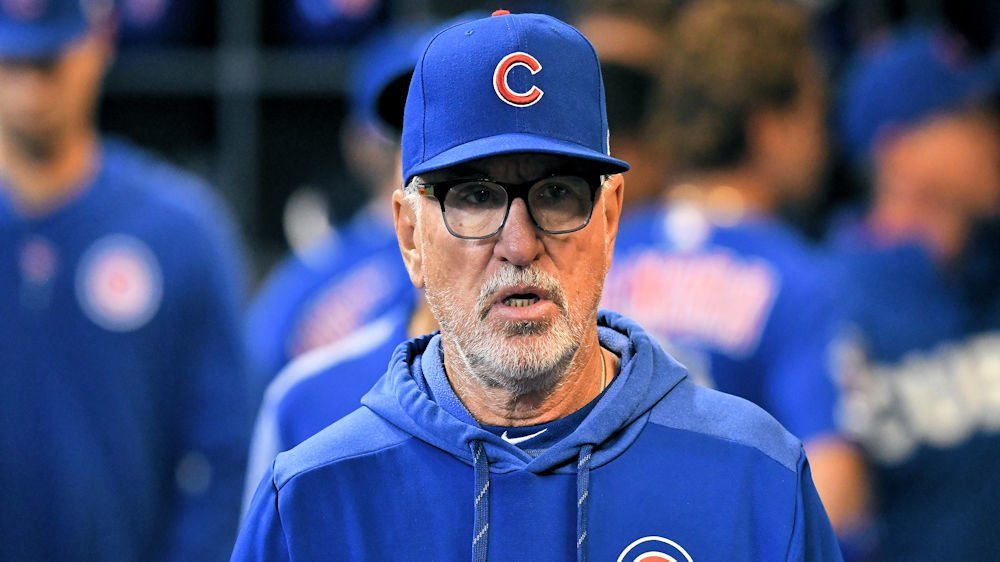 | | |
| --- | --- |
| Commentary: Craig Kimbrel isn't the answer, Pay attention to lineups Maddon, more | |
---
Another week, more odds and ends- just a couple this time around, but important ones, nonetheless. If you happen to know a guy, who has a friend, who's friend's friend is a fourteenth cousin to Joe Maddon and Theo Epstein, please feel free to forward this.
Kimbrel isn't the answer, hitting is:
Most people would agree that with Brandon Morrow perpetually unable to pitch and Pedro Strop going back and forth between injury and bad outings, the Cubs need to sign a legitimate closer. Most believe Craig Kimbrel is the Cubs' ticket to salvation but is he though?
While I would agree that the Cubs need a closer and that Kimbrel would be a great choice, Kimbrel's presence in the last week would have done Chicago little, if any, good. In the words of the immortal Ricky Ricardo (Desi Arnez), "Let me 'splain."
Over the last week (Monday, May 27 through Saturday, June 2, a total of 6 games), the Cubs have trailed by a combined total of 27-15 after the eighth inning. Kimbrel would have had only one save opportunity in that period- May 29 vs. Houston- as the Cubs led 2-1 after eight innings and he'd have had a chance for one win- May 31 vs. Cards, as the game was tied after the ninth inning. No closer, not even Craig Kimbrel, can help that sort of situation.
The Cubs have a much bigger elephant in the room, that is just now finally getting some attention: they are not hitting with runners in scoring position.
Over the first 32 games this season (Opening Day through May 6th) the Cubs belted out a .284 batting average with runners in scoring position; since that time (inclusive through Sunday's game), the team batted just .162 with runners in scoring position. This is a problem.
Since May 7th (excluding Monday's win vs. the Angels), the Cubs have stranded a total of (brace yourselves) 189 men on base and went just 28 for 173 (.162) with runners in scoring position. Going series by series (since May 7), with runners in scoring position, the Cubs have gone: 3 for 15 (.200) vs Miami; 1 for 26 (.038) vs Milwaukee; 3 for 14 (.214) vs Cincinnati; 4 for 23 (.174) vs Washington; 8 for 38 (.211) vs Philly; 5 for17 (.294) vs Cincinnati; 3 for 27 (.111) vs Houston; and 1 for 16 (.063) vs St. Louis.
The power behind all the home runs is fantastic, but those dingers don't do a damn bit of good if they're used as the sole means of mounting an offensive attack. Monday's blowout of the Halos was the perfect example of how a healthy offense works, Singles, doubles, and walks were used to tally runs, and the two 7th inning homers (Javier Baez and Jason Heyward) served as insurance runs instead of desperate attempts to push runs across.
The Cubs could use a good closer, but to even need one, they have to start capitalizing when they have men on base.
Pay attention Joe!
If there's one thing Joe Maddon likes to do, it's changing the lineups/batting orders around. Fans (and presumably players) were clamoring for a set leadoff, and Maddon finally (at least until he changes it again) has chosen Kyle Schwarber for the job.
Maddon learned a lesson after Kris Bryant was injured while playing right field, and now that the Cubs have signed Carlos Gonzalez, it's doubtful you'll see KB standing in right unless the Cubs use some whacky shift. Understandably, Javier Baez, Addison Russell, David Bote, and Daniel Descalso get flipped around the infield a bunch, but for the most part, at least he's now keeping guys within about 60 feet of they're regular positions these days.
No matter how much consistency Joe uses on defense, he refuses to leave the batting orders alone. Last year, it was 152 different orders (160 when counting pitchers), and although he's been a little better this year (Schwarber at leadoff, KB second, Rizzo third, Javy fourth), he's still found plenty of wiggle room for changes. Somehow, Maddon's managed to use 51 different orders (57 when including pitchers) in the Cubs' first 58 games of 2019.
The worst part is, although Schwarber has done well in the leadoff spot (hitting below average, but a ton of walks and a handful of dingers), Maddon's probably not using the right guy there. Carlos Gonzalez is hitter; always has been, always will be. Gonzalez hits great in several batting order positions, terribly in others, but geez, the guy hits his best in the leadoff spot, Joe.
Granted, the #5 spot (where he's now hit for his two days as a Cub) is his second-best spot, but for the difference in his slash line, I'd sure be batting him first. Not that I'd want to see any of the Cubs outfielders benched daily, but it's also interesting that CarGo hits best when playing left field, which may be a good reason for Maddon to start him there when he's going to rest Schwarbs. For the record, his next best slash line comes as a center fielder, followed by when he plays in right.
Furthermore, as the leadoff man in the game, Gonzalez slashes .340/.404/.628 and slashes .300/.352/.532 when he leads off during an inning.
Failing to hit for them, Cleveland released Gonzalez after he slashed just .210/.272/.286, with 33 strikeouts with 117 plate appearances in 30 games, but guess what? They never batted him in the leadoff spot- not once. Granted, that's Francisco Lindor's spot, and they did hit him in the five-hole a total of 15 times, but much like Maddon's batting orders, Gonzalez also batted three times in the third spot, six times in the cleanup role, four times in the six-hole and once they batted him seventh.
Never one to miss an opportunity to research stats (Translation: I'm a glutton for punishment), I decided to check CarGo's game logs to see how he hit for Cleveland, based on his spot in the order.
After I looked back at his batting stats for Colorado, I noticed his worst years there, were the years that he moved around like crazy in the batting order. In 2016, CarGo batted either 3rd (69 games) or 4th (71) games, accounting for 93.3% of the 150 games he played that year.
Take some notes, Joe… Your players have complained, all the way to Theo Epstein, about the inconsistency in the batting orders, but they (or at least some) continue to be shuffled around. You can get the most out of Gonzalez, but he's a guy that thrives on consistency, not knee-jerk lineup changes. Bat him anywhere but seventh or ninth and he'll likely produce, just DON'T keep moving him around in the order.
Rant over.

Tags: Cubs Baseball
,
Brandon Morrow
,
Pedro Strop
,
,
Jason Heyward
,
Kyle Schwarber
,
,
Addison Russell
,
David Bote
,
Daniel Descalso
,
Joe Maddon
,
Theo Epstein