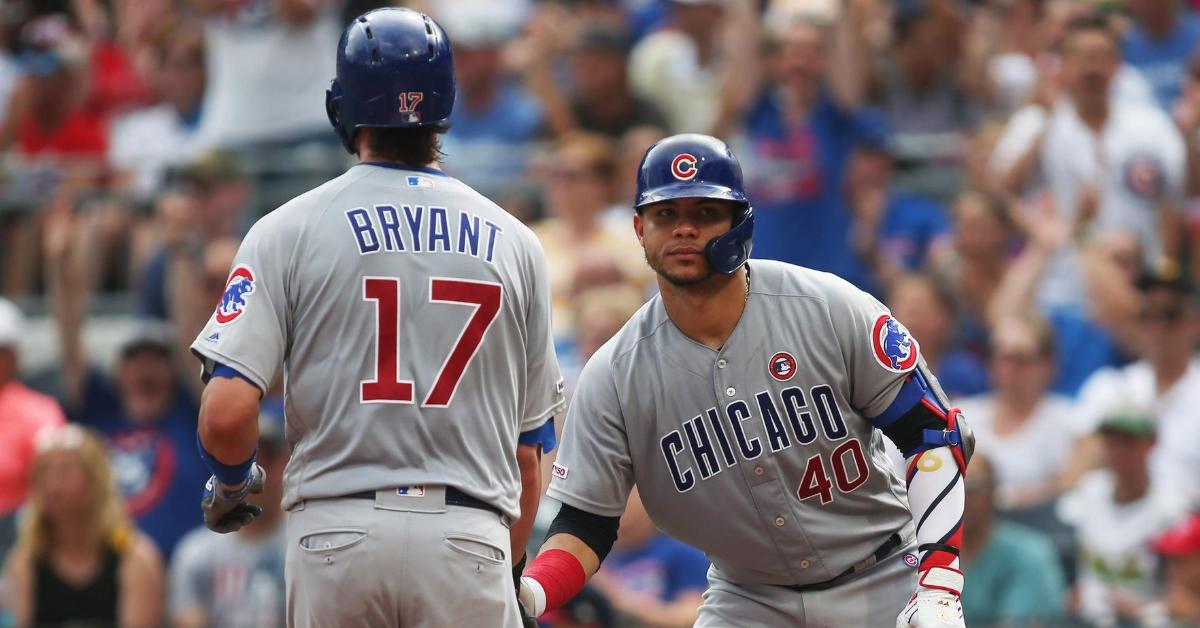 | | |
| --- | --- |
| Commentary: Last dance for the Cubs? | |
---
| | | |
| --- | --- | --- |
| Monday, April 20, 2020, 12:05 PM | | |
As I was scrolling through my newsfeed early this morning, I stumbled on an article in The Athletic (subscription-based), written by Sahadev Sharma. I'll admit, I didn't read the article (too tired and not enough caffeine yet), but the title alone intrigued me: "Cubs hope for 'last dance' that may never happen" Well, that's certainly not what I needed to consider with baseball on hold.
I've written several times over the last six months that the Cubs will never be able to hold this core together past 2021, but with everything else going on in the world these days, somehow I must've pushed the idea to the back of my aging mind. The words' last dance' slapped me back into reality.
I've made no bones about it; I figured Kris Bryant would have been dealt by now. Theo Epstein, himself, said that if the Cubs didn't have a legitimate contender this year that changes were likely to be made. With the season on hold, the likelihood that Bryant would be traded by the deadline might be a bit of a stretch – especially with the rosters frozen – but at this point, next winter would seem like a must.
Why KB? Simple: Trade value. That and the fact that he's not likely not to re-sign with Chicago after 2021. Scott Boras (Bryant's agent) has told the Cubs and the media that he'd listen to "any reasonable offers." But what does he consider to be reasonable? Boras managed to fetch over a billion in contracts for his clients this past winter, and that's only the bigger-named ones. Tom Ricketts isn't going to pay that kind of money, MVP winner or not.
Then there's the issue of not being able to reach an extension deal this past winter with Javy Baez. Going into the offseason, re-signing Baez was reported to be the Cubs number-one priority, but even through an abrupt spring training and now a postponed season, the sides still haven't come to terms.
The scary part is that Javy wasn't the only one that the Cubs have approached over the last year about signing extensions. With the exceptions of David Bote (5-yrs./$15M) and Kyle Hendricks (4-yrs./55.5M), their efforts have been futile.
Coming into free agency at the end of this season are Tyler Chatwood, Jose Quintana, Daniel Descalso, Steven Souza, Jason Kipnis and Josh Phegley, not to mention Jon Lester who the Cubs can either pay $25M to, or buy out for $10M. Obviously, only Lester would be considered a core member of that group, but that gives you some idea as to the mass exodus that's about to occur. The Cubs aren't likely to re-sign an aging Kipnis, a wavering Quintana, or even Tyler Chatwood – which could be a mistake, considering the improvements he's made. In 2022, things get far worse.
If by some miracle he's still with Chicago, Kris Bryant will become an unrestricted free agent. No options will remain for Rizzo or Lester. Lester will be 38 at that point and likely done. Also joining the ranks of free agency will be Javy Baez and Kyle Schwarber. The Cubs cannot afford to keep them all.
It almost seemed like this whole thing began to fade after the 2018 season. I suggested then that the Cubs needed to part ways with Joe Maddon, as the team wasn't playing with any bounce in their step. Despite amassing a record of 95-68 that year, the Cubs had to settle for second place. It wasn't the record so much – 95 wins is nothing to sneeze at – it was that they seemed to be playing as 25 individuals, rather than as a team. That mindset never wins championships.
Rather than to fire Maddon for the complacency being exhibited by the team, Ricketts and Epstein let him continue – perhaps out of a sense of debt for 2016. You'd think Maddon would have cracked the whip in 2019, recognizing what went wrong the year before, but that was never his style. By the players' own admission, the tail had begun wagging the dog.
In 2019, Chicago would end up netting just 84 wins and a third-place finish. That would be the team's last year to dance with Maddon, and although nothing was said about Maddon's departure until the very end, everyone knew it was coming. The tension between Theo and Joe had grown to be as evident as the tension between Bulls' GM Jerry Krause and Coach Phil Jackson back in the late 90s. The difference was Jackson, and the Bulls were still winning when it was announced that he wouldn't return.
With this season in a state of limbo, the Cubs aren't likely to be able to produce that World Series contender that Epstein vowed was a necessity. If any season occurs, it will be drastically shortened. The playoffs will likely take place, but is a 50 or 60 game schedule enough to determine a true champion? Will it be enough to convince Tom Ricketts to open up his checkbook?
If baseball returns this year – and I still say it will – take a little extra time to embrace your Cubbies. Sadly, we may be getting down to the last dance.

Tags: Cubs Baseball
,
Kris Bryant
,
Javy Baez
,
David Bote
,
Kyle Hendricks
,
Tyler Chatwood
,
Anthony Rizzo
,
Jose Quintana
,
Daniel Descalso
,
Jon Lester
,
Kyle Schwarber
,
Joe Maddon
,
Theo Epstein