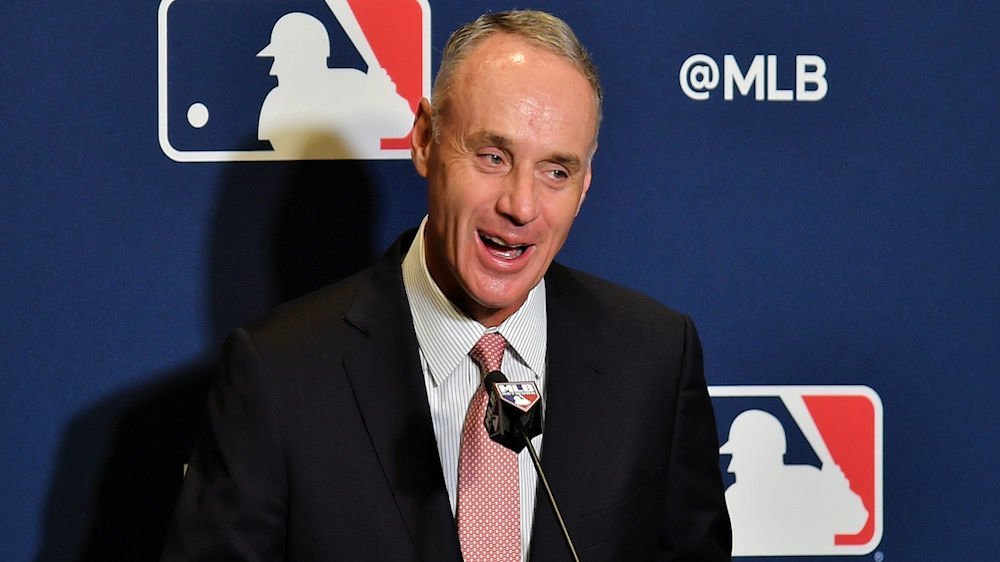 | | |
| --- | --- |
| Commentary: Manfred's insanity at its finest with latest rule changes | |
---
With the official announcement of MLB rule changes for 2019 and 2020, being released today, I find myself struggling to accept more than a few of them. It's never easy for an old man to accept change (I mean me this time, though I'm sure at least some of them will affect my (older) colleague Dan Marich adversely as well).
This is a scaled-down list of the rule changes, for a more detailed list, please see the MLB press release.
Beginning in 2019:
Shorter commercial breaks (lessened by anywhere from 20-25 seconds, depending on whether the game is locally or nationally televised: I can see both good and bad coming out of this one. On the one hand, it will make increase the pace of play (more so in nationally televised games), and it will undoubtedly help us get to sleep earlier after late-night games, but sometimes that extra 25 seconds is crucial if you need a sandwich, a bathroom break, and another beer before the play resumes.
Mound visits reduced to 5: We've already shortened the game (some) with the commercial breaks, and I'm not a fan of any rule that may adversely affect a team, or it's pitcher. Maybe Willson Contreras spent too much time going to the mound in 2017 (which is at least partially why the 6-mound-visit rule was implemented), but when you have a rookie on the mound or even a vet who's getting flustered, you need to be able to slow him down and calm him down a little. Six visits only equate to a mound visit every 1.5 innings, which was far less than what the numbers were in recent years past.
Trade Deadline changes: For now, I think I'm good with this one, although I wish there'd be a limit placed on off-season free-agent signings. (Blame Harper and Machado for that one)
Joint Committee for additional changes: This reeks of political overtones, but with the current climate on economic and free-agency issues (among other things) getting colder by the day, any talks could only help. I'll take those over a strike/lockout any day.
All-Star Game changes: I have never been a big fan of fans deciding who gets in (especially considering that they can vote 1,000 times for their favorite players), and I think automatically spotting base-runners on second base for the tenth inning and beyond is insane. This is MLB, not Little League. I am OK, however, with prize money being increased for the teams, players and Homerun Derby contestants.
Beginning in 2020:
Increased Rosters: While I'm fine with the regular season roster increases, I think the expanded roster in September (continuing through the post-season) deserves more than just 28 guys. With pitchers, I'm not OK with limitations on the number allowed. You field nine men to play ball, out of a roster that will now become just 28, how the team chooses to staff that roster should be up to them.
The idea of "Two-Way" players isn't bad, other than to qualify; you must have pitched 20 innings and made as many starts as a position player. The Reds have a gift in Michael Lorenzen, as he can pitch, hit and field, but I don't even see him making 20 outfield starts. Again, let the team's position and use players as they, not MLB, see fit. The good news is that Anthony Rizzo can still pitch in any game where the Cubs are either leading or trailing by more than six runs.
Three minimum number of batters: Bad, bad, BAD idea. Period. Although Len Kasper disagrees with me, I see HUGE problems here. First and foremost, this is going to cause injuries. If, for example, Pedro Strop pitched last night, but Maddon needs him again now, he's going to get overworked. I wouldn't be so opposed to this rule if they didn't limit the number of pitchers allowed on a roster.
Maddon on 3-batter requirement for relievers: "Strategy should not be impacted by rules." Otherwise has no issue with other changes.

— Mark Gonzales (@MDGonzales) March 14, 2019
IL and option for pitchers: I'm sort of torn on this one. They say time heals all wounds, and I'm certainly not opposed to protecting a player's health, but an extra five days on the IL can significantly and adversely affect a team's record. Some guys heal quicker than others, and I think the player, their trainer and the manager should decide on the duration of the IL stint (not less than seven days).
I can't help but find myself questioning some Manfred's mindset and some of the insane ideas that he proposes. While fans are screaming for no television blackouts, Manfred is countering with three batter minimums for relievers. Stay tuned, as more changes are coming possibly, including a pitcher's mound that will be moved back by two feet, ensuring even more injuries and shorter careers. For now, "PLAY BALL!" (Even if it is with only 28 guys and two-minute commercials)
Update: Former Cub, Anthony Bass, shared this quote with me: "[Manfred is] attempting to put a better product on the field for fans by altering the rules to help speed up games, but that isn't the solution. The solution starts by putting the best players possible on the field, and that clearly isn't happening. Owners aren't required to spend $ to place their team in a great position to win a championship. Rather, they make money regardless if the team wins or losses, so what's the incentive for them to spend $? None. That needs to change."

Upgrade Your Account
Unlock premium boards and exclusive features (e.g. ad-free) by upgrading your account today.
Upgrade Now