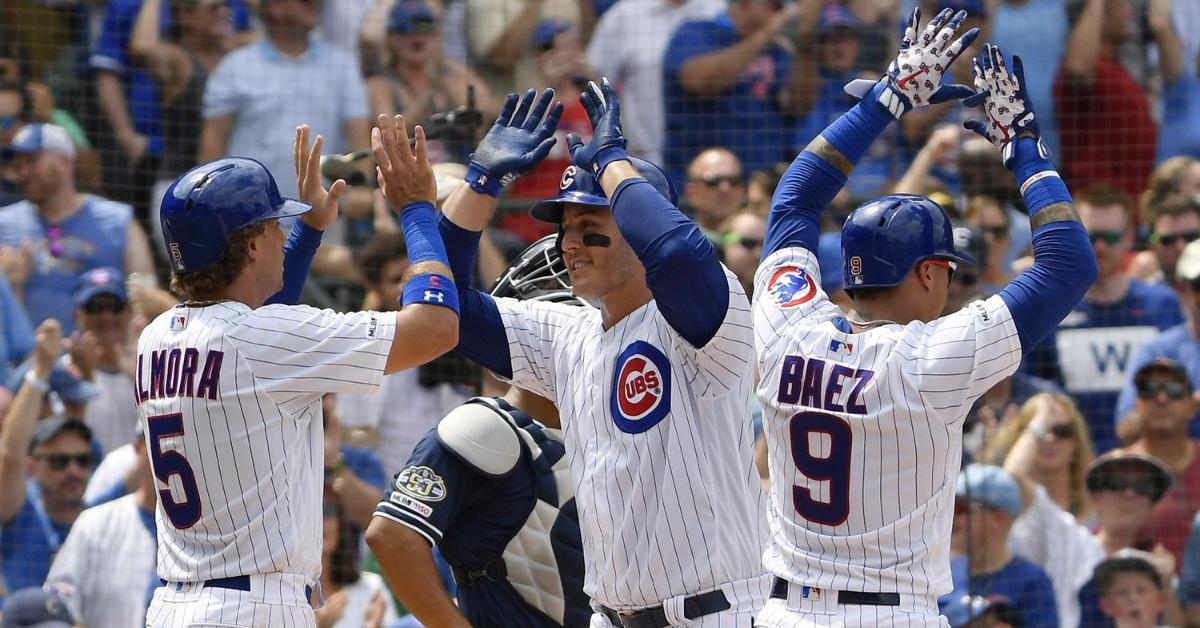 | | |
| --- | --- |
| Cubs News and Notes: 2020 Predictions, Marquee meltdown, Jason Kipnis, Betts to Dodgers | |
---
CUBS NEWS AND NOTES
Next Game: Next Game: 17 days – Saturday, February 22, 2020: Athletics vs Cubs (Sloan Park).
Opening Day: 50 days – Thursday, March 26, 2020: Cubs vs. Brewers (Miller Park).
Work to do: According to the recent article in USA Today, they're picking the NL Central to finish as follows: Cards, Reds, Brewers, Cubs with the Pirates in fifth.
If David Ross can't get a ton of production out of the roster that Theo Epstein has given him, this could very well be the way things shake out. The Cards haven't changed much and picked up a good pitching prospect (Matthew Liberatore) in exchange for Jose Martinez. The Reds have built like crazy, adding Mike Moustakas, Nick Castellanos, and others, including Pedro Strop. The Brewers seemed stagnate but suddenly started adding players, including Omar Narvaez. We all know what the Cubs (haven't) done; and Pittsburgh? Well, they're Pittsburgh.
USA Today's 2020 MLB Predictions: pic.twitter.com/CdufBNjxTb

— Ken Allison (@KenAllison18) February 4, 2020
Even with the lower-tier signings, the Cubs have the potential to win, but it's going to require a lot of people having bounce-back seasons, including some of those who've been with the team. Compensating for the loss of three veteran relievers (Brandon Kintzler, Steve Cishek, and Pedro Strop) won't be easy, and Jeremy Jeffress will need to become the Cubs' veteran go-to guy. I have faith that Ryan Tepera, Casey Sadler, and perhaps even Dan Winkler can step up, but the Cubs will also need continued success from some of the young guns who've carried over from last season (Rowan Wick, Brad Wieck, and Kyle Ryan).
The offense is going to have to learn how to hit with runners in scoring position – something that the Cub did terribly in last season. Increased patience at the plate is something a lot of guys will have to focus on in spring training, as last year saw almost everyone chasing bad offerings.
With many placing low (or no) expectations on them, the Cubs could figure to be a very surprising team this year, but David Ross has got to bring back a winning mindset, and he must figure out how to get these guys to play as a team.
.@usatodaysports predicts just 82 wins for the #Cubs in 2020.

Are you taking the OVER or UNDER on that total?

MORE: https://t.co/nzmXUmtDDB pic.twitter.com/nUvbjgzcy8

— Cubs Talk (@NBCSCubs) February 4, 2020
Marquee meltdown: I asked CubsHQ readers if anyone with DIRECTV had heard about pricing for the Cubs' new Marquee Sports Network. One reader, having done a little recon of his own, decided to share this with me. Not Good.
Gotta do better than this @WatchMarquee pic.twitter.com/3w2mMZu911

— Ken Allison (@KenAllison18) February 4, 2020
With just 17 days to go before they are due to launch, this list is nothing short of pathetic. I'm hearing from reader after reader who says they won't even get it at this point. Some of the replies included:
Deborah Sigel: "I'm not paying a penny more on my cable bill. It's already too high, and I'm not going to help finance Ricketts' celebrity dinners instead of new players. It will be interesting to see if AT&T tells me Markie is included with my cable I already pay for, but then they raise my rates. And when it said Chicago, do they mean Chicagoland?"
Christine Grable Lewis: "Idk anyone carrying it yet. I'm in Rockford, and we don't have it yet. it's not available here, so they better get their heads out of their asses."
Jennie Melvin-Johnson: "I called DIRECTV last night. They told me it's part of a sports package and will be 13 and some change per month. On channel 665 in the Chicagoland area."
For out of market viewers, I have confirmed that MLB TV will be carrying the games (no pregame or postgame, nor any ancillary programming), but that does little for viewers in and around the Chicago area.
MLBPA: The Major League Baseball Player's Association issued the following statement concerning the decision on Kris Bryant's grievance:
"The Players Association disagrees with the decision issued today in the Kris Bryant service-time grievance. While we respect the finality of that decision, we will continue to pursue any and all measures that incentivize competition, discourage service-time manipulation, and ensure clubs field their best players. We applaud Kris' courage and determination in challenging the Cubs' actions and seeing the grievance through to the end."
Think the bottom line with the grievance is the players, via KB, made their point. Not to say they can't file again for another player but it's an issue for CBA negotiations. And it's one thing fans can get behind if rule is changed: Best 26 should head north.

— Jesse Rogers (@ESPNChiCubs) February 4, 2020
Can we all just move on now?
Jason Kipnis: Nico Hoerner should get the slot at second base this year. Period. The Cubs, however, aren't so sure.
With a potential opening at second base, Cubs have been in contact with free-agent 2B (and Chicago native) Jason Kipnis. Had .446 SLG vs RHP last season, compared to .342 vs LHP. Former teammate of new Cubs coach Mike Napoli.

And Kipnis has a little experience at Wrigley Field. pic.twitter.com/wErukeBpy3

— Jordan Bastian (@MLBastian) February 4, 2020
According to Jordan Bastian, "Cubs have been looking at possible lefty bats to help at 2B. Bote and Hoerner are the main in-house options. Things could also change for roster if trades occur between now and Opening Day. Cubs have also been linked to FA Scooter Gennett in reports."
Some Jason Kipnis facts you may not have known:

1) He was born in Northbrook, Illinois
2) He grew up a Chicago Cubs fan
3) He was a member of the 2016 Cleveland Indians who lost the World Series to the Chicago Cubs*

*To clarify, the Chicago Cubs won the 2016 World Series

— Corey Freedman (@CFCubsRelated) February 4, 2020
Cubs' Birthdays: Celebrating yesterday, were ex-Cubs Dan Plesac (58), Pat Perry (61), and posthumously, Roy "Doc" Miller (137) and Herman "Germany" Schaefer (144).
Baseball Quotes: "When I began playing the game, baseball was about as gentlemanly as a kick in the crotch." -Ty Cobb
Baseball players are smart. How often do you see a baseball team penalized for too many men on the field?-Jim Bouton pic.twitter.com/bXUPFusFTM

— Baseball Quotes (@BaseballQuotes1) February 3, 2020
MLB News and Notes:
Reds Sox/Dodgers/Twin: It finally happened. Last night Boston, Minnesota, and Los Angeles struck a deal. (1) The Red Sox will be sending OF Mookie Betts, veteran lefty David Price and "significant" cash to Los Angeles. (2) The Dodgers will send OF Alex Verdugo to Boston and pitcher Kenton Maeda to Minnesota. (3) The Twins will send young righty Brusdar Graterol to Boston.
Rockies: LHP Mike Dunn has announced his retirement. The 34-year-old spent 11 seasons in MLB, the last three with the Rockies.
Phillies: The Phils have announced that they'll be retiring #34 in honor of Roy Halladay.
Roy Halladay's No. 34 will be retired by the @Phillies on May 29, the 10th anniversary of his perfect game. pic.twitter.com/qq3bdYdEvA

— MLB (@MLB) February 4, 2020
Giants: SF has signed infielder Wilmer Flores to a multi-year deal. No financials are available yet.

Upgrade Your Account
Unlock premium boards and exclusive features (e.g. ad-free) by upgrading your account today.
Upgrade Now