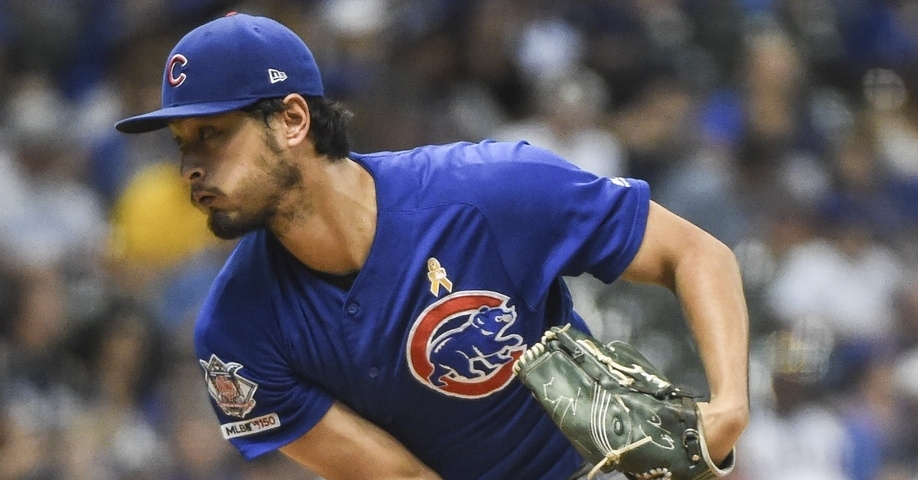 | | |
| --- | --- |
| Cubs News and Notes: Bad Baez injury news, Rizzo on El Mago, Danny Hultzen activated, more | |
---
Next Game: > Sunday: LHP Jon Lester (12-9, 4.19 ERA) RHP vs RHP Adrian Houser (6-5, 3.52 ERA). Game information: 1:10 PM CDT; Televised on NBC Sports Chicago.
Saturday's Game Recap: Last night, the Cubs' loss to Milwaukee was a missed opportunity to gain a full game on the Cards, as St. Louis lost to Pittsburgh. Now tied 1-1 in their four-game set with the Brewers, Yu Darvish took the mound last night to face Milwaukee's offense and left-hander, Gio Gonzalez.
For five innings it was a battle of the pitchers, with Yu Darvish coming out ahead, thanks to Addison Russell's home run to center (#9). Cubs led 1-0 after five. Both starters would be removed after the fifth.
Addison Russell's 9th home run of the season: pic.twitter.com/PhCeFPXSni

— Chicago Cubs (@Cubs) September 8, 2019
The Cubs anticipated cutting Darvish's night short, to guard against further injury, but Yu made the most of it.
5 IP, 3 H, 0 R, 1 BB, 7 K

?? @faridyu pic.twitter.com/yDEAticemu

— Chicago Cubs (@Cubs) September 8, 2019
With Kyle Ryan on the mound, Milwaukee would end up tying it at 1-1 in the sixth, when Ben Gamel's single scored Christian Yelich. Ryan would be pulled so that Steve Cishek could face Lorenzo Cain (pinch-hitting for Shaw). Shrek would do his job, holding the Brewers still, then would retake the mound for the seventh.
Still tied at 1-1 entering the eighth, the Cubs blew a golden opportunity to break this game wide open. They had the bases loaded with one out, and the only run they got off of Josh Hader was due to Anthony Rizzo drawing a walk. Terrible. Cubs lead 2-1. You know this is going to jump up and bite them in the rear-end. By the way, I apologize, but there's no action-packed footage of Rizzo's RBI walk.
Enter David Phelps- one pitch to Grandal and the game is tied at two. Next, Phelps is replaced by Derek Holland, who issues a 4-pitch walk to Yelich. Rowan Wick's turn. He'd make it a little intense, but Wick would escape a bases-loaded jam. Still 2-2.
The Cubs would fail to score in the ninth, and Maddon would leave it up to Brandon Kintzler to get the Cubs to the 10th. Russell would make a nice play on a groundball, but he'd then launch the throw about eight feet over Rizzo's head (his second throwing error in as many nights). That error would cost the Cubs the game, when Christian Yelich doubled to the left, scoring the walk-off run. With this loss, the Cubs drop another game in the standings as the Cards whipped Pittsburgh. Also, of concern, is that Chicago now holds only a 1.5 game lead over the D-Backs for the wildcard spot.
CUBS NEWS AND NOTES
Cubs/Padres Probable Pitchers: Monday: Kyle Hendricks (9-9, 3.47 ERA) vs RHP Cal Quantrill (6-6, 4.57 ERA). Game information: 9:10 PM CDT; Televised on WGN. Tuesday: LHP Jose Quintana (13-8, 4.00 ERA) vs Padres TBD Game information: 9:10 PM CDT; Televised on NBC Sports Chicago+, MLB Network (out of market only). Wednesday: LHP Cole Hamels (7-6, 3.95 ERA) vs RHP Chris Paddack (8-7, 3.54 ERA). Game information: 9:10 PM CDT; Televised on ESPN, ABC-7, ESPN (out of market only). Thursday: RHP Yu Darvish (5-6, 4.12 ERA) vs RHP Dinelson Lamet (2-4, 3.95 ERA). Game information: 2:40 PM CDT; Televised on NBC Sports Chicago.
Unexpected call-up: For all of the names floating around in Des Moines, waiting for a shot to be called up by the Cubs, LHP Danny Hultzen is finally getting his chance after grinding in the minors (and the Arizona Fall League) since 2011.
Danny Hultzen on no thoughts of quitting: pic.twitter.com/Cppwfrtruf

— Mark Gonzales (@MDGonzales) September 7, 2019
In return, the Cubs designated Taylor Davis for assignment.
El Oh-No: There was some bad news from the Cubs today regarding Javier Baez. Javy has a hairline fracture of the left thumb. He will see a hand specialist Monday to determine a timeline. (I'm a little surprised they didn't see this on the x-ray he had a week ago.)
Bad news for the Cubs and Javier Báez: Today's MRI revealed a hairline fracture of his left thumb. The Cubs will have more of a timeline after their All-Star shortstop sees a hand specialist on Monday.

— Patrick Mooney (@PJ_Mooney) September 7, 2019
Joe Maddon has confirmed that David Bote will now serve as Addison Russell's backup at short, and according to Tony Andracki (NBC Sports Chicago), Ben Zobrist could be next in line to fill the spot. Describing this as "an all hands on deck" situation, both David Kemp and Daniel Descalso were taking groundballs at shortstop during batting practice yesterday.
Maddon on not having Baez: "We definitely have a lot of other good names. It's not like we're just a one man band. Other guys have to take care of their component of the game.
"You look for other people to rise to the occasion."

— Jesse Rogers (@ESPNChiCubs) September 7, 2019
Rizzo on Javy: Anthony Rizzo weighed in on Javy Baez's injury, stating that he didn't doubt that Javy would try to play through the injury, though I'm not so sure that management will allow it.
Rizzo on loss of Baez: pic.twitter.com/mG6KeEwLiQ

— Mark Gonzales (@MDGonzales) September 7, 2019
Contreras on Baez: Reports say that Willson Contreras got emotional when discussing the likelihood that Javy could miss the rest of the regular season. He had this to say about Baez: "Javy is the heart of this team. He plays for us like his hair is on fire. We're going to miss him a lot. But like someone said, 'one steps out. One steps in."
As far as being out the last two games, Willy says this was planned, and a part of his build-up to ensure that he doesn't reinjure his hamstring.
Rotation change: Kyle Hendricks was due to start against the Brewers today, but Joe Maddon has flip-flopped him and Jon Lester, stating that it's due to matchups. Lester will now pitch Monday in San Diego.
Looking far ahead, if everything remains the same, this would put Lester starting final game of regular season and Hendricks available to start either a Game 163 or Wild-Card game on regular rest.

Of course, a lot can happen between now and then to change that potential plan.

— Tony Andracki (@TonyAndracki23) September 7, 2019
Count on Castellanos: Nicholas Castellanos now has 49 doubles on the season, tying him for the most in the majors. Nick drilled one down the right-field line in the sixth, then took third on a wild pitch, but unfortunately, the Cubs couldn't bring him home.
Darvish has even a bigger arsenal yet: I wasn't aware Darvish had mastered all of these pitches. I knew that he threw 10, but… wow.
Four-seam, two-seam, one-seam, no-seam, curveball, knucklecurve, pinkiecurve, toecurve, slider, slurve, splitter, cutter, slicer, dicer, chopper, changeup, changedown, keepthechange, forkball, spoonball, knifeball, saladforkball, servingspoonball, sinker, fridger, stover, screwba

— Jordan Bastian (@MLBastian) September 8, 2019
More drug testing possible for MLB: Presumably spurred by the revelation that former Angels' pitcher, Tyler Skaggs, death was ruled an accidental opioid overdose, MLB is looking into the possibility of requiring mandatory opioid testing.
Baseball Quotes: "There has always been a saying in baseball that you can't make a hitter, but I think you can improve a hitter. More than you can improve a fielder. More mistakes are made hitting than in any other part of the game." -Ted Williams
The only way I'm going to win a Gold Glove is with a can of spray paint. -Reggie Jackson pic.twitter.com/pxBJUbjTIB

— Baseball Quotes (@BaseballQuotes1) September 6, 2019
Cubs Birthdays: Celebrating yesterday, were ex-Cubs Wade Davis (34), Mark Prior (39), Wade Rowdon (59), and posthumously, Reggie Otero (104), Bill McAfee (112), and Curt Davis (116).
THIS WEEK'S NL CENTRAL SCHEDULE:
(Wins in green, losses in red)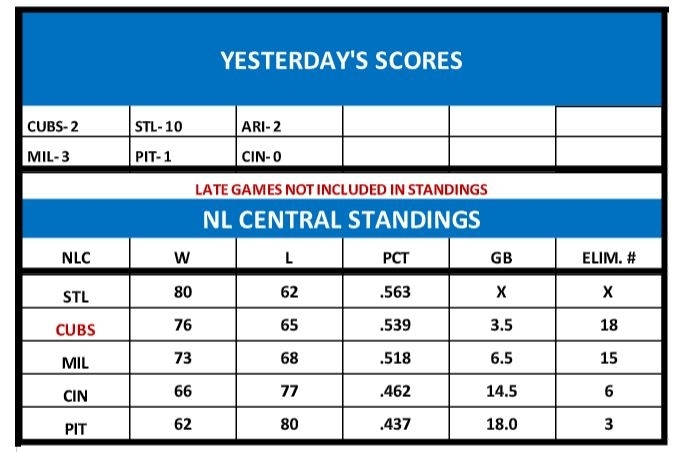 Tags: Cubs Baseball
,
,
Yu Darvish
,
Addison Russell
,
Kyle Ryan
,
Steve Cishek
,
Anthony Rizzo
,
Rowan Wick
,
Brandon Kintzler
,
Kyle Hendricks
,
Jose Quintana
,
Cole Hamels
,
Taylor Davis
,
,
David Bote
,
Ben Zobrist
,
Daniel Descalso
,
Willson Contreras
,
Wade Davis
,
Joe Maddon