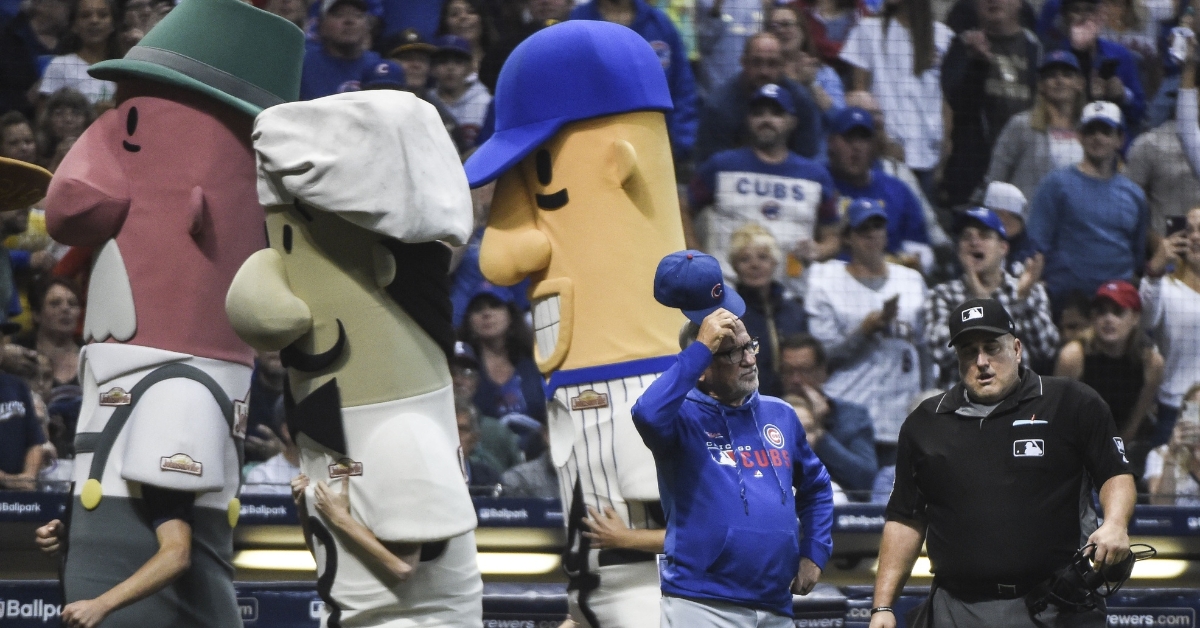 | | |
| --- | --- |
| Cubs News and Notes: Chicago's road-streak ends, Cubs' injury updates, Yu's arsenal, more | |
---
| | | |
| --- | --- | --- |
| Saturday, September 7, 2019, 8:50 AM | | |
Next Game: Saturday: RHP Yu Darvish (5-6, 4.25 ERA) vs LHP Gio Gonzalez (2-2, 4.14 ERA). Game information: 6:10 PM CDT; Televised on WGN.
Friday's Game Recap:
One down, three to go for the Cubs who are facing Milwaukee for the final time this season. Ben Zobrist, Willson Contreras, and Kyle Schwarber dominated the Cubs' offense on Thursday night, leading the Cubs to a 10-5 win. Last night it was Cole Hamels vs. Zach Davies, as the Cubs looked to go 2-0 in the series.
The Cubs would take a 1-0 lead in the third when Nicholas Castellanos dropped this gem into the right-centerfield seats.
All that you touch
You Change

All that you Change
Changes you pic.twitter.com/8ArWQZ5tAf

— Chicago Cubs (@Cubs) September 7, 2019
Unfortunately, Christian Yelich had a little gem of his own, this one with two men on. The Brewers would grab one more before it was over — Cubs-1; Brewers-4 after three. Hamels would give up a blast to Grandal in the fourth, followed by Yelich's third hit of the night, and that would be all she wrote. After just 3.1 innings, Hamels was pulled and replaced by Duane Underwood, Jr. Despite giving up a walk, Underwood would help the Cubs escape any further damage. Brewers up 5-1.
After two quick and effective innings by Tyler Chatwood, Joe Maddon would go to Pedro Strop for the seventh. A throwing error by Addison Russell, combined with a walk, wild pitch, and sac-fly, would net the Brewers another one. 6-1, Milwaukee.
Adbert Alzolay would take the eighth ant the Crew would snatch another run on a pair of walks followed by a single from Gamel.
The Cubs would fail to push anything across in the ninth, losing by a final of 7-1. The loss would end a 6-game road win streak for Chicago.
CUBS NEWS AND NOTES
Cubs/Brewers Probable Pitchers: Sunday: RHP Kyle Hendricks (9-9, 3.47 ERA) vs RHP Adrian Houser (6-5, 3.52 ERA). Game information: 1:10 PM CDT; Televised on NBC Sports Chicago.
Cubs/Padres Probable Pitchers: Monday: LHP Jon Lester (12-9, 4.19 ERA) vs RHP Cal Quantrill (6-6, 4.57 ERA). Game information: 9:10 PM CDT; Televised on WGN. Tuesday: LHP Jose Quintana (13-8, 4.00 ERA) vs Padres TBD Game information: 9:10 PM CDT; Televised on NBC Sports Chicago+, MLB Network (out of market only). Wednesday: LHP Cole Hamels (7-6, 3.95 ERA) vs RHP Chris Paddack (8-7, 3.54 ERA). Game information: 9:10 PM CDT; Televised on ESPN, ABC-7, ESPN (out of market only). Thursday: Pitchers TBD. Game information: 2:40 PM CDT; Televised on NBC Sports Chicago.
Yu's arsenal: Ten… Count em'… 10- that's the number of different pitches that Yu can throw, far surpassing the average MLB pitcher. The MLB average is right around four.
Dating back to the dawn of pitch-tracking in 2008, pitchers throw an average of 4 pitches. 92% have thrown between 3-6 pitch types.

Yu Darvish throws.. 10 different pitches. 10!

Here they are ..

MORE-> https://t.co/0xj5FYlGNI

— Mike Petriello (@mike_petriello) September 6, 2019
Yu Darvish Update: According to the Cubs, Yu Darvish will be up and running for tomorrow's start in Milwaukee. When asked what he found to be the best course of action for his forearm tightness, Yu said, "Take a lot of medicine."
Darvish on origin of injury pic.twitter.com/P2c5kE05RF

— Mark Gonzales (@MDGonzales) September 6, 2019
Kimbrel healing: Craig Kimbrel says the discomfort he's been feeling in his elbow is improving, and he's hoping to be ready for activation when the Cubs play the Padres on Thursday.
Cubs closer Craig Kimbrel said he's hoping to be ready for activation when eligible on Thursday. Doesn't believe the elbow issue is serious. Was encouraged by MRI results. pic.twitter.com/ADj2TFScR7

— Jordan Bastian (@MLBastian) September 6, 2019
Baez to sit on Saturday: Javier Baez will undergo an MRI on his injured thumb in Chicago today, as the Cubs want to make sure this is nothing serious. Maddon says, either way, Javy won't be playing today either. Baez had an x-ray on Sunday, which was negative.
Maddon on Schwarber: Yesterday, joe Maddon commented on Kyle Schwarber's performance on Thursday night, saying, "It's been real. It's real. That was real tonight. That's a tough lefty, and that ball was beyond properly struck. ... That ball was kilt. It was k-i-l-t. It was kilt. And that's against an elevated fastball and if they can't go there no more, heads up." Translation: Schwarbs is really good, and he really clobbered that homerun.
*From Aug. 1 through Thursday (Sept. 5)*

Kyle Schwarber: .300/.406/.722 (1.128 OPS), 10 HR, 27 RBI

Nick Castellanos: .338/.369/.684 (1.053 OPS), 12 HR, 24 RBI

— Tony Andracki (@TonyAndracki23) September 6, 2019
Zo on Thursday's game After going 3 for three on Thursday night, Ben Zobrist had this to say: "I'm not playing for statistics, I'm just playing for W's and that's the important thing right now."
Chase Anderson on the Cubs: After facing the "new Cubs" on Thursday night, Milwaukee starter, Chase Anderson had this to say about how the Cubs have changed recently.
"The Cubs have changed their attack a little bit. Their lineup is more balanced than it's been in recent years, maybe even better than in 2016, when they won the World Series. They've got [a batting order of] left, right, left, right. They play the matchups well. Zobrist makes that team so much better. Just bringing his presence to the top of the lineup changes their dynamic. With him working the count and getting on base so many times tonight, it puts pressure on the defense. You have to make pitches in tough spots."
Target practice: I stumbled upon this video yesterday, and it was too good not to share. Do yourself a favor and watch all two-minutes and 20-seconds of it. Bound to make you laugh. October 3, 2992; David Hulse vs. Joe Grahe.
David Hulse once fouled off four consecutive pitches into the same spot in the dugout! ????

pic.twitter.com/6moanKgwDt

— Baseball Quotes (@BaseballQuotes1) September 5, 2019
Condolences: Our deepest sympathies go out to the family of former Cardinals OF/IF, Chris Duncan, who succumbed to brain cancer on Friday. He was diagnosed with a brain tumor in October of 2012. Duncan- age 38- spent a total of five seasons (2005-2009) with the Cards.
RIP Chris. Condolences to the Duncan family. https://t.co/ECg1bVBGQj

— Ken Rosenthal (@Ken_Rosenthal) September 7, 2019
Baseball Quotes: "Life is not a spectator sport. If you're going to spend your whole life in the grandstand just watching what goes on, in my opinion, you're wasting your life." -Jackie Robinson
Juuuuuuust a bit outside. He tried the corner and missed. -Major League pic.twitter.com/E030oVjk3j

— Baseball Quotes (@BaseballQuotes1) August 28, 2019
Cubs Birthdays: Celebrating yesterday, were ex-Cubs Derrek Lee (44) and posthumously, Steve Macko (65), Hal Jeffcoat (95), Harry Perkowski (97), and Vallie Eaves (108).
THIS WEEK'S NL CENTRAL SCHEDULE:
(Wins in green, losses in red)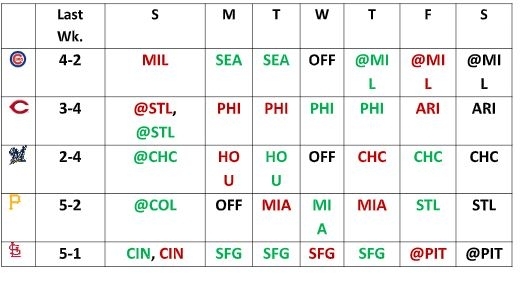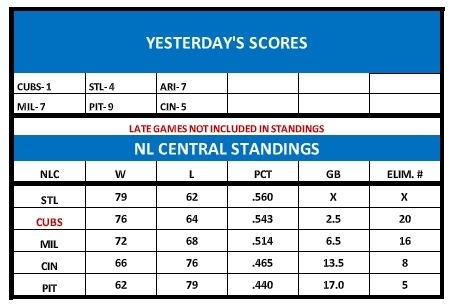 Tags: Cubs Baseball
,
Yu Darvish
,
Ben Zobrist
,
Willson Contreras
,
Kyle Schwarber
,
Cole Hamels
,
Duane Underwood
,
Tyler Chatwood
,
Pedro Strop
,
Addison Russell
,
Adbert Alzolay
,
Kyle Hendricks
,
,
Jose Quintana
,
,
Joe Maddon