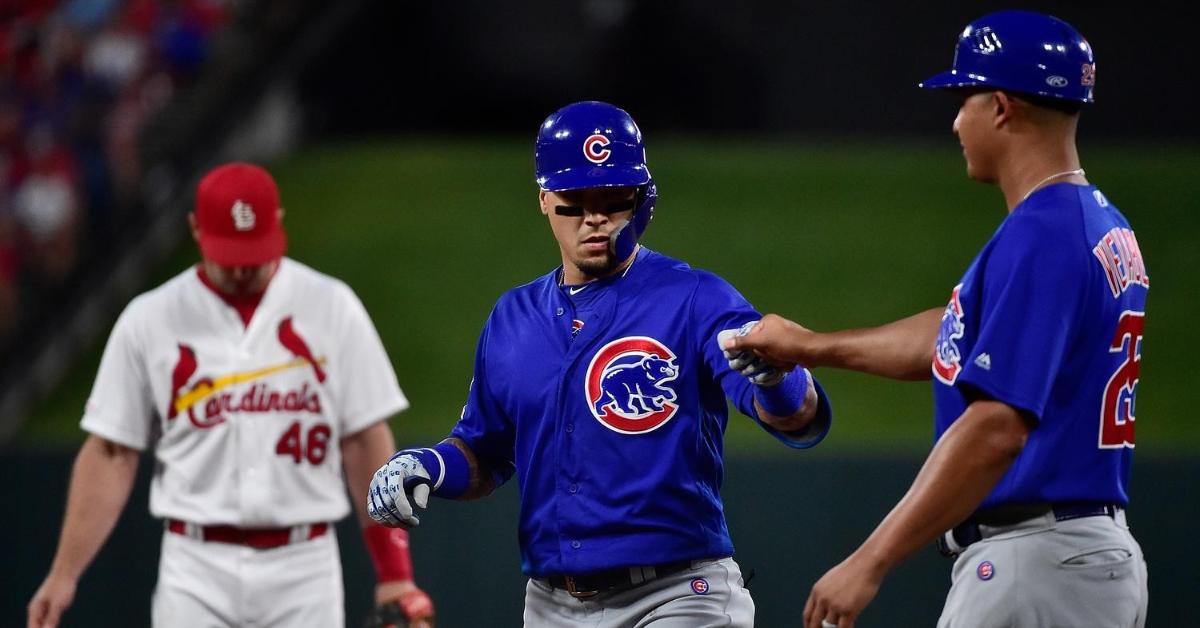 | | |
| --- | --- |
| Cubs News and Notes: Cubs fall to Cards, Trade rumors, Strop's injury, Cubs get righty | |
---
| | | |
| --- | --- | --- |
| Wednesday, July 31, 2019, 8:07 AM | | |
Next Game: Today: RHP Kyle Hendricks (7-8, 3.41 ERA) vs RHP Miles Mikolas (7-10, 4.19 ERA). Game time 7:15 PM CDT; WGN and MLB TV.
Tuesday's game recap:
A guy named Meatloaf once sang, "Two out of three ain't bad," and he was right, that's .667, but the Cubs have been winning only one in three on the road lately, which hasn't helped their crusade to win another division title, much less a pennant or another World Series ring.
Trying to salvage one of the three series on this road trip, the Cubs opened play in St. Louis last night by sending righty, Yu Darvish to the mound to face Cards righty, Adam Wainwright.
The Cubs would score first (4th inning), thanks to a single and some heads up baserunning by Jason Heyward. After singling, Heyward would tag second on Kris Bryant's flyout, then move to third on Anthony Rizzo's groundout. Javier Baez would single to score J-Hey. Cubs lead 1-0.
The Cards came right back, beginning with back to back singles by Martinez and Goldschmidt. Back-to-back wild pitches by Darvish would get Goldschmidt to second, then Martinez home to tie it at one apiece.
After the Cubs failed to score with the bases juiced in the sixth, Goldschmidt would take Darvish deep, putting the Birds up 2-1, which is precisely how it would end. Cubs dropped another road game and fell to second place.
CUBS NEWS AND NOTES
Cubs/Cardinals Probable Pitchers: Thursday: LHP Jon Lester (9-6, 3.87 ERA) vs Jack Flaherty (4-6, 4.24 ERA). Game time 6:15 PM CDT; NBC Sports Chicago, MLB Network (out of market only) and MLB TV.
Cubs/Brewers Probable Pitchers: Friday: LHP Jose Quintana (8-7, ERA) vs RHP Zach Davies (8-4, ERA). Saturday: Both teams TBD (Possibly Cole Hamels). Sunday: RHP Yu Darvish (3-4, ERA) vs Brewers TBD.
TRADE ALERT: The Cubs have struck a deal with the Blue Jays, for reliever (RHP) David Phelps and cash. The Cubs will have a team option for Phelps in 2020 ($2.5M). In return, the Cubs dealt minor league prospect, (pitcher) Thomas Hatch.
Cubs To Acquire David Phelps https://t.co/EvSB3lTvub pic.twitter.com/31B404uGhh

— MLB Trade Rumors (@mlbtraderumors) July 30, 2019
3.63 ERA in 17 G this season. Missed all of 2018 recovering from Tommy John surgery https://t.co/oJeoYTZGN4

— Tim Stebbins (@tim_stebbins) July 30, 2019
David Phelps has the same splits versus leftie and righty hitters. .217 LH - .225versus RH hitters.He can be used the way Joe Maddon implemented Carl Edwards two years ago.

— Bruce Levine (@MLBBruceLevine) July 30, 2019
Roster moves: The Cubs have recalled righty, Duane Underwood, Jr., as Pedro Strop has been sent to the 10-day IL due to left-sided neck tightness.
Strop on his neck injury: pic.twitter.com/WzbwSxQk7q

— Mark Gonzales (@MDGonzales) July 30, 2019
Per @Cubs PR: Strop has been placed in the IL with left necklace tightness, (felt Sunday throwing)Duane Underwood has been recalled from Iowa & will be here for tonight's game in STL. Newly acquired Phelps will not be active tonight.

— Kelly Crull (@Kelly_Crull) July 30, 2019
Underwood moved to the bullpen after his last start on May 26. His numbers in relief:
18 G/26 2/3 IP, 3.04 ERA, 1.24 WHIP, .228 BAA, 10 BB/35 K https://t.co/jgJLL7oqej

— Tim Stebbins (@tim_stebbins) July 30, 2019
Furthermore, it stands to reason that Underwood will only be with the team until Phelps arrives, sometime in the next couple of days.
Cubs' Notes: The last time the Cubs-Cardinals season series started with three series sweeps to begin a season was 1978 when Cubs swept each of the 1st four series vs. Cardinals (12-0). The Cubs finished 3rd in the NL East (79-83) that year, while the Cardinals finished 5th (69-93).
Abort the mission: One of the Cubs' trade targets, Blue Jays' closer, Ken Giles, continues to suffer from elbow inflammation, a la Brandon Morrow. The last thing the Cubs need to do is sign yet another injured pitcher, as they try to right the ship. Giles received a cortisone shot yesterday and wasn't supposed to be available to pitch before the deadline.
An elbow injury threatens to wreck Ken Giles' trade value https://t.co/xn32E04PWL pic.twitter.com/eqWUsOl8tB

— MLB Trade Rumors (@mlbtraderumors) July 30, 2019
Almost there: Cole Hamels is with the team in St. Louis and is scheduled to throw a bullpen session there today. A decision about the possibility of his next start will be made at that time.
Cole Hamels is scheduled to throw a bullpen session on Wednesday. Decision on next start expected to come after that step.

— Jordan Bastian (@MLBastian) July 30, 2019
Quintana to start Friday, so that would line up Hamels to start Saturday vs. Brewers if all goes well

— Mark Gonzales (@MDGonzales) July 30, 2019
Top Trade Candidates: With just hours remaining, here's MLB Trade Rumors' Top-75 trade candidates. If you have no time to read, Martin Maldonado, Carl Edwards Jr., and Ian Happ made the list, although Happ and Edwards are listed as "other trade candidates."
Top 75 Trade Candidates At The Deadline https://t.co/pDWQZRC1yZ pic.twitter.com/nXDHutxiM8

— MLB Trade Rumors (@mlbtraderumors) July 30, 2019
Maddon perturbed: Joe Maddon says fans have no idea how to manage a pen. Well, I can't say as I've ever done it, but sufficed to say, that I've seen how NOT to do it…
Maddon: "At the end of the day, you can make a decision that may be the absolute proper and right thing to do, but it doesn't work out and then it's perceived as being wrong."
#Cubs manager Joe Maddon: "Fans, again, they have this really ridiculous concept about bullpens and bullpen management. They have no idea really what all goes into it."

— 670 The Score (@670TheScore) July 30, 2019
Is it possible that Joe is deflecting this onto the fans, when it may, in actuality, be a message directed at Theo Epstein and the Cubs' ownership? Things that make you go, "Hmmm."
Magic Number: One. As in, it would be magical to have the Cubs win just one road game…
Baseball Quotes: "All us Youngs could throw. I used to kill squirrels with a stone when I was a kid, and my granddad once killed a turkey buzzard on the fly with a rock." -Cy Young
Roberto Clemente could field the ball in New York and throw out a guy in Pennsylvania. -Vin Scully pic.twitter.com/QNx54xntBe

— Baseball Quotes (@BaseballQuotes1) July 30, 2019
Cubs Birthdays: Celebrating yesterday, were ex-Cubs Oswaldo Mairena (44), Calvin Murray (48), Todd Haney (54), Scott Fletcher (61), Steve Trout (62), and posthumously, Bill Moisan (94), Paul Minner (96), Bill Merritt (149), and Charles "Tod" Bryan (156).
THIS WEEK'S NL CENTRAL SCHEDULE: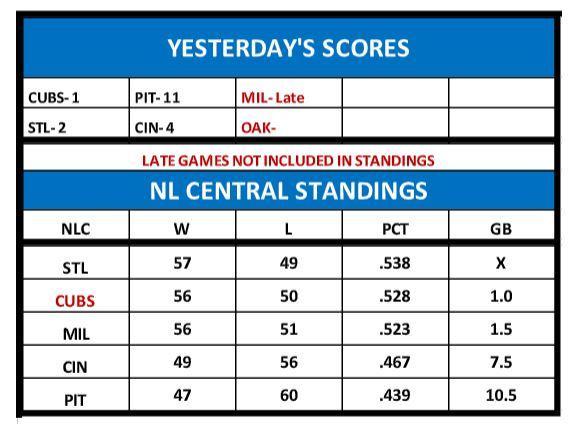 Tags: Cubs Baseball
,
Kyle Hendricks
,
Yu Darvish
,
Jason Heyward
,
,
Anthony Rizzo
,
,
,
Jose Quintana
,
Cole Hamels
,
Thomas Hatch
,
Duane Underwood
,
Pedro Strop
,
Brandon Morrow
,
,
Joe Maddon
,
Theo Epstein