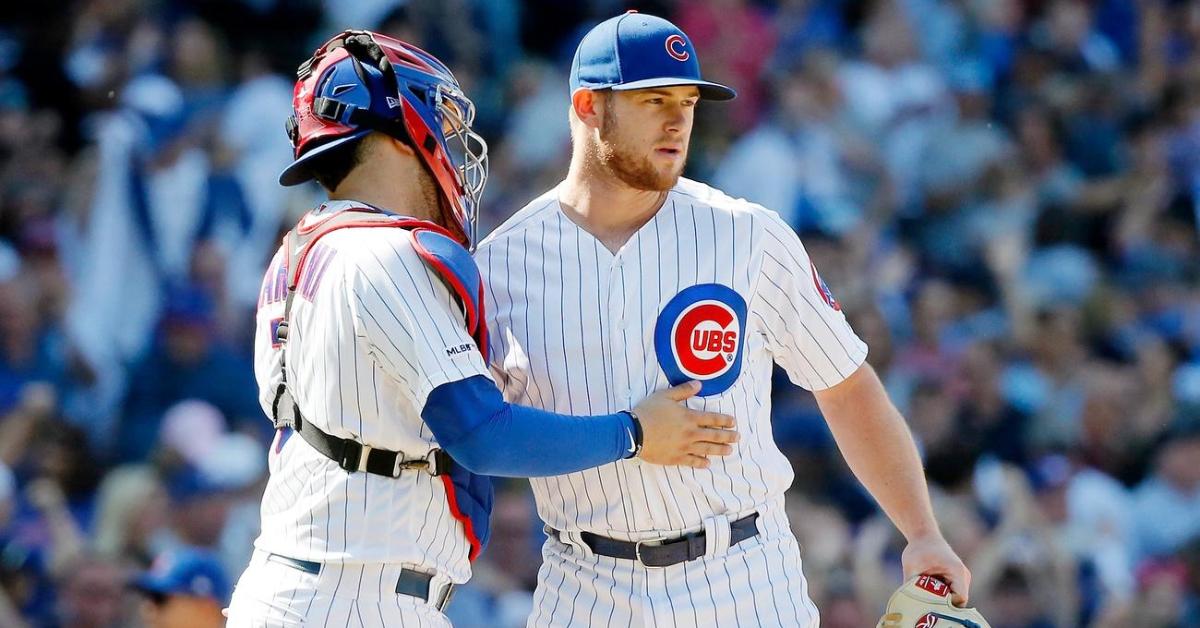 | | |
| --- | --- |
| Cubs News and Notes: Cubs sweep, Contreras update, Darvish bests Kaplan, Morrow's battle | |
---
Next Game: Today: LHP Jon Lester (10-8, 4.23 ERA) vs RHP Anibal Sanchez (7-6, 3.99 ERA). Game time 1:20 PM CDT; ABC-7, MLB Network (out of market only).
Thursday's Game Recap:
There's no question that the Cubs have been hot over the last week, and entering play yesterday against the Giants, the Cubs put a four-game winning streak on the line as they attempted to complete the sweep.
For the first 3-1/2 innings, the teams went scoreless as pitching and defense prevailed, but the Cubs would break the 0-0 tie in the fourth. Accruing the Cubs first hit of the day, Jason Heyward hit what should have been an easy flyball to center. Battling the sun, centerfielder, Jason Pillar, lost the ball, allowing Heyward to reach on what was scored as a single. Next, Nicholas Castellanos would hit a routine groundball to short, but instead of
Brandon Crawford turning a double play, he'd bobble the ball (E-6), allowing Castellanos to reach and J-Hey to advance. Although the Giants would turn a 64-3 double play on Kris Bryant's grounder, J-Hey would advance to third, then score on Anthony Rizzo's two-out single to center. Cubs lead 1-0.
I have zero idea what this translates to, but it's still pretty…
Con este sencillo de @ARizzo44 abrimos la pizarra. ?? #Cachorros pic.twitter.com/cOoj2rnCh4

— Cachorros de Chicago (@cachorros) August 22, 2019
Unlike Wednesday's game which saw the teams combine for a total of 25 runs, the Cubs 1-0 lead after the third inning would hold up for the duration of the game. Kyle Hendricks lasted another strong seven innings, and Brandon Kintzler, Kyle Ryan and Rowan Wick would pitch in (no pun intended) to complete the shutout.
Kyle Hendricks' 1.79 home ERA is the 3rd-lowest in the majors.

He's walked two or fewer batters in 23 consecutive starts. #EverybodyIn pic.twitter.com/JIbZHYS5g5

— Chicago Cubs (@Cubs) August 22, 2019
Cue the music, fly the flag; Cubs win 1-0 on only two hits and complete the sweep. Stay tuned, as the Cubs welcome the Nationals for a three-game (all afternoon) set, beginning tomorrow at 1:20 PM central.
#Cubs complete sweep of Giants behind Hendricks' dominant outing.

Recap: https://t.co/xdzcO7CtcJ #EverybodyIn pic.twitter.com/zX1fmBHoQV

— Chicago Cubs (@Cubs) August 22, 2019
CUBS NEWS AND NOTES
Cubs/Nationals Probable Pitchers: Saturday: LHP Jose Quintana (11-7, 3.91 ERA) vs RHP Joe Ross (3-3, 5.48 ERA). Game time 1:20 PM CDT; NBC Sports Chicago, MLB Network (out of market only). Sunday: LHP Cole Hamels (7-4, 3.37 ERA) vs RHP Stephen Strasburg (15-5, 3.65 ERA). Game time 1:20 PM CDT; WGN, TBS (out of market only).
Darvish's need for speed: Yu Darvish has often been criticized for relying too heavily on his off-speed pitches as he tries to tally the strikeouts. NBC Sport's Chicago's David Kaplan uncovered a rather interesting set of stats about how Darvish's off-speed stuff does when he's facing right-handers. While the breaking stuff works wonders for his K rate against righties, the opposite is true If he fails to fan the batter.
Somewhat surprising, considering his quiet demeanor, Yu wasn't taking this from the Kapman without having his say in the matter. I like David Kaplan, but I have to say: "Get 'em, Yu!"
Also your number is wrong I guess.
Fastballs .250AVG .381OBP .489SLG .870OPS.
Off speed .137AVG .201OBP .261SLG .462OPS.
You can't win agains Cubs database. https://t.co/pW5d38a680

— ???????(Yu Darvish) (@faridyu) August 22, 2019
Joe Maddon was asked about the exchange between Darvish and Kaplan and he jumped to Darvish's defense, while also taking a lighthearted jab at Kaplan. I strongly encourage you to pause this video frequently, so that you can read Darvish's responses to Kaplan's tweets. #Hysterical
Well, that escalated quickly...

Joe Maddon weighs in on @thekapman and @faridyu's ?????????? debate ?? pic.twitter.com/cZieEK9XzJ

— Cubs Talk (@NBCSCubs) August 22, 2019
How can you not love Castellanos? If what he brings to the table in terms of offense and clutch hitting isn't enough, you also have to acknowledge Nicholas Castellanos' day-to-day attitude.
ICYMI: WATCH: Nicholas Castellanos loses his mind after Kris Bryant goes yard: https://t.co/yM3x5JpRru pic.twitter.com/Y5LuqhTSgo

— CubsHQ.com (@ChicagoCubsHQ) August 22, 2019
We can argue all day about whether or not the Cubs should have kept Carl Edwards Jr., Jesse Chavez or Daniel Murphy, but re-signing Castellanos is a must. This may, however, not be an easy task, as "super-agent" Scott Boras represent Castellanos. It's no secret that Boras has issues with the Cubs after they manipulated Kris Bryant's service time (causing Bryant to wait an additional year for free-agency), but hopefully Castellanos can help smooth the waters- at least so far as he's concerned, so that the Cubs can sign him as a free agent.
Castellanos has made no bones about the fact he loves playing for Chicago, and his attitude and batting statistics support that. At this point, Theo should have been on the phone with Boras 2 weeks ago, to start getting some idea of the amount that Boras will be demanding. Let's hope he's on the ball with this one.
Did the Cubs really win Wednesday? If you like good, competitive baseball games, then the Cubs/Giants game on Wednesday was something to see. The teams battled back and forth, inning after inning, until the teams amassed a combined total of 23 runs (Cubs won 12-11), but did the Cubs really win that game?
Instead of the Cubs protecting a 6-2 lead after four innings, they allowed the Giants to answer with nine unanswered runs for three innings (5th through 7th).
"They scored, what, nine runs in the fifth through the seventh inning? Teams don't really win when that happens, so it's just a good, hard-fought, never-quit win."

Bryant's blast caps what Rizzo called a "season-defining win" for Cubs https://t.co/2xYlmgLvUe via @MLB

— Jordan Bastian (@MLBastian) August 22, 2019
Morrow's battle continues: After the Cubs announced on Wednesday that Brandon Morrow had suffered "a setback" and would be shut down for the season, more bad news has surfaced; Morrow will require another surgery. If there was any doubt that Morrow wouldn't be re-signed by Chicago, this surgery will certainly seal his fate. With regard to the debacle surrounding Morrow's contract and injury time, Theo Epstein says, "That's on me." Best wishes to Brandon for a speedy recovery.
Cubs scared of the dark? The Cubs home record (prior to yesterday's game) stood at 43-19 (.694). If it's not bad enough that their road record is only 25-39 (.391), their away night games seem to be the kiss of death. In 47 away games played at night this season, the Cubs have only managed a record of 15-32 (.319).
Free Willy! (Yeah, I know that I used this same bullet title yesterday, but who cares? It's still applicable.) As Willson Contreras's hamstring continues to mend, it's blatantly obvious that his attitude and determination are at 100%. We all watched the Cubs backstop scream in anger, then cry in disgust, as he pulled a hamstring nearly a three weeks ago while running to first base, but few- if any- doubted that Willy would pick himself up, dust himself off and do what needed to be done in order to get better.
Willson Contreras just returned from another round of on-field drills. How's he feel? The catcher replied with one word — "Stronger." — and headed into the locker room.

— Jordan Bastian (@MLBastian) August 22, 2019
Cubs honor Bruce Bochy: Before the start of yesterday's game, the Cubs and Joe Maddon wanted to honor Giants' manager (and future Hall of Famer), Bruce Bochy, who was about to manage his last game ever at Wrigley Field. Bochy, who wears #15 for the Giants, will be retiring after this season.
As a token of respect and appreciation, Joe Maddon presented him with the number 15 from the iconic Wrigley Field scoreboard.
The @Cubs weren't going to let future Hall of Fame manager @BruceBochy leave today without a piece of Wrigley Field ?????? pic.twitter.com/yl8lHhTqJN

— Cubs Talk (@NBCSCubs) August 22, 2019
Baseball Quotes: "The great trouble with baseball today is that most of the players are in the game for the money and that's it, not for the love of it, the excitement of it, the thrill of it." -Ty Cobb
Baseball is the only field of endeavor where a man can succeed three times out of ten and be considered a good performer. -Ted Williams pic.twitter.com/WMk1eFkP9x

— Baseball Quotes (@BaseballQuotes1) August 20, 2019
Cubs Birthdays: Gary Scott (50), Darrin Jackson (56), Ray Burris (69), Bob Speake (89), and posthumously, José Arcia (76), Frank Ernaga (89), Oscar Führ (126), and Al Carlson (137).
THIS WEEK'S NL CENTRAL SCHEDULE:
(Wins in green, losses in red)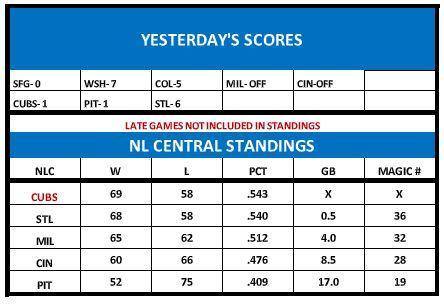 Upgrade Your Account
Unlock premium boards and exclusive features (e.g. ad-free) by upgrading your account today.
Upgrade Now

Tags: Cubs Baseball
,
,
Jason Heyward
,
,
Anthony Rizzo
,
Kyle Hendricks
,
Brandon Kintzler
,
Kyle Ryan
,
Rowan Wick
,
Jose Quintana
,
Cole Hamels
,
Yu Darvish
,
Brandon Morrow
,
Willson Contreras
,
Joe Maddon
,
Theo Epstein