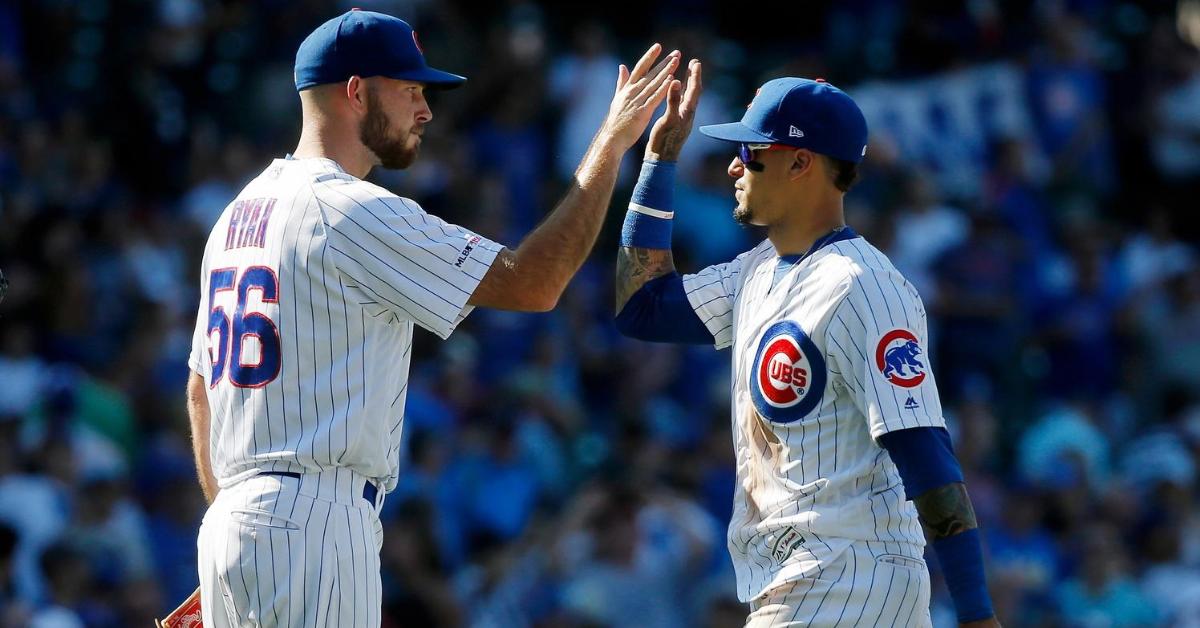 | | |
| --- | --- |
| Cubs News and Notes: Fly the W, Hamels is back, Zo returns, Road woes, Homer mania, more | |
---
| | | |
| --- | --- | --- |
| Saturday, August 3, 2019, 8:18 AM | | |
Next Game: Today 1:20 PM: 1:20 PM (NBC Sports Chicago): LHP Cole Hamels (6-3, 2.98 ERA) vs LHP Gio Gonzalez (2-1, 3.48 ERA).
Friday's game recap:
I was glad to finally see the Cubs get back to Wrigley, hoping that they could regroup, but then something weird happened before the game.
Broken clock or not, it was well past time for Chicago to go back to winning with consistency and in their attempt to do so, sent Jose Quintana to face the Brewers and Zach Davies.
Clock has stopped on the old Wrigley scoreboard. #AlertJulian pic.twitter.com/lIFS62RMP1

— Paul Sullivan (@PWSullivan) August 2, 2019
Great news: Jason Heyward's swing paid no attention to the wind, as he delivered a leadoff home run to the left-field bleachers to start the Cubs' half of the first.
Leadoff basket! #EverybodyIn pic.twitter.com/67EFwkyvuZ

— Chicago Cubs (@Cubs) August 2, 2019
Heyward's eighth career leadoff homer and first since Aug. 27, 2014. He has 16 HR for the season, most since he hit 27 in 2012. #Cubs

— Bruce Miles (@BruceMiles2112) August 2, 2019
Not so great news: Following Heyward's blast, the Cubs had the bases loaded and failed to score. Cubs lead 1-0. This would end up biting the Cubs, as Ryan Braun would homer to start the second. Game tied 1-1.
The Cubbies would pull ahead in the third, first on a home run by Javier Baez,
Javy came through.#EverybodyIn pic.twitter.com/h68a0RQqZD

— Chicago Cubs (@Cubs) August 2, 2019
then add to it on this clutch hit by Q-Bert, who elected to help his cause. Cubs lead 4-1 after three.
Remember to #TreatYoSelf today. pic.twitter.com/3LmMzjT4II

— Chicago Cubs (@Cubs) August 2, 2019
The Cubs would tack on a run in the fifth, cashing in on Javy's double, when Contreras beat out a would-be double-play, then added yet another in the sixth, when Javy beat out a double-play. Cubs lead 6-2.
Javy Baez races to first to beat out the back end of a would-be double play in the 6th. A run scores for the Cubs, who now have six on the day. Or, double their output in three days in St. Louis.

Welcome home.

— Jordan Bastian (@MLBastian) August 2, 2019
Milwaukee would get one more of their own in the seventh, but by that time the Cubs were already cruising to the Winner's Circle. Final score 6-2, in favor of the North--Siders.
As for Quintana: He's a stud.
.@jose_quintana24 has 11 quality starts in 15 career outings vs. Milwaukee! #EverybodyIn pic.twitter.com/0jPAYHUN8m

— Chicago Cubs (@Cubs) August 2, 2019
Javy, J-Hey go yard as Quintana, #Cubs beat Brewers.

Recap: https://t.co/RsYfOogv2h #EverybodyIn pic.twitter.com/PipPW9kR4Y

— Chicago Cubs (@Cubs) August 2, 2019
CUBS NEWS AND NOTES
KB is excited for Ben Zobrist's return.

He calls Zobrist, "a smile in the clubhouse" ?? pic.twitter.com/CGZpIi2d8z

— Cubs Talk (@NBCSCubs) August 2, 2019
Cubs/Brewers Probable Pitchers: Sunday, 1:20 PM (WGN, TBS out of market, SAP WGN) RHP Yu Darvish (3-5, 4.46 ERA) vs RHP Adrian Houser (4-4, 3.99 ERA).
Willy getting faster: In the first inning of yesterday's game, Willson Contreras gunned down Keston Hiura to end the inning. Willy had minimal time to pull the trigger and make the throw count…
Per @statcast, Willson Contreras has a 1.87 second pop time to catch Hiura stealing to end the top of the first. His 2nd-fastest in '19 on a caught stealing to second base.

From his knees... pic.twitter.com/WRHgAjaDdA

— Jordan Bastian (@MLBastian) August 2, 2019
Roster moves: The excellent news is Cole Hamels will be on the mound today, the other (maybe) great news- or perhaps bad news- is that the Cubs have a decision to make as to who will be optioned to make room for him. My guess is going to be Rowan Wick.
Castellanos paying dividends: It's only been two days, and yet the Cubs' newest acquisition, Nick Castellanos, is already paying huge dividends. After getting the only Cubs hit on Thursday night (vs St. Louis), Castellanos only went 1 for 5 yesterday (he now has a .250 batting average as a Cub), but his contact is hard, he's putting the ball in play, and he's already showing aggression on the basepaths- all things the Cubs need.
"This guy is really focused," Cubs manager Joe Maddon said of Castellanos. "Everything he does, man, he's laser-focused."
Zo's comeback: Cubs fans, and better yet, his teammates have waited for Ben Zobrist's return, but before you get overly excited, be forewarned: Theo Epstein says Zo won't be playing every day as he attempts his comeback, and cautions that this could be Zo's last season of professional baseball.
"He's not going to come back and embarrass himself. If he can't get to the point where he feels like he can play this game at a high level, we'll go in a different direction. But we're full speed ahead, trusting the person." - Theo Epstein
I'm sad to see him leave, but I'm betting he'll retire after the year- should a comeback be even reasonably successful. I think this equates to Ben's farewell tour, as much for closure as it is for himself. He left a team, a town and fans who love him, abruptly and under sad, unforeseen circumstances. The reality is that Ben only owes himself and his family, but I almost feel that his heart says that he owes the Cubs ownership, management, teammates and fans, the moment to see him for what they know will eventually be the last time, to say farewell correctly.
KB is excited for Ben Zobrist's return.

He calls Zobrist, "a smile in the clubhouse" ?? pic.twitter.com/CGZpIi2d8z

— Cubs Talk (@NBCSCubs) August 2, 2019
Road Woes: "We've played well on the road most years in this window," Theo Epstein said. "But this year, honestly, we're embarrassed by the road performance, not having won a road series since May 20."
Homer mania for Chicago: I love when I decide to spend my time researching a stat, but before I can, someone does the legwork for me (Note to self: You can always count on Jordan Bastian). Ever wonder what % of the Cubs' runs comes from dingers? Fortunately for you, I have the answer (that is, after copying off of Jordan's test paper...).
Cubs entered with 49.7% of runs via HR. So far today: solo shot (Heyward) and 2-run blast (Baez).

Maddon pregame: "We have to get back to that sprayability that we had. And still, we're going to hit our homers -- of course we are. But, I don't want to be so reliant upon that."

— Jordan Bastian (@MLBastian) August 2, 2019
For the record, the Cubs went 4 for 13 (.308) yesterday with runners in scoring position.
Um, I'm confused: I've seen baseball gloves covering just about every color of the rainbow, being used in MLB, yet Brandon Kintzler's grayish-blue mitt got thrown out of the game by the home-plate umpire, John Tumpane, for some unknown and bizarre reason. Salt grabbed a new glove (far more colorful), then proceeded to strike out Christian Yelich. No protest from me (or Joe Maddon).
Baseball Quotes: "That's all baseball is, is numbers; it's run by numbers, averages, percentage, and odds. Managers make their decisions based on the numbers." -Rollie Fingers
Trying to hit him was like trying to drink coffee with a fork. -Willie Stargell on Sandy Koufax pic.twitter.com/rUXkbsWpbH

— Baseball Quotes (@BaseballQuotes1) August 2, 2019
Cubs Birthdays: Celebrating yesterday, were ex-Cubs Brett Jackson (31), Matt Gurrier (41), Derek Botelho (63), and posthumously, Lloyd Merriman (95).
THIS WEEK'S NL CENTRAL SCEHEDULE:
(Wins in green, losses in red)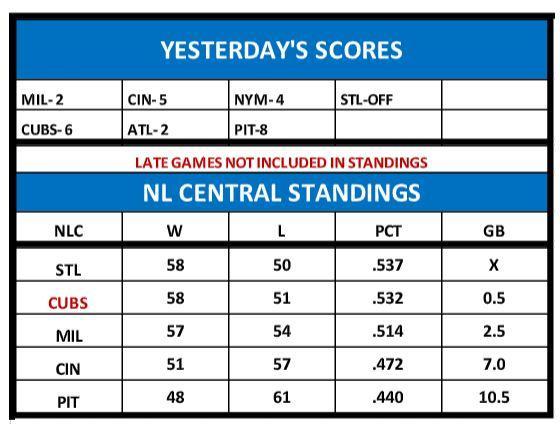 Tags: Cubs Baseball
,
Cole Hamels
,
Jose Quintana
,
Jason Heyward
,
,
Ben Zobrist
,
Yu Darvish
,
Willson Contreras
,
Rowan Wick
,
Brandon Kintzler
,
Joe Maddon
,
Theo Epstein