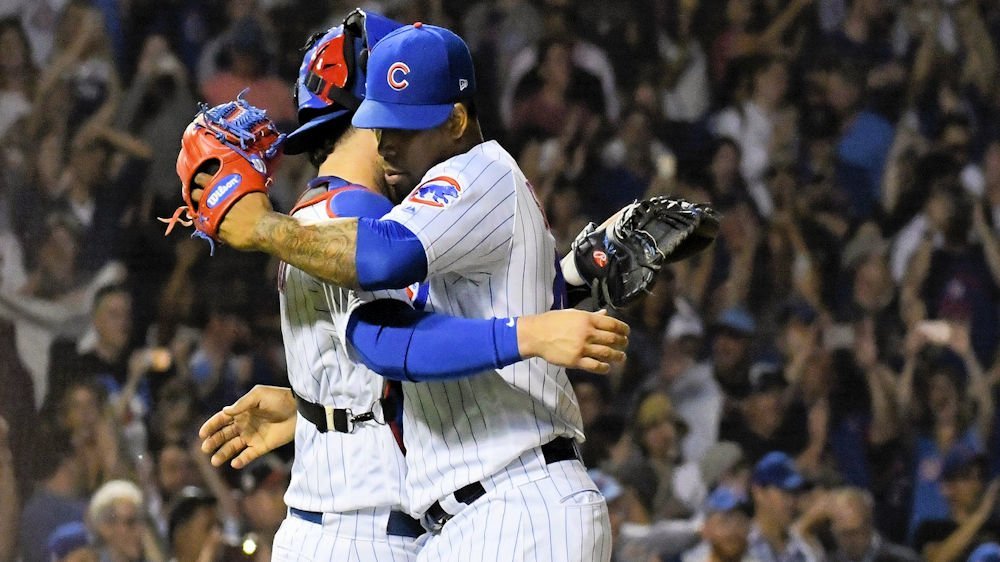 | | |
| --- | --- |
| Cubs News and Notes: Fly the first-place W, Schwar-bomb, MLB Draft Day 2 news, more | |
---
Next Game: Today, 7:05 PM CDT: Rockies @ Cubs. RHP Yu Darvish (2-3, 5.02 ERA) vs RHP German Marquez (6-2, 3.48 ERA).
CUBS NEWS AND NOTES:
Tuesday's Game Recap:
Coming off a very dominant win over the Angels on Monday, the Cubs looked to get back on a winning streak as yesterday; they opened up their series against the Rockies. For the Cubs, it was "The Professor," Kyle Hendricks (5-4, 3.09 ERA), who took the mound to face Rockies' backup starter, Jeff Hoffman (1-1, 7.20 ERA). Hendricks was fabulous; Hoffman, not so much.
Though he lasted just 7.0 innings tonight (ha-ha "just" seven innings), Kyle allowed three earned runs on six hits and a walk, though he fanned a total of ten. Hendricks also helped his cause with an RBI single in the second.
Looking good for a second straight game, the Cubs' offense picked at, peppered and pummeled Hoffman and the Rockies' relief staff, accumulating eight hits and a walk, which resulted in 6 runs.
Kyle Schwarber (Bam-Bam, as I call him) blasted a 467' solo homer that looked like it was never coming down, and shortly after that, Javier Baez clobbered a two-run blast of his own. Carlos Gonzalez had another good night, going 1 for 3 with two RBI on a scalded double and a sac-fly. The Cubs did falter a bit with runners in scoring position, but with the steady parade of runs, it didn't make a difference. Final score: Cubs-6; Rockies-3.

As a bonus, Miami DESSIMATED Milwaukee last night, Atlanta walloped Pittsburgh, and the Reds downed the Cards. (And here I said it would take until Friday for the Cubs to regain first place.)
QUESTION OF THE DAY: Despite looking great on Monday and Tuesday, are the Cubs "fixed" enough to be able to take the series from both the Rockies and cardinals?
Cubs/Rockies Probable Pitchers: Thursday, 1:20 PM CDT: LHP Jose Quintana (4-4, 3.73 ERA) vs RHP Jon Gray (4-4, 4.52 ERA).
Two words: Schwar-Bomb (or, is that one hyphenated word?)
Please enjoy this large home run.#EverybodyIn pic.twitter.com/1hIOlUfvtM

— Chicago Cubs (@Cubs) June 5, 2019
Two more words: Javy's turn.
Dear Javy,

Never change.

Love,@Cubs pic.twitter.com/KxYzV1b4bT

— Chicago Cubs (@Cubs) June 5, 2019
Strop's home: After an extended absence, the Cubs have activated Pedro Strop from the IL (hamstring issue). In turn, Chicago has sent reliever, Dillon Maples back to Iowa. Joe Maddon says that he hopes he never has to send Maples down again, as he has the potential to be really good.
Welcome back, Jon: After struggling in May, Jon Lester turned in quite the performance on Monday, which is just what he needed to get his mind right.
Felt good out there yesterday, something to build off of as we right the ship! Back to work. #NVRQT

— Jon Lester (@JLester34) June 4, 2019
Wait… What happened? On Monday night, UCLA Bruins' second-baseman, Chase Strumpf, was drafted by the Cubs (64th overall pick) in the second round of the 2019 MLB Amateur Draft; that alone would make any kid's day, but he wouldn't immediately know the news. Believe it or not, Strumpf was loosening up in the on-deck circle during the UCLA/LMU, NCAA post-season game when he was drafted. That at-bat netted Strumpf and the Bruins a two-out, two-run homer, and propelled UCLA to the Super Regionals.
The Cubs drafted Chase Strumpf while he was on deck. He followed up with this pic.twitter.com/odCGLnTAG0

— Teddy Cahill (@tedcahill) June 4, 2019
Oh, but there's more… In addition to drafting a second baseman on Monday night, the Cubs also grabbed a righty by the name of Ryan Jensen.
Take a closer look at @FresnoStateBSB RHP Ryan Jensen, the Cubs 27th pick in the 2019 First-Year Player Draft.

READ MORE: https://t.co/iuIXgxQwYw pic.twitter.com/7KH8fijoOF

— Cubs Talk (@NBCSCubs) June 4, 2019
2019 MLB Amateur Draft: Day 2 of the draft took place yesterday morning with the Cubs making the following selections: Round-3 (103rd overall pick): RHP Michael McAvene: 21 years old, 6'3", 210 lbs., four-year Junior at Louisville. 2019 stats: 2-0, 2.67 ERA, 46 strikeouts (30.1 IP). Despite throwing in the mid-90s and striking out batter after batter, I'm not sure I like this pick, as McAvene has already undergone Tommy John Surgery and is currently serving a 4-game suspension for arguing with an umpire.
Round-4 (132nd overall pick): RHP Chris Clarke: 20 years old, 6'7", 225 lbs., four-year Junior at USC. 2019 stats: 52.1 IP, 1.03 ERA, 60 strikeouts, 18 walks.
Round-5 (162nd overall pick): RHP Josh Burgmann: 2 years old, 6'0", 205 lbs., four-year Junior at Washington. 2019 stats: 79.0 IP, 3.99 ERA, 101 K, 22 walks.
Other Cubs' draft picks Round-6, 192nd overall pick, Catcher, Ethan Hearn (Mobile Christian HS). Round-7, 222nd overall pick, RHP Brad Deppermann (University of North Florida). For full draft results from around MLB, visit here.
…And the Cubs grabbed this guy from my old alma mater… I attended Homewood-Flossmoor High School in the early 80s (gasp). White Sox beat writer, Scott Merkin (the guy mentioned in the tweet below) was a classmate of mine. Too bad he wound up as a beat writer for the White Sox! (Just kidding, Scottie).
Cubs catered to H-F grad @scottmerkin in the 9th round, taking righty Tyler Schlaffer out of Homewood-Flossmoor High School.

— Jordan Bastian (@MLBastian) June 4, 2019
Cub Birthdays: Celebrating yesterday, were ex-Cubs Chang-Yong Lim (43), Scott Servais (52), Rick Wilkins (52), and posthumously, Arnold Earley (86), Lee Magee (130), and Orlie Weaver (133).
NL CENTRAL SCHEDULE (June 2 – June 8, 2019)
(Wins are in green, losses in red)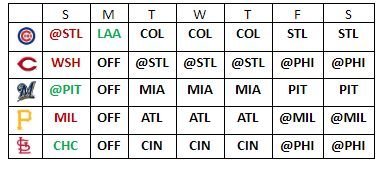 NL CENTRAL SCOREBOARD/STANDINGS