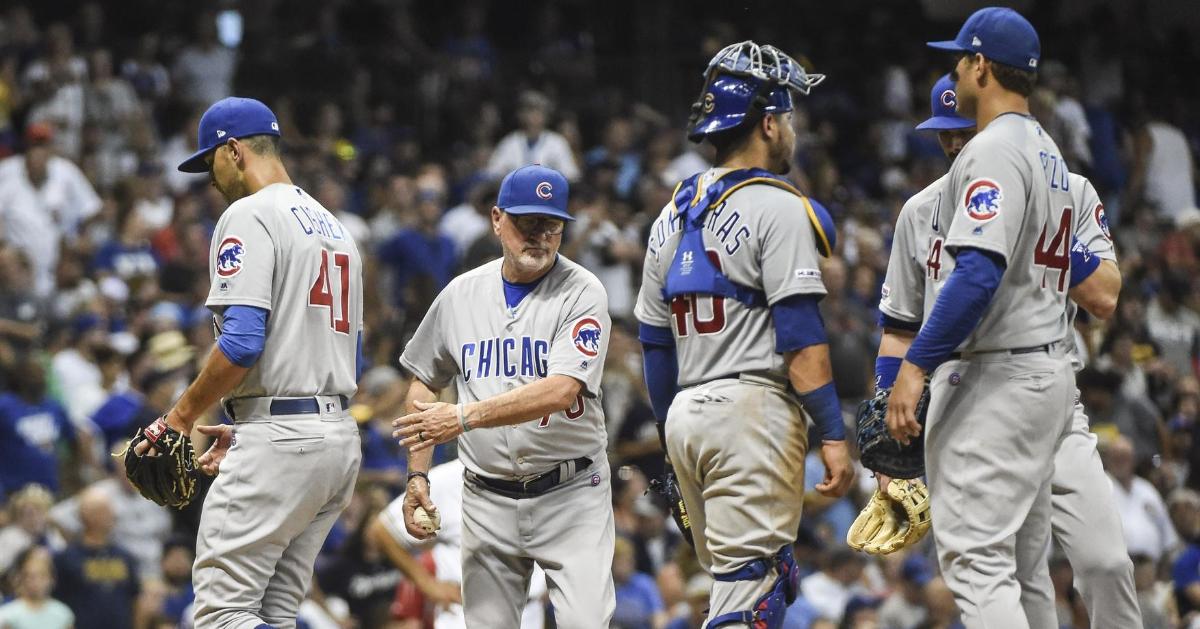 | | |
| --- | --- |
| Cubs News and Notes: Jon Lester's milestone, Trade rumors, Ortiz update, Walk-off L, more | |
---
Next Game: 1:10 PM (ABC-7): LHP Jose Quintana (8-7, 4.42 ERA) vs RHP Zach Davies (8-3, 3.17 ERA).
Saturday's Game Recap:
Well, Friday night's loss was enough to leave a bitter taste in everyone's mouth. Losing a crucial game in the late innings, especially to Milwaukee, is the antithesis of what this team's agenda is.
I predicted the Cubs would drop two of three in this series, with last night being the second of the two losses. Jon Lester took the hill for Chicago; Chase Anderson for the Brewers.
Chase Anderson seemed to be having some control issues, and after beaning Willson Contreras in the shoulder in the top of the third, would pay the price. The Cubs opened the scoring on Anthony Rizzo's two-run blast to right.
.@ARizzo44 gives us the early lead! #TeamRizzo#EverybodyIn pic.twitter.com/Sulgyerrx3

— Chicago Cubs (@Cubs) July 28, 2019
Things would stay quiet until the bottom of the eighth, when Steve Cishek, (replacing Lester after 7.0 innings) would give up a home run to Gamel on his second pitch of the night. On the very next pitch, Lorenzo Cain would double, ending Cishek's night. Bring on Derek Holland… well, for one batter anyway. Holland recorded a fly-ball out, but Albert Almora Jr. slipped on the play, allowing Cain to tag and take third.
Quick to play the match-up game (that he still hasn't figured out, doesn't work), Maddon brought in Tyler Chatwood. Chatty got a quick pop-up to Rizzo, but then Hiura squeezed one down the first baseline (double) to tie it at two. Rowan Wick's turn. After putting Moustakas on with an intentional pass, he managed to fan Thames to end the inning.
Ian Happ would have the chance at being a hero in the ninth, but another strikeout left the game tied and made Happ 0-6 since coming up from Iowa. Rowan Wick would hold down the bottom of the ninth.
Leading off the 10th, the Cubs "other" center fielder (Almora), would prove his worth with a go-ahead, solo-smash to center.
We'll take Almora that. #EverybodyIn pic.twitter.com/NpQ17ozs3U

— Chicago Cubs (@Cubs) July 28, 2019
Short-lived lead, however, as Craig Kimbrel was not on his game. It would take no time for Yelich to jump all over Kimbrel and tie it with a home run, then after walking Saladino, Hiura would hit a two-run smash to the right, to win it. Cubs lose 5-3. (Blame Kimbrel if you want to, but when the guy only pitches once a week, it's going to be hard for him to find his groove.)
Cubs now tied with Milwaukee for second, and if things don't shape up, they could be in third by tomorrow afternoon.
CUBS NEWS AND NOTES
Cubs/Cardinals Probable Pitchers: Tuesday: RHP Yu Darvish (3-4, 4.54 ERA) vs RHP Adam Wainwright (7-7, 4.63 ERA). Wednesday: RHP Kyle Hendricks (7-8, 3.41 ERA) vs RHP Mile Mikolas (7-10, 4.19 ERA). Thursday: LHP Jon Lester (9-6, 3.87 ERA) vs Jack Flaherty (4-6, 4.24 ERA).
Lester's milestone: Jon Lester made his 400th career regular-season start last night, becoming the 6th active pitcher to reach the milestone. Lester joins CC Sabathia (554), Justin Verlander (441), Zack Greinke (436), Felix Hernandez (411) and Cole Hamels (411).
Since joining the Cubs in 2015, Lester is 70-37 with a 3.39 ERA in 147 starts. Big Jon has more wins than any LHP in this span (fourth overall). His 147 starts match teammate José Quintana for the most by any ML LHP in this span.
Descalso "injured": Yesterday, the Cubs sent second baseman, Daniel Descalso, to the 10-day IL (retroactive to 7/24) for what was described as a sprained ankle (wink, wink). Ironically, the Cubs needed a roster spot for their new lefty-reliever, Derek Holland, who was activated yesterday afternoon. Funny how those things seem to work out sometimes.
I'll give Descalso credit, because if this is one of those "phantom injuries," Descalso approved the trip to the IL, as the MLB Players Association would be all over it, otherwise. Players, especially veterans, can't just be designated as "injured," but a guy who knows he's been dead weight (Descalso), can "play-along" for the sake of the team, and I'm almost sure that is what he's done. Kudos for looking at the bigger picture, Danny.
Descalso to IL to clear spot for Holland... pic.twitter.com/IpW1u8GrCV

— Jordan Bastian (@MLBastian) July 27, 2019
Derek Holland: From the Cubs' press release, regarding Derek Holland:
Holland will wear #45 and be available for the Cubs tonight when they continue their three-game series against the Milwaukee Brewers at Miller Park.
Holland, 32, was acquired yesterday from the San Francisco Giants. He has pitched exclusively in relief for the Giants since mid-May and overall this year has limited left-handed hitters to a .182 batting average (14-for-77), .276 on-base percentage, .195 slugging, and .471 OPS, as he has allowed only one extra-base hit, a double, to lefties in 89 plate appearances. Among all N.L. pitchers against left-handed hitters this year, Holland has allowed the second-lowest slugging, third-lowest OPS and sixth-lowest batting average.
The Southpaw went 1-0 with a 0.68 ERA (1 ER/13.1 IP) in 10 relief outings from June 24-July 18 before allowing four runs in 1.0 inning on July 20 vs. the Mets and being designated for assignment the next day. Overall, Holland posted a 2-4 record with a 5.90 ERA (45 ER/68.2 IP) in 31 appearances (24 relief outings) with the Giants this season.
Holland is a career 78-77 with a 4.51 ERA (682 ER/1,360 IP) in 275 big league appearances (221 starts) covering all or part of the last 11 seasons with the Texas Rangers (2009-16), Chicago White Sox (2017) and San Francisco Giants (2018-19).
Derek Holland was with his brother — a Cubs fan growing up — when he got the news that Chicago acquired him. pic.twitter.com/fWvUEY4BQX

— Jordan Bastian (@MLBastian) July 27, 2019
Maddon explains… sort of: Following Friday night's loss in Milwaukee, Maddon explained why he pulled Kyle Hendricks after just five innings- a decision that had most shaking their heads, especially after the outcome. "He's at 90 pitches right there, and he's going to be back on regular rest," Maddon said. "They had (Christian) Yelich, (Yasmani) Grandal and (Mike) Moustakas coming up. So, it worked out well. Everything worked. We just hit too many guys and walked too many guys."
Joe, how, on any level, do you see that this worked out well? Asking for a friend…
"Going five [innings] is not acceptable," Hendricks said. "But in a 0-0 ballgame, I'm trying not to give in. The focus going forward is to get quicker outs, and the goal is always to go seven (innings) at least."
Eric Sogard: As the deadline for trades nears its end (three days to go), the Cubs are, reportedly, still actively pursuing Toronto's Eric Sogard. Although several teams are pursuing Sogard, rumors from reputable sources say the Cubs are definitely interested in trading for him. Sogard was not in the Blue Jays lineup on Friday night, possibly indicating that a trade is being finalized with someone. You can read more in Cole Little's article on CubsHQ.com.
ICYMI: REPORT: #Cubs targeting Blue Jays infielder: https://t.co/MDBK5qxGAu pic.twitter.com/Xbs5RZojEt

— CubsHQ (@ChicagoCubsHQ) July 27, 2019
The Cubs were also reportedly interested in lefty-hander Jake Diekman (KC), but he has now been dealt to the Athletics.
Nope to Strop: I, along with 500,000 other people, cringed when Pedro Strop got the call on Friday night- especially with two men on. According to Jesse Rogers (ESPN), Maddon was trying to work his way around Strop.
I will say, this is not hindsight. A lot of people were tweeting it. It's clear Joe wanted to avoid Strop by going Ryan, Cishek, Kintzler and Kimbrel but no margin for error there. And they needed some. Strop is pressed into duty, and, well.. https://t.co/XcaC5b0tRU

— Jesse Rogers (@ESPNChiCubs) July 27, 2019
Jesse Rogers: After losing NL Central lead, put pen atop Cubs' deadline shopping list https://t.co/sQ307zeCN8

— Buster Olney (@Buster_ESPN) July 27, 2019
Condolences: I'd like to extend my condolences to Andrew Berlin, owner of the South Bend Cubs, as his father passed away yesterday. May he rest in peace.
Great news: After being shot while in the Dominican Republic almost a month ago, David Ortiz is finally being released from the hospital and will continue his rehab at home. Ortiz has now undergone three surgeries to repair the trauma he sustained in the assault.
David Ortiz was released from the hospital yesterday, a source close to the family told ESPN. Ortiz will continue his rehabilitation at home, where he will be closely monitored by full-time nurses and will be visited regularly by his physician.

July 27, 2019
Wow: The Cubs need this guy…
He went over the wall ?? pic.twitter.com/oMzPrQdVqR

— Baseball Quotes (@BaseballQuotes1) July 27, 2019
Magic Number: This number doesn't move unless they win, and they'd better start moving it, or we'll all be done watching Cubs baseball in
September.
Yay can't wait for the late inning meltdown again tonight

Game 104 @Cubs magic numbers:

STL: 61 (59)
MIL: 58
CIN: 53
PIT: 51#EverybodyIn

— CUBS MAGIC NUMBER (@CubsNumber) July 27, 2019
Cubs Birthdays: Celebrating yesterday, were ex-Cubs Yoervis Medina (31), Enrique Wilson (46), Tom Goodwin (51), Elliott "Bump" Wills (67), Larry Biittner (73), Jack Hiatt (77), and posthumously, James "Zack" Taylor (121), George Yantz (133), Jack Doscher (139), and Joe Tinker (139).
THIS WEEK'S NL CENTRAL SCHEDULE:


Tags: Cubs Baseball
,
Jose Quintana
,
,
Willson Contreras
,
Anthony Rizzo
,
Steve Cishek
,
Albert Almora Jr
,
Tyler Chatwood
,
Rowan Wick
,
,
Yu Darvish
,
Kyle Hendricks
,
Cole Hamels
,
Daniel Descalso
,
Pedro Strop