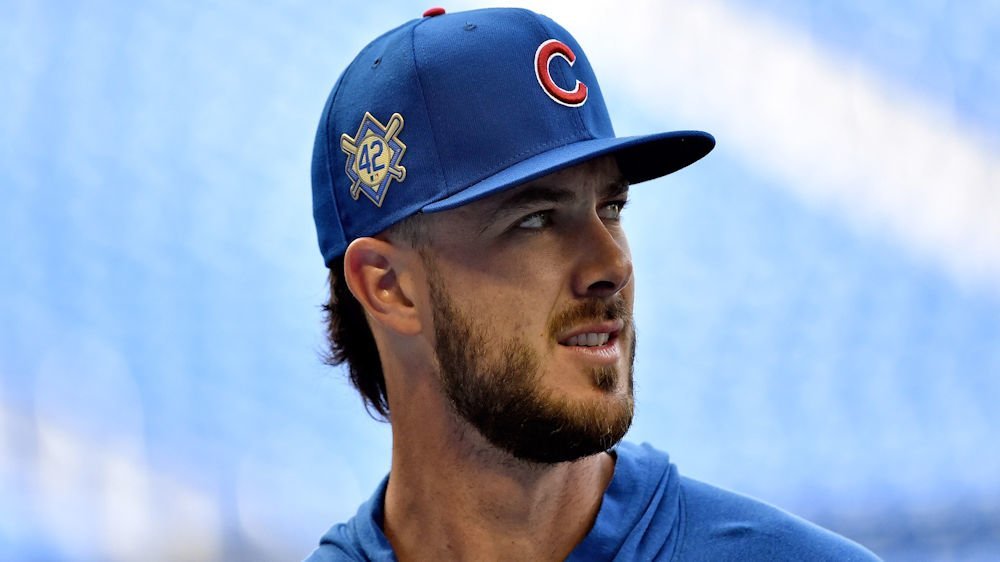 | | |
| --- | --- |
| Cubs News and Notes: Kris Bryant injury update, Ian Happ recalled, Magic number, more | |
---
| | | |
| --- | --- | --- |
| Friday, July 26, 2019, 7:55 AM | | |
Next Game: Friday, 7:10 PM (NBC Sports Chicago): RHP Kyle Hendricks (7-8, 3.41 ERA) vs Gio Gonzalez (2-1, 3.60 ERA).
Today's Game Preview:
A lot could potentially happen in the NL Central over the next week, including the Cubs having a commanding lead in the division, if they can take at least two from Milwaukee. St. Louis will be busy with the Astros over the weekend but will then return to Busch Stadium to host the Cubs, beginning on Tuesday night. If the Cubs fail to do well in Milwaukee and the Cards beat-up on Houston, there'll be some disastrous consequences in terms of the standings, especially if the Cubs falter again in St. Louis.
As always, CubsHQ will have a detailed series preview for you, before the first pitch tonight.
Cubs News, Notes and Commentary:
Cubs/Brewers Probable Pitchers: Saturday, 6:10 PM (ABC-7): LHP Jon Lester (9-6, 3.87 ERA) vs MIL TBD. Sunday, 1:10 PM (ABC-7): LHP Jose Quintana (8-7, 4.42 ERA) vs RHP Zach Davies (8-3, 3.17 ERA).
Bryant's injury: After being removed from Wednesday's game with right knee soreness, Kris Bryant explained that this is an issue that he's been dealing with since the All-Star break, defining it as "lingering soreness." Bryant tweaked it again during batting practice before Wednesday's game, getting a cleat caught in a turf mat, which he says exacerbated the soreness. KB says he's not at all concerned and will- or at least should- be ready for action tonight against the Brewers.
Kris Bryant's departure from Wednesday's game due to right knee soreness heightens #Cubs interest in Sogard and Nicholas Castellanos. By metrics, Sogard has been an above-average defender at 3B in limited action. Castellanos likely is open to returning to 3B with a new team. @MLB

— Jon Morosi (@jonmorosi) July 25, 2019
Happ recalled: Well, I'll be damned, the Cubs recalled Ian Happ yesterday from Triple-A Iowa. When they passed on Happ a total of four different times since spring, I was sure he'd either be traded or would be buying a permanent home in Des Moines. I suppose they may be showcasing him for teams that want to see major-league readiness, but then again, scouts could have seen him in Iowa just as easily. If he's half as improved as they say he is, he should be able to make some bit of difference, but I guess we'll see.
There has been no announcement on who the Cubs will option to the minors to make room for Happ, but I'd suspect they are going to wait until later today, to see if Bryant will be ready for action. It will more than likely be a reliever headed to Iowa to make room for Happ.
Happ's stint in the minor leagues was a series of gains and retreats. He'd cut his K%, then it would come up again. Then the power would come, then it would fall back. This latest 19-game stretch was him running on all cylinders: 348/477/652, 19.8 BB%, 20.9 K%.

— Cubs Prospects - Bryan Smith (@cubprospects) July 25, 2019
Anthony Rizzo's ejection: Following Wednesday night's game, Maddon spoke to the media about Rizzo's ejection following a strikeout.
Umpires ??????? https://t.co/Rw0ogmiKJn

— Mick Gillispie (@BroadcasterMick) July 25, 2019
The leadoff man: Although Kyle Schwarber seemed to be doing as well… let me rephrase that… seemed to be doing no worse than anyone else in the leadoff spot this year, it's becoming more and more evident that the Cubs do need a better man in that position.
#Cubs must improve in the leadoff spot, as @DTrainMLB said on @FS1 #MLBWhipAround last night. Their .296 OBP among leadoff hitters is 4th worst in @MLB. This explains their interest in Eric Sogard, whose .858 OPS batting leadoff is 7th best in MLB (min. 270 AB). @MLBONFOX

— Jon Morosi (@jonmorosi) July 25, 2019
I'm honestly surprised, for as "creative" as Joe Maddon is, that he hasn't at least attempted to try Robel Garcia (especially against righties) in that slot. Although the sample size is still small, his OBP (47 plate appearances) is .319, and his OPS is 1.017. Garcia switch hits, and while batting left-handed, posts a slash line of .333/.364/.767 with an OPS of 1.130 in 35 plate appearances. Garcia's numbers against Southpaws are just about as bad as the rest of the teams are, but he has racked-up a triple and a homer from the right side of the plate.
Can Strop cope? Pedro Strop performed well for an inning in San Francisco on Wednesday night, but that neither erases nor negates, the continuous problems that he's had this season. Between blown saves, command problems and control issues, Strop, who should have been the Cubs' setup man, may now be one of the reasons that the Cubs continue to seek a solid reliever. Read more in Sahadev Sharma's article in The Athletic (subscription required).
Pedro Strop's struggles have the Cubs search for relief help carrying even more importance. His issues may be correctable, but Theo and company can't rely on that with the deadline just days away. https://t.co/V1RNoyCd7l

— Sahadev Sharma (@sahadevsharma) July 25, 2019
Cubs/Royals: It's been rumored that the Mike Montgomery-Martin Maldonado trade wasn't the only dealings the Cubs would have this trading season, but the question is who are they interested in? The Cubs were scouting Whitt Merrifield, but KC has been wishy-washy about whether or not they'd trade him, with the latest reports saying that they won't. Jake Diekman is reportedly for sale, but the Cubs would (or at least should) have little interest in a 32-year-old lefty reliever, who's posted a 0-6 record with a 4.75 ERA over 41.2 innings (48 appearances).
I initially thought maybe they'd look to re-sign speed-demon, Terrance Gore, but after Gore was DFA'd he quickly wound up finding a home with the Yankees (cash deal). The Cubs tend to like to stock up on speed this time of the year, which leads me to wonder if a deal for Billy Hamilton could be in the works. According to MLB Trade Rumors, KC likely wants to deal Hamilton, and while he'd certainly provide speed, his batting average (.217) is not something the Cubs can afford. The Cubs missed the boat on Gore, as the little speedster was able to rack up a .275 batting average this year in 58 plate appearances (51 at-bats), but hey, Hamilton's not a completely bad option either, although he is working for $5.25M this year.
Magic Number: The Cubs have a lot of work to do if they're to capture the division and make a playoff run. With 70 games left, here's where they stand.
July 25th @Cubs magic numbers:

STL: 61
MIL: 58
CIN: 54
PIT: 53#EverybodyIn

— CUBS MAGIC NUMBER (@CubsNumber) July 25, 2019
Baseball Quotes:
There's no crying in baseball! pic.twitter.com/zkiHjVcUkU

— Baseball Quotes (@BaseballQuotes1) July 25, 2019
Cubs Birthdays: Celebrating yesterday, were ex-Cubs José Bautista (55), Mick Kelleher (72), and posthumously, John Tener (156). Also. posthumously, Happy Heavenly Birthday to the greatest running back of all time. Mr. Walter Payton. Sweetness would have turned 65.
THIS WEEK'S NL CENTRAL SCEHEDULE:
(Wins are in green, losses in red)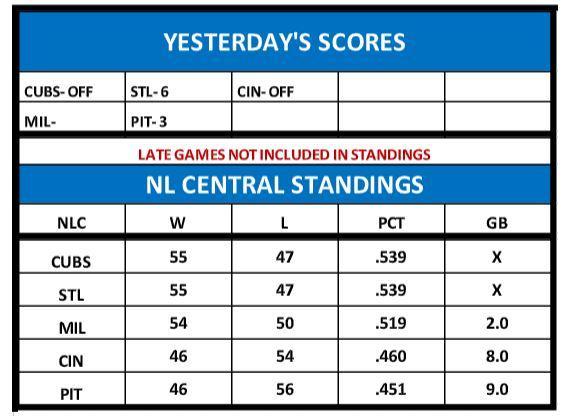 Tags: Cubs Baseball
,
Kyle Hendricks
,
,
Jose Quintana
,
,
,
Anthony Rizzo
,
Addison Russell
,
Kyle Schwarber
,
Robel Garcia
,
Pedro Strop
,
Mike Montgomery
,
Joe Maddon