| | |
| --- | --- |
| Cubs lose on walk-off, game notes, pitching probables, standings and MLB news | |
---
| | | |
| --- | --- | --- |
| Monday, April 1, 2019, 8:22 AM | | |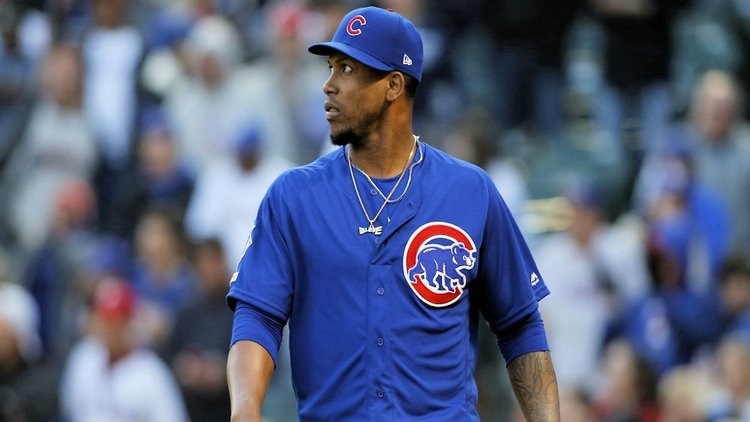 Next Game: Today: 6:10 PM (CDT), Cubs @ Braves. Kyle Hendricks (0-0, 0.00 ERA) vs LHP Sean Newcomb (0-0, 0.00 ERA).
Cubs' Home Opener: 7 Days. April 8 vs Pirates: Game time: 1:20 PM Central. (ABC-7, MLB.TV)
Cubs News & Notes:
Sunday's Game Recap: In the rubber-match of the Cubs three-game set in Texas, Joe Maddon sent veteran lefty, Cole Hamels to the mound to square-off against Rangers' righty, Lance Lynn.
As was the case yesterday, the Cubs led for a majority of the game but lost this one on a walk-off wild-pitch by Pedro Strop.
Final: Cubs-10; Rangers-11.

Game notes (3/31/2019)
(1) Scary moment in the first for Victor Caratini: . After making a fantastic, off-balance catch on a foul ball, Caratini fell backwards, striking his head. Caratini went down immediately, grabbing his head, but after being attended to by the training staff, he toughed it out, stayed in the game, contributing both offensively (2 for 4 with a walk) and defensively.
NO competitor wants to come out of a game when your bell gets rung. *NOBODY*. But while you may not feel the affects immediately, and the team is counting on you to play, your life is going to be long. Please take care of your brain. @LenKasper @Cubs #GoCubsGo pic.twitter.com/h6MBYgbTkA

— Billy Krumb (@ClubhouseCancer) March 31, 2019
(2) Two words (or rather, one hyphenated word) SCHWAR-BOMB: . (3) Hamels: looked great; and then he didn't. He lasted five innings, but fell apart in the fourth, giving up the first run of the game, followed by a grand slam. (4) New word: RIZZ-ROCKET: Rizz nailed it, to say the least, with an exit velocity of better than 113 mph- a new personal best. (5) Jason Heyward: Good offensive day (2 for 5, RBI), and another laser throw that saved a run. (6) Tyler Chatwood: : SOLID, despite a pair of walks and a homer. Chatty got through his first inning on ten pitches, he got himself into a jam with a couple of walks in his second frame, but again, rather than to let him work his way out of it, Maddon chose to lift him for Montgomery, who promptly gave up a triple. (Montgomery's ERA currently stands at 81.00).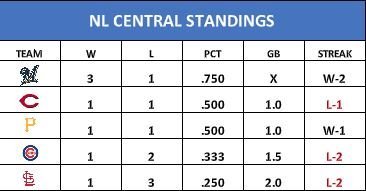 Carl Edwards Jr: I missed it when it happened live (Saturday night), but I knew it would be only a matter of time before teams started protesting Edwards' new delivery, claiming that he balks. I thought the same thing when I first saw it, but while MLB is going to allow the movement in the delivery (a weird looking extra step), Edwards is prohibited from using that technique with a runner on base.
Jose Quintana: People continue to bash Q, and I have no idea why. His relief appearance on Saturday night netted eight strikeouts, the most for any Cubs reliever since Angel Guzman did it for the Cubs on 6/16/2006. I've used a two-word catch-phrase for Quintana since he came to Chicago in 2017, and I'll use it again: Quietly-Solid.
Randy Rosario: One may question Rosario's ability on the mound some days, but there's no questioning his CF skills. Hat-catch alert.
#Schwar?? #2 on the season!

And what a catch by Randy Rosario... IN THE HAT! Stream the game: https://t.co/9zmFt10TD8 pic.twitter.com/k2B5Im5YiL

— Cubs Talk (@NBCSCubs) March 31, 2019
Cubs-Braves probable pitchers: Monday: RHP Kyle Hendricks vs. LHP Sean Newcomb; Wednesday: LHP Jon Lester vs. RHP Julio Teheran; Thursday: RHP Yu Darvish vs. TBD.
Cubs vs Brewers probable pitchers: Quintana, Hamels, Hendricks vs. Brewers April 5-7. With that rotation (through Atlanta and Milwaukee), Jon Lester will pitch the Home-Opener on April 8th.
Maddon on Contreras: There's no doubt, Willson Contreras was on fire Saturday night. Here's Joe Maddon's take:
Maddon on Contreras' hitting pic.twitter.com/p9JuuuxXwe

— Mark Gonzales (@MDGonzales) March 31, 2019
Tommy Hottovy on Darvish: "I saw just an amped up version of him, obviously a guy who was excited to be back here pitching in Texas and excited to pitch against his old team."
Daniel Murphy: Former Cubs' infielder, Daniel Murphy (now with the Rockies) has been sidelined for "several weeks" due to a broken finger. The team also fears tendon/ligament damage.
Factoid: Lester and Hamels are both 35 years-old. The last time the Cubs had a 35+-year-old starter in 2 of first three games in a season was in 1945 (Paul Derringer & Ray Prim) who were both 38.
Cub Birthdays: Happy posthumous birthday (yesterday) to ex-Cubs Gonzalo Márquez (79), John Herrnstein (81), and Francis "Big Jeff" Pfeffer (137).
Note: Due to MLB and Baseball-Reference not updating stats promptly, we've decided to discontinue the Offensive stats section here, and have elected to start posting a new feature, "Cubs: By the Numbers," once (maybe twice) a week. This will offer an in-depth look at offensive, defensive and pitching stats, along with player comparisons and rankings. It won't necessarily be for everyone's taste, but for those who a fanatical about stats (like yours truly), it should be worth the time to read. I've worked hard at developing a new way to rank players, and I've looked forward to revealing it to you (more about that in the first edition).
NL CENTRAL SCHEDULE (March 31 – April 6, 2019)
SUNDAY'S SCOREBOARD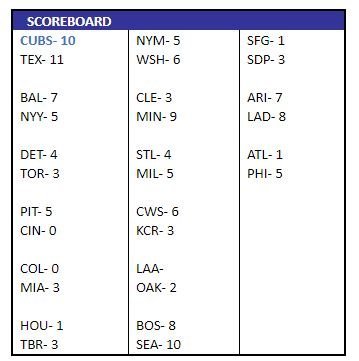 MLB News:
Athletics: After rejoining the A's for a second time, this time on a minor league deal, veteran infielder, Cliff Pennington, has once again been released.
Brewers: Talk is cheap; Kimbrel and Keuchel aren't. While Milwaukee has pipe-dreams of signing either one or both of the big name, free-agent pitchers who've been left unemployed, unless the asking price drops substantially, the Brewers aren't in a position to buy, as per Tom Haudricourt of the Milwaukee Journal Sentinel. The Brewers could certainly benefit from Kimbrel, now that Knebel is out for the season, but it's unlikely that they'll do anything more than wish.
Indians: Cleveland has re-signed infielder, Ryan Flaherty, to a minor league deal and has assigned him to Triple-A Columbus.

Tags: Cubs Baseball
,
Kyle Hendricks
,
Cole Hamels
,
Pedro Strop
,
Victor Caratini
,
Jason Heyward
,
Tyler Chatwood
,
Jose Quintana
,
Randy Rosario
,
,
Yu Darvish
,
Willson Contreras
,
Joe Maddon
,
Tommy Hottovy