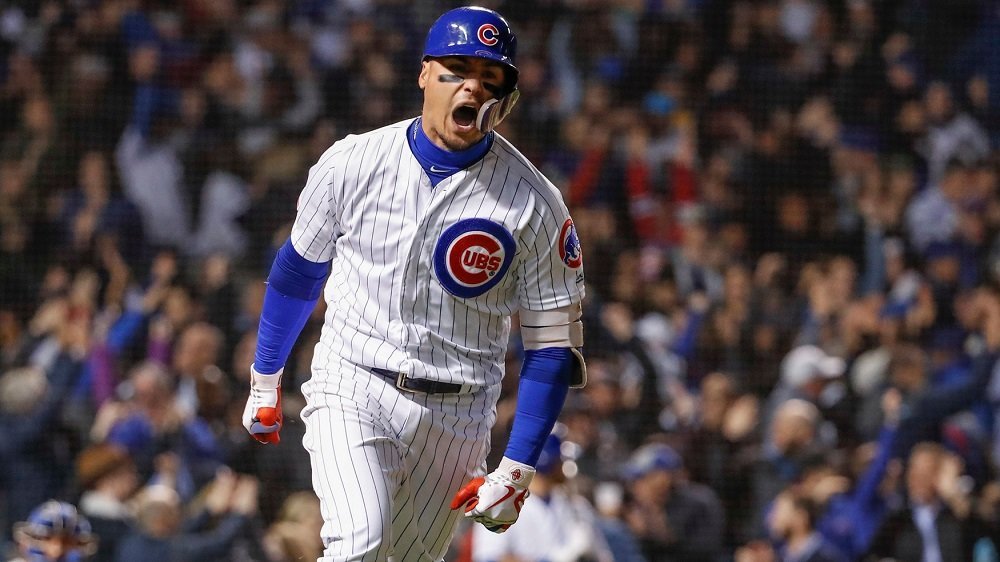 | | |
| --- | --- |
| Cubs odds and ends: Improved Cubs, Chatwood closing, Zo's situation, more | |
---
| | | |
| --- | --- | --- |
| Sunday, May 26, 2019, 2:01 PM | | |
If there's one downfall to be a sportswriter, it's that I have to watch games very closely. At times, it takes some of the enjoyment out of the game, as I'm continually rewinding, pausing and analyzing, but as a result, I usually come up with some sort of interesting, if not useful, observations. So, here we go again, with a few more odds and ends of note.
What a difference a "May" makes:
I couldn't help but notice that in just a month, it seemed like Cubs' players were either taking the elevator straight up to the top of success, or they were plummeting to the basement. If there was one thing that stuck out like a sore thumb, it was that the majority of the offense turned it on, while at least some of the starters seemed to crumble.
The five most improved Cubs (offensively) are:
Kyle Schwarber March/April: .241/.308/.434, 8 walks, 27 K, 4 doubles, 4 homers, 8 RBI.
May: .224/.389/.448, 19 walks, 21 K, one double, four homers, 10 RBI.
Anthony Rizzo March/April: .228/.371/.485, 16 walks, 20 K, 6 doubles, a triple, 6 homers, 18 RBI.
May: .352/.427/.732, eight walks, 8 K, three doubles, eight homers, 20 RBI.
Kris Bryant March/April: .230/.355/.355, 15 walks, 22 K, 10 doubles, 3 homers, 13 RBI. May: .350/.469/.763, 17 walks, 12 K, 4 doubles, a triple, 9 homers, 21 RBI.
Willson Contreras March/April: .288/.418/.625, 13 walks, 28 K, 6 doubles, 7 homers, 17 RBI.
May: .348/.430/.561, nine walks, 16 K, two doubles, four homers, 14 RBI.
Albert Almora Jr. March April: .261/.320/.319, 5 walks, 13 K, 1 double, 1 homer, 6 RBI.
May: .260/.278/.494, two walks, 13 K, six doubles, four homers, 12 RBI.
Meanwhile, the starting rotation has seen it's share of both ups and downs:
Jon Lester March/April: Record-1-1, 2.37 ERA, 17 H, 5 ER, 3 HR, 6 walks, 19 K.
May: Record- 2-2, 2.89 ERA, 35 H, 9 ER, 3 HR, 4 BB, 28 K.
Cole Hamels March/April: Record- 3-0, 3.19 ERA, 28 H, 13 ER, 4 HR, 12 walks, 37 K.
May: Record- 1-0, 3.68 ERA, 24 H, 9 ER, 3 HR, ten walks, 23 K.
Kyle Hendricks March/April: Record- 1-4, 5.33 ERA, 37 H, 15 ER, 3 HR, 8 walks, 24 K.
May: Record- 3-0, 1.96 ERA, 24 H, 8 ER, 3 HR, four walks, 30 K.
Jose Quintana March/April: Record- 3-1, 3.48 ERA, 32 H, 13 ER, 5 HR, 9 walks, 38 K.
May: Record 1-2, 3.04 ERA, 20 H, 8 ER, 2 HR, 9 BB, 16 K.
Yu Darvish March/April: Record- 2-3, 5.02 ERA, 23 H, 16 ER, 7 HR, 22 walks, 33 K.
May: Record- 0-0, 5.12 ERA, 16 H, 11 ER, 1 HR, 14 walks, 29 K.
A year ago, I would have thumped anyone who'd even suggest such a thing, but the idea of Tyler Chatwood closing games for the Cubs suddenly doesn't seem so far-fetched these days. Chatwood has posted insanely good numbers this season, including a 2.86 ERA, second only to Lester's 2.68 ERA (among players with at least 10 IP).
Whether it was by choice or a lack of options, Joe Maddon gave Chatwood a shot at closing Saturday's game against Cincinnati, and he did his job, earning him his first save as a Cub. No Tyler Chatwood outing would be complete without at least a couple of baserunners in a tense spot, but those runners don't matter if they never cross the plate, and neither of those men on Saturday did.
Brandon Morrow has become a ghost. Pedro Strop, as much as this hurts to say, has become undependable, between poor outings and ongoing injuries. Steve Cishek, while powerful, has been a bit wild this year, and it seems Joe Maddon would never even consider Brandon Kintzler for the job.
Despite Chatwood posting the second highest BB/9 rate of his career (currently 5.7), his hits per nine (6.4) are the lowest they've ever been, resulting in his ERA being the lowest that his career has ever seen. While he's still putting men on base, his ability to induce double-play balls is second to none, which has kept his ERA (and a ton of baseballs) in the ballpark. Let's also not discount the fact that Chatwood is a career .209 hitter and has come through in the clutch on at least three separate occasions this season.
Until Theo Epstein makes some definitive move on securing a closer, the Cubs have got nothing to lose by using Chatwood to close, well, maybe a few games, but the bullpen is doing that anyway. Besides, look how long it took Maddon to give Kyle Schwarber a crack at the leadoff spot, and that's turning out pretty well.
Tyler Chatwood locked down the save and unlocked an exclusive offer for #Cubs fans. Enter at https://t.co/paqL7pWuS5.@Biofreeze, available at Walgreens. pic.twitter.com/4DafYsLW7t

— Chicago Cubs (@Cubs) May 26, 2019
ESPN 1000's Ben Zobrist Poll:
I mentioned this briefly in my daily column on Sunday as ESPN 1000 posted a Twitter poll on Saturday, pointing out that the Cubs, in a bit of a cash bind, could have $9M more to spend on relief pitching if Ben Zobrist retired.
As I conceded then, the question is legitimate from a business standpoint, but you'd think ESPN 1000, who interviews Cubs' ownership, management and players on an almost daily basis, might have demonstrated a little more couth.
I speculated when the announcement was made about Zo's impending divorce that he may very well hang up his cleats and focus on mending himself and his children, but at no time was the money for pitching ever even a consideration for me. My thought process was simply that Ben is starting to age (from a ballplayer's perspective), and with everything going on, retirement might be what he deems as the best course of action.
I used to spend a ton of time away from home for work, and that cost me a marriage of my own. All you can think about are the kids and how everything you thought was alright in your personal life, is suddenly all wrong. It's not an easy hole to crawl out of, and it takes time. I wish nothing for the best for Ben, Julianna, and their kids, and I hope this process can be as quick and painless as possible, but they never are.
Are pitching wins and losses antiquated stats?
Back in the day, and I mean long before things WHIP, ERA+, WAR, and FIP were ever even thought of, a pitcher's effectiveness was based on four primary factors: wins, losses, saves (in the case of relievers) and ERA. As time wears on, I've started to think that wins, losses, and saves are outdated as they really don't give you the entire story.
Most would look at a pitcher with a 5-0 record and think, "Hey, this guy is pretty damn good." Likewise, most would view a pitcher with an 0-5 record as someone who may not be of much value to a team. This isn't necessarily the case.
Case and point: A pitcher can take the mound for three consecutive outings, and in each appearance throw a one-hitter (let's say a home run) for 24 innings pitched, while striking out 45 and walking no one. Few would question that would constitute a fantastic arm, but what if in each outing, the pitcher's team couldn't produce a run? Simple, the guy would have an 0-3 record.
The flip side to that would be a pitcher who gives up a ton of walks, hits and runs but has an offense behind him that scores like crazy. Joe Cutter could throw five innings every game, allowing eight runs per outing, but if his team can score two runs per innings while he's still on the mound, that same pitcher would have a 5-0 record.
Just my opinion, but the win/loss stats don't seem to paint an accurate picture of how a pitcher performs. Granted, this isn't always the case, but I've seen it happen time and time again with the Cubs this year, and it indeed happens elsewhere throughout MLB daily.

Tags: Cubs Baseball
,
Kyle Schwarber
,
Anthony Rizzo
,
,
Willson Contreras
,
Albert Almora Jr
,
,
Cole Hamels
,
Kyle Hendricks
,
Jose Quintana
,
Yu Darvish
,
Tyler Chatwood
,
Brandon Morrow
,
Pedro Strop
,
Steve Cishek
,
Brandon Kintzler
,
Ben Zobrist
,
Joe Maddon
,
Theo Epstein