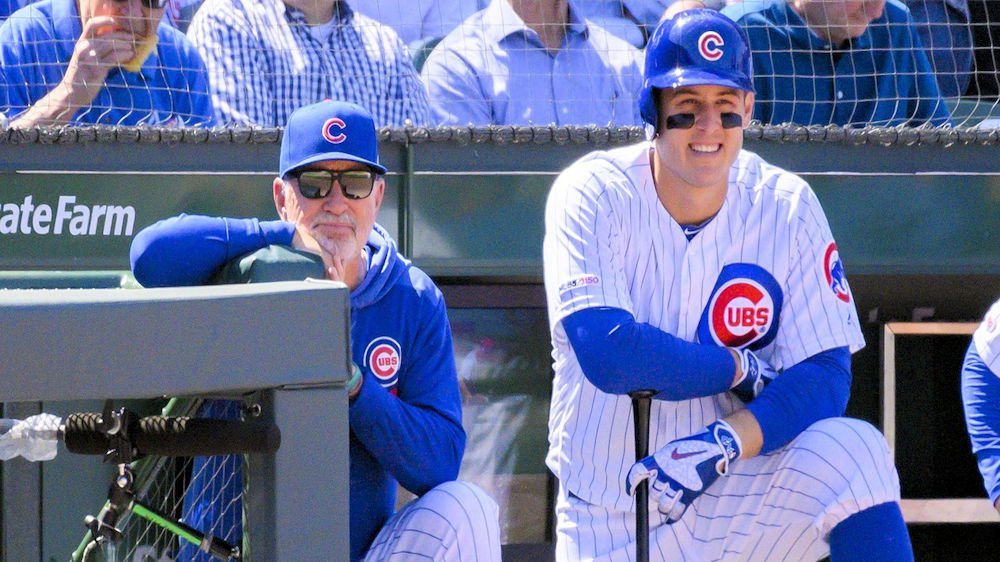 | | |
| --- | --- |
| Cubs vs. Braves Series Preview: TV times, Starting pitchers, Predictions, more | |
---
The only time that the Cubs saw the Braves this year was back in April- a series they'd much rather forget. The Braves swept Chicago to begin the month of April outscoring them 23-8 in the three-game set. Few can dispute the Cubs started 2019 in a gruesome fashion, but times have changed, or have they?
Injury Report:
CUBS: (1) Kyle Hendricks: 10-Day IL (right shoulder inflammation. (2) carl Edwards, Jr.: 10-Day IL (thoracic strain).
Braves: (1) RHP (Starter) Kevin Gausman: 10-day IL (foot). (2) CF Ender Inciarte: 10-day IL (strained back). (3) LHP Sean Newcomb: 10-day IL (concussion).
The Pitching
The Cubs are scrambling to remedy a struggling rotation and an anemic bullpen, and the most significant step they've taken, to date, was promoting top-prospect Adbert Alzolay, who'll start in this series. Theo Epstein has also mandated a six-man starting rotation (featuring Tyler Chatwood in Kyle Hendricks' absence). The Cubs have also activated RHP Tony Barnette from the 60-day IL (shoulder) and have sent Rowan Wick back to Iowa, but they aren't done yet. Craig Kimbrel's coming, and so are trades and DFAs, as the Cubs fight to retain continuity.
God love Jon Lester, but he's been awful. Jose Quintana took a beating on Saturday; Hendricks is still injured, and Darvish continues to be rocked. Cole Hamels, although giving up some hits and runs lately, appears to remain solid. Sometimes a six-man strategy helps- other times it doesn't, but they can't continue this way and hope to contend.
The Braves pitching is tough, and remains so, despite seeing players on the IL. Currently, the team's pitching staff ranks second in the NL with 45 wins, while their 14 losses rank 14th. This is a team whose staff gets plenty of run support, as the team ERA (4.26) ranks only as third best in the league. They will issue walks, but they also love the K.
The Offense
The Cubs offense is a mixed bag this year. They either explode for an insane number of runs, or they bat .150 as a team and do even worse with runners in scoring position. Last time around, they certainly didn't fare well with the Braves, but that's not to say they won't turn it on at home. Despite some severe issues with scoring at crucial times, the Cubs still hold the second highest run differential (+59) in the NL, with the Braves right behind them in third, with a +49 differential.
The Braves' bats are hot, regularly overcoming pitching problems, which amounts to wins. NL Ranks: Runs- 2nd; hits- 3rd; doubles- 6th; triples- 4th; homers- 4th. They tore the Cubs pitching to shreds back in April, and it's highly unlikely that they'll grow cold now.
Mound Matchups
Monday: RHP Julio Teheran (5-5, 3.40 ERA) vs LHP Jon Lester (6-5, 4.13 ERA). Game time 7:05 PM CDT; Televised on NBC Sports Chicago and MLB TV.
Teheran has been hot- posting a 0.81 ERA over eight-straight starts, before faltering some last time out. Kyle Schwarber and Daniel Descalso have hit him hard (collectively 7 for 17), but even the best of the rest have struggled against him. Last time he faced the Cubs, Teheran went 5.0 innings and allowed one earned run on six hits and three walks while striking out seven.
Lester's had better months on the mound, but he did get a win last time out, although it took him 114 laborious pitches over 5.2 innings to do so. Lester saw the Braves in Atlanta in April, a start that saw him last six innings, while allowing two earned runs (both from solo homers) on six hits and three walks- he also fanned seven.
Tuesday: LHP Max Fried (8-3, 4.03 ERA) vs Adbert Alzolay (1-0, 2.25 ERA). Game time 7:05 PM CDT; Televised on NBC Sports Chicago+ and MLB TV.
If the Cubs want to beat Fried, something needs to change, as Carlos Gonzalez is the only Cub who's hit against him, and even then, CarGo's only gone 1 for 4. Collectively, the remainder of the team has gone 0 for 23 against him, and I'm guessing you don't need a calculator to figure that batting average out.
Being this is his first MLB start, Alzolay knows as little about the Braves, as the Braves know about him. A repeat performance of his last outing would be excellent (minus the homer, of course), and it'll be even better if Alzolay can last a minimum of six innings.
Wednesday: LHP Dallas Keuchel (0-1, 5.40 ERA) vs Yu Darvish (2-3, 4.65 ERA). Game time 7:05 PM CDT; Televised on WGN, SAP WGN, MLB Network (out of market only) and MLB TV.
Just two days after the Cubs won the bid for Craig Kimbrel, Atlanta scored the other holdout free-agent, Dallas Keuchel. Atlanta allowed him to rush his way into the lineup, as they're battling injuries, but Keuchel may have paid the price- losing his first outing while allowing four runs in five innings. Keuchel has never faced a single Cubs' player in the 2019 roster, so this will be a bit of a mystery.
Darvish has had problems with a few in this Braves' roster but has done well with the remainder. Albies has crushed him for a .429 average (7 AB), and Donaldson bats .286 (7 AB), but Yu has skunked Acuna (0 for 3), Camargo (0 for 1), Joyce (0 for 9), and he's held McCann and Freeman to a combined 4 for 17.
Thursday: Thursday: Braves TBD vs RHP Tyler Chatwood (3-1, 3.69 ERA). Game time 1:20 PM CDT; Televised on NBC Sports Chicago and MLB TV.
The Braves have currently not named their starter for this game. Foltynewicz was assigned, but he was optioned to AAA on Sunday.
Much like Darvish, Chatwood's had some mixed results (limited exposure) with the Braves. Albies, Flowers, Freeman, Markakis, and Swanson have combined to go 9 for 24 (.375), while Camargo, Donaldson, and McCann have gone a combined 0 for 5.
Series Prediction:
I was right when I said the Cubs and Mets would split, and I'm keeping to the same prediction this time around. I think Darvish finally gets his first win at home, and I believe Chatwood beats the righty-lefty currently named "TBD" as well. I certainly hope so anyway, as I plan on trying to be there.

Upgrade Your Account
Unlock premium boards and exclusive features (e.g. ad-free) by upgrading your account today.
Upgrade Now

Tags: Cubs Baseball
,
Kyle Hendricks
,
Adbert Alzolay
,
Tyler Chatwood
,
Tony Barnette
,
Rowan Wick
,
,
Jose Quintana
,
Cole Hamels
,
Kyle Schwarber
,
Daniel Descalso
,
Yu Darvish
,
Theo Epstein