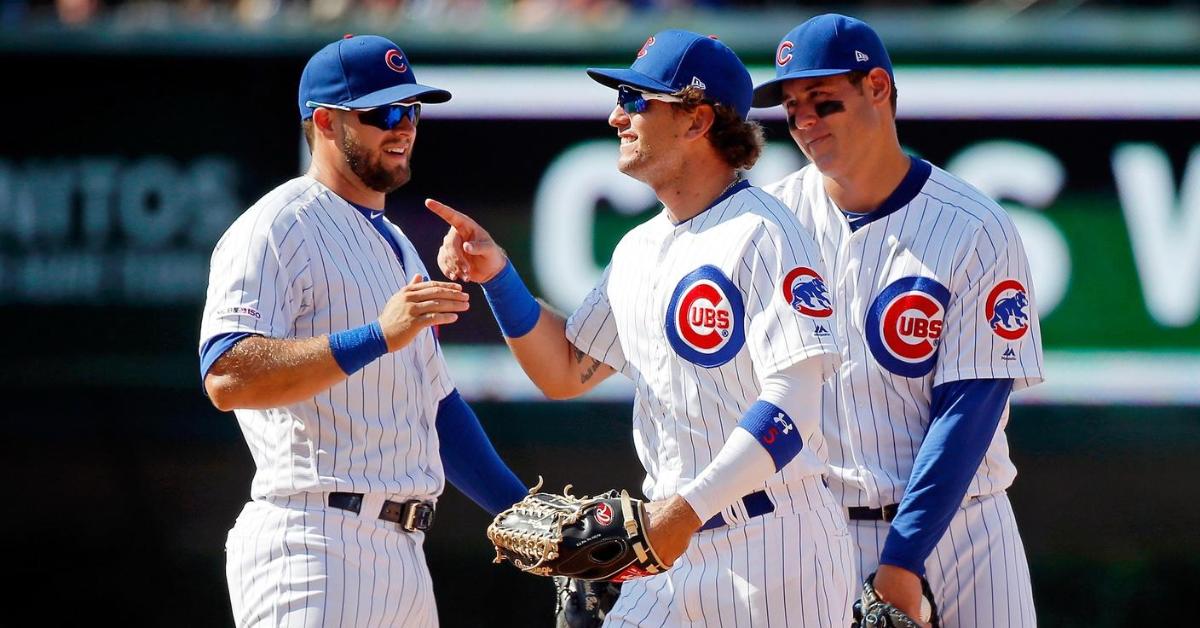 | | |
| --- | --- |
| Cubs vs. Reds Series Preview: TV times, Starting pitchers, Predictions, more | |
---
| | | |
| --- | --- | --- |
| Thursday, August 8, 2019, 1:39 PM | | |
How is it, that the Reds can instill as much fear into the Cubs and their fans, as, let's say the Dodgers? There's no logical reason why Cincinnati should pose such a huge threat, but series after series, they've proven themselves to be both a worthy opponent, as well as a royal thorn in the rear-end.
The time for dropping two out of every three on the road- especially to a divisional opponent- has come. Injuries or not, the Cubs cannot afford to lose this series, especially with St. Louis and Milwaukee now flailing.
Injury Report:
CUBS: Willson Contreras (hamstring); Craig Kimbrel (knee); Daniel Descalso (ankle): Brandon Kintzler (pectoral); Kris Bryant (day to day- knee inflammation); Ben Zobrist: Day-to-day, as he attempts a comeback.
REDS: Curt Casali (knee); Derek Dietrich (shoulder); Amir Garrett (suspension from fight); Jared Hughes (suspension from fight); Juan Graterol (concussion); Tyler Mahle (hamstring).
The Pitching
The suspensions of Amir Garrett and Jared Hughes may sting a little for Cincinnati. Both relievers were placed on suspension for their part in the massive brawl with Pittsburgh last week- a fight which was probably both (in some way) justified and long overdue, as the Pirates' pitching staff continues to take headshots at their opposition. The Cubs will be seeing the Bucs again, a little later this month, as well.
When it comes to the Cubs' starting rotation, nothing could be finer, but for the next while, those guys need to go deep- really deep- or there could be issues. With a good chunk of the Cubs' upper-echelon relievers already on the IL, the bullpen has once again gone into a "disaster by committee" role again. As Steve Cishek continues to falter in crucial situations, more and more weight will need to be placed on Rowan Wick, Derek Holland, and Kyle Ryan, and if there's any justice in this world, Tyler Chatwood may also (finally) get a chance to prove his worth this year. The good news is that Craig Kimbrel is adamant about being able to return to the pen when his 10-day IL stint expires, but then again, there was a time when the same was said about Brandon Morrow.
The Cubs thought it best to reactivate Pedro Strop, but I'm not so sure this was the wisest choice. We all realize that Strop most likely went to the IL as a favor to the team and that he probably wasn't injured. I thought giving Dakota Mekkes another shot may have proven beneficial, but hey, what do I know?
The Offense
The Reds lost some decent hitting at the trade deadline, when they sent Yasiel Puig to the Indians, as part of the deal that brought Trevor Bauer to the Reds, but they still possess plenty of power with who remains. I've said since last winter that this team clearly has the potential to wind up in third place, and they do finally seem to be making a move.
With the Pirates mired in last place (11.0 games back, and 5.5 games behind the Reds), Cincinnati has now set its sights on chasing down a struggling Brewers' team. Milwaukee has managed to displace itself by 4.0 games, and their lead over the charging and hopeful Reds is now down to just 3.5 games.
Nicholas Castellanos has managed to single-handedly set this club's offense on fire in just a week. Period. While the Cubs continue to belt home runs (Castellanos has also now joined that train), there seems to be a much greater emphasis, by the players, themselves, on merely putting the ball into play, and this concept is (believe it or not) paying huge dividends.
Also coming to life, is the Cubs' new second baseman, Tony Kemp. This is never a guy who's going to net you 25 home runs and 100 RBI, but much like Castellanos, he's making contact regularly, even if he doesn't carry quite as big a punch. He has been putting the ball in play and has contributed with sac-flies and hits, which is far more than the Cubs were getting from Daniel Descalso.
With the bullpen in shambles, there's a straightforward way to sidestep the landmine: Score… and do so often. If the offense can amass runs and hits as they have been since starting the last homestand, they'll be able to compensate for a tired bullpen.
Mound Matchups
Thursday: LHP Cole Hamels (6-3, 2.84 ERA) vs LHP Alex Wood (1-0, 3.18 ERA). Game time 6:10 PM CDT; NBC Sports Chicago.
Cole Hamels has had just one start since returning from the IL and pitched well in what would become a 4-1 win over Milwaukee, last Saturday. Limited by a pitch count (precautionary), Hamels was able to last five scoreless innings, while fanning six, giving up just four hits and walking no one. In Hamels' last outing before going on the IL, he faced the Reds, throwing only 22 pitches before being removed after an inning. The appearance saw him strikeout one while giving up two hits, and an earned run. That was the only time that Cole faced Cincinnati this year.
The deal that sent Wood to the Reds from Los Angeles has backfired about six ways to Sunday. Yasiel Puig has been traded, Matt Kemp was designated for assignment and Wood has made just two starts for Cincinnati (back injury to start the season)- though the team is 2-0 in those appearances.
In his inaugural outing against the Rockies (August 2), Wood struggled some, hurling 80 pitches in just 4.2 innings of work. In that outing, Wood fanned four, but allowed seven hits, a home run and a pair of earned runs, while walking one. In his second start (on 8/2 vs. Atlanta), Wood didn't fare much better. Although he did last 6.2 innings on 93 pitches, he allowed a pair of earned runs- both as the result of homers- and gave up an additional two hits, while walking one and fanning five.
If Sir Alex is going to be hanging fastballs and breaking pitches over the plate, the Cubs will undoubtedly be ready to pounce. We already know how much Kyle Schwarber and Kris Bryant enjoy hitting at Great American Ballpark, and that place is tailor-made for guys like Anthony Rizzo, Javier Baez, and Nicholas Castellanos.
Friday: RHP Yu Darvish (4-5, 4.36 ERA) vs RHP Trevor Bauer (9-8, 3.85 ERA). Game time 6:10 PM CDT; NBC Sports Chicago.
If you'd just started watching the Cubs a month ago, having no idea about the history of Yu Darvish's injuries and struggles as a Cub, you may think that his six-year, $126M contract was a "team-friendly" deal for Chicago; he's been THAT good lately.
Over the last four weeks, Darvish has pitched to a 2.17 ERA (five starts), while holding his opponents to a slash line of .198/.232/.311 with an OPS of just .543. During this period, he's fanned a total of 38, while walking only two. Of the 21 hits that he has given up in his 29 innings of work over the last month, Yu has allowed 21 hits, with only four of those going for extra-bases (2 doubles, 2 HR), earning himself an insanely low WHIP of 0.793.
In three starts against the Reds this year, the Cubs have gone 2-1 behind Darvish, who last saw the Reds on July 17, a game that the Cubs won by a final of 5-2. When Darvish faced the Reds in Cincinnati, back on May 15, he allowed two earned runs on five hits, throughout 5.1 innings.
The Cubs have seen very little of Trevor Bauer- though there was Game-2 of the 2016 World Series, that saw Bauer last only 3.2 innings, after giving up six hits, a pair of walks and two earned runs… ahh… the memories.
Back to the here-and-now, Bauer has been good this year, though he did take a little bit of a beat-down in his first outing with the Reds against the Braves on Saturday. In that outing, Bauer lasted 4.1 innings, allowing seven hits and three earned runs with three walks while striking out four.
Saturday: RHP Kyle Hendricks (8-8, 3.06 ERA) vs RHP Sonny Gray (6-6, 3.25 ERA). Game time 6:10 PM CDT; WGN.
The Professor pitched a gem on Monday night, but unfortunately, the outing resulted in a no-decision, as the Cubs couldn't push that extra run across before Hendricks' night ended. Hendricks has been sharp since returning from the IL, but for the last month, he can't seem to buy a win, with the Cubs going 2-6 over Kyle's previous eight outings.
The Cubs are 1-2 this year against Cincinnati when Hendricks is on the hill, with the Cubs being outscored 12-9 in those outings. Kyle has allowed a total of six earned runs when facing the Reds this season, good enough for a 2.70 ERA, but the offense has failed to give him the run support that he needs.
Sonny Gray has seen the Cubs three times this year as well, (twice at GABP), resulting in a 2-1 record for the Reds. The Cubs did manage to produce seven runs over the 17.1 innings that Gray hurled, producing nine hits with five home runs in the process. Gray has been stingy with walks- only allowing one, but he's managed to strike out a total of 21 Cubs this season.
Sunday: LHP Jon Lester (9-8, 4.46 ERA) vs RHP Luis Castillo (11-4, 2.63 ERA) Game time 1:20 PM CDT; NBC Sports Chicago.
Big Jon usually rules the roost at Wrigley, but he took a pounding on Tuesday night that was enough to make a grown man cry. After giving up eight runs to the A's in the second inning, they tagged Lester for another three in the fourth frame.
Under no circumstance should a pitcher be hung out to dry that way, but Joe Maddon seems to have a propensity for doing so. With the bullpen dinged up, I'd agree that he needs the starters to go deep, but if a guy is struggling that badly, I think Maddon owes it to the pitcher and team to get him out of thee by whatever means.
Lester has struggled mightily on the road this year, posting a 3-5 record, with a 4.81 ERA. He's only faced Cincinnati once this year, in an outing that lasted just 5-2/3 innings. In that game, the Reds clobbered Jon for four runs on five hits, including a three-run first inning.
Castillo has also seen the Cubs three times this season (twice in Cincinnati), with the Reds winning two of the three games. The Cubs have managed to tag him for six runs (12 hits, two homers) throughout 18-1/3 innings, but the flip side to that is that Castillo has only walked five while striking out 25 in the same time frame. The Reds have played well with Castillo on the hill, winning five of his last six starts, while posting a 13-10 record with him as a starter.
Series Prediction:
The Cubs have the absolute ability to win this series; hell- they have the absolute ability to sweep the thing- the question is, can the starting pitching and offense compensate for a drowning bullpen while playing on the road? I think so, which is why the Cubs take this series 3-1 and capture their first road series win in three months.
Next up: An off day on Monday, August 12, then Cubs vs. the Phillies in Philly for three games.

Tags: Cubs Baseball
,
Willson Contreras
,
Daniel Descalso
,
Brandon Kintzler
,
,
Ben Zobrist
,
Steve Cishek
,
Rowan Wick
,
Kyle Ryan
,
Tyler Chatwood
,
Brandon Morrow
,
Pedro Strop
,
Dakota Mekkes
,
Cole Hamels
,
Kyle Schwarber
,
Anthony Rizzo
,
,
Yu Darvish
,
Kyle Hendricks
,
,
Joe Maddon