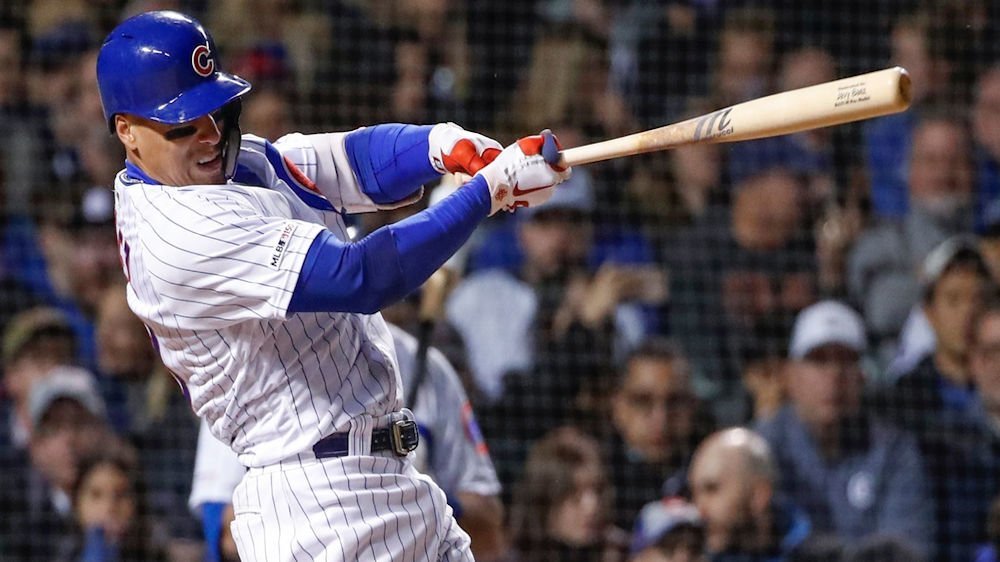 | | |
| --- | --- |
| Cubs vs Reds Series Preview: TV times, Starting pitchers, more | |
---
Sunday's win against Milwaukee marked the Cubs' 8th straight series win, as they continue to march forward. The team is now 24-14, and the only two things that can stop them at this point are injuries (god-forbid) and themselves. Imagine what the standings would look like had they not started the year 2-7- on a related note, I hear there's a job opening at PECOTA…
At home or on the road, this Cubs team has figured out a way to overcome adversity, scoring deficits and anything else that stands in their way. They're working around the temporary loss of Pedro Strop, and they've compensated for Ben Zobrist's absence. With the sole exception of needing to figure out to get Yu Darvish going in the right direction, the Cubs can't possibly play any better.
The Reds are not (at least not yet) the team many thought they'd be this year, though for some reason they always seem to play the Cubs well- almost to the point of embarrassment last season. Over the winter they picked up some big names like Yasiel Puig, Matt Kemp, Zach Duke, and Tanner Roark to catapult themselves from perpetually landing in last place, but it hasn't seemed to work.
Kemp's already been released; Duke's ERA is above 7.00, Puig is batting .214, and before the start of Sunday's game, they were sub .500 (18-22), 6.5 games back and in last place. They have talent, and they're manufacturing runs, as indicated by their +31 run differential 4th highest in the NL), but somehow, the pieces have yet to meld.
Never take anything for granted though. I thought the Cubs would plow through the Marlins last week at Wrigley, but those turned out to be some tough-fought wins (and one very unexpected loss).
The Pitching
Any rotation is going to have their ups and downs, and the Cubs are no different. While Kyle Hendricks has found his groove over the last two starts, Cole Hamels and Jose Quintana have been knocked around a little. Although Jon Lester remains as solid as a rock, Yu Darvish has struggled to find any consistency, resulting in the need for extra run-support from the Cubs' offense. Joe Maddon has options if Darvish continues to erode, the question is; will he choose to exercise them? Tyler Chatwood did well in his one start this year, and Mike Montgomery was brilliant is his first outing since returning from the IL.
The Cubs bullpen has seen a few issues since recovering from a hideous start to the season, but for the most part, they've continued to turn in solid performances. Pedro Strop (10-day IL, left hamstring) has had a pair of bad outings this year that have cost the Cubs two games, and Brad Brach continues to walk batters in the late innings. Beyond the bumps and bruises, the Cubs have been able to compensate, as Montgomery and Carl Edwards, Jr. have returned to the team with new-found control and accuracy, while Brandon Kintzler and Kyle Ryan continue to shine.
The Offense
You can't ask much more from the Cubs' offense- they're batting .264/.350/.472 as a team (excluding pitchers), and they're not only scoring runs, they're scoring clutch runs. Even when including the pitchers, the team ranks fifth in batting average, first in OBP and third in slugging in the NL (.254/.350/.452). Although the Cubs still rank 5th in the NL in terms of homers (57 as of Sunday), they rank 2nd in runs scored, 4th in doubles and 2nd in walks. Unfortunately, they lead the league in hit batsmen (23), but the one thing this team lacked- sacrifice hits and flies, has become a regular thing, as they've now amassed a total of 16 of them (3rd in the NL).
Mound Matchups
Tuesday: RHP Kyle Hendricks (2-4, 3.19 ERA) vs RHP Sonny Gray (0-4, 4.15 ERA). Game time 5:40 PM CDT; Televised on NBC Sports Chicago and MLB TV.
What a turnaround for Hendricks in the last two starts. After several bad outings, Hendricks has now gone 17 innings in his previous pair of starts, allowing no runs, giving up no walks, and getting tagged for only nine hits. Joe Maddon should've absolutely let Kyle take the mound for the ninth inning against Miami last Wednesday, but the Cubs won, and life goes on.
The Professor has faced the Reds a total of 13 times in his career, holding them to a slash line of .243/.315/.336, while racking up 68 strikeouts and a strikeout to walk rate of 2.72. He's dished out 25 walks against them, but that's a small percentage of the 315 men that he's faced. The Reds have done a little better against Hendricks when playing in Cincinnati.
Sonny Gray is another acquisition that has fallen flat for the Reds. His 0-4 record and +4.00 ERA certainly isn't what the team had hoped for. He's given up 31 hits and 18 ER in 39.0 innings this year, along with 16 walks. He can be effective, as he's striking out just over a batter an inning (41 total) while boasting a strikeout to walk rate of 2.56. Gray's had very limited exposure to the Cubs, but he's been very effective against the five players that he has faced (Kris Bryant, Willson Contreras, Jason Heyward, Anthony Rizzo, and Addison Russell), holding them to a .071batting average in a combined 14 at-bats.
Wednesday: RHP Yu Darvish (2-3, 5.40 ERA) vs RHP Tanner Roark (3-1, 3.27 ERA). Game time 5:40 PM CDT; Televised on WGN and MLB TV.
For $126M, the Cubs aren't about to give up on Darvish yet, though I still think making him a middle reliever and inserting Chatwood into the lineup wouldn't be a bad move. In eight starts this year, Darvish has managed to achieve a 2-3 record, but his 5.40 ERA and 1.718 WHIP leave a lot to be desired. He's beaned three guys and tossed four wild pitches already, though when his stuff is working, he does well for short periods (44 K). Historically, he does his best on 6+ days rest (.667 win %), which will be the case with this outing. He's only faced the Reds three times in his career, but he has done well against them, posting a 2-0 record- both of those outings were at great American Park (Cincinnati).
Tanner Roark is the one guy who's absolutely worked out for the Reds. He's now 3-1, and despite a bundle of walks and hits over 41.1 innings (59 total), the Reds have rallied behind him. The good news is, the majority of the Cubs have faced Roark several times in the past, and they've done reasonably well against him. In a combined 87 at-bats, Chicago has managed a .269 average with four homers and 10 RBI. Bryant has clobbered him, batting .455 in 11 at-bats, while Heyward has been entirely ineffective, batting .000 in 18 at-bats. With the exceptions of Javier Baez (.200), Daniel Descalso (.200) and Heyward, the remainder if the team has batted better than .250 against Roark.
Thursday: RHP Jose Quintana (4-2, 3.50 ERA) vs RHP Luis Castillo (3-1, 1.97 ERA). Game time 5:40 PM CDT; Televised on NBC Sports Chicago and MLB TV.
Jose Quintana has been more than good this season over his seven starts (and one relief appearance), and you couldn't ask any more from a #5 starter. He's always been (in my words) quietly solid, but he's turned heads this year. He's pitched very effectively, and he's chewing up innings, averaging just over six innings per start. Q has done well in his six starts against the Reds, posting a career record of 3-2 (.600) over 31.2 innings. His ERA against them is a little high (3.69), but the Cubs have compensated with run support. Q's had two starts at Great American Park, posting a 1-1 record and a 3.00 ERA.
This is the one game in the series where the Cubs are going to have to work for that W, as Luis Castillo has been gold this year. Posting an ERA of just 1.76 over nine starts (56.1 IP), he's only given up 11 ER, and has struck out 70 while walking only 24 (WHIP- 0.994). The Cubs have had mixed results against him- Kyle Schwarber has posted a .500 average in six at-bats, Bryant is hitting .333 in nine at-bats, and Descalso has hit Castillo to the tune of a .400 average (2 HR, 6 RBI) in ten at-bats. The downside is that Heyward is 0 for eight against him, Bote is 0 for 3, and Rizzo has been held to a .167 average in 13 attempts.
The Reds manhandled the Cubs last June at GABP, sweeping them in a 4-game set and outscoring them 31-13. It never seems to matter where Cincinnati is in the standings; they always seem to put their best effort forward when playing Chicago. I see another series win here, but I wouldn't be surprised to see the Cubs drop one game- most likely Wednesday's (Darvish vs. Roark). Next stop, Washington DC.

Upgrade Your Account
Unlock premium boards and exclusive features (e.g. ad-free) by upgrading your account today.
Upgrade Now

Tags: Cubs Baseball
,
Pedro Strop
,
Ben Zobrist
,
Yu Darvish
,
Kyle Hendricks
,
Cole Hamels
,
Jose Quintana
,
,
Tyler Chatwood
,
Mike Montgomery
,
Brandon Kintzler
,
Kyle Ryan
,
,
Willson Contreras
,
Jason Heyward
,
Anthony Rizzo
,
Addison Russell
,
,
Daniel Descalso
,
Kyle Schwarber
,
Joe Maddon