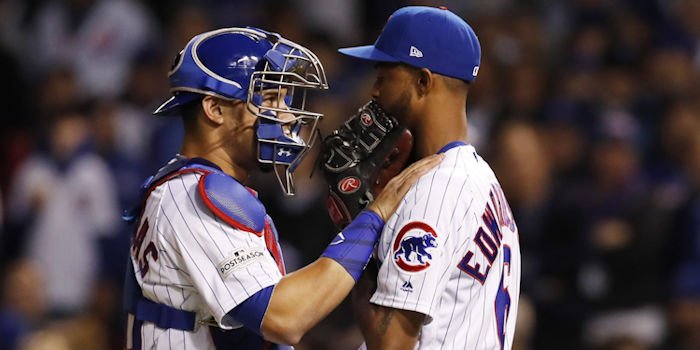 | | |
| --- | --- |
| Did the Cubs take their best 25 for tonight? | |
---
With the ability to change the roster again, should the Cubs advance from the Wildcard game, I have to admit that I'm a little shocked at some of the choices made by Joe Maddon.
With a limited bench, partially due to Addison Russell's extended stay on administrative leave, I'm a little surprised that the Cubs skipper didn't opt for one, if not a few, extra bats. Taylor Davis has hit well off the bench in his limited appearances this year, and I'm honestly shocked that he didn't get the nod for the Wildcard game.
Russell wouldn't have made my post-season roster, based on a pathetic season at the plate and chronic errors in the field, but his replacement, Mike Freeman, wouldn't have gotten the nod either. The Cubs recently acquired catcher, Bobby Wilson, from the Twins, but his season batting average of only .178 (24 for 135) and career batting average of just .208, would have made him even less attractive than the recently departed Chris Gimenez. Yes, I think the Cubs may have missed the boat by not taking Taylor Davis as a precautionary measure for this game.
The Cubs have announced that Pedro Strop is eligible for tonight's game, and I think you almost have to take a chance on a Strop at 50% healthy, then to have no experienced closer at all. Coin toss at best.
The biggest surprise to me may have been some of the choices made regarding the reliever's and starter's names appearing on the roster. Why add Kyle Hendricks or Mike Montgomery if neither will pitch tonight? I suppose you almost have to add them both, as they've been an integral part of the team, but they could have lent moral support from the dugout without being activated; by the way, Jose Quintana's name doesn't appear either.
With Montgomery pitching over the weekend against St. Louis, a relief appearance by him would be highly unlikely tonight, but who knows? Montgomery was getting pounded pretty hard on Sunday and only survived two-and-a-third innings, so perhaps he could get the call, maybe as a last resort.
The biggest shock of all to me was the absence of Jaime Garcia's name on the list. Garcia crashed and burned as the starter in what would be a bullpen game against the Nationals on September 8, giving up three runs in just a third of an inning, but he has rebounded nicely as a reliever. For the record, Rosario allowed four runs in a third of an inning in the same game. In 7.1 innings of relief for Chicago, Garcia has allowed only one run, making his ERA as a reliever a highly respectable 1.23.
With Carl Edwards Jr. continuing to struggle with control, Jaime Garcia would have (and should have) definitely gotten the nod. Yes, you'd be trading a right-hander for another southpaw, but you'd also be trading Edwards control issues and 2.60 ERA for a guy who has fared much better in the closing month. Even if one were to argue on Edwards behalf, taking Garcia over Justin Wilson's ERA of 5.87 over his last 15 games or Randy Rosario's ERA of 6.17 over his last 15, seems like it should have been a no-brainer.
I guess it's neither here nor there, as the table has now been set. If the Cubs win, Joe Maddon will be viewed as a genius, and if they should lose, the rest of us (and certainly Maddon) will only be able to play the "what if?" game. I wish the Cubbies well, but I'm afraid we are continuing to fight an uphill battle.

Upgrade Your Account
Unlock premium boards and exclusive features (e.g. ad-free) by upgrading your account today.
Upgrade Now