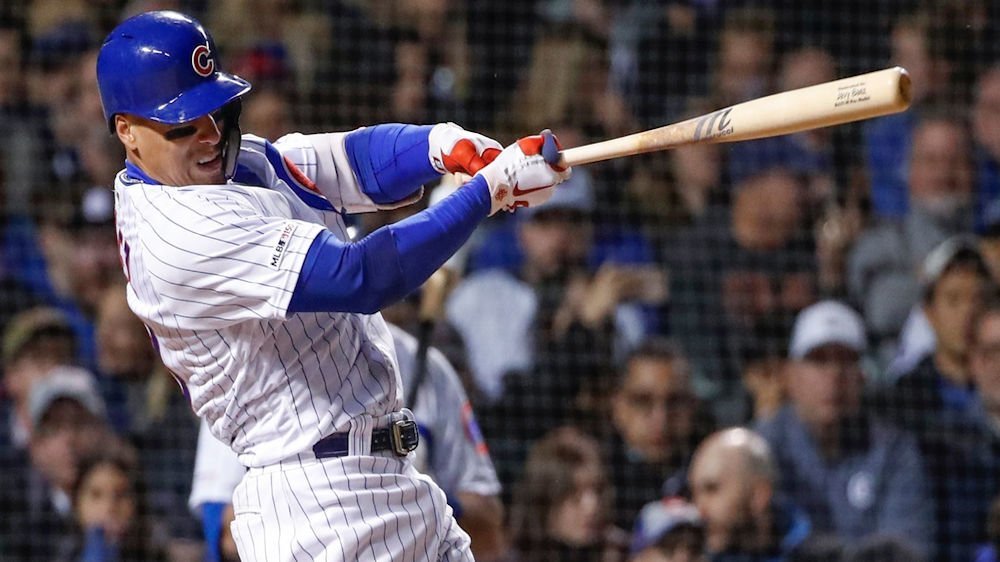 | | |
| --- | --- |
| Cubs News: Fly the W, Bryzzo heating up, Addison Russell update, standings, more | |
---
| | | |
| --- | --- | --- |
| Thursday, April 25, 2019, 8:16 AM | | |
Next Game: Today: 1:20 PM, Dodgers vs Cubs. RHP Ross Stripling (1-1, 3.07 ERA) vs LHP Jon Lester (1-0, 2.57 ERA)
CUBS NEWS AND NOTES:
Wednesday's Game Recap: Going into last night, the Cubs (11-10) looked to build on their 2-game winning streak, as they hosted the Dodgers (15-10) in the second of a 3-game set; it was all Cubs in Game-1. Dave Roberts sent RHP Walker Buehler (2-0, 5.40 ERA) to the mound, while Joe Maddon countered with lefty, Cole Hamels (3-0, 2.77 ERA).
This was a rare occasion when Cole Hamels didn't appear to be on his game, allowing six walks and three runs (including a two-run home run) in just 5.2 innings. Hamels did fan a total of seven, but his control and command didn't seem to be there. Walker Buehler would silence the Cubs until the sixth inning, but Javier Baez's three-run homer, followed by Jason Heyward's three-run blast, would put the Cubs up 6-3 going into the seventh. Just for fun, the Cubs tacked on a run in the bottom of the seventh, and it was a good thing they did. In the blink of an eye, LA came roaring back with a trio of runs in the eighth, but that wouldn't be enough, as Pedro Strop notched another save in the Cubs' 7-6 win.

Cubs/D-Backs Probable Pitchers: Friday: RHP Kyle Hendricks (1-3, 3.54 ERA) vs LHP Robbie Ray (0-1, 3.95 ERA). Saturday: RHP Yu Darvish (1-3, 5.96 ERA) vs RHP Zack Godley (1-1, 6.67 ERA). Sunday: LHP Jose Quintana (3-1, 3.21 ERA) vs RHP Luke Weaver (2-1, 3.33 ERA).
David Bote: Having just returned to the team from paternity leave, Bote wasted no time getting back into action, drilling the first pitch he saw last night into center field for a double. Willson Contreras was intentionally walked, then Heyward brought them all home with his screaming line-drive that just cleared the basket.
Kris Bryant: Now that Anthony Rizzo seems to be out of his slump, the other half of Bryzzo started hitting last night. Bryant went 2 for 3 with a double, then reached a third time when he was plunked in the left shoulder with a 96 mph fastball.
Insurance runs can become quite important. #EverybodyIn pic.twitter.com/TiEZVFLSFP

— Chicago Cubs (@Cubs) April 25, 2019
Jon Lester: After spending the last ten days on the IL (left hamstring tightness incurred from a slide), Big-Jon Lester will return to the rotation this afternoon, as the Cubs close out their series with the Dodgers.
Who else is excited to have @JLester34 back on the mound? ? pic.twitter.com/nlRCXeBf8u

— Cubs Talk (@NBCSCubs) April 25, 2019
Maddon on Baez "The first time I saw him in 2015, I said to the guys, 'We're a better team when Javy is on the field.'"
#ElMago makes an 0-2 pitch disappear.#EverybodyIn pic.twitter.com/kGDCbos5dl

— Chicago Cubs (@Cubs) April 25, 2019
Give the rotation a hand: After Jose Quintana's 7.0 inning outing on Tuesday night, the Cubs completed a 10-game stretch in which the starters pitched to a 1.39 ERA, by far the lowest of any MLB team in the last ten games.
Addison Russell: The Cubs' shortstop has officially been added to the Iowa Cubs for an MLB Rehab assignment. He will spend the next week there before reporting back to Chicago on May 3.
Russell was 1-for-4 with a walk, stolen base, and two runs scored in his first game back from his suspension.
It's cheers for the @Cubs Addison Russell, who is finishing up a 40 game suspension for violating @MLB's domestic abuse policy.

Russell is expected to play seven games with the @IowaCubs. Eligible to re-join Chicago Cubs May 3. pic.twitter.com/rAhYXsUS1a

— Keith Murphy (@MurphyKeith) April 25, 2019
Also joining Russell in Iowa is Carl Edwards, Jr., who was just reinstated from the IL after suffering a non-baseball related hand injury. Outfielder, Zach Borenstein, was released today, presumably to open up a roster spot for Russell in Des Moines.
Fall(s) From Grace: Milwaukee and Pittsburgh had each enjoyed some time in the number one slot in the standings, but between the two teams, they've now lost a total of 8 straight games (4 each), dropping Milwaukee all the way to fourth place and the Bucs to second (tied with the Cubs). The Cardinals completed their sweep of the Brewers last night, and the D-Backs will look to do the same to Pittsburgh today. Meanwhile, the Cubs have sprung themselves from last place to second over the previous ten days. Long way to go until October…keep trucking, boys.
Electronic Strike Zone: I have steadfastly voiced my opposition to any more electronic devices that regulate, dictate or otherwise alter the game of baseball (I'm still trying to get used to the idea of replay challenges). When I first heard of the concept of an electronic zone, I was livid, but that may be changing.
After watching yet another game last night with players and managers arguing the inconsistency of balls and strikes being called, I'd finally seen enough. Joe Maddon was jawing to home plate from the dugout; Dave Robert left the dugout for a chat, and player after player stared in bewilderment as they either walked or were called out on strikes. Monday saw Bryce Harper ejected for arguing bad calls, and less than two weeks ago, Kyle Schwarber lost his mind (although that was due to a call made by appeal). The occasional bad call (especially when in your team's favor) adds a little excitement, but this is getting to be too much. For God's sake, the pitchers don't even know where it's safe to try for a strike. Something does need to change.
Yesterday's Cub Birthdays: Happy birthday to ex-Cubs Welington Castillo (32), Will Cunnane (45), Herman Segelke (61), and posthumously, Glen Hobbie (83) and Ken Penner (123).
NL CENTRAL SCHEDULE (April 21 – April 27, 2019)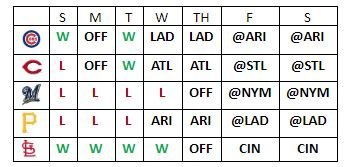 YESTERDAY'S NL CENTRAL SCOREBOARD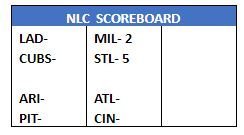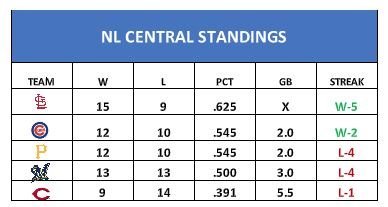 Tags: Cubs Baseball
,
,
Cole Hamels
,
,
Jason Heyward
,
Pedro Strop
,
Kyle Hendricks
,
Yu Darvish
,
Jose Quintana
,
David Bote
,
Willson Contreras
,
,
Anthony Rizzo
,
Addison Russell
,
Kyle Schwarber
,
Joe Maddon