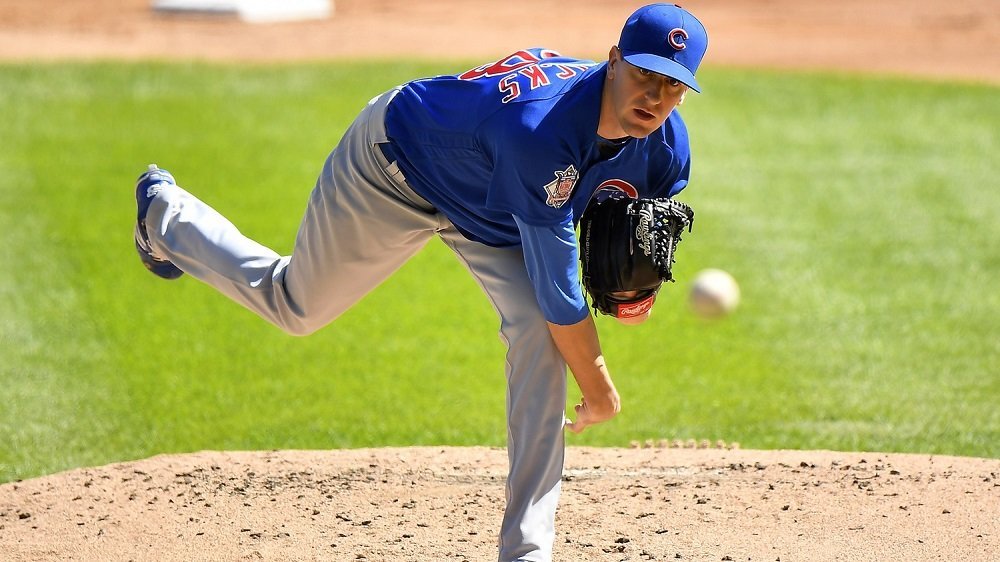 | | |
| --- | --- |
| Fly the W, Cubs cut 15 players, injury updates, Cubs' childhood heroes, and MLB notes | |
---
Upcoming Cubs games (Central): Today, 3:05 PM: Rockies @ Cubs (Betts (0-0, 3.86 ERA vs Quintana 1-0, 0.00 ERA). Televised NBCS Chicago. March 18: OFF.
March 19th (split-squad). Game 1- 3:05 PM (Central): Mariners (minor league affiliate) at Cubs (LHP Marco Gonzalez vs Cubs TBD). Game 2- 8:05 PM: Cubs at Royals (Pitchers TBD).
Cubs' Opening Day: 11 days. March 28 @ Rangers; (Lester vs TBD). Game time: 3:05 PM Central. (WGN, MLB.TV).
Cubs' Home Opener: 22 Days. April 8 vs Pirates: Game time: 1:20 PM Central. (ABC-7, MLB.TV)
Saturday's Game Recap: Kyle Hendricks and the Cubs traveled to Scottsdale to face the D-Backs and righty, Matt Koch, yesterday afternoon. Kyle Hendricks struggled a little at the start and the Cubs offense was non-existent for three innings, but when everything finally clicked, it was all Chicago.

15 roster cuts: RHPs: James Norwood, Duane Underwood Jr. and Rowan Wick have been optioned to Triple-A Iowa. An additional 12 non-roster invitees have been sent to minor league camp, including: RHPs Christian Bergman, Matt Carasiti, George Kontos and Dakota Mekkes. LHP Mike Zagurski. Infielders Ryan Court, Phillip Evans, Trent Giambrone and Zack Short. Infielder/Outfielder Jim Adduci. Catchers Francisco Arcia and PJ Higgins.
Chicago's spring roster of 40 players consists of 23 pitchers (which includes two non-roster invitees plus right-handed pitcher Kendall Graveman, 60-day I.L.), three catchers, eight infielders (one non-roster invitee) and six outfielders (one non-roster invitee).
Injury Update: Maddon says Strop (hamstring) is doing well, and they hope to get him into one more game before the end of spring training. Daniel Descalso (shoulder) is progressing and is expected to start hitting soon. The only pitchers who are currently out for Opening Day are RHP Tony Barnette (shoulder), LHP Xavier Cedeno (wrist)and Brandon Morrow (elbow).
Willson Contreras: After being scratched from yesterday's lineup due to a sore finger (Darvish caught him with a pitch the other day), Contreras worked out Saturday and did some throwing. "I'm fine, ready to go," he said.
Cole Hamels: When asked about his goals for his final pair of spring starts, Hamels said, "Not walking guys. I walked a little too many. Limiting the pitches. I'm supposed to make five innings right there. I obviously didn't do that. The last game I was supposed to go four and didn't do it, either. It's just being able to make sure I complete what I started and obviously with the same intent."
Joe Maddon: The Cubs manager says that despite several games at second base during the 2017 season, Ian Happ could use some work with his lateral range, especially to his right.
When asked about the closer role with regard to Steve Cishek, Maddon said, "He'll be part of it. I won't declare anybody the closer. I didn't even declare Stroppy the closer. Once Brandon's out, we've got to figure it out…"
Jon Lester: Maddon has announced that Lester's next outing on Monday will either be a sim game or a minor league game on the MLB Cubs day off.
Daniel Descalso: "It feels better," Descalso said, speaking about his left shoulder. "I don't think it's something to be too worried about yet. I really wish I could give you a timeline or a day, but I'm just not sure right now. The plan is taking it - not to be cliché, but one day at a time, just to see and make sure that it's feeling better."
Bullpen: While fans are chanting the name "Kimbrel," the Cubs say that they are not going after him, and instead, will look for help from within.
Childhood Heroes: In a video released by NBC Sports Chicago, some of the Cubs share insight on their own heroes from childhood.
#FromLeftField: The #Cubs tell us who their baseball heroes were growing up!

Who was your baseball hero as a child?

(@Kia) pic.twitter.com/dPdwvxhNAL

— Cubs Talk (@NBCSCubs) March 16, 2019
Fergie Jenkins: It was 35 years ago today, that Fergie Jenkins announced his retirement from baseball. Selected to the Baseball HOF in 1991, Fergie won the 1971 NL Cy Young and was 284-226 with a 3.34 ERA and 1.14 WHIP (3192 strikeouts, 997 walks) in 19 years.
Cub Birthdays: Celebrating yesterday were ex-Cubs Hee-Seop Choi (40), Hobie Landrith (89), and posthumously, Vern Olsen (101), Ken O'Dea (106), Vic Keen (120), and Walt Kinzie (162).
Friday's Scoreboard: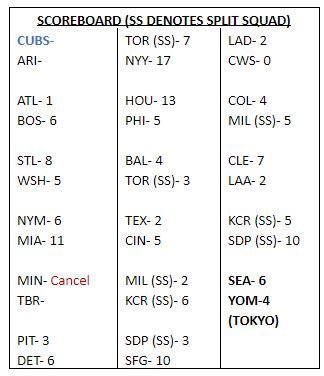 SUNDAY (EST) 6:05 AM: Oak @ Fighters (Tokyo Dome). 1:05 PM: NYM @ WSH, STL @ MIA, BOS (SS) @ PIT, ATL (SS) @ DET, NYY (SS) @ BAL, TBR @ BOS (SS), HOU @ ATL (SS), NYY (SS) @ PHI, MIN @ TOR. 4:05 PM: COL @ CUBS, CLE @ CIN, KCR @ SFG, ARI (SS) @ TEX, MIL @ LAD, LAA @ SDP, CWS @ ARI (SS). 11:05 PM: OAK @ FIGHTERS (Tokyo Dome).
MONDAY (EST): 6:05 AM: SEA @ YOMIURI GIANTS (Tokyo Dome). 1:05 PM: BOS @ MIN, MIA @ WSH (SS), PIT @ TBR, BAL @ DET (SS), PHI @ STL, DET (SS) @ TOR, WSH (SS) @ NYM. 4:05 PM: SDP @ CLE, SFG @ CWS, CIN @ COL. 6:05 PM: NYY @ ATL. 10:05 PM: LAD @ KCR.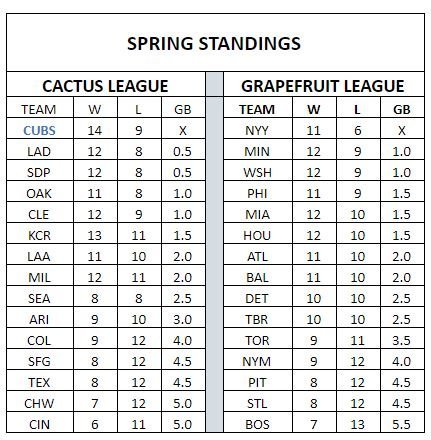 News from around MLB:
Angels: LA has selected the contract of RHP Luke Bard to the 40-man roster.
Braves: Atlanta will be without ace, Mike Foltynewicz on Opening day due to elbow soreness.
Phillies: Bryce Harper has been listed as day-to-day, following being hit in the ankle with a fastball on Friday. The team says they have no concerns with regard to him being ready for Opening Day.

Tags: Cubs Baseball
,
Kyle Hendricks
,
James Norwood
,
Rowan Wick
,
Kendall Graveman
,
Daniel Descalso
,
Tony Barnette
,
Xavier Cedeno
,
Brandon Morrow
,
Willson Contreras
,
Cole Hamels
,
,
Steve Cishek
,
,
Joe Maddon