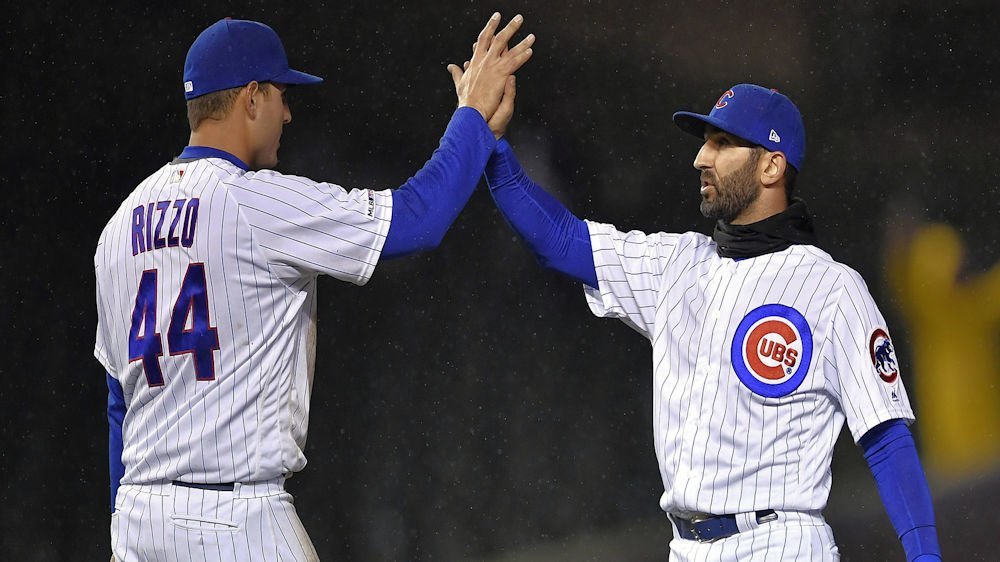 | | |
| --- | --- |
| Fly the W, Lester's injury, Happ's mental battle, standings, and MLB News | |
---
| | | |
| --- | --- | --- |
| Friday, April 12, 2019, 8:07 AM | | |
Next Game: Today, 1:20 PM. Angels @ Cubs: LHP Tyler Skaggs (1-1, 2.45 ERA) vs. Cole Hamels (1-0, 5.73 ERA).
CUBS NEWS AND NOTES:
Thursday's Game Recap: Trying to stop another losing streak before it starts, the Cubs sent lefty, Jose Quintana, to the hill last night to take on Bucs' righty, Joe Musgrove. This was to be a fantastic duel between two pitchers determined to outdo one another. For Musgrove, it was 6.0 innings of clean ball, before he got himself in trouble in the seventh to the tune of two runs for the Cubs. For Q, it was seven, shutout innings on four hits and a walk, while striking out 11.
A rain delay at the end of the seventh would slow things down, but not enough to stop Chicago, as Steve Cishek and Pedro Strop combined for two perfect innings to finish it. Of note, this was the Cubs first series win of the year, and Strop earned the Cubs' first save of the season.
Final score Pirates-0; Cubs-2.

Victor Caratini: Caratini hit a double last night, with a broken bone in his left hand, as it turns out. Caratini says he heard a crack and felt pain, but he finished his at-bat anyway. He's expected to be out at least 3-4 weeks, and the Cubs have already called Taylor Davis up from Triple-A Iowa.
Joe Maddon on Darvish's last start: It was very, very cold out there. He handled it extremely well. From the very first pitch, he had great poise. I thought his confidence was outstanding. First of all, I really was impressed under the circumstances. Second of all, by the fact that he may have found some things tonight regarding his delivery and the way the ball is coming out of his hand. Everything about him was upbeat, I thought."
Maddon on Lester's hamstring injury: "We're not going to create a finish line," Maddon said of Lester's timetable. "Jon's a pretty tough individual, and we're just going to keep it open-ended. And as he progresses, we'll try to create the finish line. So, for right now, of course he's going to miss this next start, of course he is. We know that. But beyond that, we're just going to keep an open mind."
Cubs/Angels Probable Pitchers: Saturday: RHP Chris Stratton (0-1, 6.48 ERA) vs RHP Kyle Hendricks (0-2, 6.48 ERA); Sunday: RHP Trevor Cahill (1-1, 3.50 ERA) vs RHP Tyler Chatwood: 0-0, 6.00 ERA.
4-man rotation: The Cubs say that after Tyler Chatwood starts Sunday, the Cubs will go to a 4-man rotation until Jon Lester returns.
Epstein on Bryant: "He feels good health-wise. I think he could feel better at the plate. He's in a little bit of a rut now. But physically, he's in good shape."
Ian Happ: About trying to cut down on his strikeouts, Ian Happ says, "It's more of a mental battle than a physical battle…you put so much pressure on yourself that you know that if you strike out that it's going to be an issue."
Released: The Cubs have released reliever, Jen Ho Tseng, in order to make room for Allen Webster on the 40-man.
Mike Montgomery: Monty threw a 26-pitch bullpen session yesterday without issue. He is expected to throw at least one more over the weekend before the Cubs start planning his return from the IL. Montgomery is eligible Monday, but the Cubs will most likely activate him for the homestand that begins on April 19.
Condolences: From the LA Angels: "We are saddened to learn of the passing of former Angel [and former Cubs' pitcher] Scott Sanderson. He pitched in the Majors from 1978-1996, including parts of three seasons with the Angels."
Joe Maddon knew Sanderson from the 1995-96 Angels and said, "Thoughtful, kind. Just a wonderful man." The cause of death was not immediately known.
Cub Birthdays: Birthday wishes (yesterday) to ex-Cubs Andrés Blanco (35), Todd Dunwoody (44), Robin Jennings (47), and posthumously, Hank Schenz (100).
NL CENTRAL SCHEDULE (April 7 – April 13, 2019)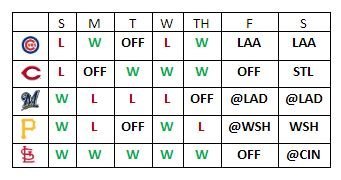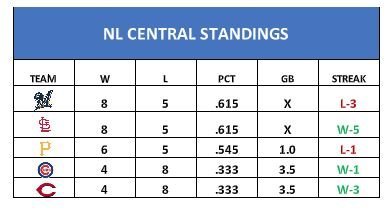 MLB News:
Braves: Atlanta has reached a 7-year extension deal with @B, Ozzie Albies. The $35M deal begins in 2019 and contains a pair of club options valued at $7M, each of which has a $4M buyout. According to Jess Passan (ESPN): "It's typical that agents criticize competitors' deals. But I've now heard from executives, players, analytics people, development side and scouts who are saying the same thing: The Ozzie Albies extension might be the worst contract ever for a player. And this is not hyperbole."
Dodgers: LA will activate LHP Clayton Kershaw on Monday, as the Dodgers host the Reds. Kershaw began the season on the IL due to shoulder inflammation.
Orioles: Baltimore has placed LHP Richard Bleier (left shoulder tendinitis) on 10-day IL; and recalled LHP Tanner Scott from Triple-A Norfolk. They've also selected the contract of RHP Josh Lucas from Triple-A.
YESTERDAY'S MLB SCOREBOARD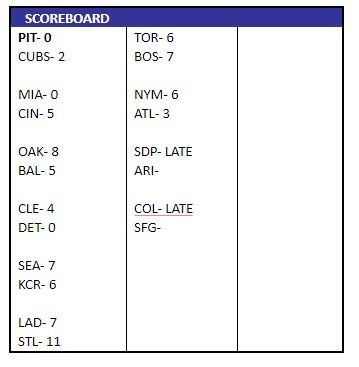 Tags: Cubs Baseball
,
Cole Hamels
,
Jose Quintana
,
Steve Cishek
,
Pedro Strop
,
Kyle Hendricks
,
Trevor Cahill
,
Tyler Chatwood
,
,
,
Mike Montgomery
,
Joe Maddon